Everyone loves a fresh, healthy, and nutrition-balanced salad, but actually preparing it is a hassle. From washing the vegetables, to cutting, to dressing—we know it's a lot of work. Make salad making less exhausting with GreenTomato Manual Salad Spinner.
This salad spinner is a multipurpose kitchen gadget that functions both as a salad spinner and bowl. This unique feature helps to wash, dry, and preserve lettuces quickly and efficiently—all without removing the lid. With this equipment in your kitchen, there's no more dealing with messy countertops or multiple mixing bowls to make that perfect salad. Just put your greens in and spin the knob and you're all set. It comes with a locking system to prevent water from spilling all over your kitchen.
The GreenTomato Salad Spinner bears a large capacity of 5-quarts, which is large enough for family use and everyday salad preparations. If you're prepping lots of lettuces to store in large glass jars in the fridge for future consumption, this cool kitchen gadget will help cut the workload significantly. Plus, it ensures that vegetables are dry enough to last longer.
We're proud to say that the GreenTomato is made of superior BPA-free plastic material that is non-toxic and smells good. It's 100% safe for salad making or as serving bowls. It's thicker, better, and more durable than those you see on the market today.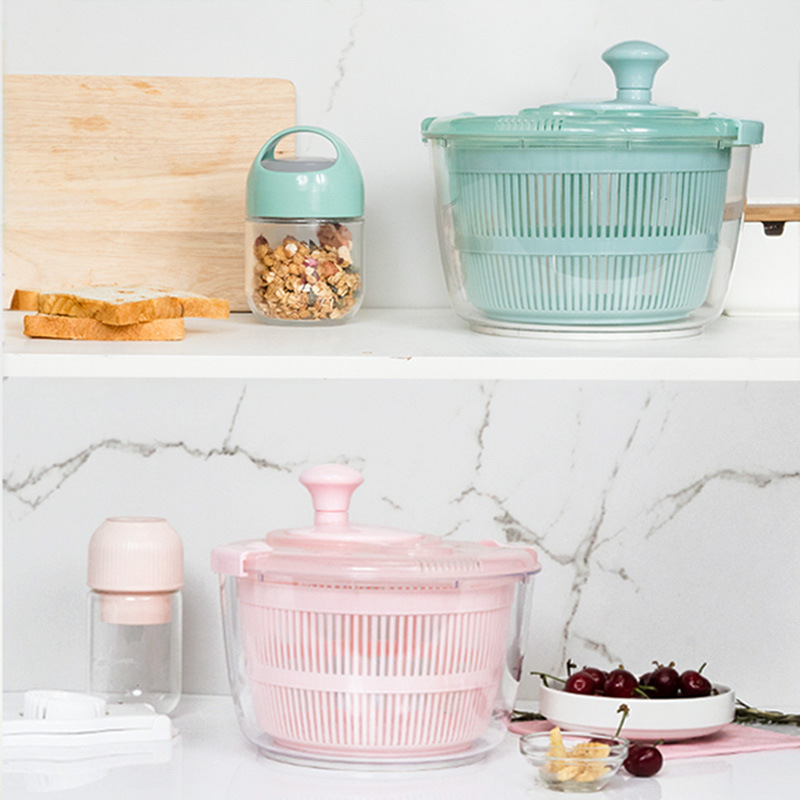 Features:
Reinforced ABS plastic material with superior break resistance prevents the salad spinner from being out of shape when forced by something heavy.
Both the basket and bowl are well constructed, easy to assemble, and can be taken apart for easy cleaning.
Designed to be large enough to cater to most of your daily salad needs. It comes just over 5 quarts, and some might say it's even larger than expected.
Designed with a smooth and efficient mechanism that originates from Germany.
The salad spinner is easy to operate. All you need to do is push the round handle to spin dry and wash lettuces in seconds.
It comes with an accessible stop button, water inlet, and outlet to allow you to pour water without removing the lid.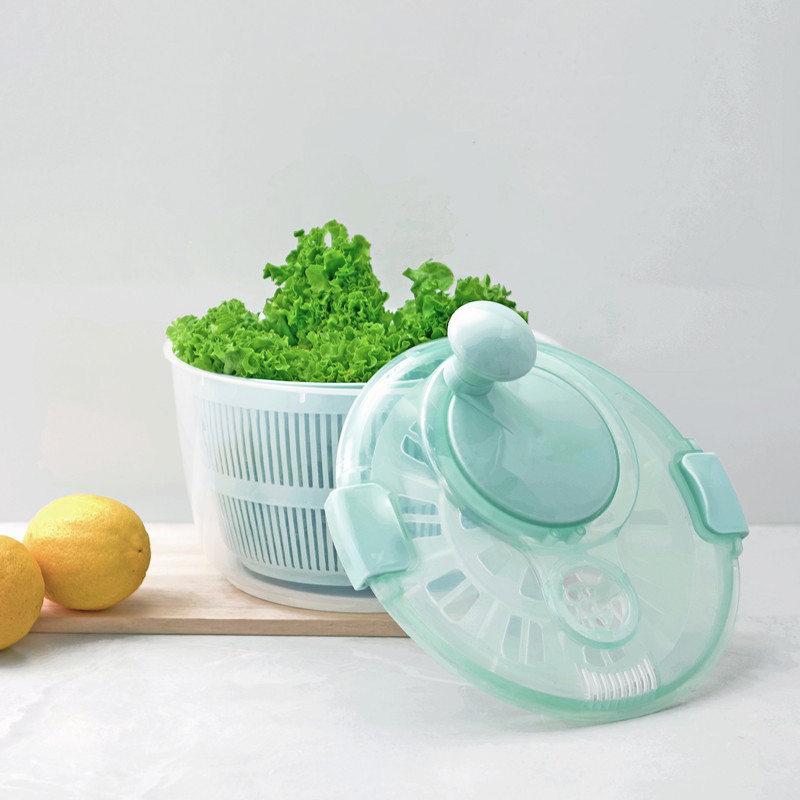 Specifications:
Dimensions: 9.88 inches X 9.88 inches x 6.75 inchesweight: 1.8lbs.
Capacity: 5 quarts
Material: ABS Plastic/Stainless Steel
Keep Your Greens Clean And Crispy
Wash and spin
5 Liter capacity
Holds up to 4-6 salad servings
The basket can be used as a strainer for storage
Crank-style rotary handle
Built-in drainage system
Non-skid base rubber ring base

Engineered For Your Convenience
Spinning, tossing, serving salad
Premium quality materials
Comfortable to grasp
Easy to crank lettuce spinner or lettuce crisper
Pour water or extract water without removing the lid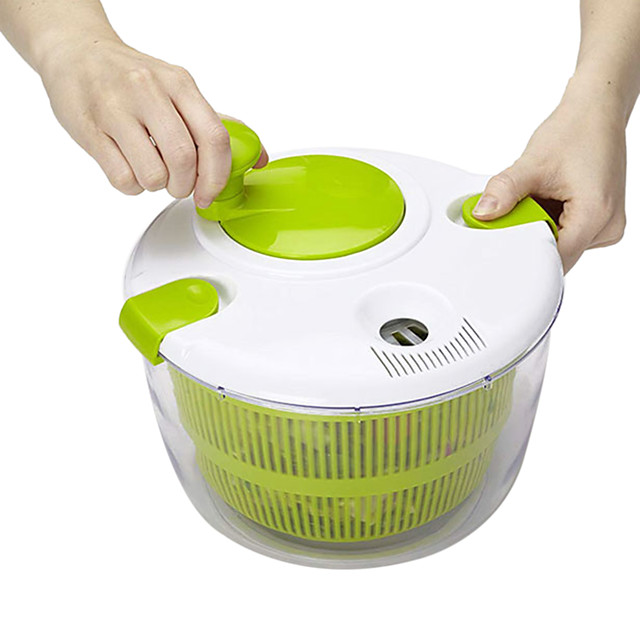 Time-saving Salad Preparation
Multifunctional and provides a good economic value
Dual-purpose clear acrylic bowl for mixing and serving
The basket can be used separately as a colander
Easy to Clean & Store
Compact size
Salad can be served directly using the transparent bowl
Hand washing is recommended
Does not include white collapsible metal salad spinner small, stainless steel salad spinner large
Mix

er or spinn

ers for herb, green para lechuga centrifuga salada, aalad keeper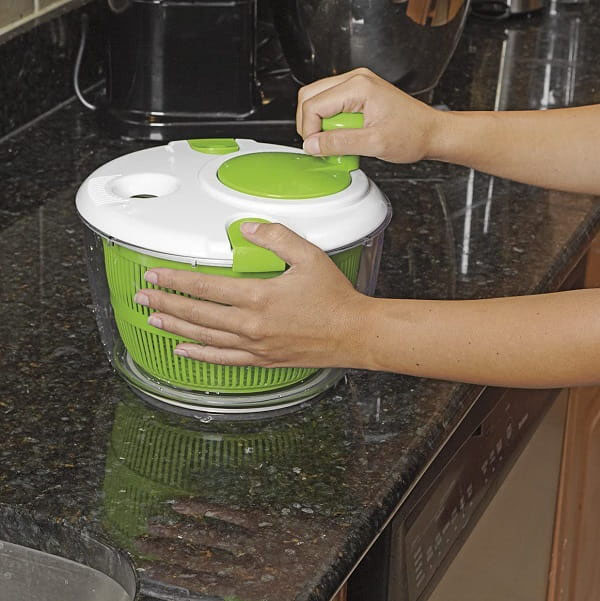 Easy to Use
Step 1: Place inner basket into salad spinning bowl. Put rinsed vegetables into a salad spinner and lock to secure lid on top.
Step 2: Spin crank handle, the centrifugal force will direct the water outwards and down the sides of the bowl.
Step 3: Pour excess water out through the plughole and remove the basket from the bowl.
Step 4: Serve and enjoy.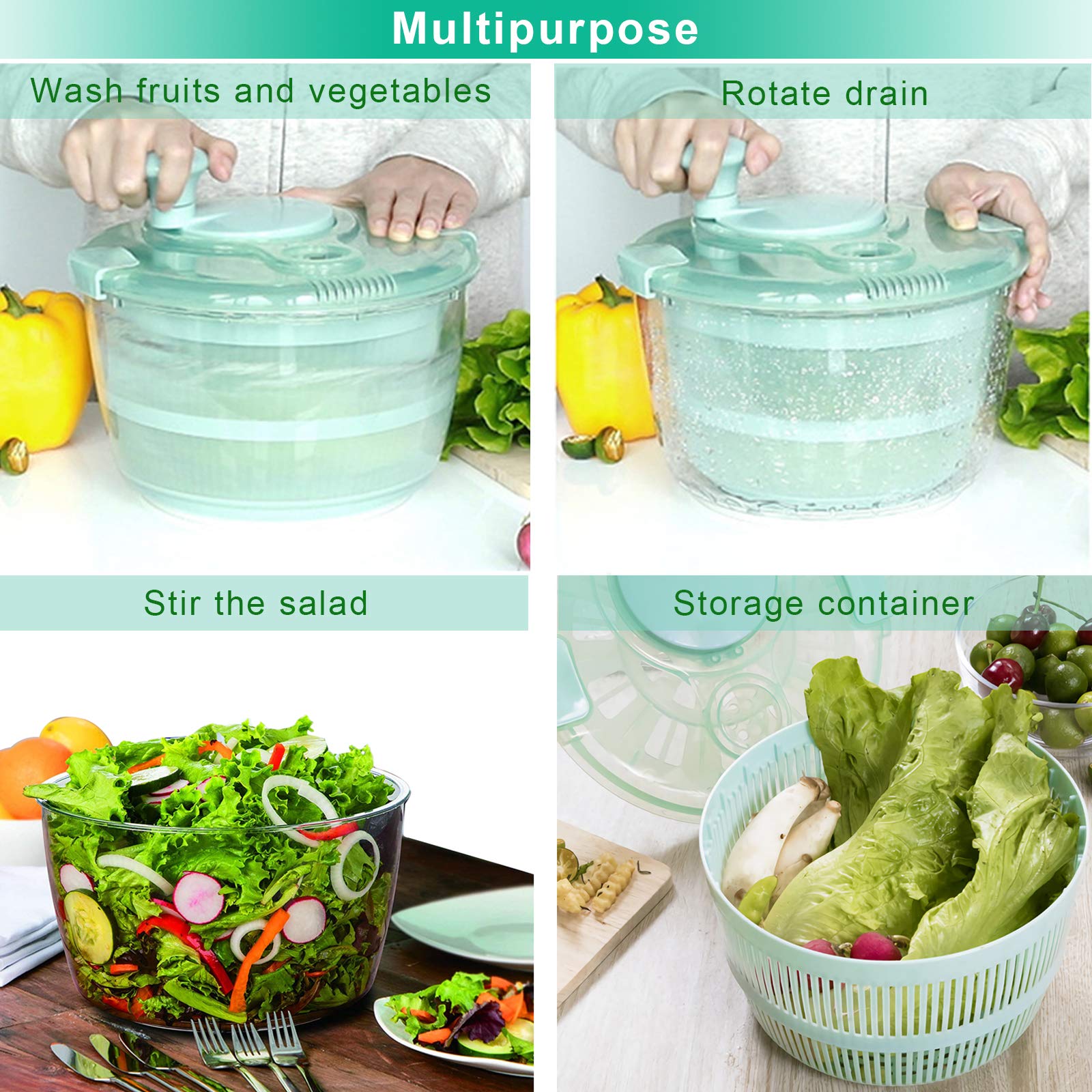 Package Includes:
1* Salad Spinner Multipurpose Kitchen Gadget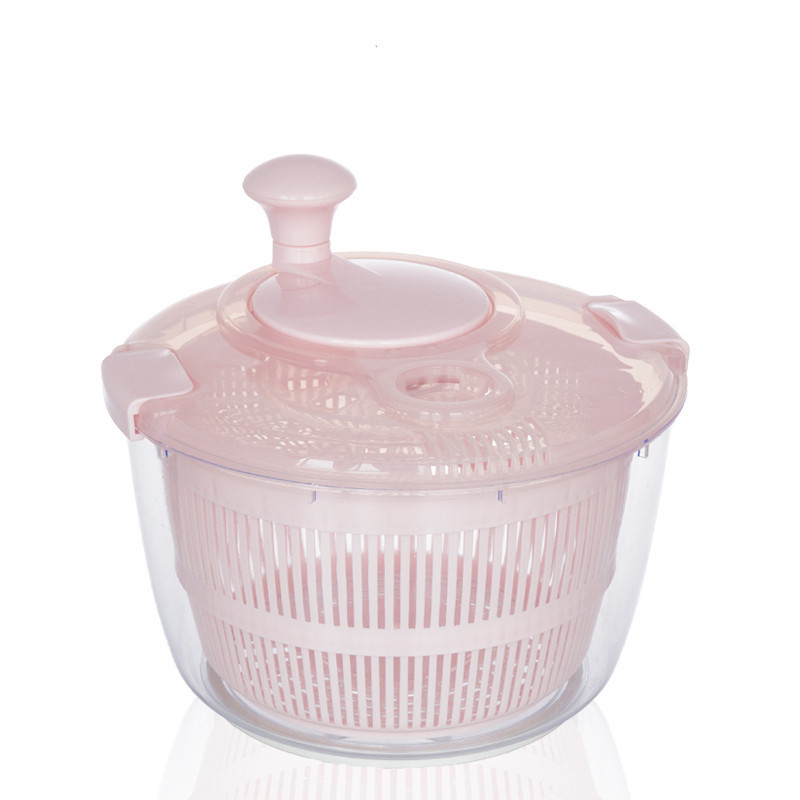 Note:
Cleaning: Rinse thoroughly with water.
Optional: Dry all parts of the salad spinner with a cloth, or allow it to dry on the drying rack.