Portable Salad Spinner Lettuce Dryer Vegetable Kitchen Accessory
The KitchiMatic Portable Salad Spinner allows you to quickly and effortlessly dry your lettuce, salad, fruits, vegetables, and more! This handy kitchen gadget not only does the work for you but also saves time and space as it makes the drying process of your fruits and vegetables faster, so you can easily packed them inside your fridge until needed. This salad spinner is small and compact so that you can store it easily anywhere in your kitchen.
This small salad spinner will revolutionize your everyday salad making. It is made with the strongest and most durable plastic, non-toxic, and BPA-free to keep you safe. It uses centrifugal force to separate the water from the leaves, allowing the dressing to stick to the leaves without water dilution and make them taste much better. The robust design features a convenient handle to allow for the effortless spinning and draining of water from the outer bucket. Fill the container with lettuce, herbs, or other wet produce, hook on the lid and start spinning the knob to force water away from your greens without bruising them to retain their freshness.
Save time and effort without compromising the quality of your salad. Get this portable salad spinner vegetable dryer kitchen accessory now!
Specifications:
Material: PP plastic
Diameter: 22.5cm
Height: 15.5cm
Weight: 500g
Color: White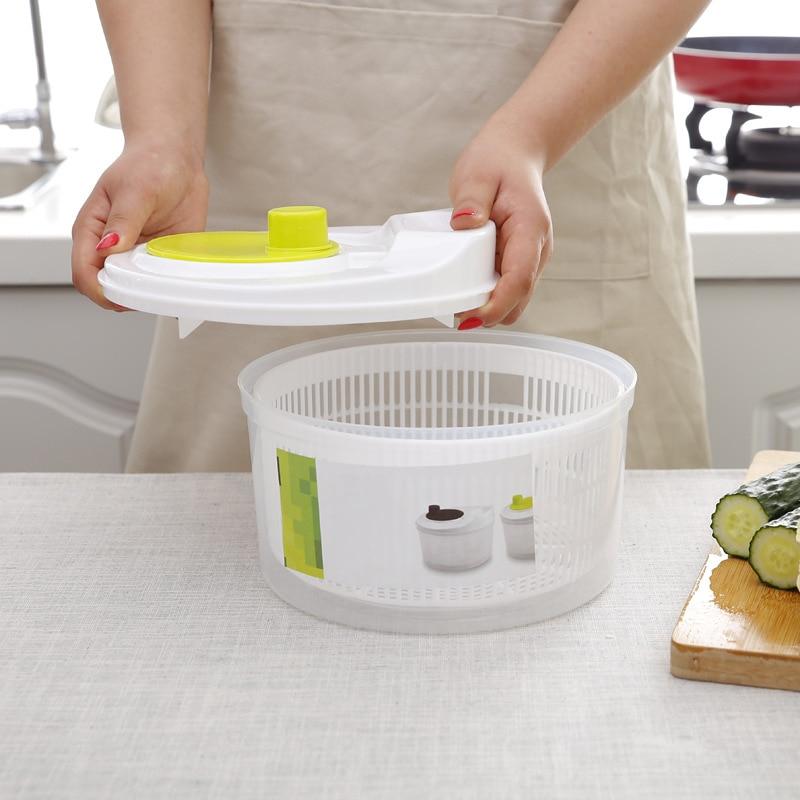 Benefits:
Create cleaner, tastier salad dishes easily by removing the excess water from your greens after washing with this portable salad spinner.
Keep your greens crisp and fresh without bruising them when removing the excess water with this best salad spinner.
Salad dressing sticks better on dry fruits and vegetables, so salad lovers need to have a salad spinner to enjoy a delicious and tasty bowl of fresh salad.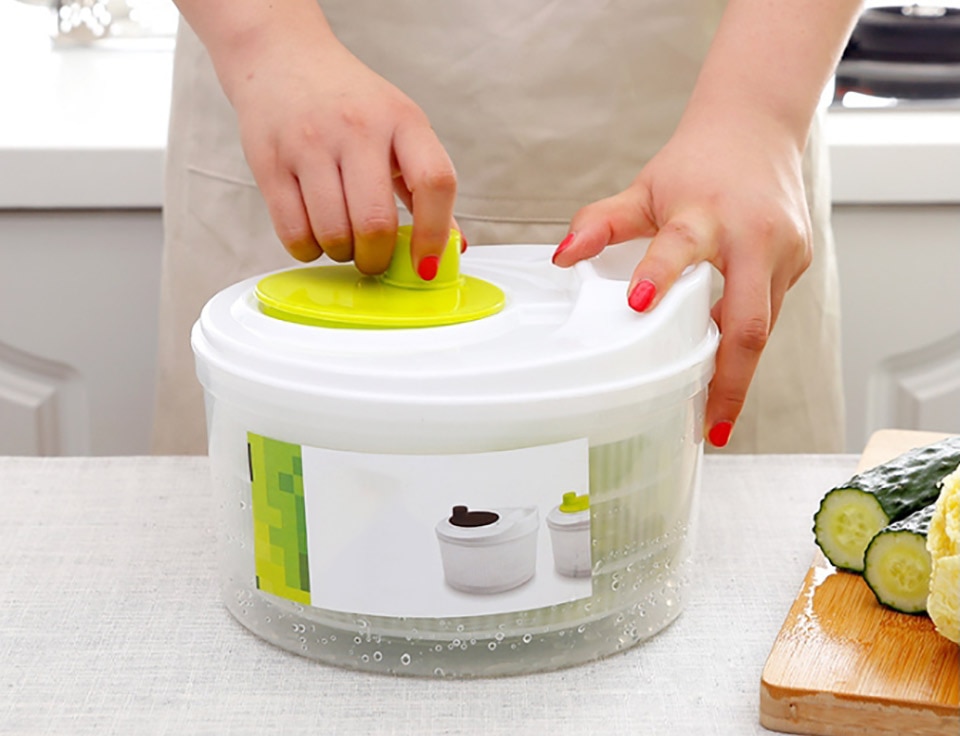 Features:
It contains an inner bucket to keep your vegetables and fruits and an outer bucket to catch the water as you spin your salad to avoid mess.
This small salad spinner is portable and compact so that you can store it easily anywhere in your kitchen.
Made from high-quality non-toxic polypropylene plastic to ensure your safety.
Size: 9″ x 6″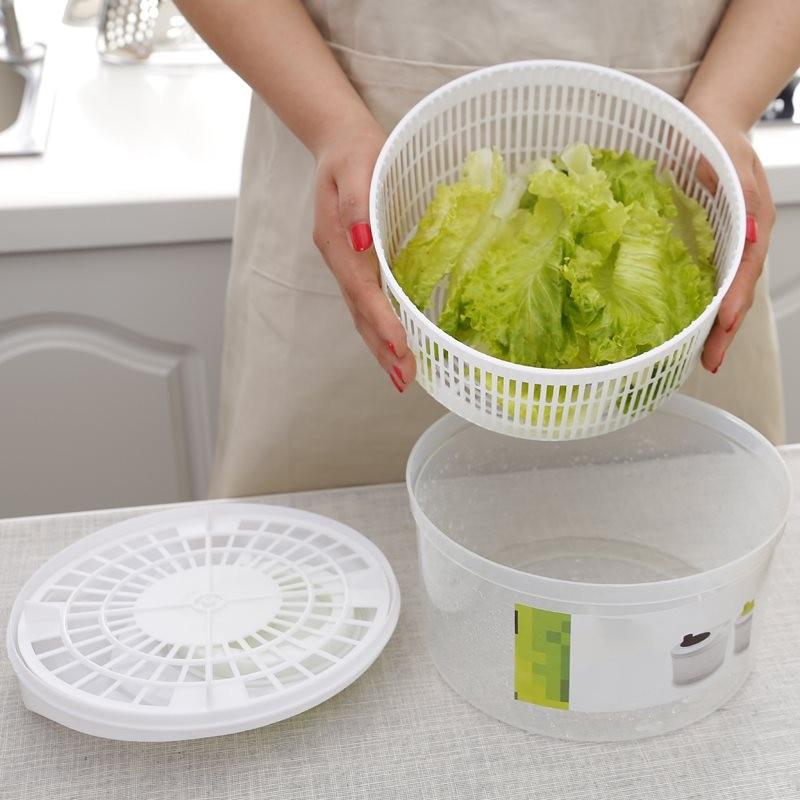 How to Use?
Open the lid, and you can see the inner bucket and outer bucket.
Put the vegetables or fruits in an inner bucket and close the lid.
Use one hand to hold on to the spinner to keep it stable and the other hand to rotate the handle gently.
Take out the dry vegetables and pour the water accumulated on the outer bucket out to the sink.
Package Includes:
1* Vegetables Salad Spinner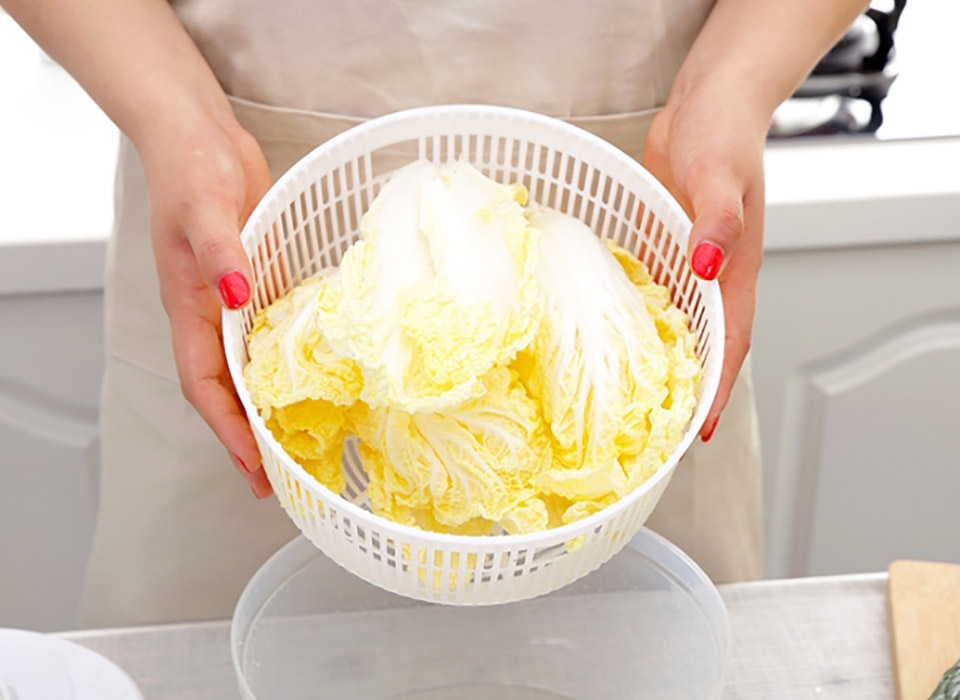 Tips:
Please keep out of reach of children and keep children from playing;
Do not get close to the fire source to avoid melting deformation;
Do not use in ovens, microwave ovens, induction cookers;
Do not brush the product with a brush, as this may result in scratching the product.