Our secret for the best tasting salad in every family gathering and party we serviced is now within your reach. Experience the true flavor of nice and refreshing salad at your home with the SaladSecrets.
This exclusively-made salad spinner offers multifunctional support. You can use it to wash and dry your leafy greens or make it as your on-the-go salad bowl; the SaladSecret will never disappoint.
Made with top-notch quality, BPA-free plastic, it's non-toxic, safe, and reliable in preserving the beautiful crunch of your salad. With just a whirl of our salad spinner, you'll enjoy salads like how Michelin stars made them. It's easy-to-use, stable, and heavy-duty to serve a refreshing meal for every family every day.
Features:
Made of high-quality BPA-free plastic. The material in this salad set is non-toxic, safe and reliable, long-lasting, and durable.
Our revolving salad includes a large bowl, basket, and lid. You can rotate a lot of salads and vegetables at once
The push-on lever handle allows you to easily clean and dry vegetables. Press the red button to stop the rotation after drying
It comes with a non-slip base for stability for better spinning and drying.
The design is made with durable, heavy-duty parts and keyed lid to keep ingredients from spilling.
The elegant and clear bowl is perfect for serving, and the basket can be used separately as a colander.
Specifications:

Color: Picture Color.
Size: 24 x 17 x 24 cm.
Material: PS+PP.
DON'T BE WORRY TO HURT YOUR HANDS AGAIN!
Quick Salad Spinner: The SecretSalad is one of the must-haves for any kitchen. It is perfect for quick drying of your Lettuce, Spinach, Cabbage, and other Vegetables, Fruits, and Salad Ingredients. It effectively removes extra water with fast spin to get dry veggies instead of soggy ones.
Easy and Ready to Use: This easy-to-use product will separate the liquids from your salad with little to no effort. With an excellent, easy-spin, and reliable mechanism, pour your liquid out using the practical pouring spot.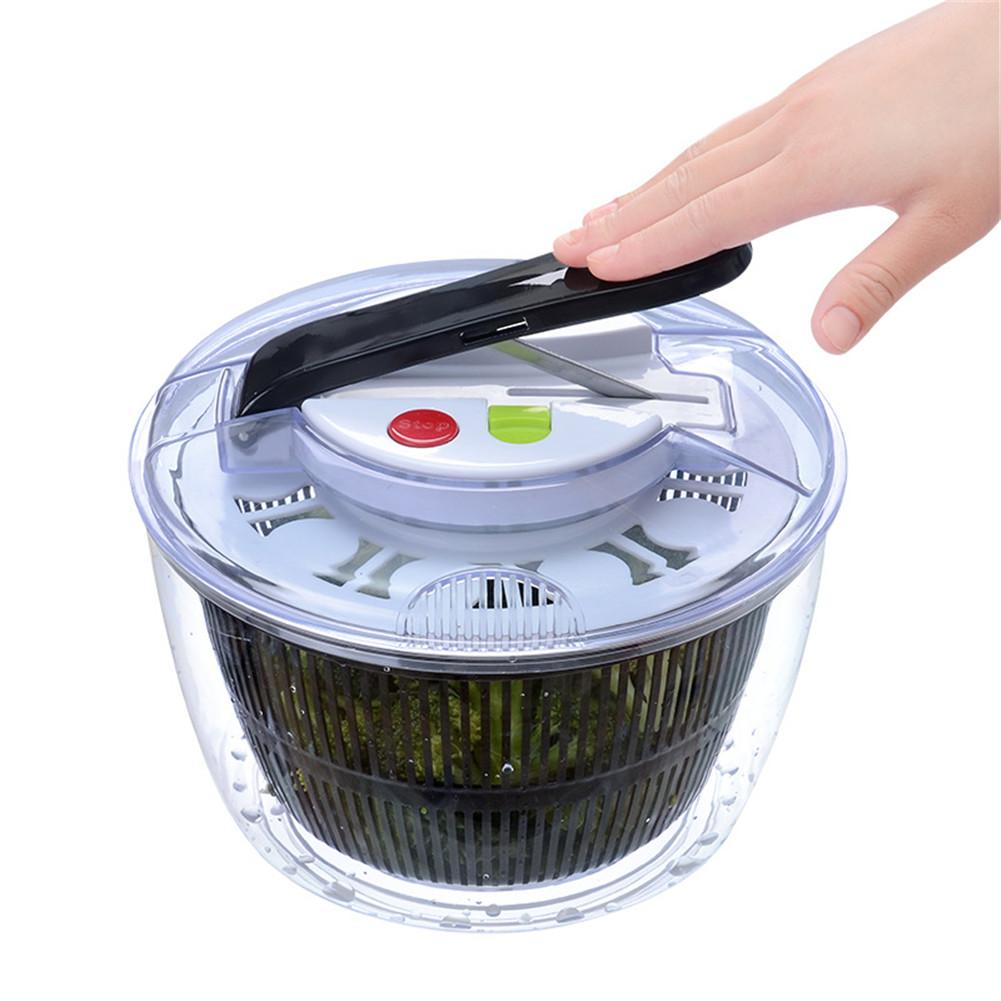 Fast and Reliable: Includes an outer bowl with an inner removable strainer basket. The cover, which fits around the outside bowl, contains a spinning mechanism, that when initiated, causes the inside strainer to rotate rapidly. The water is driven through the slits in the basket into the outer bowl.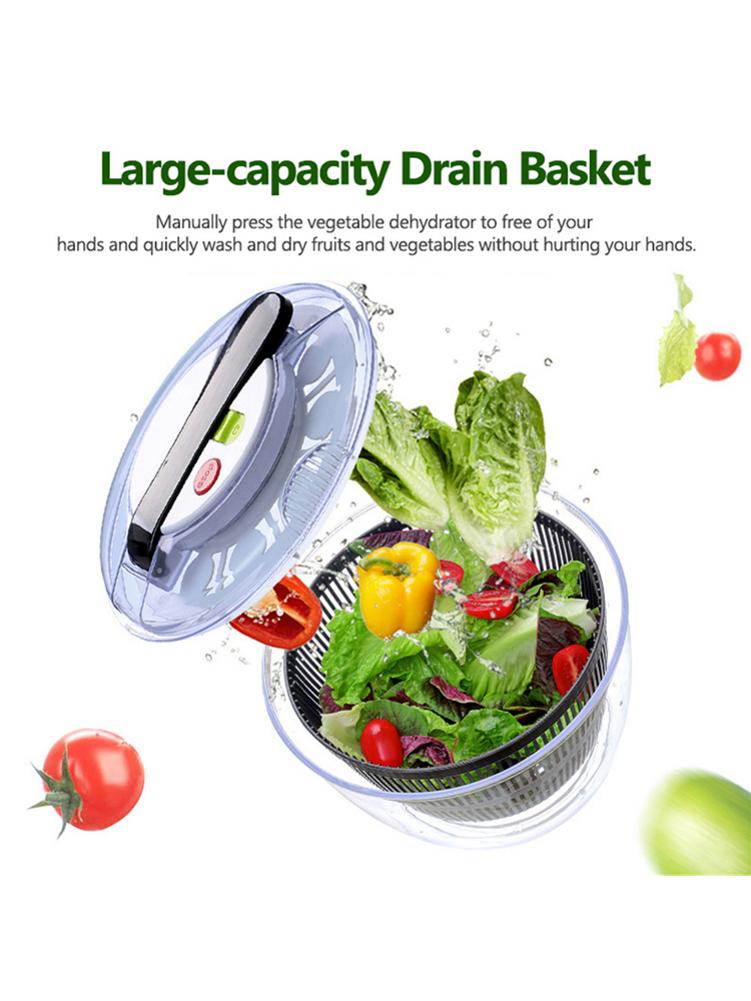 Great Design: The wide base keeps the bowl steady on the countertop. Your top is well-secured when you are spinning your fruit, vegetables, or your salad. The basket can be used separately as a colander. Elegant, clear bowl is perfect when doubled as a serving bowl.
Operating Steps:
Clean fruits and vegetables and place them in a net basket.

Place the basket into the basin, close the lid, and ready to dehydrate.

Press the lever to dehydrate.

 After dehydrating, press the stop button to stop the spin.

Then pour the water out.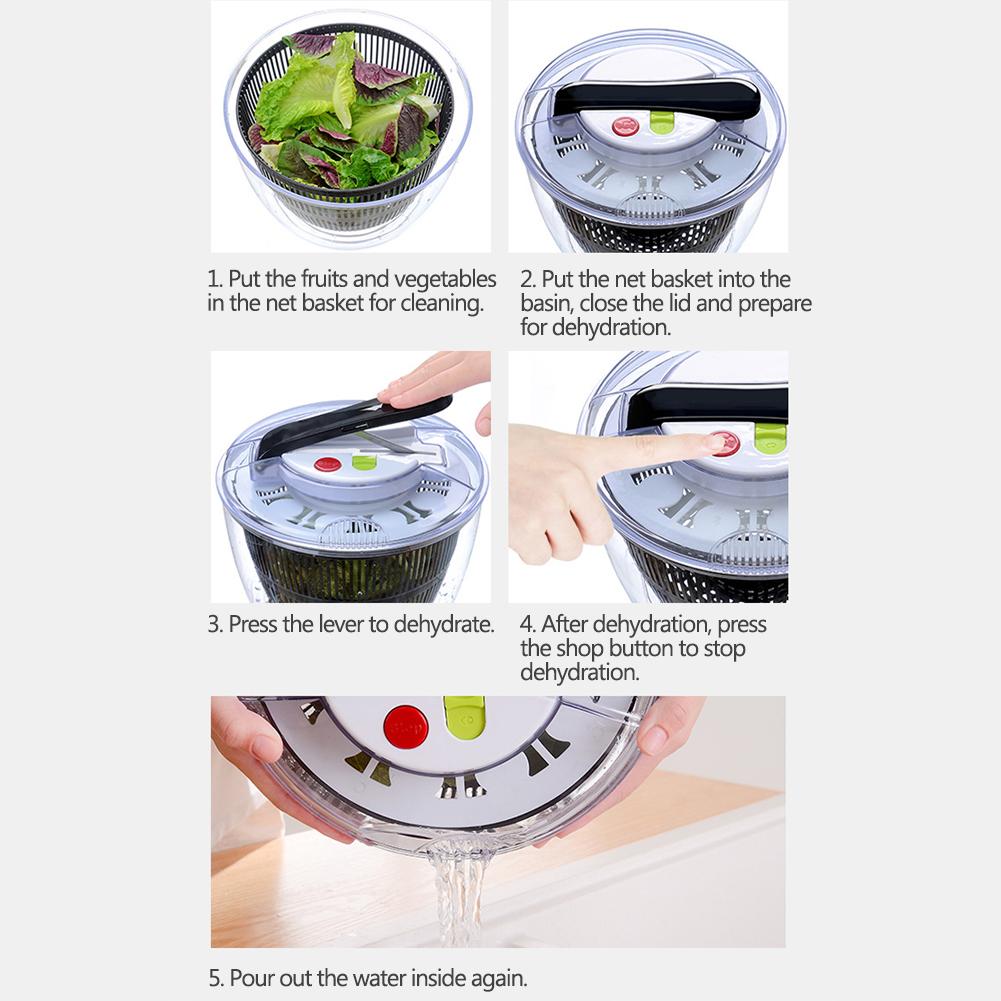 Package Include:
1 x Press Type Salad Vegetable Shake – Dry Dehydrator.
Notes:
Due to the different monitor and light effects, the actual color of the item might be slightly different from the color showed in the pictures.