Now You Can Free Your Arms of Baby Carrying — the BubbaBear Baby Carrier with Ergonomic Design Allows You to Bring Your Baby Everywhere in a Comfortable, Hands-Free Way!
The BubbaBear  Cuddle Up Carrier is a versatile and stylish baby carrier that is suitable for children weighing between 5.5-18 kg (2-40lbs) and is recommended for babies aged 3-36 months.
The BubbaBear Cuddle Up Carrier is designed to accommodate growing babies and provide a comfortable fit. Suitable for children weighing between 5.5-18 kg (2-40lbs) and recommended for babies aged 3-36 months, this versatile and stylish carrier is a great choice for parents looking for a practical and stylish solution for babywearing.
It offers two carrying positions, front and back, to accommodate your growing baby and provide a comfortable fit.
This versatile baby carrier allows you to carry your little one in two different positions, front and back, to ensure comfort for both you and your growing baby. The adjustable design ensures a secure and comfortable fit as your baby grows.
The adjustable and padded shoulder straps offer maximum comfort for you, while the wide waist belt provides added support and stability.
The added padding helps distribute the weight evenly across your shoulders, reducing strain and fatigue. The wide waist belt provides additional support and stability, ensuring that the weight of your baby is distributed evenly across your hips. Without the exhaustion and the strain, you can carry your baby for a longer period of time.
The innovative fall protection system ensures that your baby stays safe and secure while in the carrier.
This baby carrier features an innovative fall protection system that ensures your little one stays safe and secure while in the carrier. This added layer of security gives you peace of mind, knowing that your baby is protected against accidental falls or slips.
The front pocket provides a convenient place to store essentials and the removable baby hood offers added versatility.
An extra added feature that's truly a win: a front pocket where you can place your cards, phone, wallet. It's like having an extra bag!
The cute design of the carrier is sure to turn heads, while the lightweight design (only 580g) makes it easy to carry and wear for long periods of time.
The BubbaBear baby carrier comes with a very lightweight design — only 580g so it's easy to bring it along even if your baby is not strapped in.
The carrier is made of a durable blend of 80% polyester and 20% cotton and is machine washable for easy cleaning.
Cleaning is super easy with the BubbaBear baby carrier. The machine-friendly baby carrier does not get lints or crumples even after a wash.
Whether you're heading to the park, the farmers market, or simply running errands, the Infantino Cuddle Up Carrier is the perfect choice for parents who want a stylish, comfortable, and secure baby carrier.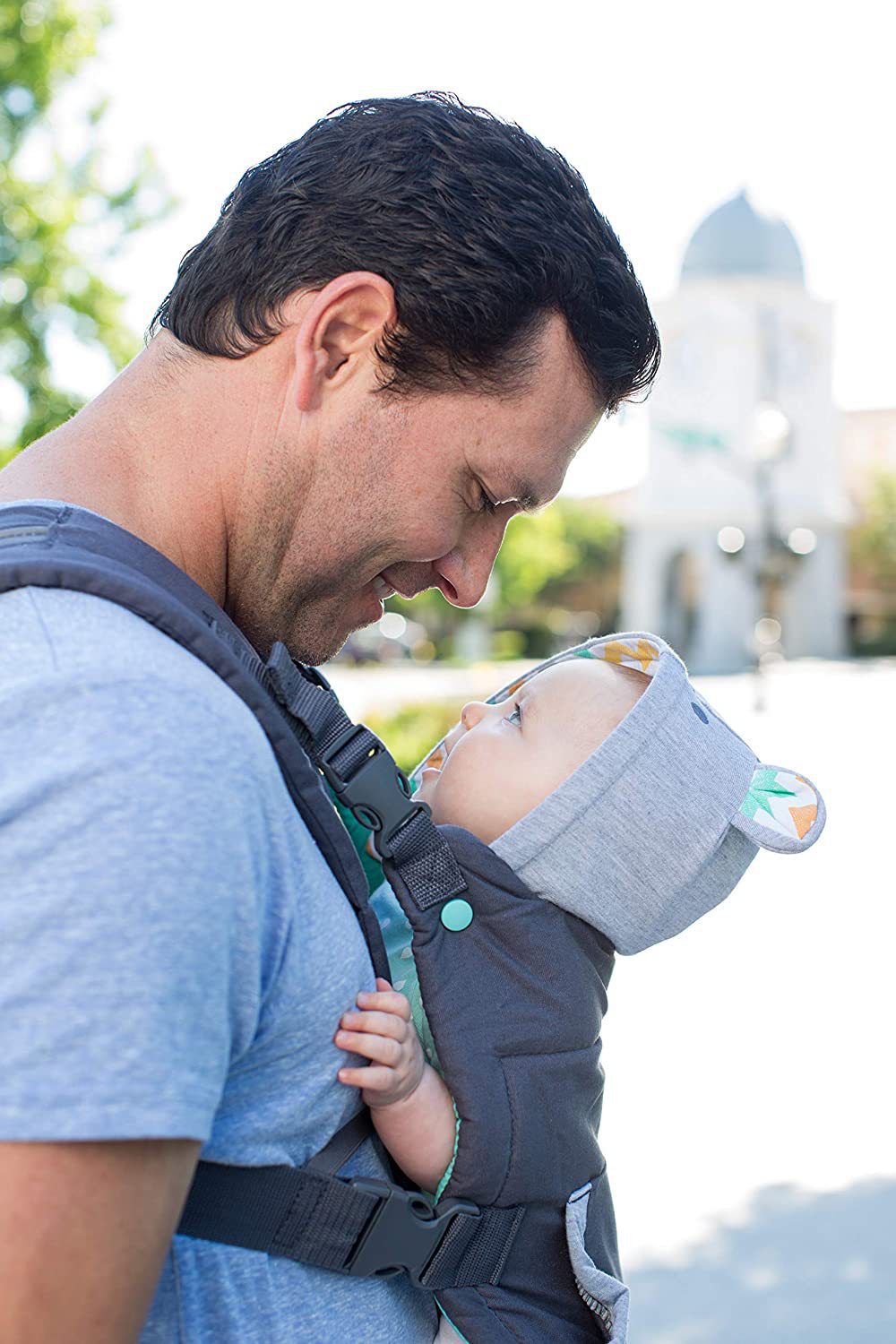 Newborn – toddler carrier
You carry your little one form the age of 3 months (our recommendation) or even form birth (as indicate producer) if your newborn is big enough (min. 5,5 kg / 12 lbs). You can use the carrier till toddler-hood (max. 18 kg / 40 lbs).
Ergonomic baby carrier
Thanks to the ergonomic seat of your Infantino Cuddle Up baby carrier your baby is sitting in a healthy, physiological M-position with knees are higher than baby's bottom (you can trace a line from your baby's foot one side up to the knee, down to the bottom, up to the other knee and down to the other foot). Soft back panel allows naturally rounded back.
Why it is important to carry a baby in the physiological position?
The ergonomic position support correct spine and hip development of you child. It is also the most comfortable position for your baby when being carried. Infantino Cuddle Up Ergonomic Hoodie Carrier is certified by The International Hip Dysplasia Institute.
Two carry position
You can carry you little one in two carry positions. The front carry (facing parent) is recommend for infants and smaller babies. The back carry is possible from the age of four months.
Infantino Cuddle Up Hoodie Carrier Front CarryInfantino Cuddle Up Hoodie Carrier Back Carry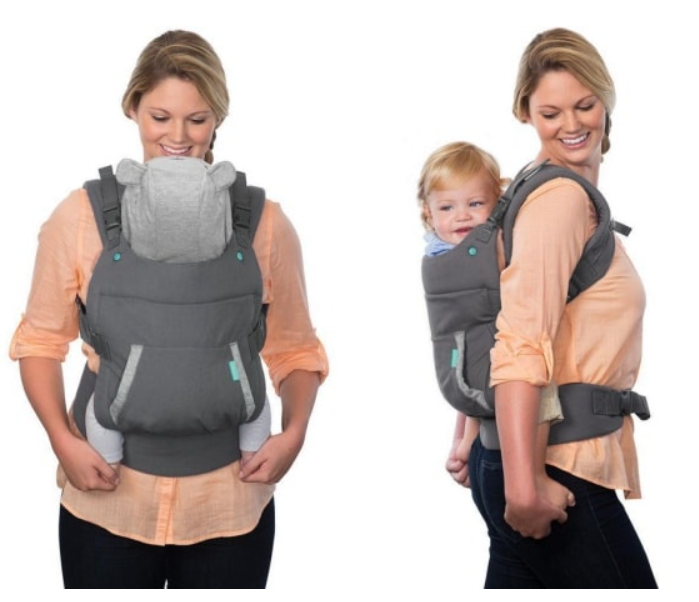 Innovative security system
You Cuddle Up carrier is equipped with a strap placed between the baby's legs. This innovative fall protection system is very rare in baby carriers. The strap protects baby form falling in case of accidental opening of the hip belt when the baby is still in the carrier. During babywearing workshops we organise we've notice that some parents by error unbuckled the belt while the baby is still in the carrier. In our expert opinion, this anti-fall safety system is a real advantage of Infantino Cuddle Up.
Removable teddy bear baby hood
Infantino Cuddle Up is a hoodie carrier. It is equipped with a unique very cute detachable baby hood with adorable teddy bear styling.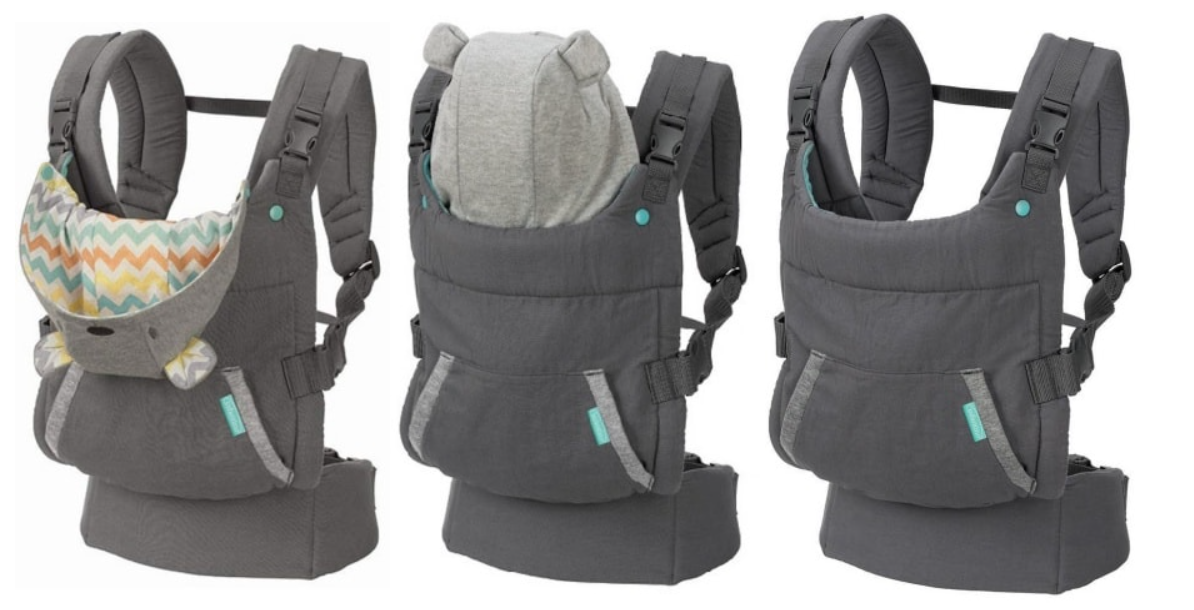 Front pocket
The carriers has an original hoodie-inspired pocket for parent's hands at the front.
Packcage Include