750W Powerful Machine, Efficient 1L/hr Distilling Rate, 100% Safe Materials! 

Product Features
DURABLE 100% FOOD-GRADE QUALITY MATERIALS
It features a 304 stainless steel inner tank, inner cap, condensing coil, water outlet, and water inlet. It also includes a borosilicate glass container and aluminum fan blades which are more sanitary, durable, and easier to clean than plastic.
CONVENIENT TEMPERATURE ADJUSTMENT
It comes with a digital display screen that allows you to adjust the temperature for perfect results. The boiling point of alcohol is 80℃/ 176℉, so we suggest you set the temperature between 85℃/185℉ and 95℃/203℉ to distill alcohol.
EFFICIENT POWERFUL PERFORMANCE
The 750W power with a sufficient inner container volume of 4L (1.1 US gal/0.88 UK gal) generates productive results. The distillation speed is over a quarter gallon per hour, so you can distill up to 6 gallons per day.
EASY ASSEMBLY & CLEANING
It's designed for high performance with low maintenance care. It has a 304 stainless steel sus filter to make it easy to clean. It also includes fruit powder and carbon packages, so there's no need to purchase and replace dirty filter cartridges. 
SAFE FOR HOME, OFFICE, & COMMERCIAL USE
It effectively removes most tap water impurities and distills water, alcohol, and so on. It comes with a top handle to make it portable and easy to carry around. It's CE-certified and UL-listed to meet health and safety requirements.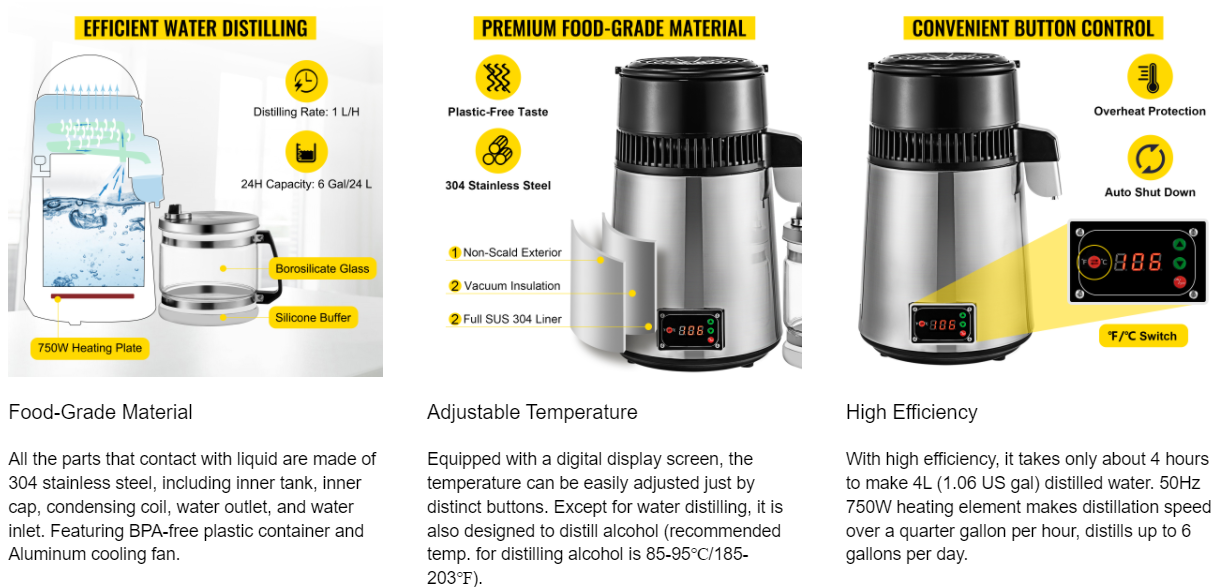 Why Choose The VEVOR 4L Water Distilling Purifier Machine 750W
Distilling 4 liters in 4 hours, our efficient water distilling purifier machine is the safeguard for your health. It's unique because of its digital display screen for temperature adjustments, as well as its overheat and dry burning-resistant protection functions.
It removes contaminants like bacteria, particles, dissolved solids, and VOCs to provide you with clean and purified water or liquor drinks. It can also distill alcohol for healthcare facilities.
✅ Food-Grade Quality
✅ Temperature Adjustment
✅ Powerful Performance
✅ Considerate & Portable Design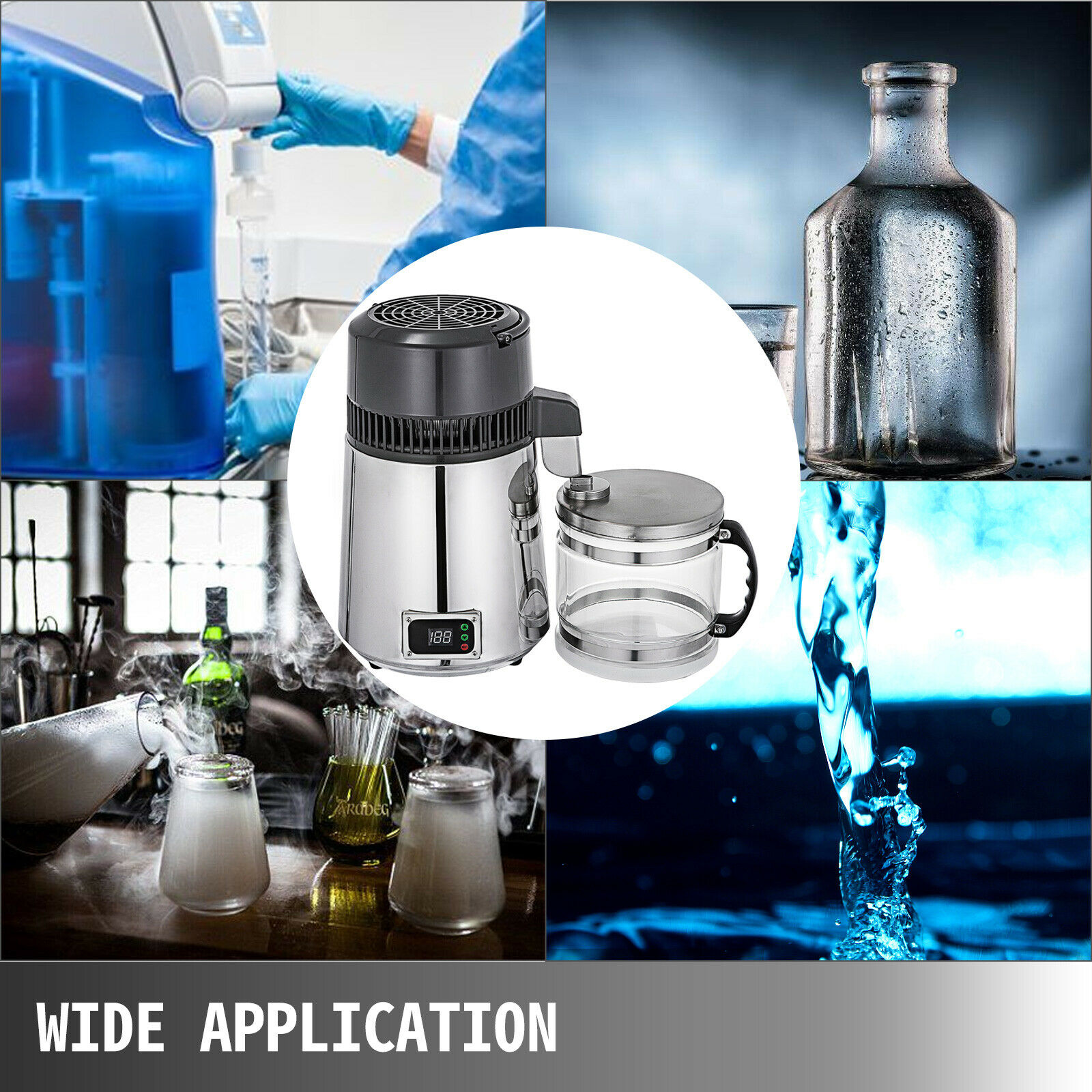 Note
Do not drink the first cycle of distilled water.
Do not let the distiller run dry as bacteria can adhere.
Product Specifications
Power: 750W
Capacity: 4L/1.06Gal(US)/0.88Gal(UK)
Distilled Water: 1L/H
Dimensions of Container: 7.3″x7.3″ (18.5×18.5cm)
Dimensions of Water Bottle: 6.3″x7.9″ (16x19cm)
Dimensions of Machine: 15″x8.1″ (38×20.6cm)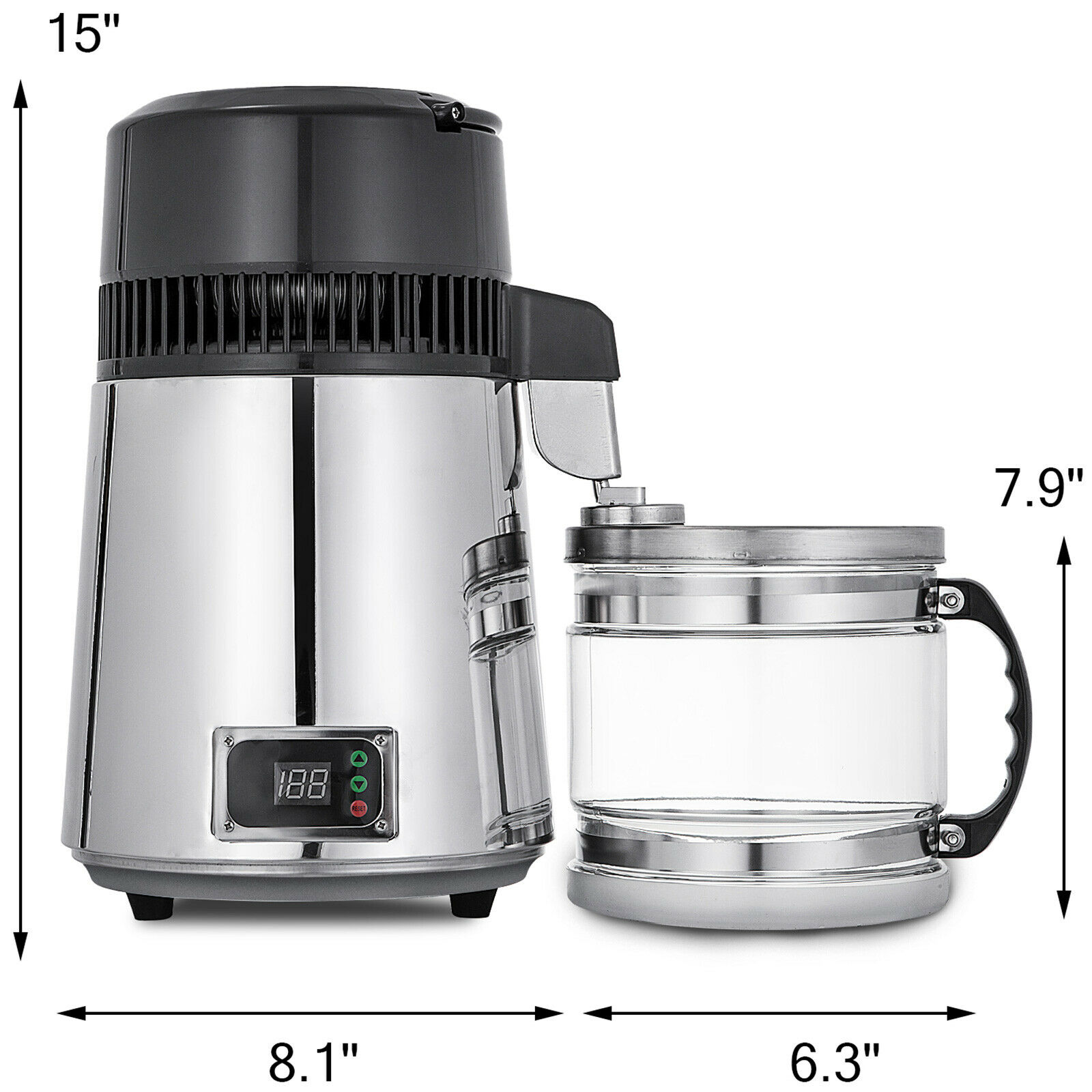 Package Inclusions
1 x Water Distiller
1 x Water Collection Bottle
1 x Dust Cap
1 x Cleanser