Dual Display Setting & Real-Time Monitoring, Up To 6 Gallons A Day, Not Just For Water!
✅ Efficient 750-Watt Power
✅ Fast 1L/hr Distilling Rate
✅ Large 4L Container Volume
✅ Dual-Temperature LCD Screen
✅ Premium Food-Grade Materials
✅ CE-certified and UL-listed
Product Features
EFFICIENT WATER DISTILLING. The 750-watt die-cast aluminum heating plate allows it to distill up to 1 liter (1/4 gallon) per hour. It can effectively remove VOC and other impurities to offer healthier distilled drinking water.
QUALITY YOU CAN TRUST. All parts that come in contact with water are made of food-grade 304 stainless steel. This includes the internal tank, inner cap, water outlet, and inlet. The machine also has a durable, non-scald exterior
SUPERIOR FROM OTHERS. Unlike others in the market than come with a plastic container, ours is made with borosilicate glass that is better at maintaining the freshness of the water and more durable.
DUAL TEMPERATURE DISPLAY. Our water distiller is easy to operate with simplified buttons and a dual temperature display for setting and monitoring in real-time. It's convenient for home or office use.
RELIABLE HEAT DISSIPATION. Compared to other plastic fans, our water distiller machine adopts a built-in 4-blade aluminum fan, durable enough to ensure a long service life and efficient heat dissipation.
SAFE FOR HOME USE. It's thermostatically controlled that automatically shuts down when the temperature exceeds 226.4℉/108℃. This prevents the machine from overheating, making it completely safe for home use.
EASE OF MAINTENANCE. To make sure you get the best taste and quality every time, you can use the 3 replaceable filtering carbon packages and cleaning powder included. It's designed to be easy to clean on a regular basis.

Why Choose The VEVOR Wine-Red 4L Home Water Distilling Purifier Machine
It purifies with efficiency and utmost safety to help you get a constant supply of distilled drinking water, whether you're at home or even at the office. This water distiller can remove VOC and impurities with a distilling speed that can reach up to 1L of water per hour.
It's compact—not much bigger than a kettle in size—and won't take up much space, making it suitable for kitchens of any size!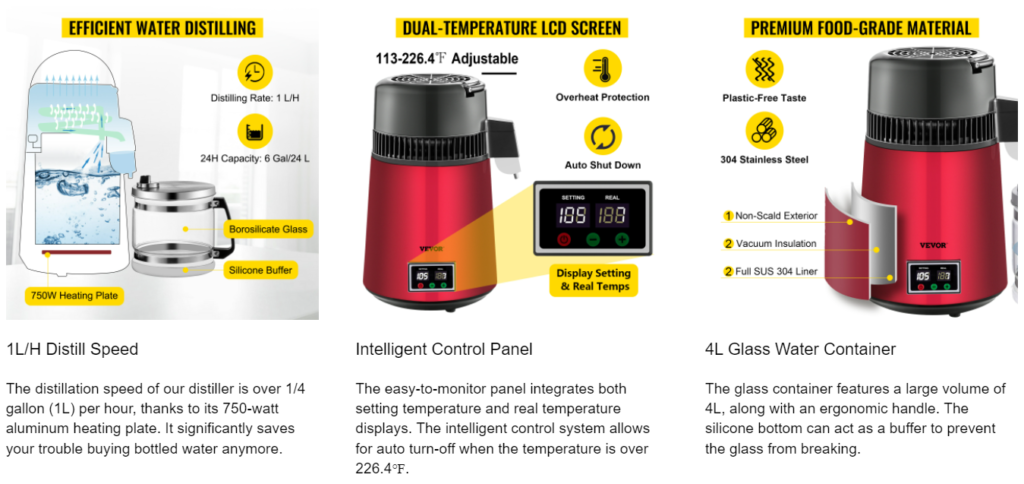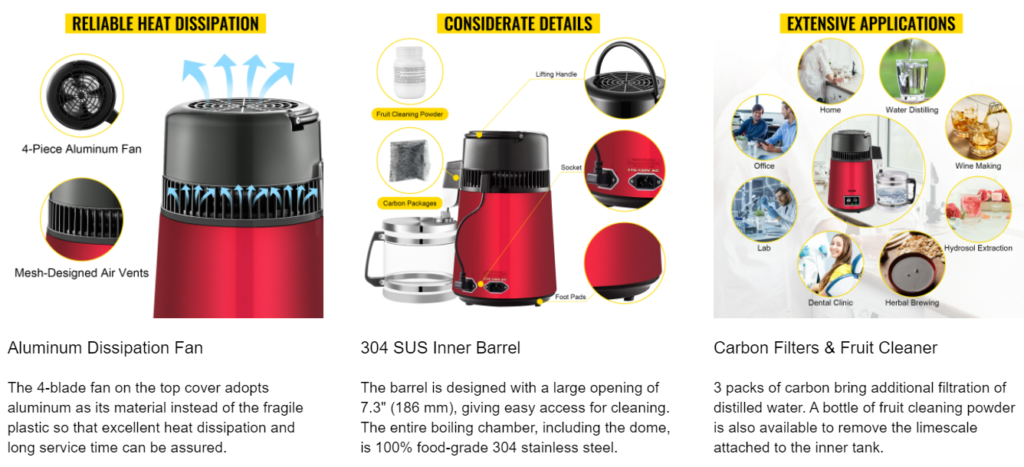 Care Instruction
We recommend you replace the carbon filter pack once a week and clean the distiller after using it twice. This helps maintain the quality and taste of the distilled water and the longevity of the machine.
Specifications
Distill Speed: 1 L/H
Power: 750W
Container Volume: 4L / 1.1 Gallon
Barrel Material: 304 Stainless Steel
Container Material: Borosilicate Glass
Item Weight: 12.1 lbs / 5.5 kg
Product Dimensions: Φ7.7″x14.6″ / Φ195 x370 mm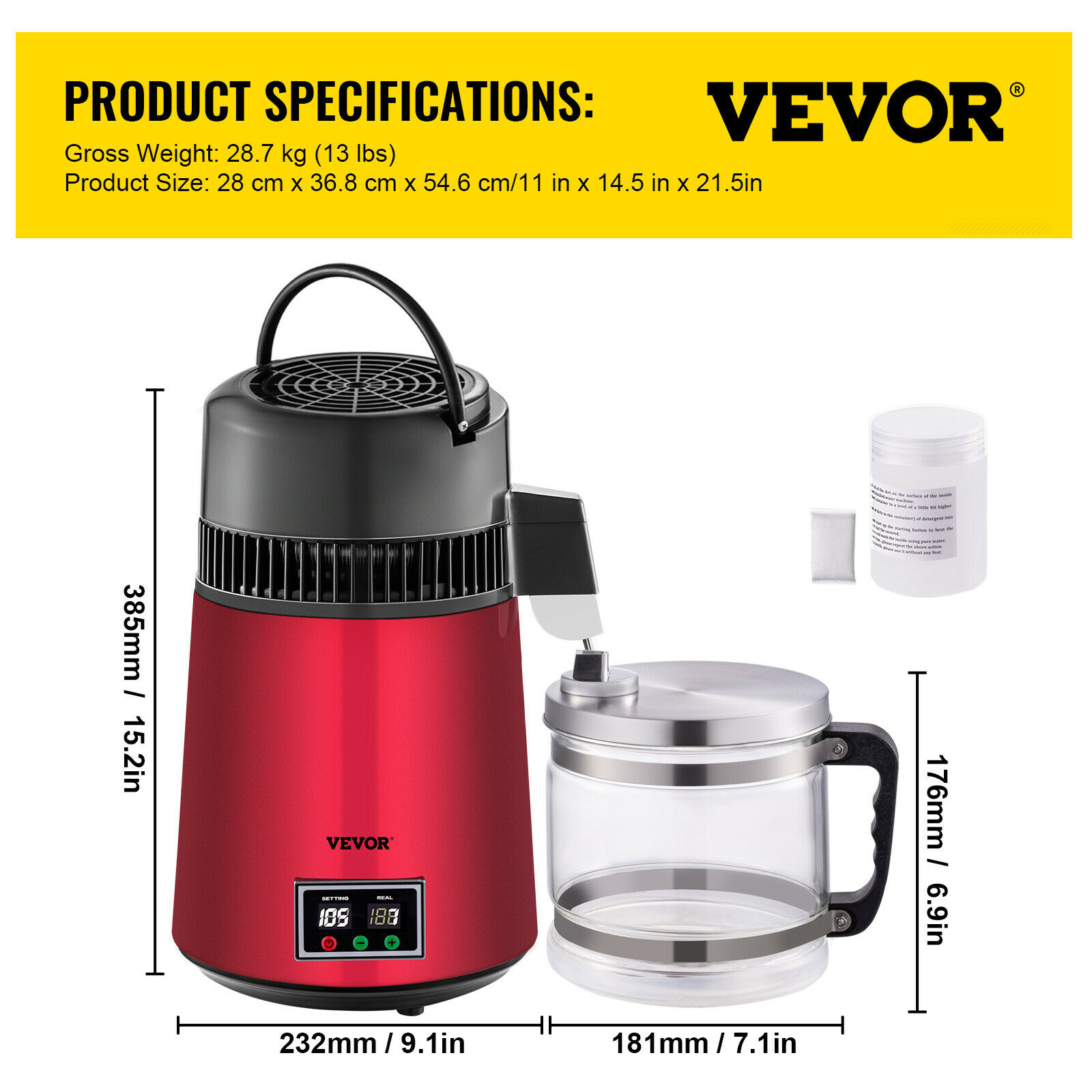 Please Note
Do not drink the first cycle of distilled water. Do not let the distiller run dry as bacteria can adhere.
Package Inclusions
1 x Water Distiller Barrel

1 x Glass Water Container

1 x Bottle of Fruit Cleaner