Large Distilling Capacity, Accelerated Cooling, Dual-Display Temperature Monitoring!
✅ Efficient 20L/30L Distillation Volume
✅ Uses Open Cooling Method
✅ Monitor Temperature In Real-Time
✅ 100% Food-Grade Materials
✅ CE certification & UL listed
Product Features
Premium-Made, Large Sufficient Capacity
Our purifying broiler kit has a fermentation capacity of 3 gallons and can ferment up to 11.4 liters of raw materials with a 1L/hr speed at a time, perfect for family get-together parties. All parts, including silicone, stainless steel, and copper, are made from premium 100% food-grade materials.
Rapid Open Cooling Mechanism
The copper coil has rapid thermal conductivity and a large contact area with the coolant, providing a lower distillation temperature. A circulating water pump is attached to save the cooled water, while the rubber pad under the condenser can insulate and accelerate cooling.
Functional Design & Easy To Operate
It has a real-time thermometer on the lid with a dual-display of Celsius and Fahrenheit, making it convenient to monitor the temperature of the wine during the distillation process. The thumper keg also helps discharge the hot water vapor to evaporate the alcohol for a second distillation process. This is very suitable for adding flavors.
Durable & Tight Seal
Unlike regular tubes, we use food-grade silicone tubes that are flexible, tough, and don't bend easily to ensure a good seal. Four buckles and silicone gaskets are inside the lid to help seal it tightly. It also has a one-way exhaust valve, which is essential during the fermentation process.
Versatile Application
There are many ways to use our alcohol still kit. Apart from distilled water, you can make whiskey, wine, brandy, rum, tequila, vodka, ethanol, essential oils, etc. The thickened bottom allows various heating methods, including gas stoves, firewood, electric ceramic heaters, etc.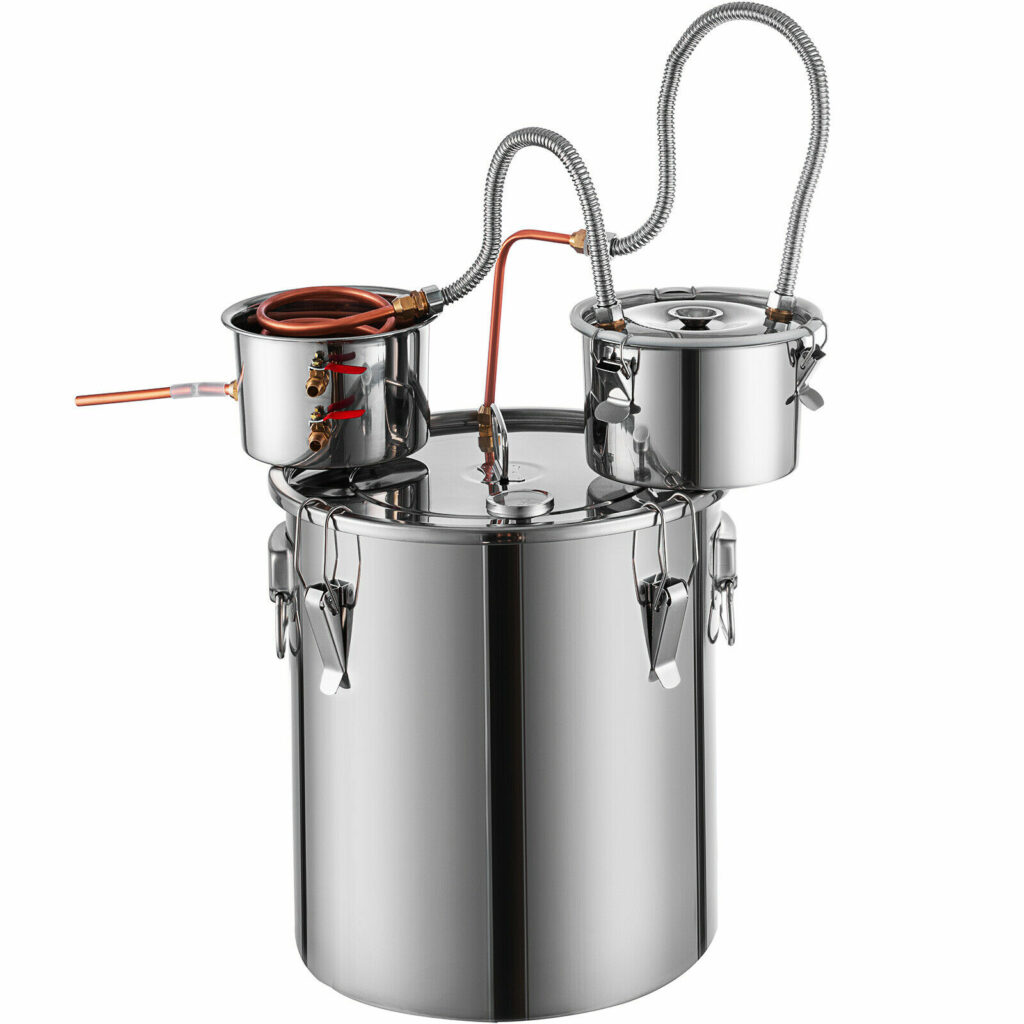 Product Specifications
Color: Silver

Material: Stainless Steel + Red Copper

Type: Distiller

Boiler Barrel: 9.6 US GAL (38L), 13.8″ x 15.7″ (35 x 40 cm) / 5.5 US GAL (20L), 11.8″ x 11.7″ (30 x 30 cm)

Thumper Keg: 7″ x 4.3″ (18 x 11 cm)

Condenser Keg: 7.9″ x 5″ (20 x 13 cm)

Package Dimensions (L x W x H): 18″ x 18.5″ x 18.5″ (46 x 47 x 47 cm)

Gross Weight: 15.8 lb (7.2 kg) / 11.6 lbs / 5.28 kg
1) 20L  
Material: Stainless Steel + Red Copper
Capacity: 5 GAL / 19L
Boiler Barrel: 11. 8″ x 11. 8″ / 30 x 30 cm
Thumper Keg: 7″ x 4″ /18 x 10 cm
Condenser Keg: 7.9″ x 4.3″ / 20 x 11 cm
Weight: 11.6 lbs / 5.28 kg
2) 30L  
Material: Stainless Steel + Red Copper
Capacity: 8 GAL / 30L
Boiler Barrel: 13.8″ x 13.8″ / 35 x 35 cm
Thumper Keg: 7″ x 4″ / 18 x 10 cm
Condenser Keg: 7.9″ x 4.3″ / 20 x 11 cm
Weight: 14.3 lbs / 6.5 kg
Package Inclusions
1 x Alcohol Distiller
1 x Thumper Keg
1 x Condenser Keg
1 x Thermometer
1 x Water Circulating Pump
1 x One-way Air Evacuation Valve
1 x Manual