Made With 100% Food-Grade Materials, No Lingering Smell Or Taste, Only Takes 3 Hours For 4 Liters!
Safeguard your and your family's health by getting a continuous supply of distilled water at home or in the office. Our water distiller can effectively dissolve VOCs and filter other impurities with a fast distillation speed of 1.3 liters of water per hour.
The inner barrel is made of high-grade 304 stainless steel that promises clean and fresh distilled water without any lingering tastes or smells. It also has the function of preventing dry burning.
*All the products have a Certificate of ISO 9001:2015 Quality Management System, CE mark and are registered in FDA of USA.
Live Your Quality Life
✅ Powerful Distillation
✅ Premium Food-Grade Materials
✅ Easy Control & Maintenance
✅ Efficient Temperature Control
✅ Automatic Power Shutdown
Product Features
Efficient Water Purification 
With a power level of 750W and volume of 4 liters or 1.1 gallons, you can distill up to 6 gallons or 22.7 L per day to remove dissolved solids, VOCs, and most impurities for the purest glass of water. You can also use it to distill alcohol and so on in the office, lab, dental clinic, etc.
Health & Security 
The entire machine, including the internal tank, inner cap, water outlet, inlet, and all parts in contact with liquid, is made with 304 stainless steel to meet food hygiene standards. It also includes a CE & FDA certificate, a BPA plastic-free container, and an aluminum cooling fan.
Easy to Use & Maintain
A simple push of a button will start the machine. When the heating temperature exceeds 239℉/115℃, the distiller will automatically shut down to avoid excessive temperature damage to the machine and safety at home.
Fast Heat Dissipation
It has aluminum fan blades and a 304 stainless steel exhaust cap for improved heat dissipation. The use of these materials instead of plastic will also protect the machine from damage and help it live longer.
User-friendly Details
It has a unique portable handle on the top to make it convenient to carry. The water container has a large opening and an ergonomic handle for easy access and cleaning. We also provide free carbon packs and fruit acid cleaners.
Why Choose The VEVOR 4L Stainless Steel Water Distiller
Ce Certification and UL-listed to meet high safety, health, and environmental protection requirements.
Fully stainless steel machine for no lingering smell or taste even after regular use.
Efficient and strong distillation performance — 4.5 kWh electrical consumption for 6 gallons.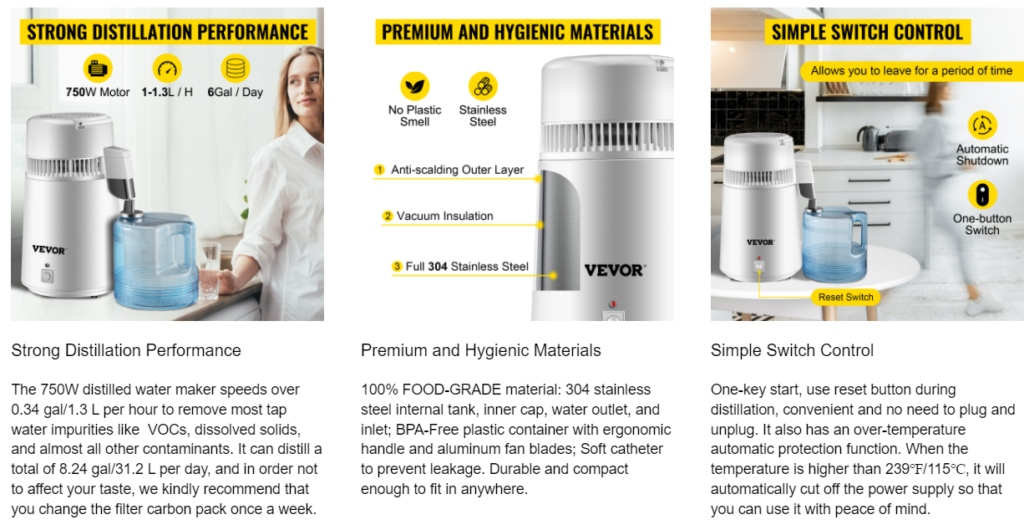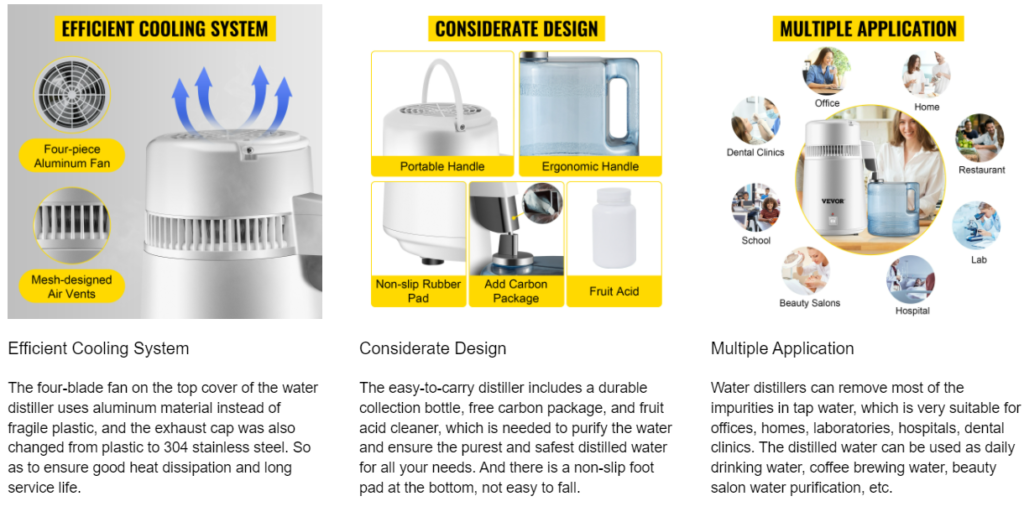 Note
Do not drink the first cycle of distilled water.
Do not let the distiller run dry as bacteria can adhere.
Product Specifications
Model: YMK40101
Rated Power: 750 W
Distilling Speed: 0.34 Gal/H (1.3 L/H)
Container Volume: 1.1 Gal / 4 L
Barrel Diameter: 7.7 in / 195 mm
Barrel Material: 304 Stainless Steel
Container Size: Φ7.2 x 7.1 in / Φ183 x 180 mm
Container Material: Plastic
Product Dimensions: Φ9.1 x 15.2 in / Φ232 x 385 mm
Product Weight: 9.9 lbs / 4.5 kg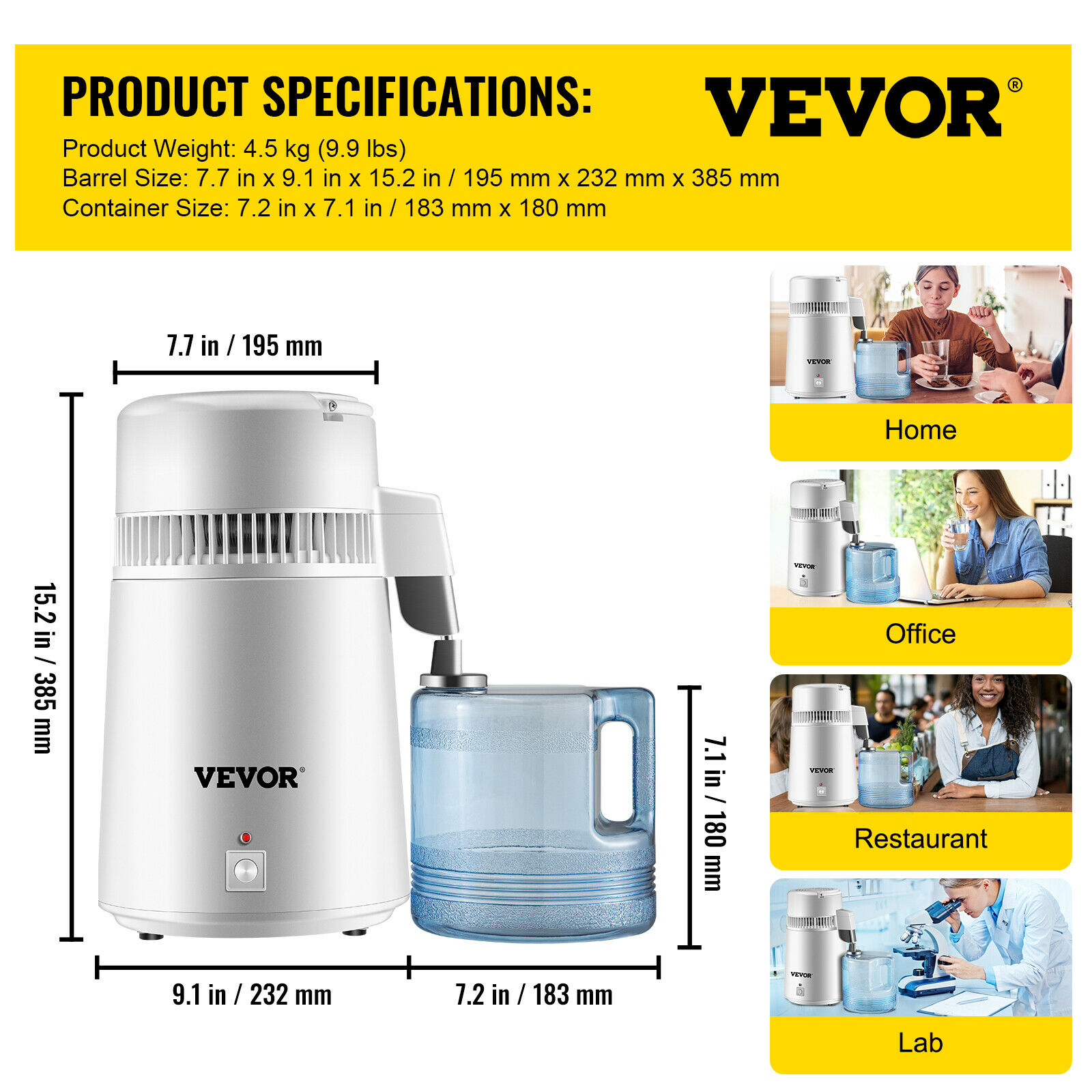 Package Inclusions
1 x Water Distiller
1 x Plastic Water Container
3 x Carbon Packages
1 x Bottle of Fruit Cleaning Powder
1 x User Manual