Like most moms used to say, "the kitchen is the heart of the home." It's the place where food is made, and love is shared, so it's essential to keep it clean and organize all the time. And when it comes to decluttering your spices, cans, bottles, and other kitchen things, choose MommySue.
MommySue is an all-purpose rack that you could use everywhere. It's simple, neat, and easy to clean. The rack comes with all the essential holders you need to help keep your kitchen neat and clean. It comes with 2 or 3 layers (depending on the size) to place a range of items like canned goods, spice jars, seasonings, and so on. Plus, there are multiple side holders that you can store your kitchen utensils and equipment that you frequently use. You can put MommySue on your countertops or inside the cabinets.
Why Choose MummySue?
2/3 Tier Standing Spice Rack: This trapezoidal design spice rack is the perfect organizer for your cabinet, kitchen, pantry, bathroom, and more. It easily organizes all kinds of spices, sauce, condiments, cans, and more in one space. On the other hand, if you plan to use MummySue in the bathroom, it's perfect for your cosmetics, beauty accessories, nail polish, and more. In other words, MummySue is all about keeping every place in your house tidy.
Multifunction Organization: The open design helps you to find what you need quickly and easily. It has enough space between 2 tiers for different size bottles.
Anti-rust and Sturdy: Because MummySue is made of stainless steel, with black coating protection, it stands against rust, making your kitchen looking new and safe all the time. Plus, the stable structure ensures a non-slip and secure foundation for heavy items.
4 Piece Attachments: It comes in a complete set of 3pcs hooks for hanging gloves, 1 knife block, 1 cutlery for knives and fork, and 1 board rack for cutting board.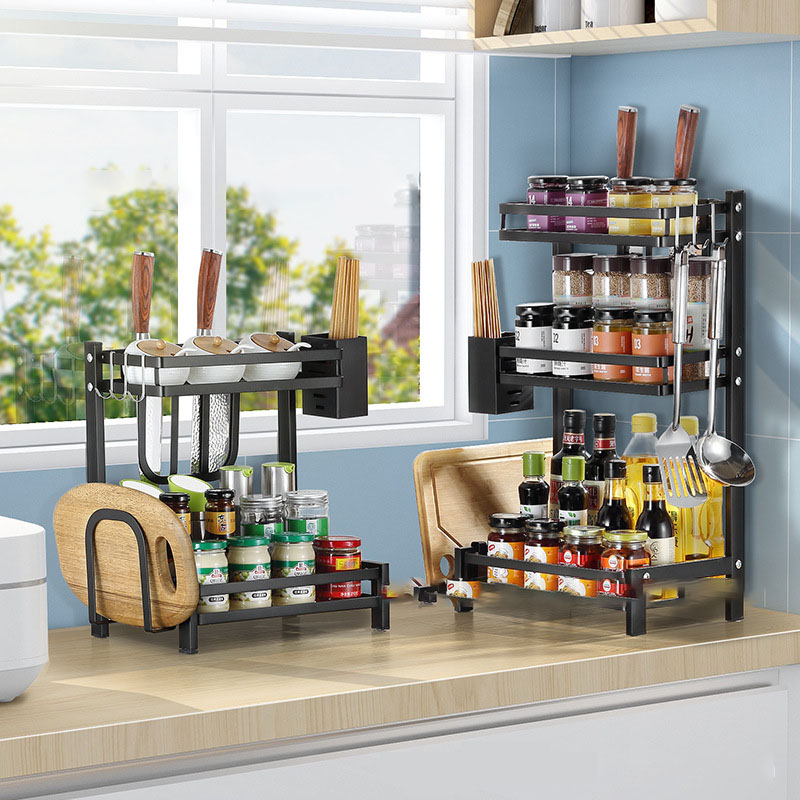 Specifications:
Name: Spice Rack
Material: Stainless Steel
Color: Black
Features:
Easy assemble, accessories supplied.
Solid and durable in use.
Holds your spice or herb jars, neat and space-saving.
Used as a spice rack, desktop bookshelf, makeup organizer, bathroom shelves, and plant rack.
Strong bearing capacity.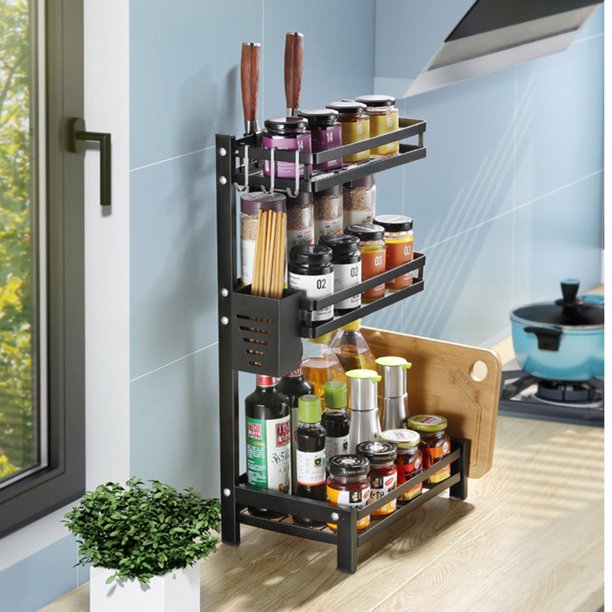 Package Included:
1*2/3 Layer Dish Rack (Condiments are NOT included)
(Standard Set includes spice rack + 1 x knife rack, 1 x cutting board rack, 1 x cutlery cage, 3 x iron hook)
Multi-Purpose:
Kitchen Countertop organization: spices, condiments, canned food, utensils, chopping board, knife, and more
Bathroom countertop organization: lotions, cleansers, soaps, shampoo, and more
Dresser organization: skincare products, cosmetics, nail polish, and more
Crafting supplies organization: crafts goods