Go beyond the standards and take your kitchen organization with EZracks.
When you enjoy cooking, you invest in gathering different spices. You look for those extra kicks of aroma in your food and appreciate the sight of colors as you stack them. However, with such a range of choices, reaching for the ones you want to use could be troublesome, especially if you don't have a specialized rack or storage container. You'll either create a mess or burn your food while you take time looking for the right spice.
If that seems to be your problem, then the EZracks is your perfect partner to help you organize your flavors and spices neatly. With a beautiful and strategically designed structure, this spice rack will make your cooking experience stress-free. All you need to do is pull and twist to find the spice or herb you're looking for.
Features:
Large Capacity: More storage compared to most storage shelves. Our wider, rotating shelves can hold larger bottles, including standard vitamin bottles.
Practical for Use: The EZracks doesn't take too much space. You don't have to take the entire rack just to look for a particular spice.
Easy To Use: Simply lift the handle, pull, and rotate for easy access to your organized items. Perfect as a kitchen spice rack organizer.
Our 2-tier spice rack creates a lot of storage room in your kitchen and makes good use of your cupboard cabinets! Each tier can be pulled out so even the spices in the back are still accessible. The individual drawers do not just pull out they also swivel for quick and easy access – a great spice rack organizer and a true space saver.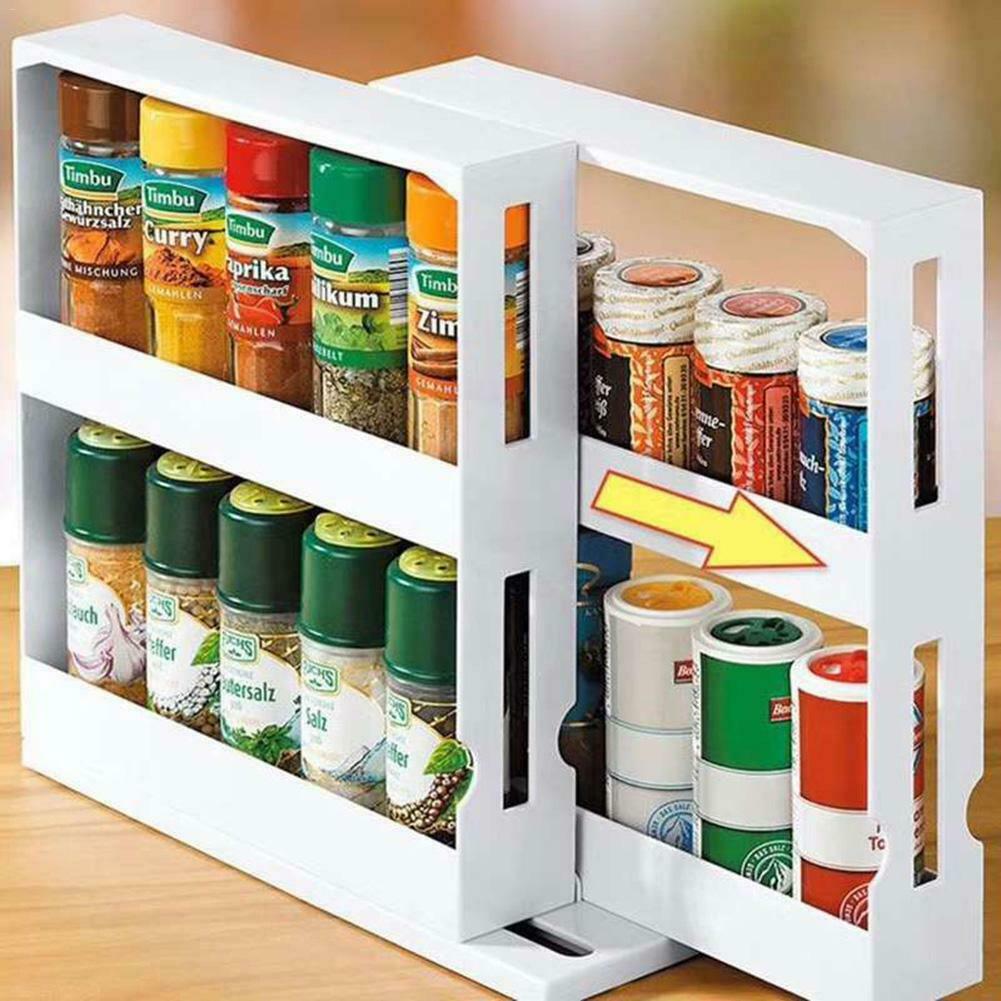 Organize Smartly
With EZracks, you don't have to take the whole rack every time you look for spices, flavorings, or so on. The racks follow a pull and twist mechanism that allows you to reach out items without difficulty. Unlike traditional racks that are either useless or bulky, the EZracks gives you unique accessibility that not only organizes your kitchen storage but also offers a smart functionality that could be useful if you're in a rush.
Store Efficiently
The 2-tier spice racks could hold a variety of items ranging from spices, herbs, cans, and even ketchup bottles. You don't need multiple racks for different racks. With EZracks, you can store efficiently every time.
Product Details:
Product Dimensions:28*10*27cm /11.02 x 3.94 x 10.63 in
Package Includes: