Looking for new ways to spice up your kitchen? You're in luck because the latest talk of the town when it comes to kitchen organization is here. Introducing UpHome's Stainless Steel Spice Rack, your in-home solution to declutter your kitchen.
Here's the thing: you wouldn't want to see your spices, seasoning bottles, or flavorings cluttered. One, it's annoying, and two, it's susceptible to breaking, spilling, and even infestation. That's where the UpHome Spice Rack comes in—to organize everything and place them into one, stable, and insect-free rack. It's simple to install and it's highly recommended to keep your kitchen sanitized.
If you're like the millions of moms who have seen the advantage of the UpHome Spice Rack, now is your chance to grab one before stocks run out. This kitchen equipment sells like hotcakes because of its unique and top-quality design that focuses on safety and excellent organization.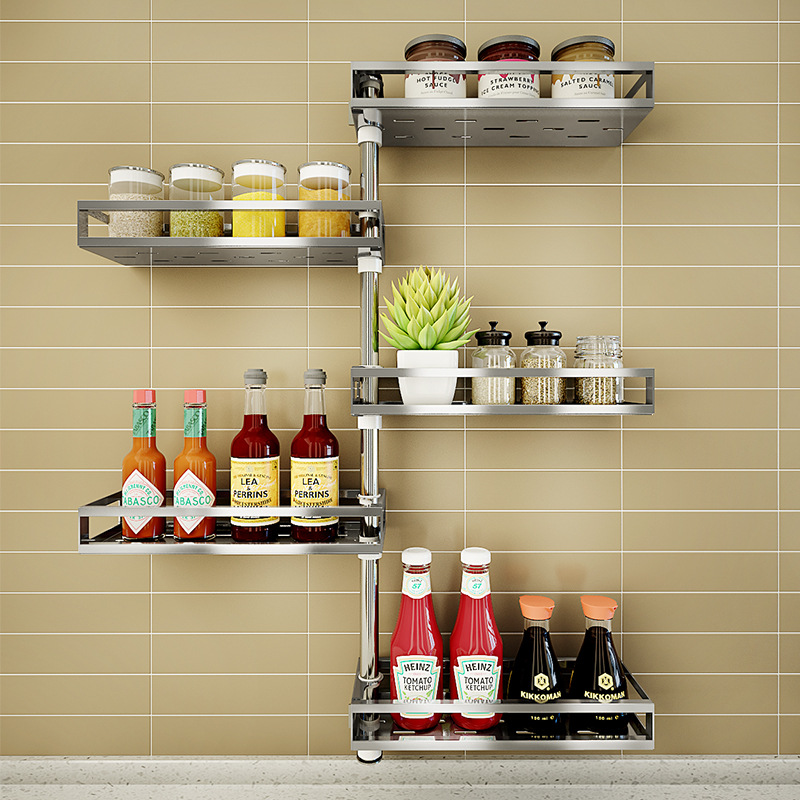 Feature :
Material: Made of high-quality stainless steel. It is safe, healthy, and durable, so you can use it with confidence.
Design: 4 layers of rotatable design, large capacity storage, easy to use, perfect space-saving to keep the organization of cans, bags, and bottles.
Easy to install: can be mounted on the wall or behind a kitchen cabinet door. There are two installation options to choose from.
Suitable for: stabilizing a solid foundation for home fragrances, suitable for storing spices, condiments, cereals, canned foods, salt, and pepper grinders.- can be used in cabinets, shelves, or pantry.
Free adjustment: the height can be adjusted up and down, 180°rotation.
High-temperature resistance: high heat resistance, up to 100 ℃.
Space Saver Solution
There's no need to get those bulky and space-consuming traditional racks. What you need is the UpHome solution to give your kitchen a modern, yet smart feel every time you cook. It can support multiple bottles like ketchup, olive oil, spices, and so much more.
Sturdy and Top-notch Steel
The UpHome isn't ordinary, it's extraordinary! It comes with quality 304 stainless steel that will stay rust-free and durable for a long time. With a simple installation and quick organization, the UpHome will keep your kitchen clutter-free.
Specification :
Name: UpHome Spice Rack
Material: 304 Stainless Steel
Color: Silver
Weight: 2000g
Size :
3layer:37.5x25cm(14.76″X9.84″)
4layer:37.5x72cm(14.76″28.35″)
Package included :