The Home Complete Space-Saving Spice Rack Organizer is the ultimate organizing essential for your kitchen, pantry, or cabinets!
This handy spice rack features 5 shelves that can accommodate most standard-sized spice jars and containers. The rustic vintage-looking wire design is not only a beautiful addition to any home decor, but it's also a practical storage option for your kitchen!
Installation is a breeze, as the shelves come equipped with the necessary mounting screws. This 5-tier wall-mounted spice rack is the new stylish way to store your herbs, spices, and seasonings!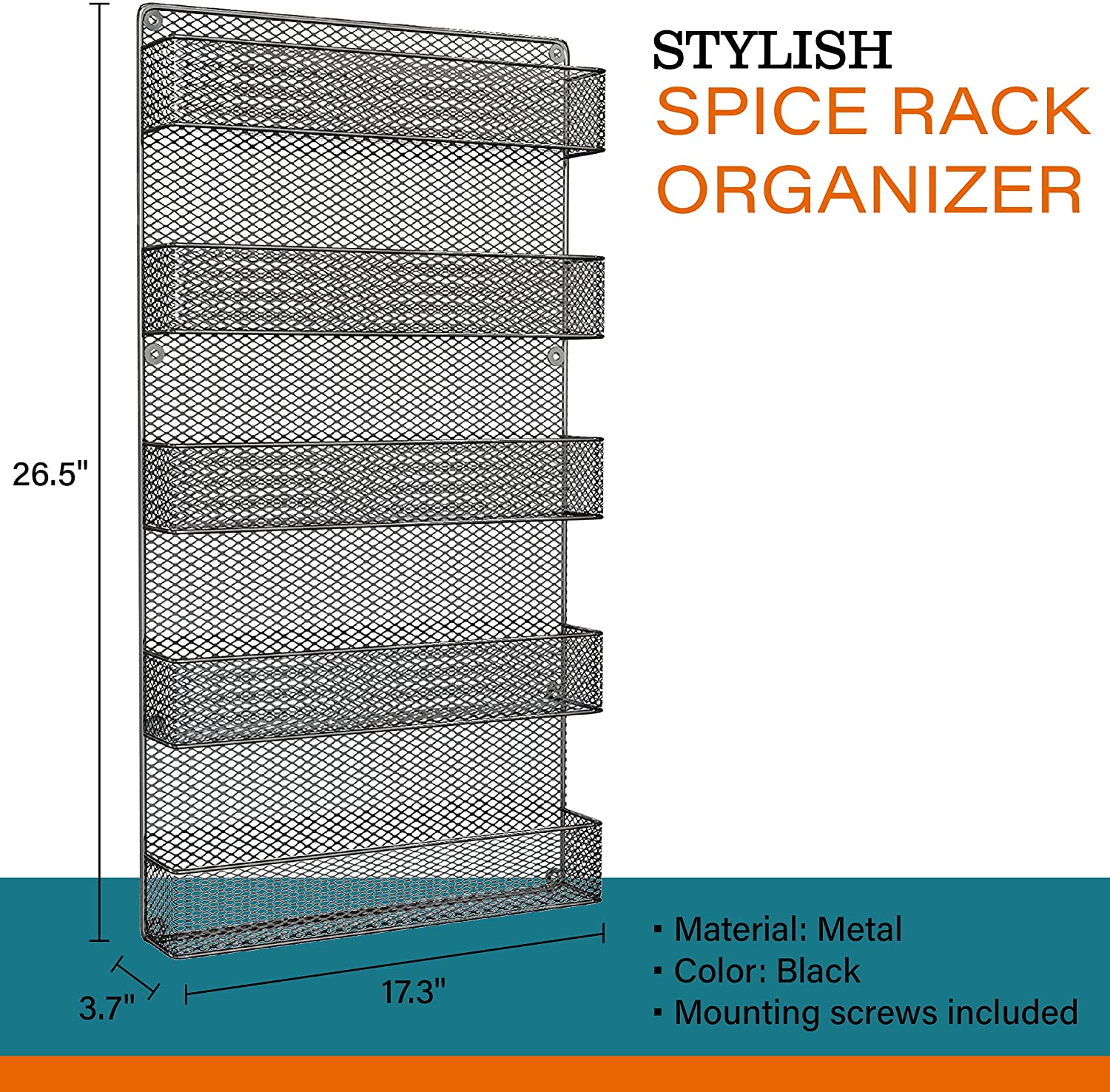 Product Features
STYLISH SPACE-SAVING DESIGN. Helps your spices stay neatly organized and easy to access while keeping your cabinets clutter-free! Our spice rack organizer is an essential space-saving storage solution for your kitchen, pantry, cabinets, and even your closet or bathroom. Hang it on the wall or door to easily maximize storage space. If you're living in a flat, dorm, or condominium without too much space, this is perfect for you.
MULTIPURPOSE 5-TIER SPICE RACK. No mess and less stress because it can accommodate 9 average-size spice jars on each row and hold up 20 oz bottle containers. These are not only useful for spice jars, but also for storing tea bags, condiments, or jelly jars. You can organize your bathroom essentials too, such as nail polish, essential oils, medicine, cosmetics, travel-sized lotions, or even your craft supplies and gadgets. 
DURABLE WALL-MOUNTED RACK. If you love cooking, you probably have a lot of spices in your kitchen, too! This sturdy mesh rack is wall-mounted and has a bar high enough to securely hold your well-arranged spices to avoid the hassle of searching through cluttered cabinets for desired ingredients. Making your herbs, spices, and seasoning jars available while cooking will never be a challenge with this!
EASY PEASY INSTALLATION. You'll receive an installation manual with all the necessary mounting screws to be used for easy setup on the wall, on the door, or in cabinets. All you'll need to do is install the screws to the area you would want to hang the spice rack and hook the rack onto the screws. And just like that, your pantry storage and organization problems are solved!
PERFECT GIFT FOR ANY OCCASION. Looking for a unique housewarming or wedding gift for friends or family? This stylish yet sturdy rustic wire spice rack will make a beautiful addition to any kitchen or pantry and will easily complement any home decor. It's perfect for an aspiring chef or anyone setting up a house with a new kitchen!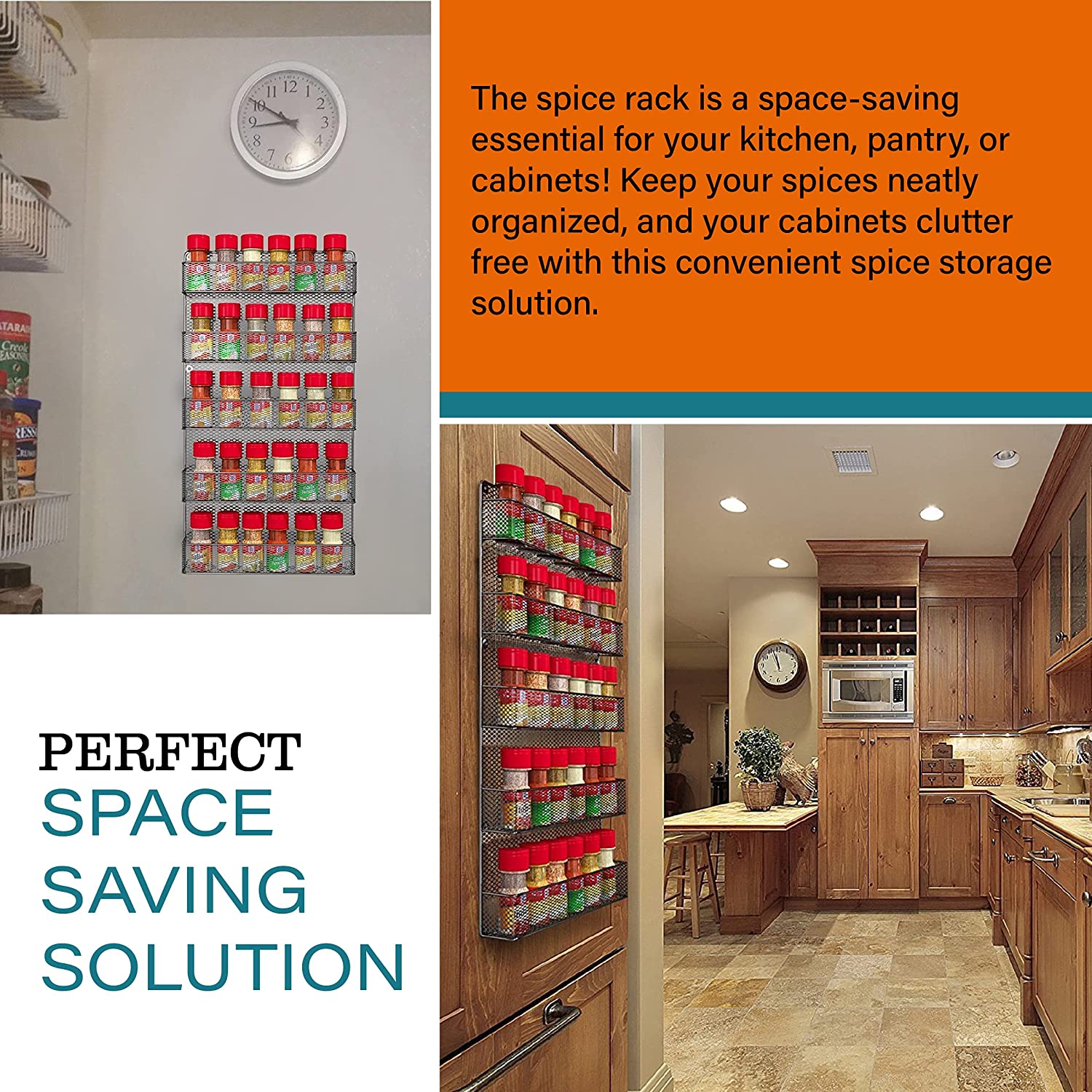 Why Choose The Home Complete Space-Saving Spice Rack Organizer
If you love cooking, then you already have a lot of spices in your kitchen that need organizing! It can be a challenge if you have limited storage space, but it can easily be solved with our Space-Saving Spice Rack Organizer.
It's sturdy, lightweight, and easy to install. Our stylish 5-tier spice rack will help arrange, organize, and hold all of your favorite spices, herbs, condiments, and seasoning jars to maximize the space of your kitchen or pantry cabinets.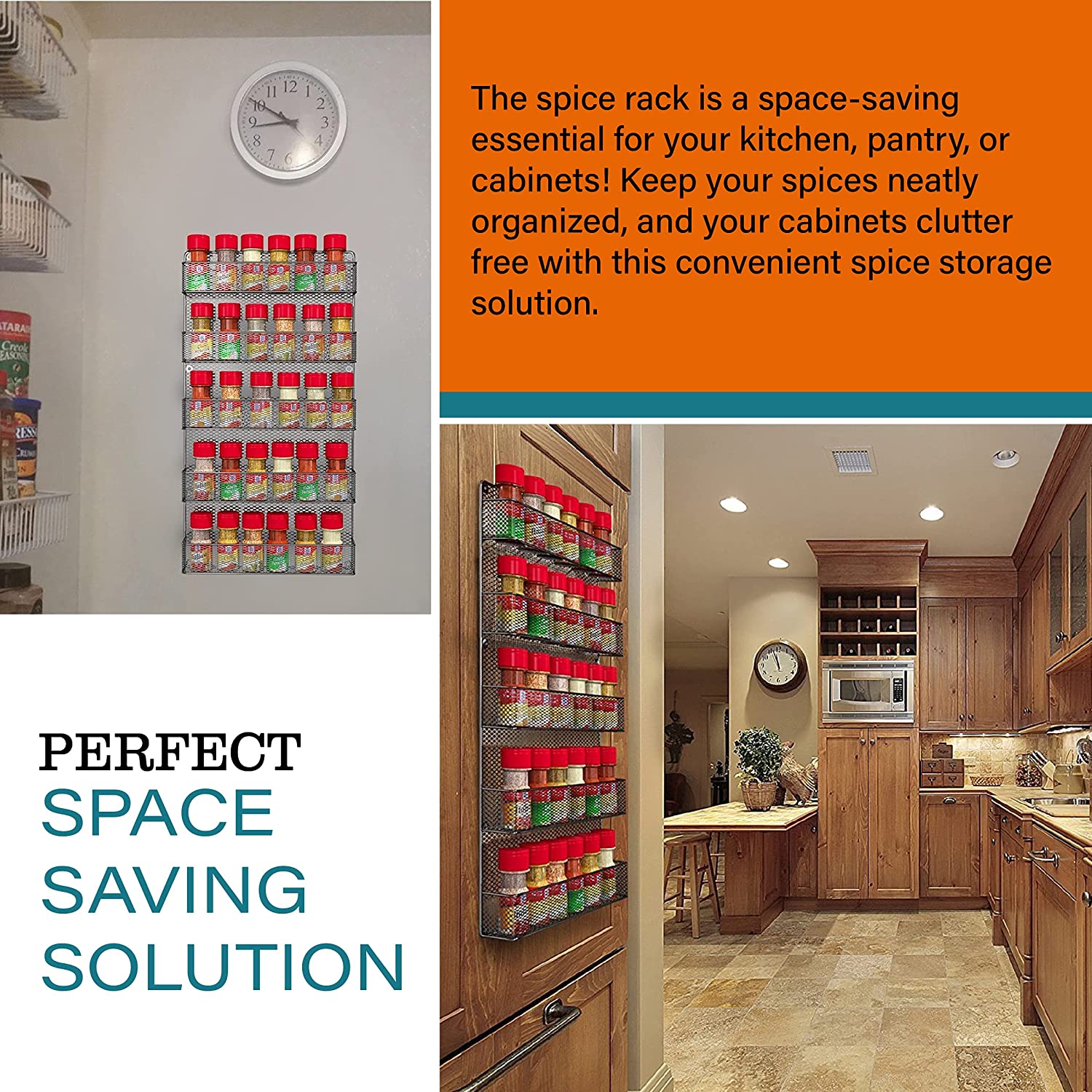 Product Specifications
Dimensions (HxWxH): 26.7 inches x 17.3 inches x 3.7 inches
Tiers: 5
Material: Metal
Weight: 6.5 lbs
Package Inclusions
1 x 5-Tier Wall-Mount Spice Rack
1 x Mounting Hardware