Stainless Steel Ice Crusher with One-touch Operation – Works for Drinks, for Preserving Food, and for Making Your Treats Cooler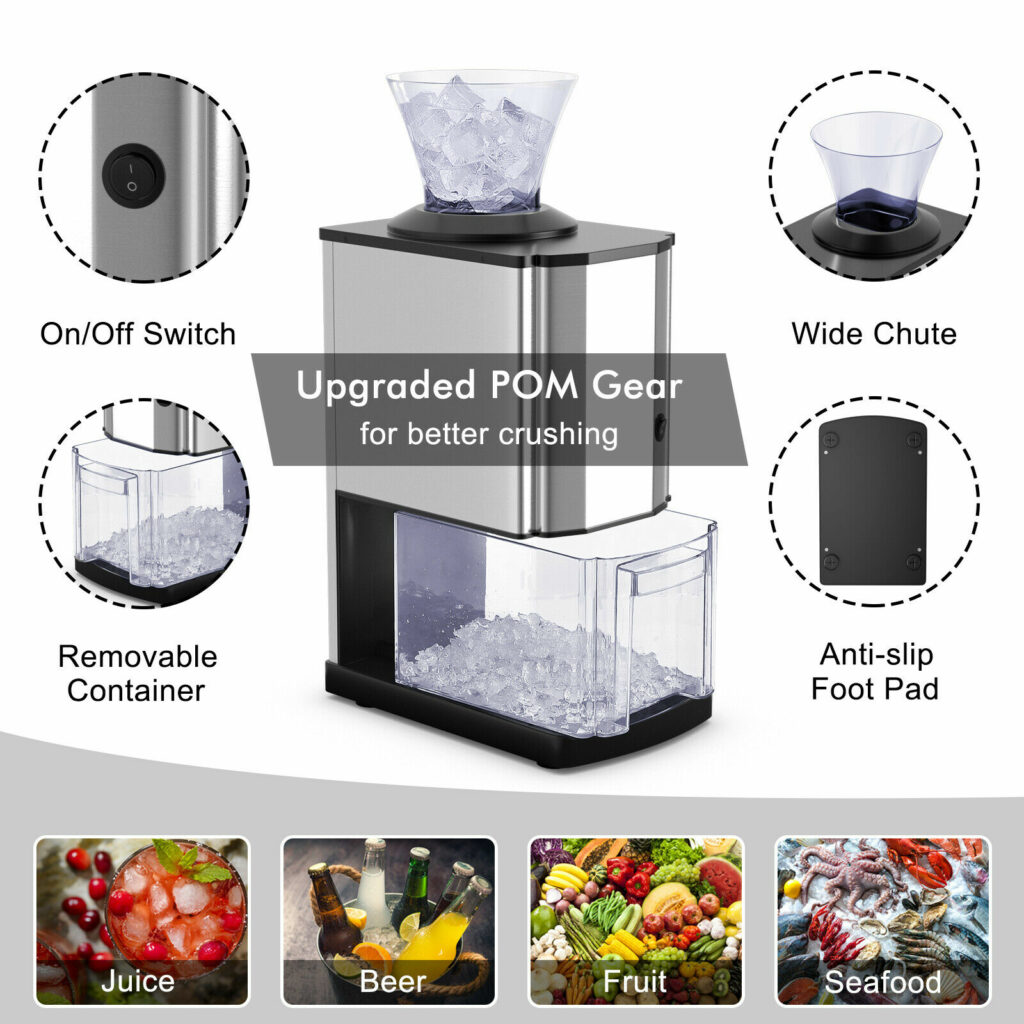 Introducing the Ice Crusher Machine That Will Give You Fine Crushed Ice Fast!
Who doesn't love a cool drink, an ice-cold beer, or food that's well preserved? If you need high-quality crushed ice for your favorite treats, the LuxoKruz has got you covered.
This high-capacity ice crusher machine is made from durable stainless steel material that can handle heavy duty crushing. No matter your ice's quality – the cylindrical ones, the block ones, or the ones chipped from a giant ice – you can be assured that the LuxoKruz can process that.
You will love the one-touch operation of the LuxoKruz. Say goodbye to the endless manual cranking that can leave you spent. With the LuxoKruz, you simply press the button and this machine will deliver an efficient performance – and high quality, great texture ice for your drinks and food.
The high-capacity ice crusher is great for home and commercial use!
The LuxoCruz is for you if…
You're looking for a high-capacity ice crusher machine. This bad boy can handle up to 12 cups of crushed ice!
You want an iced crusher with a heavy-duty motor.
You prefer an iced crusher machine that can handle all sorts of ice.
You want an iced crusher that is easy to use.
You want a machine that can produce ice consistency that you can use for your drinks, and food!
LuxoKruz Ice Crusher Features
Made from durable stainless steel – meant to last for a long time. The sleek design of the LuxoKruz is made from high quality, rust-resistant alloy metal that can be guaranteed to last for a long time. The solid build of the LuxoKruz assures you that it won't fall from the possible shaking it can get from the process.
Comes with a high-intensity motor and blade that makes 12 cups of crushed ice in under 2 minutes. The high-efficient motor of the LuxoKruz can handle all sorts of ice – cubed, box, cylindrical, or the raggedly crushed ones. In under 2 minutes, the machine can produce up to 12 cups of ice.
Can crush 30 lbs of ice in an hour. If you're looking for a commercial-ready ice crusher that can produce an impressive amount of ice, we recommend the LuxoKruz. 30lbs an hour.
Includes a slot for crushed ice – no need to transfer from one slot to another. There's a built in pint with handle that catches all the crushed ice. No need to transfer the ready-to-use crushed ice from one spot to another. No mess, too.
Easy to clean, and easy to operate. Simply wipe the machine. No need to clean. The one button operation makes this machine easy to use for anyone.
Lightweight and easy to move anywhere. 
Makes ice that you can use for so many purposes!
Specifications:
Material:Stainless steel + ABS + AS
Voltage/Frequency: 110-120V
Power: 60-80W
Cable length: 4.5Ft
Ice capacity: 26.5 lbs/h
Net weight: 8.2lbs
Product size: 6.5'' x 10.5'' x 18''(L x W x H)
Package include: 1 x Ice machine