The High-Capacity Tabletop Ice Shaver That Makes Smooth Crushed Ice for Ice Cones and Iced Treats. Great for Home Use, for Parties, or for Businesses!
The Ice Shaver Machine That Achieves The Ice Consistency with its High-Power, High-Speed Motor and Shaver!
A great snow cone treat starts with perfectly smooth shaved ice. The high-capacity, high-powered, ultra-efficient WintoSmooz works to give you the ice quality you need for your ice cones, and other iced treats. No more uneven chunks of ice or coarse ice that can get in the way of you enjoying the full shaved ice experience!
This ice shaver machine is the ideal choice if you want to indulge in some iced treats at home, or if you're having a summer party, or if you are planning to run a business selling ice cones and shaved ice treats.
For smooth shaved ice with velvet consistency, you have to get your hands on the WintoSmooz!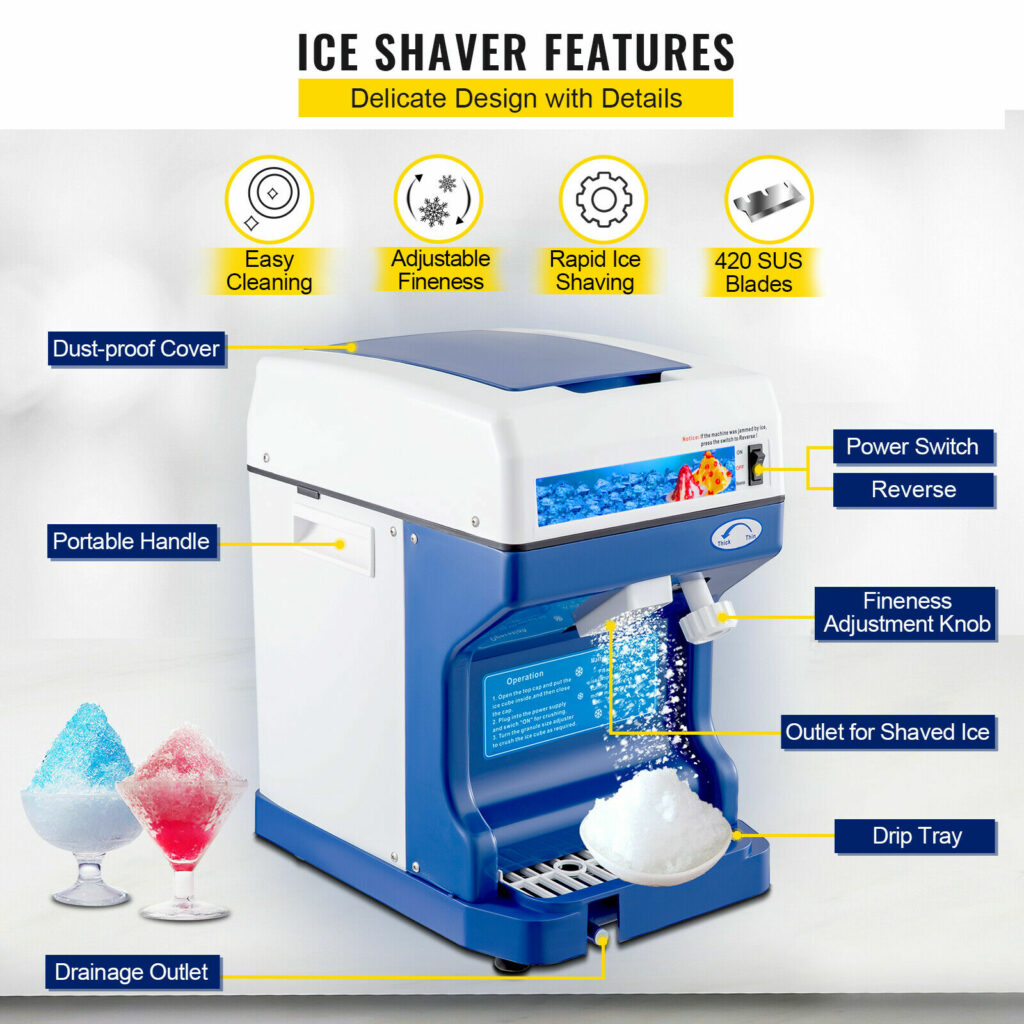 WintoSmooz Ice Shaver – Why It's The Best Choice:
It has a speedy ice shaving capacity.
You can easily adjust the fineness of the shaved ice.
Easy to use.
Easy to clean and maintain.
Comes with a powerful motor that can produce up to 120 kg of ice per hour.
Machine operation is simple.
Allows you to make shave ice mess-free.
Materials used are 100% food-grade.
Comes with a high-efficiency motor and blade.
Great for home and commercial use.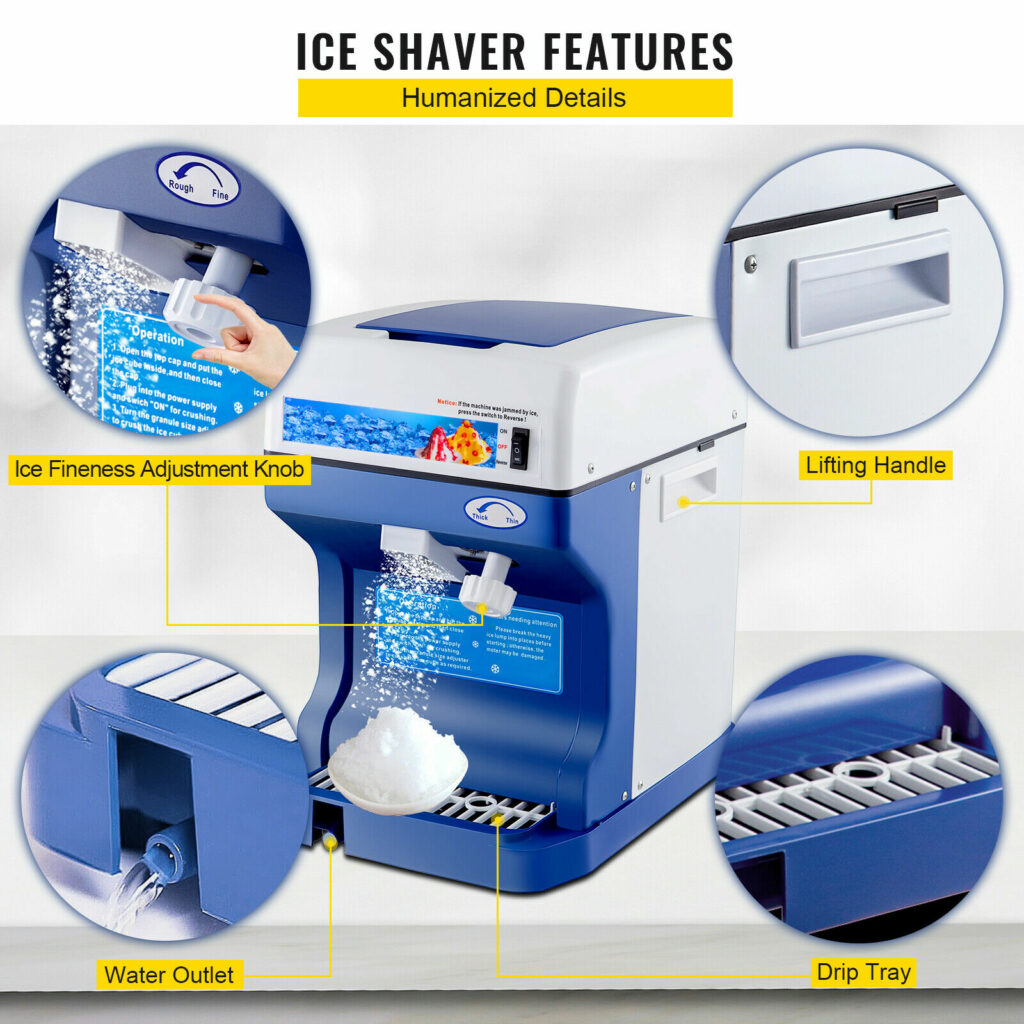 Features
The materials used for this ice shaver is 100% food grade – you won't have to worry about food safety. The WintoSmooz is made with high quality ABS plastic that is 100% BPA-free. You won't have to worry about toxic chemicals getting into your food. The durability of this plastic material is also topnotch! Guaranteed to last long!
High power motor and blade that creates ice shavings fast! The 250-watt copper motor of the WintoSmooz can crush as much as 65 lbs (120 kg) per hour with powerful 250-watt copper motor, featuring a 420 stainless steel sharp blade with the rotate speed of 320 RPM. One spare blade is included with your ice crusher machine for hassle-free replacement.
Low-noise ice machine that won't cause any scary sounds! Despite the high-powered motor of the WintoSmooz, the last thing you will have to worry about would be the intimidating noise.
The ice shaver machine that allows you to adjust the fineness of your ice! The WintoSmooz is perfect for shaved ice treats, cocktails milkshakes, and even ice cones. All thanks to the feature of the machine that allows you to adjust the fineness of the ice. You can make flaked ice shavings, ice shavings with snow consistency, and many more.
The machine is easy to operate!  The shaved ice maker machine is equipped with simple buttons for convenient operation (ON/OFF/REVERSE). The reverse buttons can prevent the device from being jammed by ice. A blade adjustment knob allows you to adjust the fineness of ice, from fine to coarse. A reverse switch is hidden under the dust-proof lid (when the lid gets opened while working, the motor stops).
The machine that is guaranteed to last for a long time. You won't have to worry about parts breaking off in the middle of the crushing process. Food-grade stirring paddles are made high quality plastic, therefore it's made to last long.
WintoSmooz design makes things convenient for you. The bottom drip tray enables the placement of cups and glasses. The machine also includes a convenient water outlet where a drain hose can be attached to prevent melted ice from spilling out. The emergency button ensures zero-mistake during operation. Humanized handles on machine sides allow fast and easy movement.
Great for home and commercial use. Our shaved ice maker machine can be used for household and commercial purposes, suitable for making snow cones, slush, milkshakes, yogurt refrigerants and other delicious frozen beverages in restaurants, hotels, drinks shops, supermarkets, etc.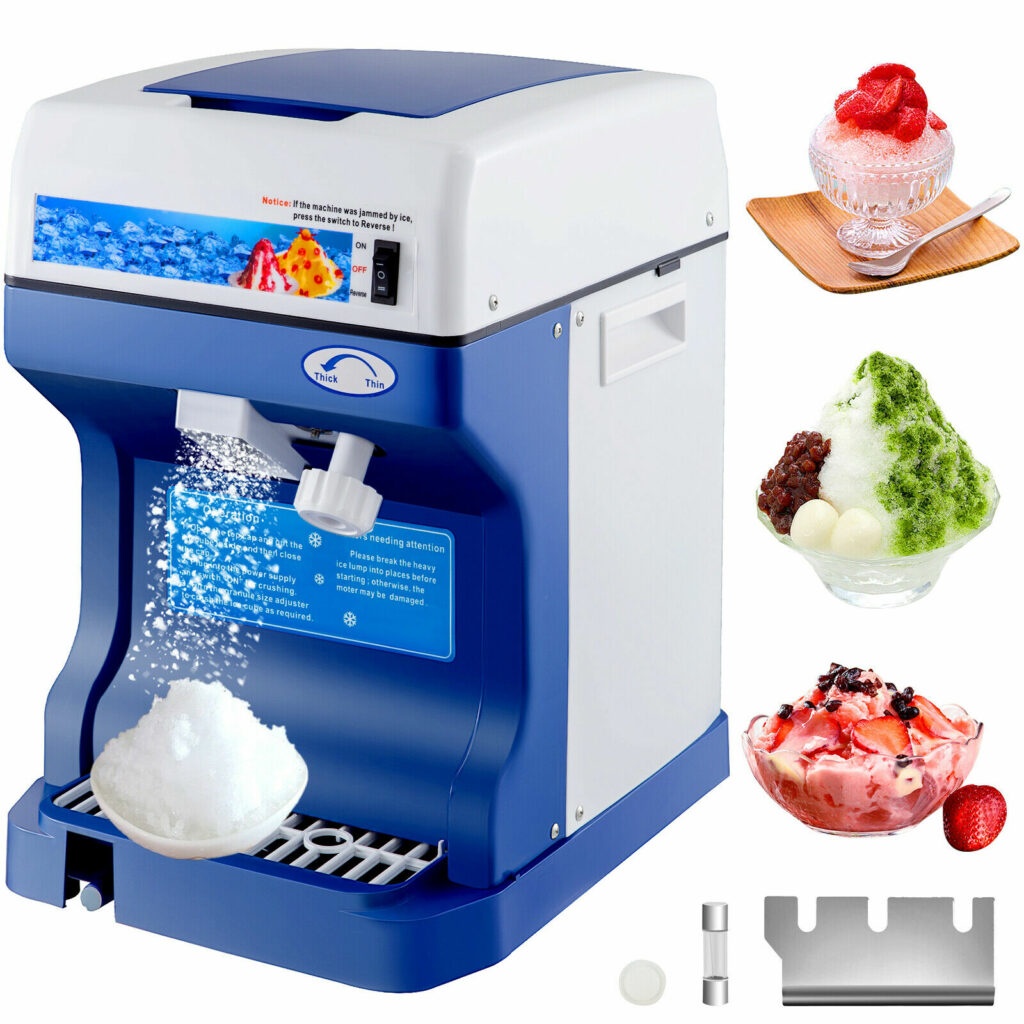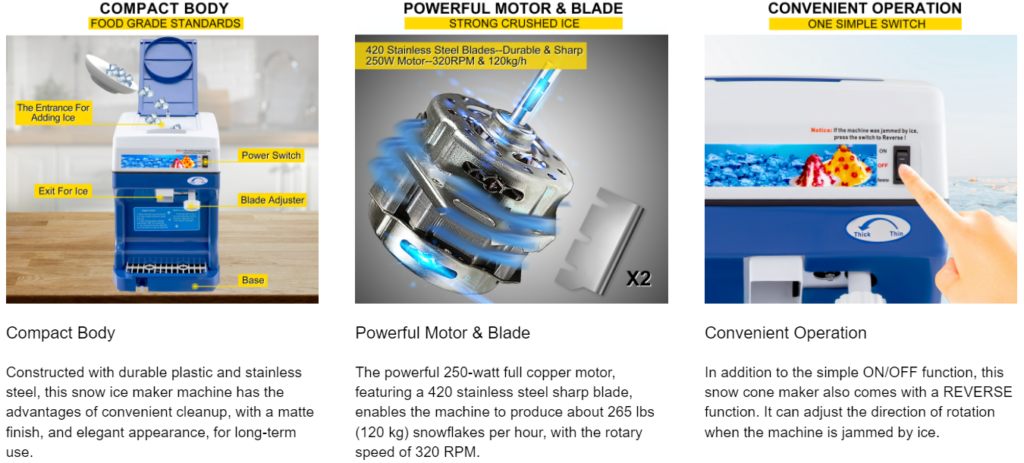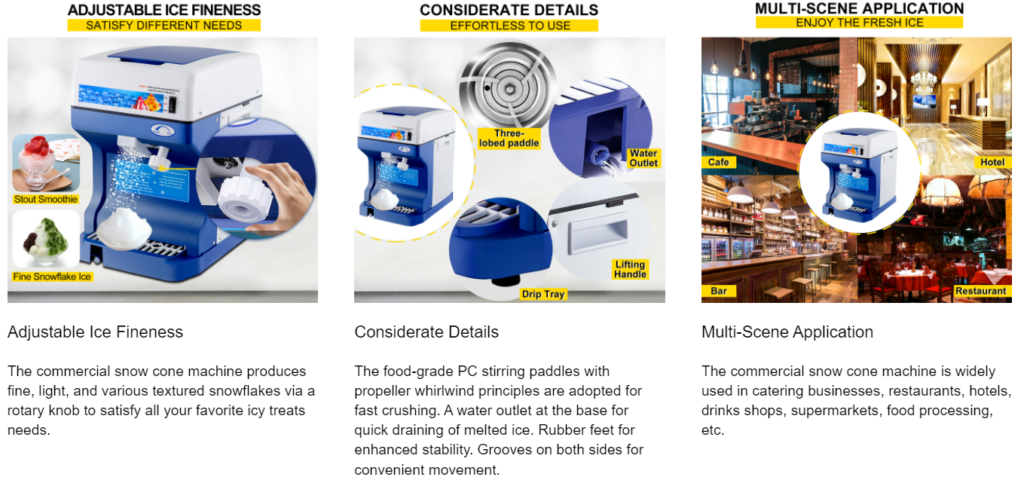 Specifications
Power: 250W
Capacity: 265 lbs/h (120 kg)
Rotary Speed: 320 RPM
Gross Weight: 31 lbs (14 kg)
Package Dimensions (L x W x H): 11.4″ x 15.4″ x 16.9″ (29 x 39 x 43 cm)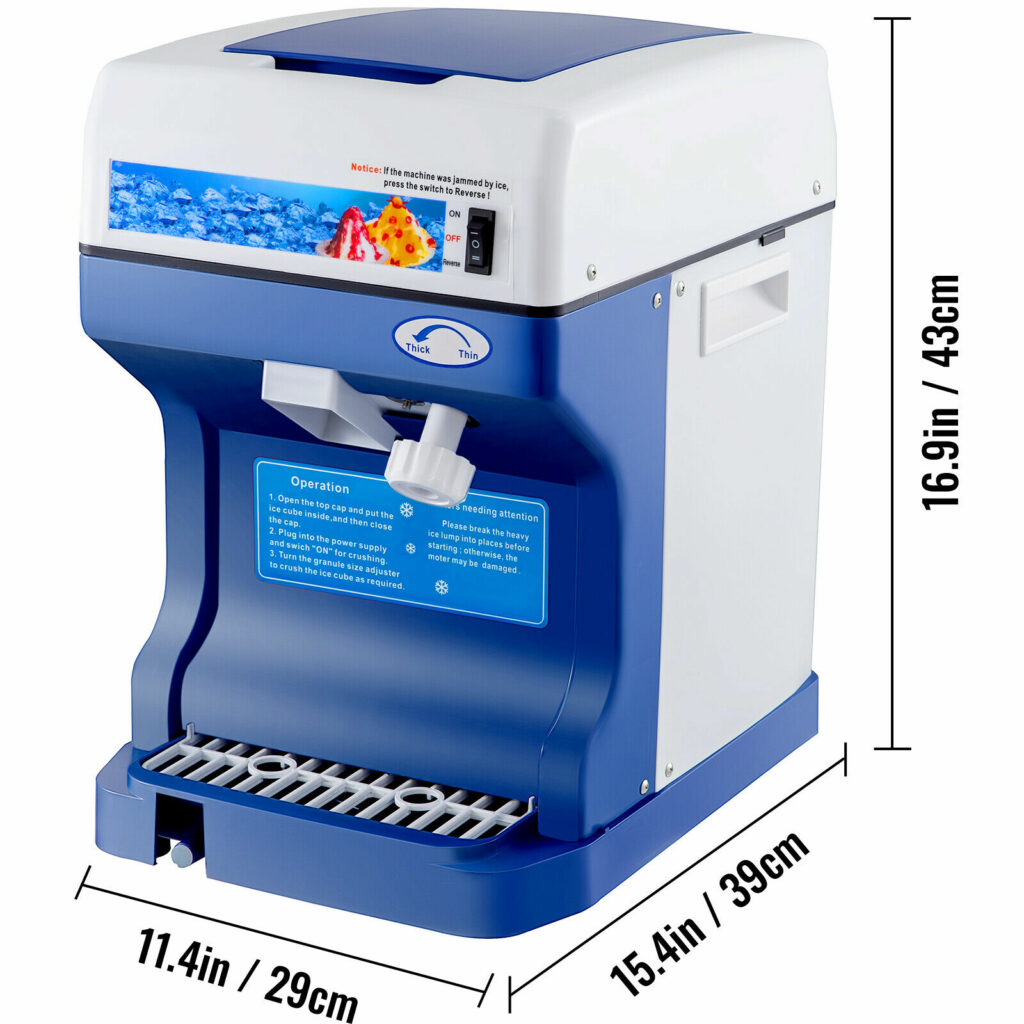 Package Content: 1 x Ice Shaver Machine