The Ice Crusher and Ice Shaver For Smooth, Fine Shaved Ice for Your Cocktails, Snowcones and Favorite Ice Treats!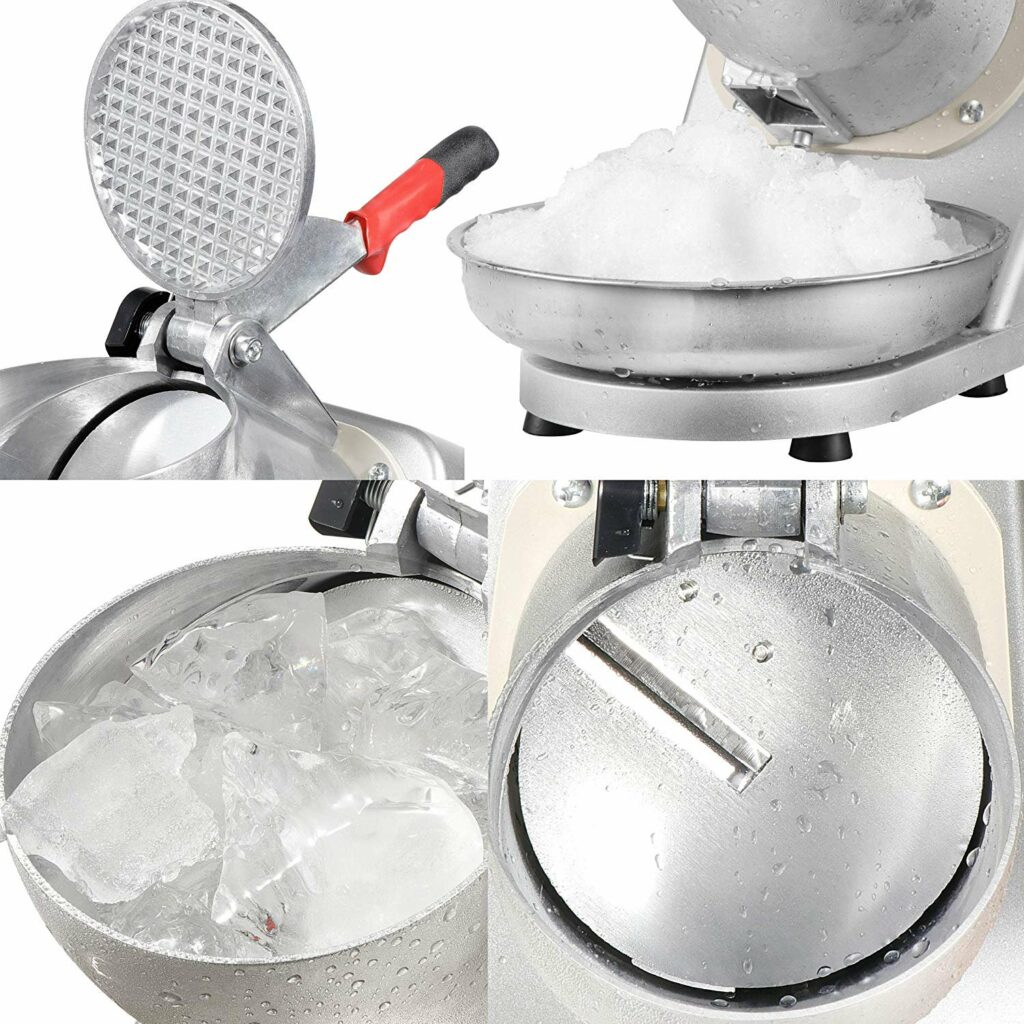 Smooth and Fine Crushed Ice Available Anytime with the ArckicBits Ice Crusher and Saver
The ArckicBits is makes creating your favorite frozen dessert and cocktails for a hot day!
Making shaved ice has now become easier with the ArckicBitz ice crusher machine. The durable build of this ice shaver machine makes it capable of handling large chunks of ice. The powerful motor running at 1500 runs per minute, you can create up to 10 cups of shaved ice in under 1 minute!
The design and the materials used for the ArckicBits are 100% safe. The premium quality metal is food-grade. The overall design of this electric ice shaver machine makes it less susceptible to overheating and bagging down.
This multipurpose ice shaver is ideal for ice cream, bingsus, ice cones, shaved ice treats, and even for frappes and milkshakes!
Why ArcikBits is the Best Overall
The solid quality of the ice shaver makes it a durable, quality machine that will last for a long time. The ice shaver is made from stainless steel with waterproof coat. The design can stand years of use and help guard the machine against rust. The sleek elegant clean apperance makes it a unique and attractive addition to your kitchen collection.
Multipurpose design – great for all kinds of drinks. Now you can make your favorite drinks and desserts at home. The ArckicBits is ideal for producing hand-made slush & frozen drinks for commercial use, just like those from fast-food stores, snack bars, cafes, school canteens, clubs, restaurants, carnivals, banquets or festivals. With this machine, you can make slushies, frappes, ice cones, and shaved ice treats. You can also add the ice to your cocktails!
The high-power motor and blades are efficient and makes these ice treats speedily. The highly-efficient motor is strong enough to produce up to 143 lbs of shaved ice per hour to meet demands of large amount of ice in a relatively short time. 
The 3-blade design makes crushed ice faster and finer. The machine makes up to 10 cups of crushed ice in under a minute.
Easy to operate and Easy to clean. Ergonomically design for simple operation, a given Food grade stainless steel bowl is for convenient serving, easy to clean after each use, energy and time saving! 
Great For:
Bobba Teas

Cocktails

Frappes

Ice Cones

Shaved Ice Treats

Candied Ice Treats

Keeping frozen food fresh

Features
Comes with a safety design that prevents accidental electrocution. The ON-OFF switch is covered to prevent short circuit from sudden splases.
The high-capacity, high-efficiency ice shaver can make big batches of ice in a short amount of time. The highly efficient motor of the the ArckicBits can produce up to 143 lbs of shaved ice per hour to meet demands of large amount of ice in a relatively short time. A great choice if you're looking for an ice shaver you can use for business.
The sharp alloy steel shaving blade makes fine crushed ice all the time. No more uneven, chunky ice to worry about. The blade powered by motor can make up to 10 cups of shaved ice in under one minute. The blade is rust-resistant, too.
Includes a solid base design to prevent the machine from falling down. This ice shaver will shake, but you won't have to worry about it falling over thanks to its solid base.
Made from Anodized Aluminum Casing and Hopper. Aluminum is employed in the manufacture of the casing and the hopper so that the product can stand years of use and guard against rust.

Easy cleaning as well.

Can handle all types of ice. This unit works fine with ice cubes or crushed bag ice.Users can put different kinds of ice as long as they are of similar size as the hopper.
Low Maintenance. You can flush the hopper, blade and holding bowl with clean water and towel them off after shaving.
Simple & Convenient Operation. Just drop the ice in the hopper, push the handle, and shaving work done! Anyone can do it!!
Specification
Rotated Speed: 2000 runs/min
Shaving Capacity: 143 lbs/h ( 65kg/h )
Voltage: 110V
Power: 300W

Frequency: 60Hz

Bowl Size: 7.3″ 

Overall Size: 14″L x 7.3″W x 6.5″H 

Weight: 11 lbs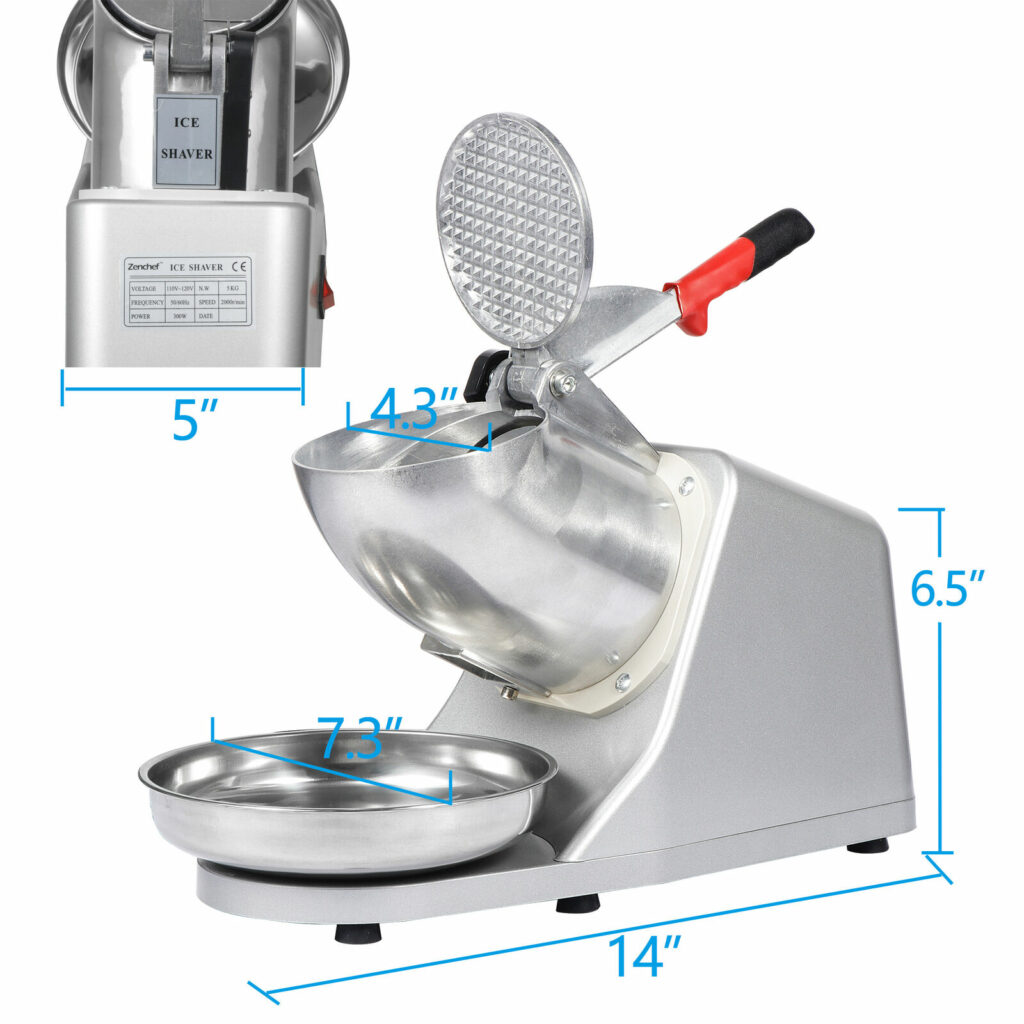 Package includes
1x Ice Crusher

1x Instruction