Keep Any Ingredient Fresh with the Air-tight Seal, High-Quality Suction, and Multipurpose Design of the GleerSeal Vacuum Sealer with 5-in-1 Sealing Modes and Bigger Seals!
Whether you are needing a food vacuum sealer for your business, or for your home, you will love how efficient the GleerSeal is! With a tighter seal, powerful suction, and multipurpose design for sealing both wet and dry ingredients. Store dried fruits, fresh fruits, uncooked meat, jerkies, nuts, grains, and many more!
Why Choose GleerSeal Vacuum Sealer? Check Out the Features! 
✅Food Preservation for All Types of Ingredients
The vacuum sealer preserves the texture and moisture of fresh fruits, nuts, meats, and vegetables. Cooked food can be stored for longer, reducing spoilage and food waste. Food can be stored in the refrigerator for weeks or months, saving time and money.
✅ Strong Suction
The -70KPA super suction of the vacuum sealer can achieve a perfect vacuum seal in 10 seconds. Additionally, the food sealer supports multi-pack sealing of up to 1.8 inches.

✅ Wider sealing
The vacuum sealing machine adopts a 5mm wide heating wire – a better option than classic 3mm sealers – so the sealing effect is better. Even if the food is placed for 1 year, it will not leak, which can prolong food storage time longer.
✅ Multiple sealing modes
Compared with other sealing machines, our vacuum food sealing machine is equipped with 5 sealing modes: dry, wet, soft, unique, vacuum sealing, which can be selected according to different types of food to achieve fresh vacuum sealing.

✅ Continuous Vacuum up to 100 times
The sealer of this product is made of superior ABS material, which has many advantages, including high temperature resistance and guaranteed continuous 100 sealing cycles. No overheating, or heat sealing loss to worry about!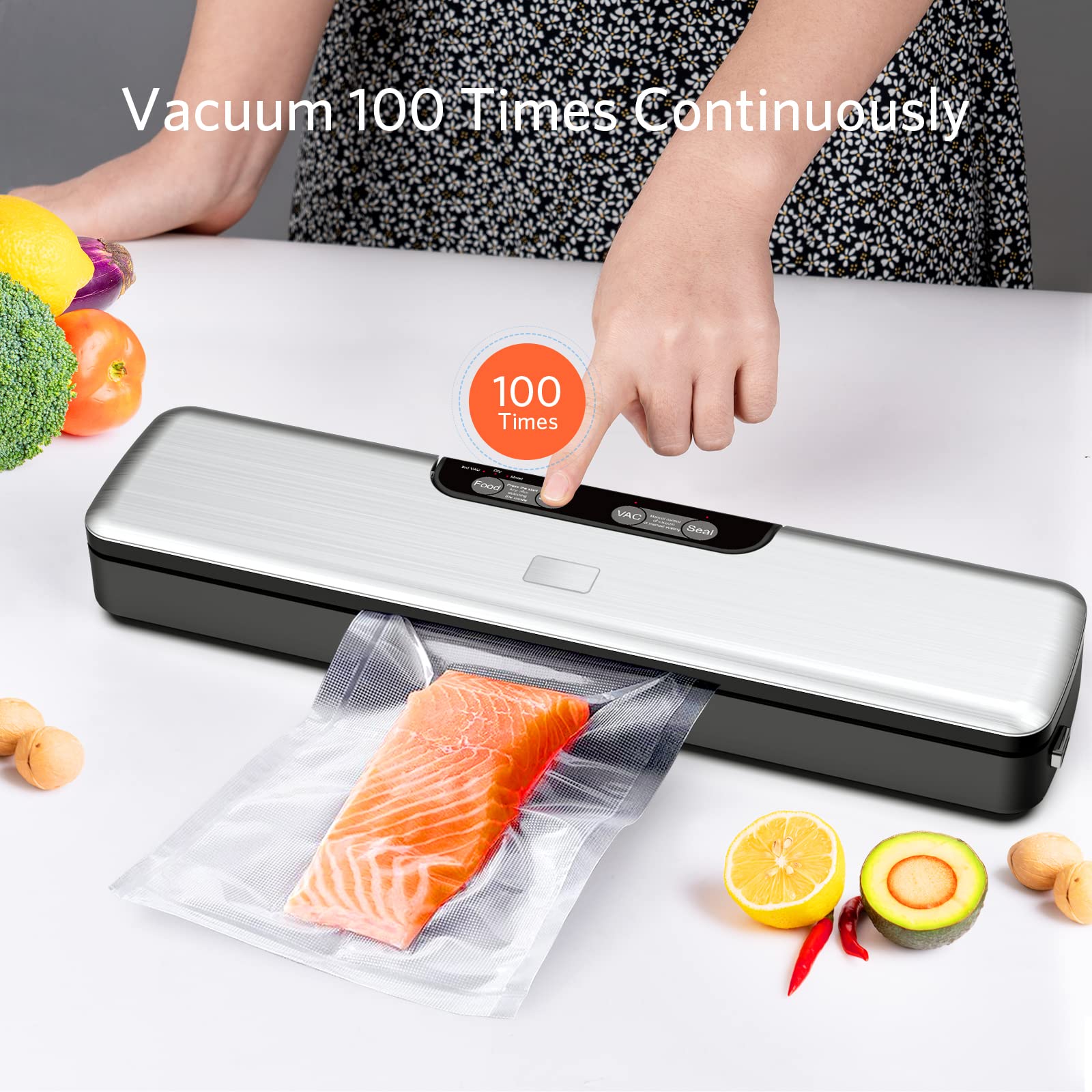 ✅ Exquisite design
This vacuum sealer is designed with brushed metal, which is stronger in texture, small and easy to use, easy to carry, and can be used at any time.

Specifications:
Power: 145W
Power supply voltage: 100-240V/50-60Hz
Degree of automation: fully automatic
Temperature control range: 180-280℃
Sealing width: 5mm
Film thickness: 19 silk
Size: L410*W88*H98 (mm)
Package Includes:
1 x Vacuum Sealer
10 x Vacuum Bags
1 x User Manual