Seal Your Food and Extend Fresh Life of Your Favorite Ingredients with the ExcelXeel Vacuum Sealer with 5 Sealing Modes, Dry-Wet Sealing Capacity, 60 kPA Strong Suction, and Fast Seal!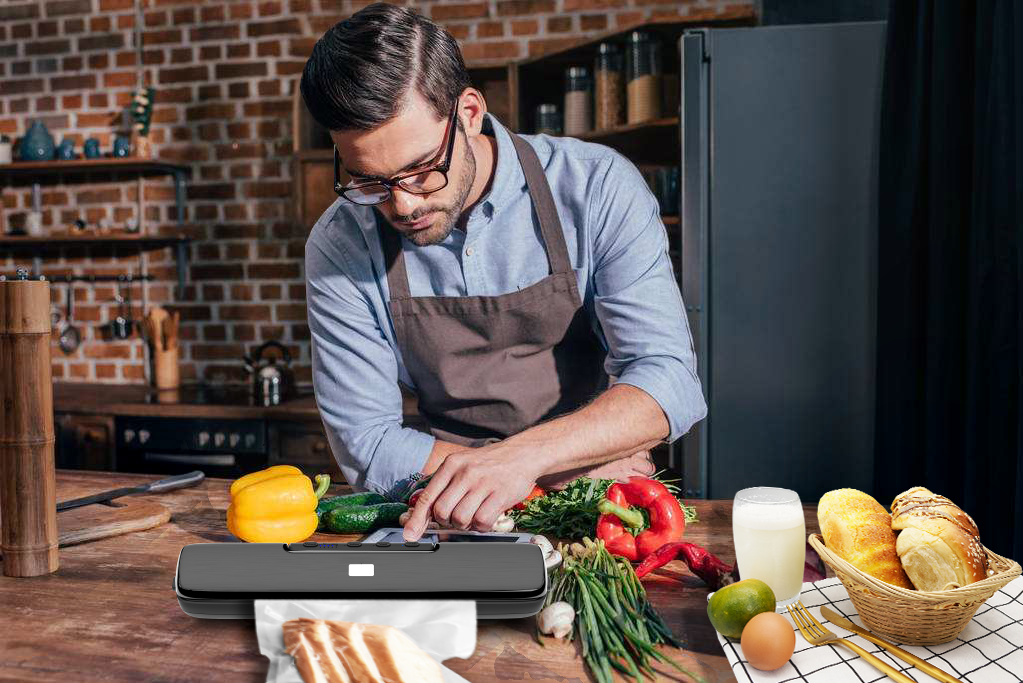 The Professional Vacuum Sealer That Every Foodie Should Have on Their Shelves
Now, your favorite fruits, meat, and veggies can have an extended shelf life with the ExcelXeel! This new tech food sealer can seal food fast, tight, and efficiently.
It now comes with a wider sealer which allows you to seal multiple bags at a time. The powerful suction — coming in at 60 kPA — seals bags tight in just 5 seconds!
One of the best things about the ExcelXeel is its ability to seal both wet and dry ingredients. Its 5-mode sealer ensures you will always find a setting suited for the ingredient you want to preserve!
ExcelXeel Vacuum Sealer Machine Features
Professional Vacuum Sealer That Only Takes 8 Seconds to Seal a Bag! 
The ExcelXeel food vacuum sealer only takes 5-8 seconds to complete the vacuum sealing of food. With its powerful suction, you can have confidence that your sealed food won't have air pockets and moisture that could affect food quality.
Creates a Powerful Seal that Prevents Bacteria From Forming
Keeps food fresh 10 times longer than normal storage methods. A perfect solution to keep food fresh for longer. Once food is sealed, shelf life can extend up to 3 years! A great machine to have when you want to preserve food.
Simple Operations Make the ExcelSeel Safe and Easy to Use
Our food vacuum sealer adopts automatic one-button sealing machine operation, a hands-free design, and a LED indicator light to tell you when sealing is in-progress or when it's done.
Great for All Types of Ingredients from Dry, to Moist, to Wet Food!
The ExcelSeel has 5 temperature modes, 1-3 for dry food and 4-5 for moist food. The machine is suitable for preserving meat, seafood, fruits, vegetables, nuts, bread, jars, etc.
A Space-Saving Machine That's Easy to Put Anywhere
Compact size and lightweight design, very easy for the beginners, especially the elderly and children. The best food preservation partner in your family kitchen.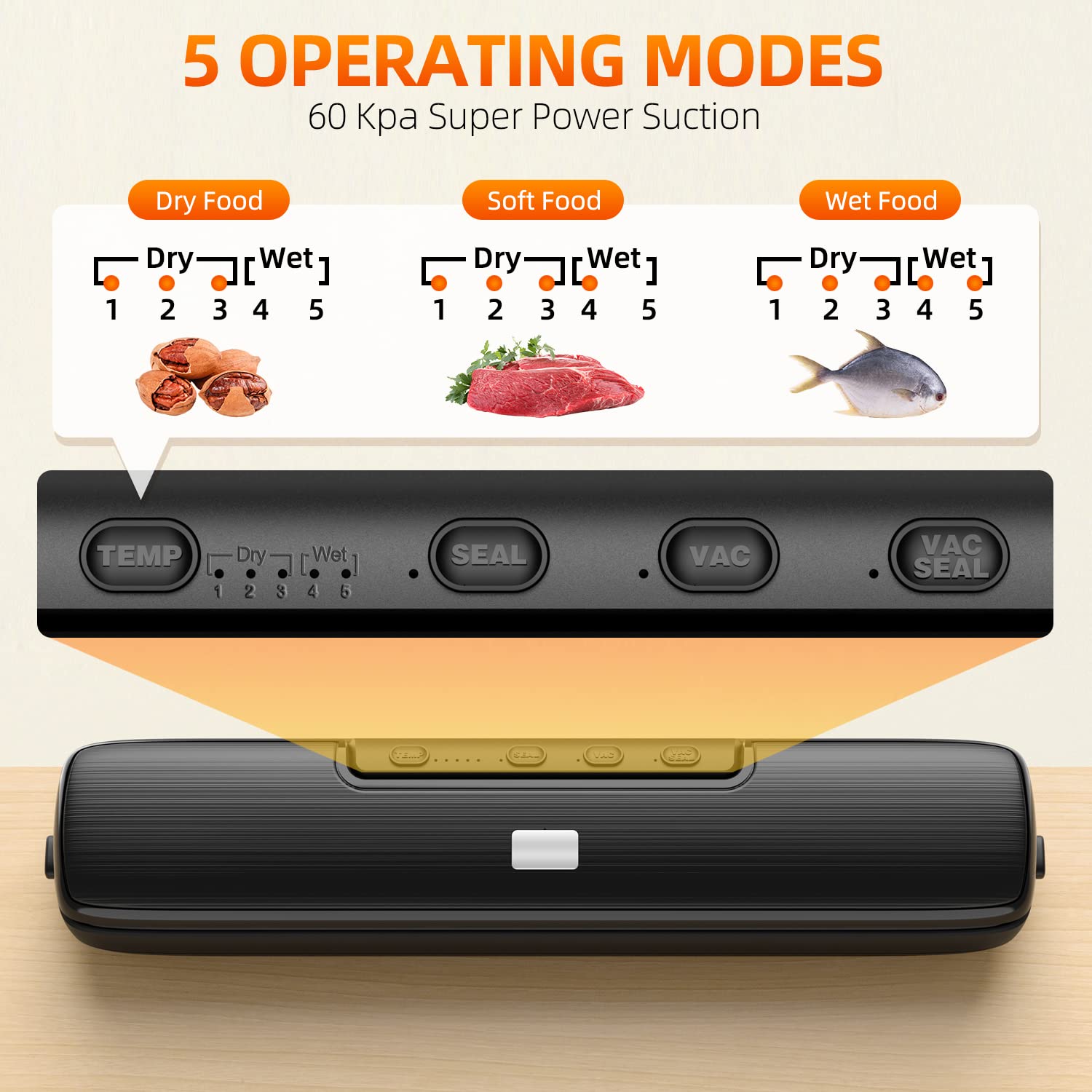 Cleaning is Convenient! 
You don't have to make any special process just to keep the ExcelSeel clean! Simply remove the top lid and use a clean moist cloth to clean.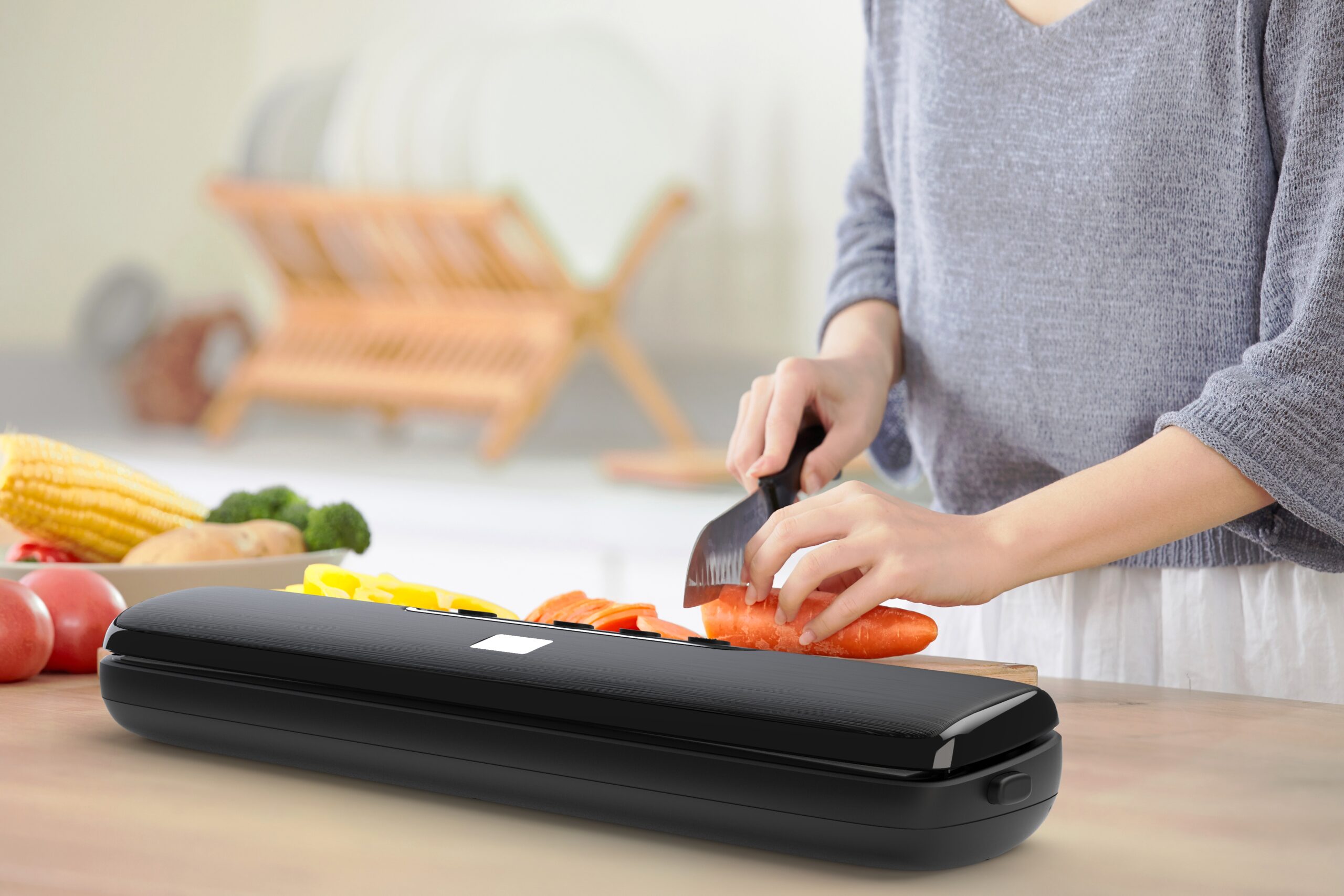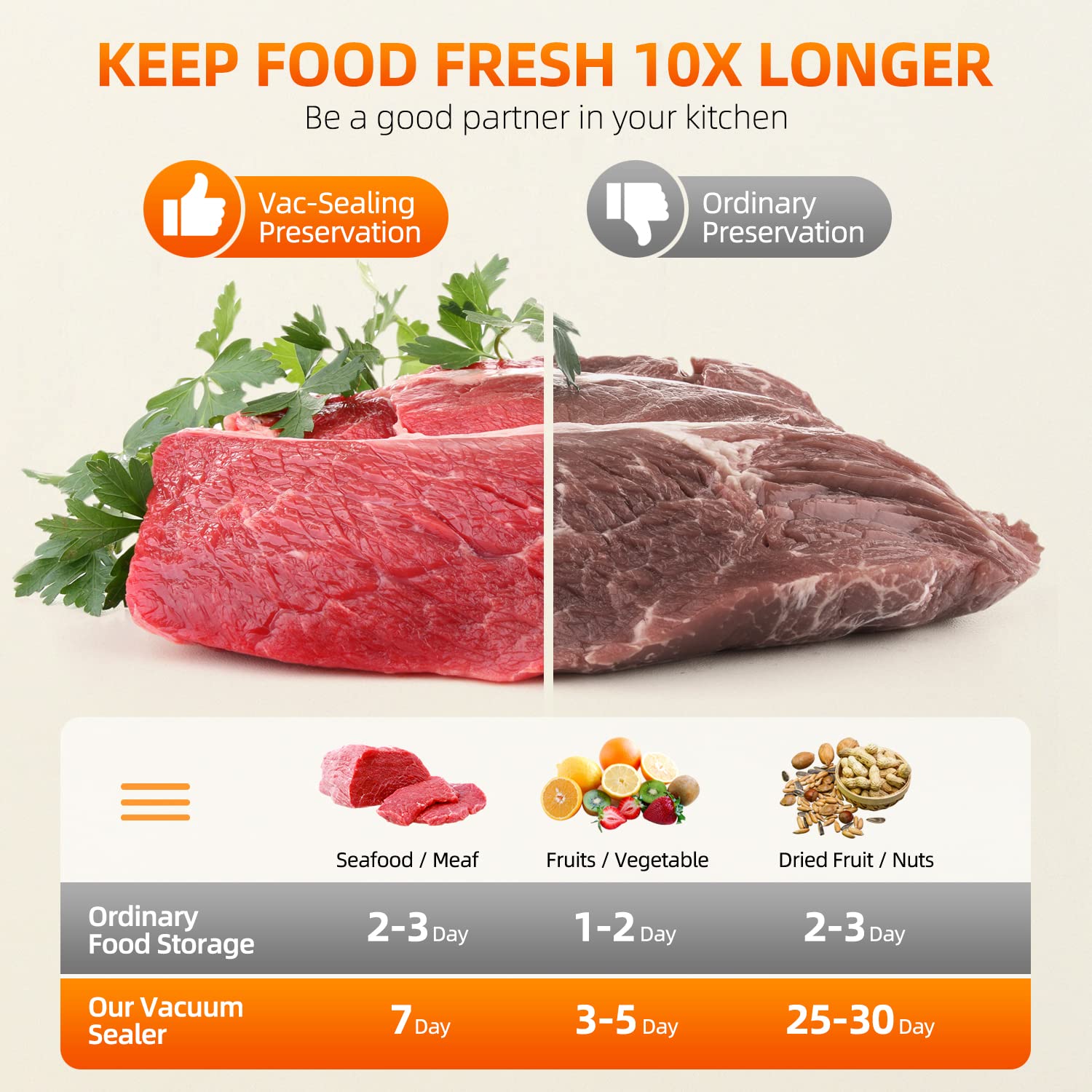 How to Use?
Press the 2 side buttons and push out.
Put the sealer bag in the vacuum chamber.
Firmly press the 2 sides of the top cover with both hands until you hear a click sound.
Press TEMP to select dry/moist food modes, then long press VAC to evacuate air, and then press SEAL to seal. Good work.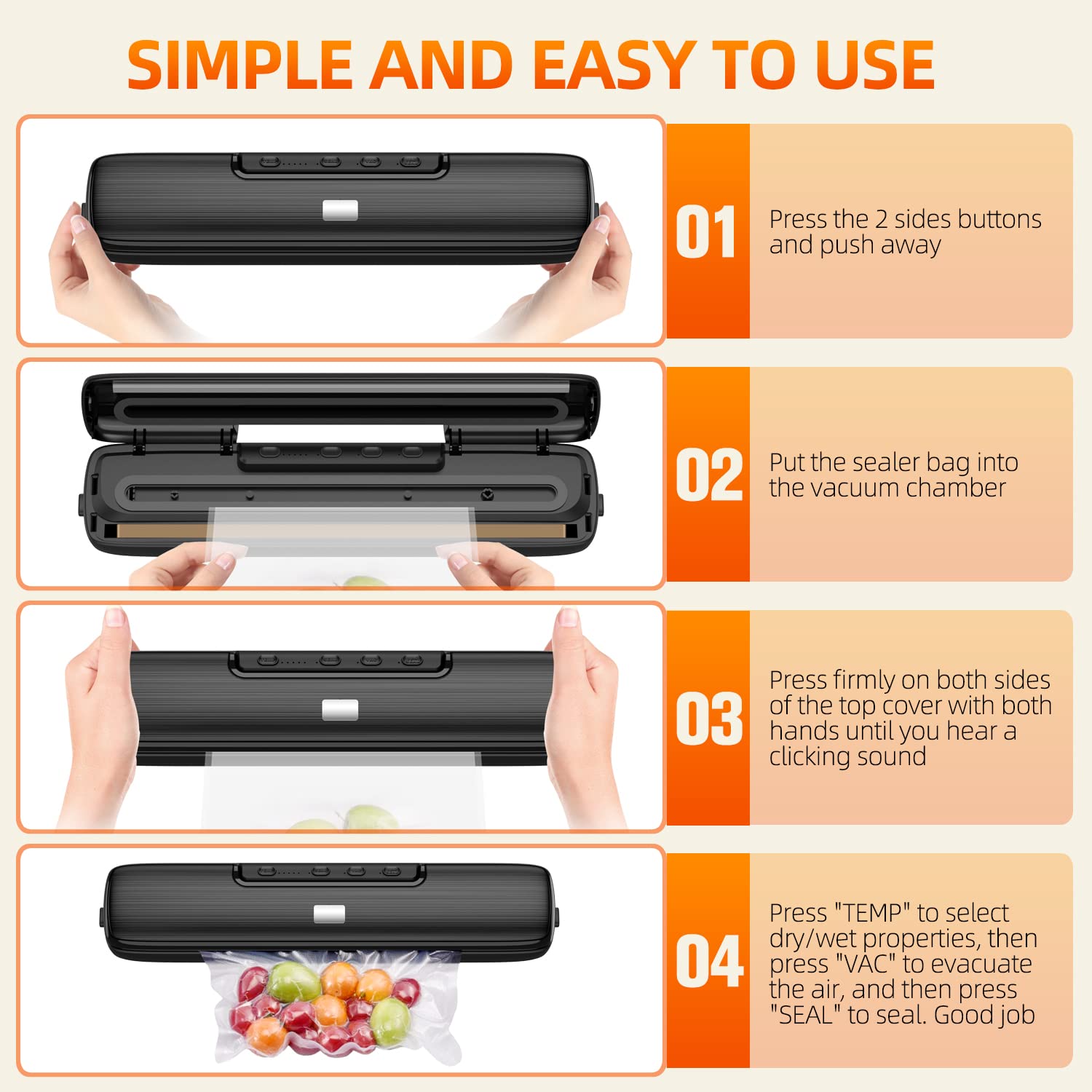 Specifications:
Material: Plastic
Size: Approx. 14.96×2.95×2.16inch
Power Supply Voltage: 100-240v/50-60hz
Heating Wire Width: Approx. 5mm/0.20inch
Temperature Control Mode: 5 Kinds
Vacuum Degree: Dry -60kpa; Wet -35kpa
Vacuum Speed: 3.2l/min
Package Includes:
1x Vacuum Sealer
15x Vacuum Bags