Are you still asking yourself if what is the purpose of a laptop desk and why should you buy it? While having a laptop makes work  convenient, flexible and gives you the freedom to move, it can also the be the main cause of your eyestrain and neck pain. Fortunately, there are relatively inexpensive way to avoid these health issues- and that is by using a laptop desk like EnerDesk.
EnerDesk is a folding size laptop desk that is large enough to put your books along your device while studying or doing you work. It also comes along with a cup slot which lets you enjoy a cup of tea of a bottle of milk tea while working. A device that takes a little investment but can dramatically improve your health and work life.
Large Bed Tray
The folding size of our laptop desk is 60(L) x 40(W) x 26cm(H). Enough room for you to place large size laptop or books when you struggles in the homework, and desktop card slot and cup slot design make it easy to place on your phone, books and cups.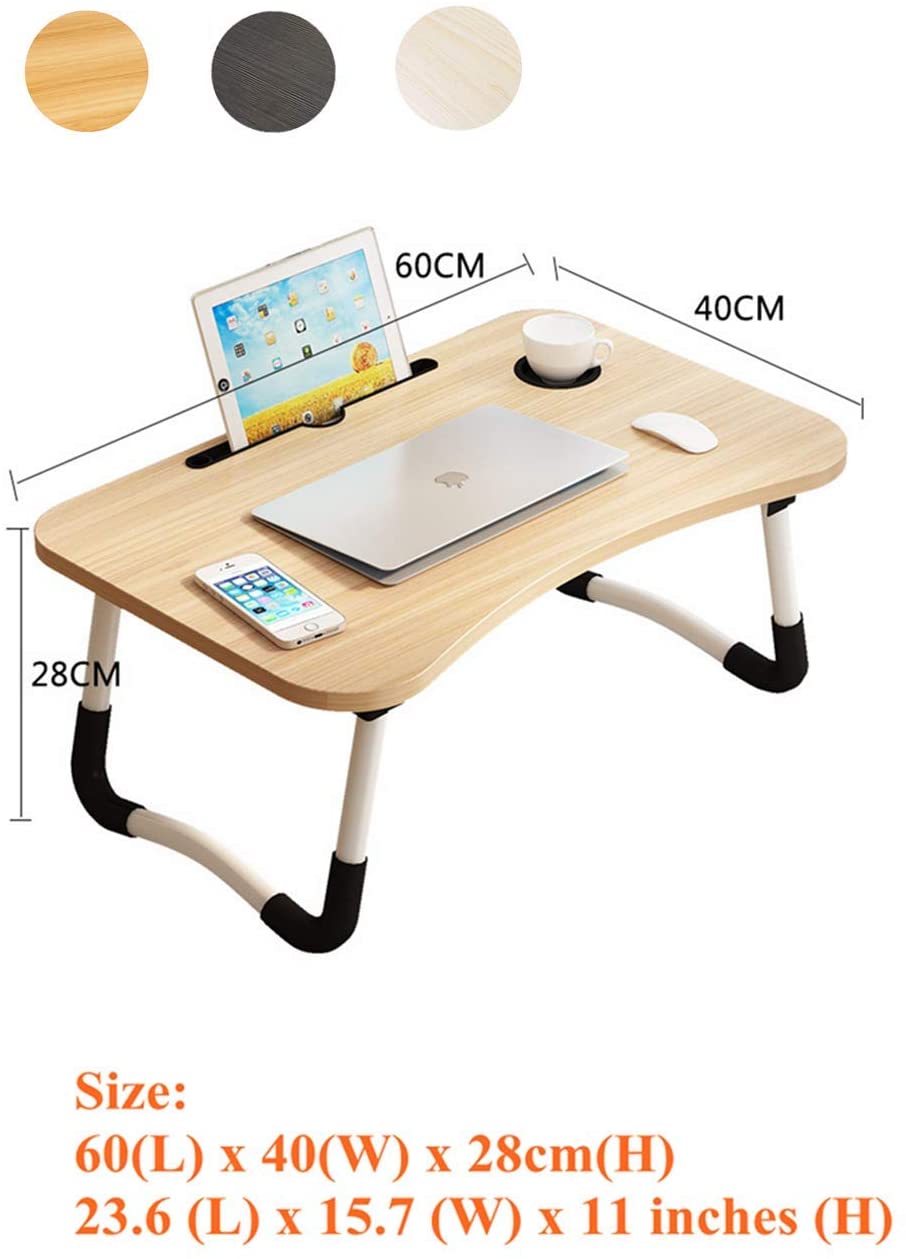 Pre-Assembled & Smart Design
No assembly required, it is ready to go right out of the box! The foldable sofa breakfast Tray is made of MDF while the legs are made of steel with powder coated finished, the anti-slip and W-legs are stable and the legs are folded to save space and flexibility.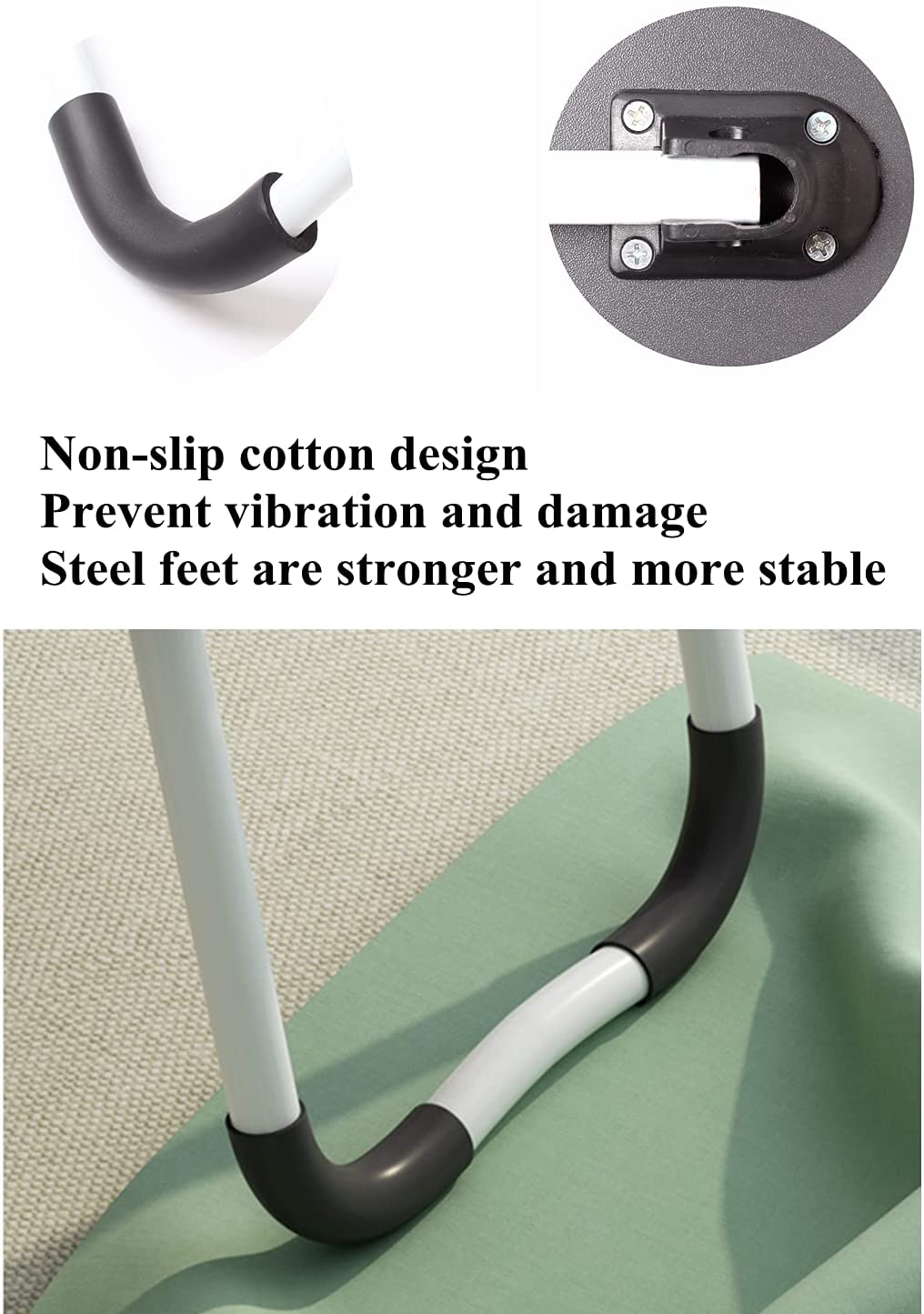 Portable and Convenient
Easy to fold out which is perfect for storage and transportation, where you could put it behind the door or the corner of home when not in use. It is very lightweight, easy to carry and play, and allows you to enjoy your spare time- like breakfast or dessert on the bed and sofa. Using it during camping is also an ideal choice.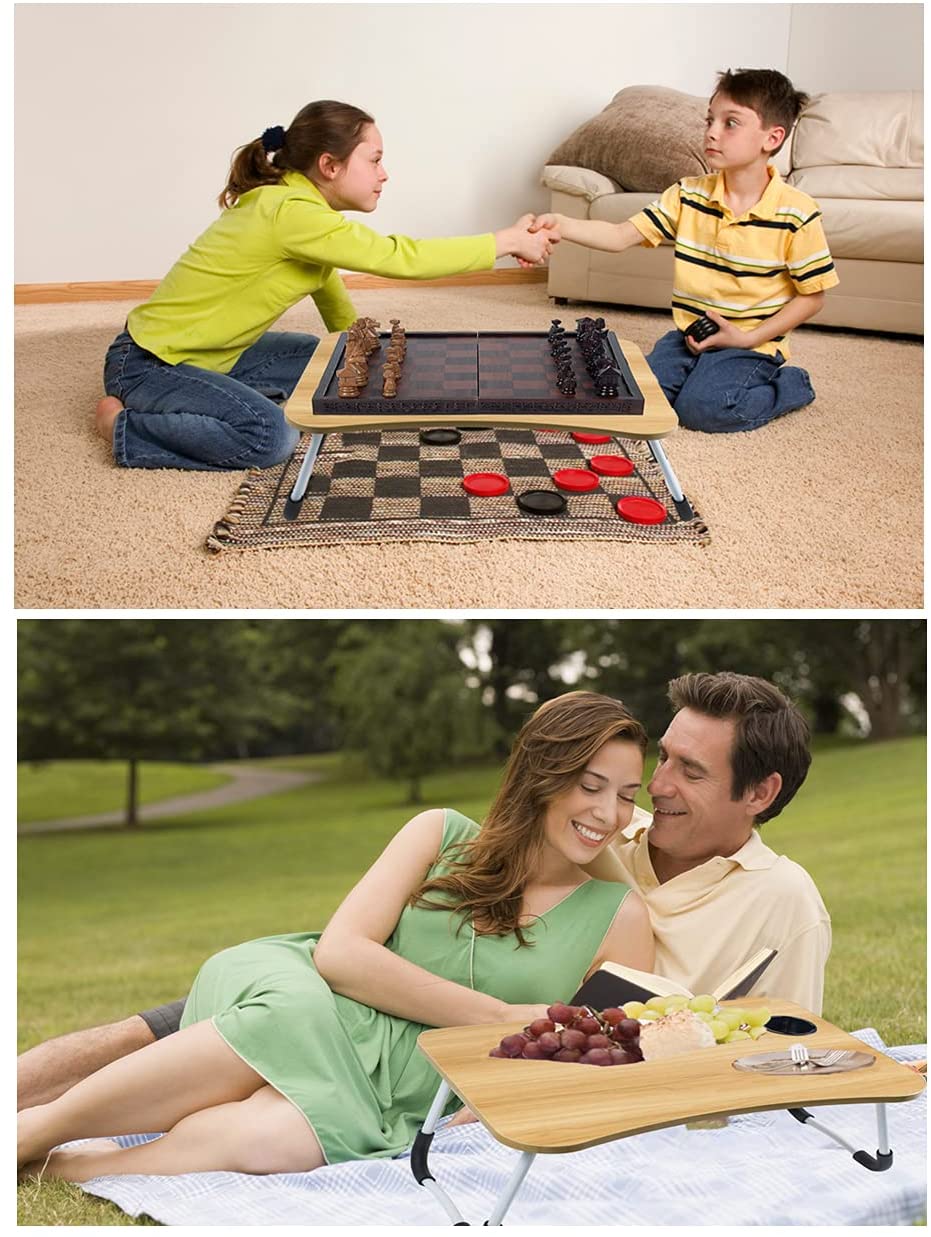 Work Healthier
If your job requires sitting on the keyboard for a few hours, put the table on a regular table and stand up to work, this will help relieve neck and shoulder pain. Manually cut and polished, smooth, clean, round and anti-collision to prevent shock and damage, you can use with confidence.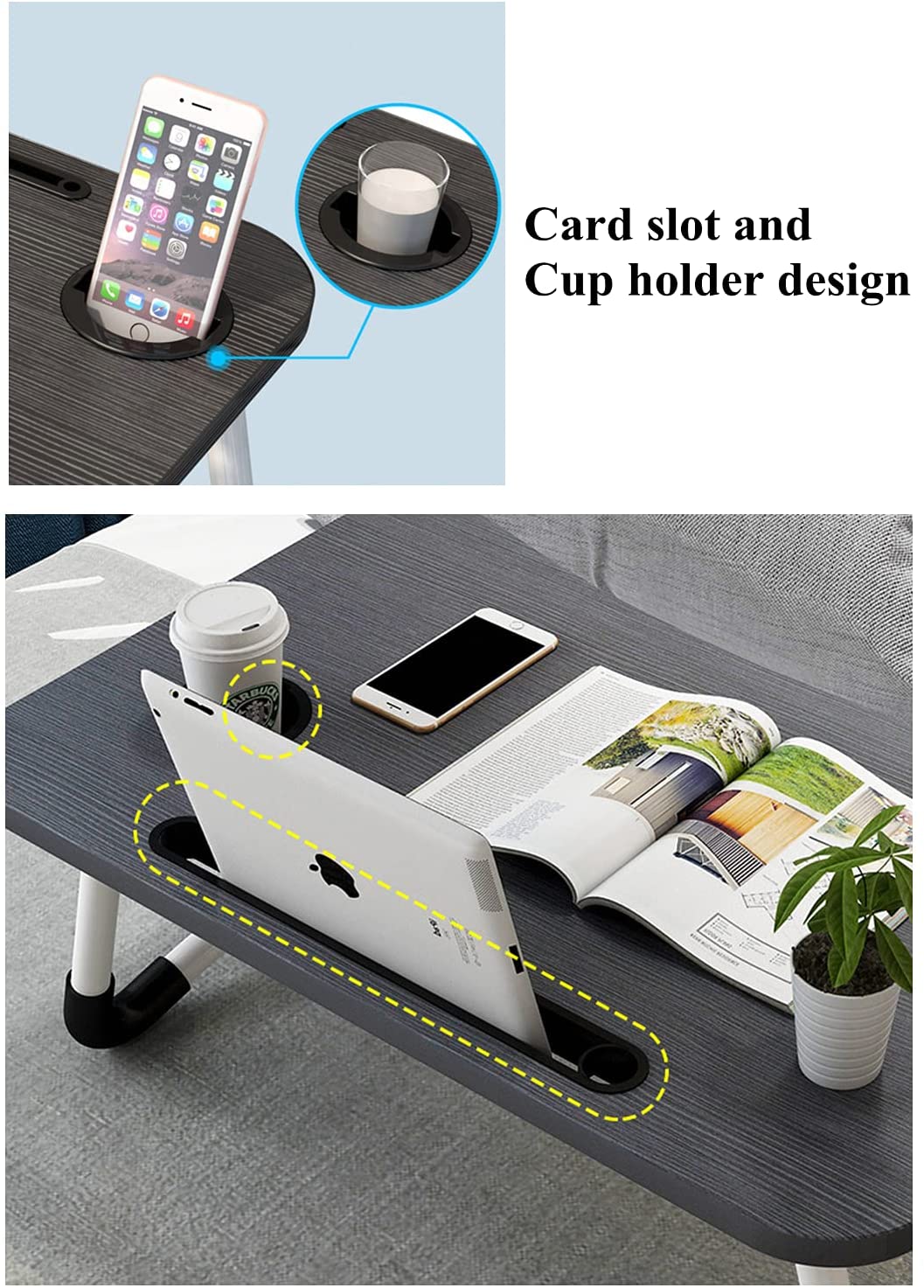 Application
This laptop bed tray table is extremely practical. Mainly used as a laptop workstation, laptop table for bed, a children's bed table, a mini writing table, a standing table for office work, laptop couch table, or a book/tablet table, picnic table. It is also a gift for children.
Portable And Convenient Sturdy & Stable
More strong and sturdy, curved ergonomic tabletop designed for sitting. it is very lightweight, easy to carry and play, which allows you to enjoy your spare time, breakfast or dessert on the bed and sofa. Go out camping is also an ideal choice.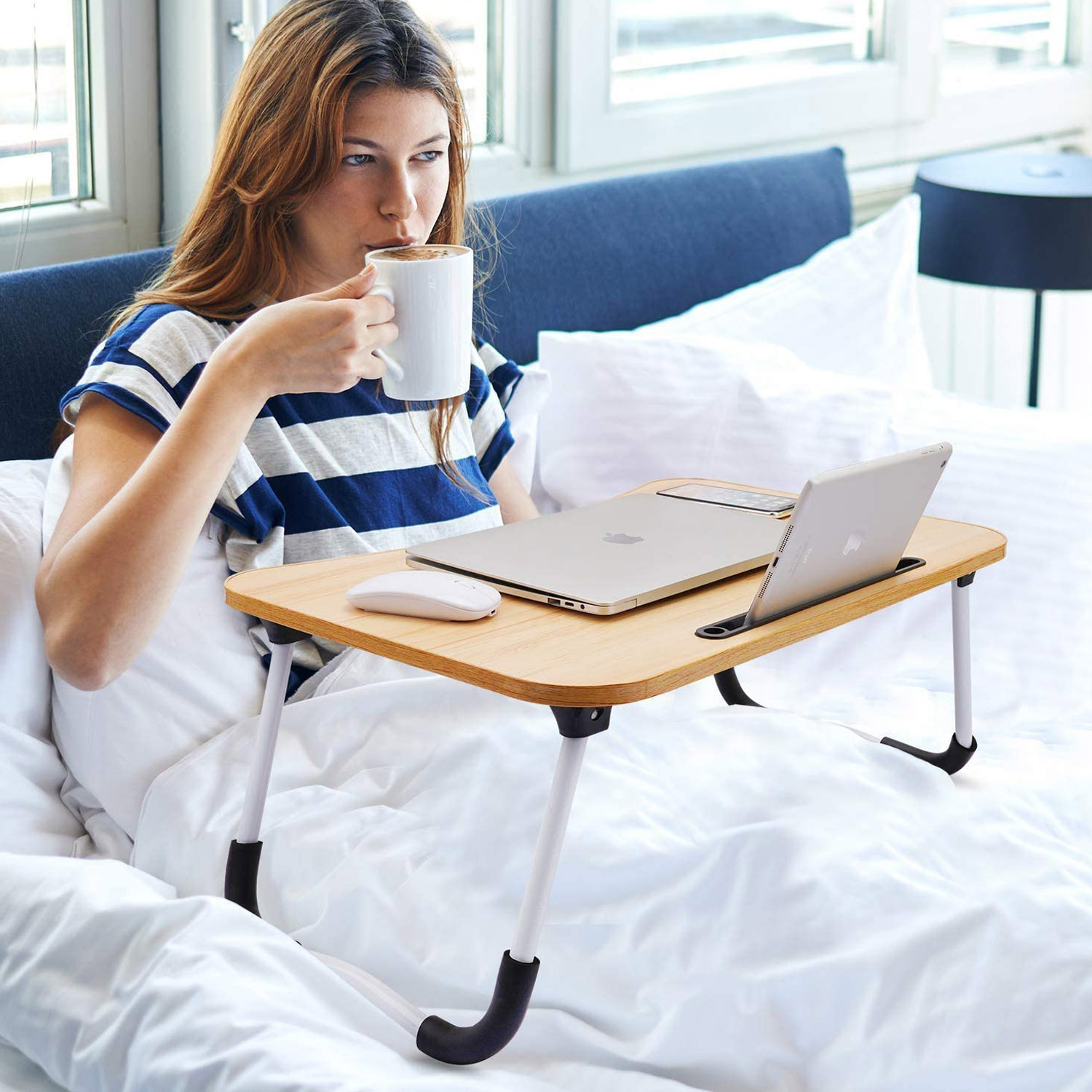 Well-selected material
The portable laptop desk is made of MDF, solid wood particle board, The legs are made of iron tubes, which can withstand greater pressure and wear than aluminum alloy tubes.