If you want to treat yourself to a coffee or latte every day and you don't want to pay for too much, the Coffeepros Electric Handheld Milk Frother will make that a reality for you!
This milk frother offers a seamless way to enjoy creamy and foamy coffee every day. It is designed to perfection by coffee experts and enthusiasts to give you quality coffee to start and end your day right.
With such design, the Coffeepros Milk Frother is highly multifunctional. You can use it to mix cold or hot drinks or prepare that thirst-quenching cocktail for your friends. It can even frother eggs for you to complement that foamy coffee of yours in the morning.
Level up every moment with a good cup of coffee—the Coffeepros way!
Features:
☕ Premium Quality & Stylish—This handheld milk frother is made of the best quality stainless steel and ABS food-grade plastic. It never rusts, breaks, or makes those low and annoying motor noises.
☕ Fast and Powerful—The frother is powered by 3* 1.5V AAA batteries (not included). Excellent in creating froth within 15-20 seconds or less. The double stirring head creates a beautiful foam for large-sized drinks.  It can also be used for small-sized drinks or even eggs.
☕ Easy to Use & Clean—Simply press the one-touch button of the handle and enjoy your creamy coffee in seconds. Just use a cleaning brush and base for easy cleaning and placement.
☕ Multi-Purpose—Great for Bulletproof Coffee, Homemade Lattes, Cappuccinos, Hot Chocolates, and more. It can also be used to whisk egg whites or mix hot, cold drinks, or blend your favorite cocktail. Perfect for travel.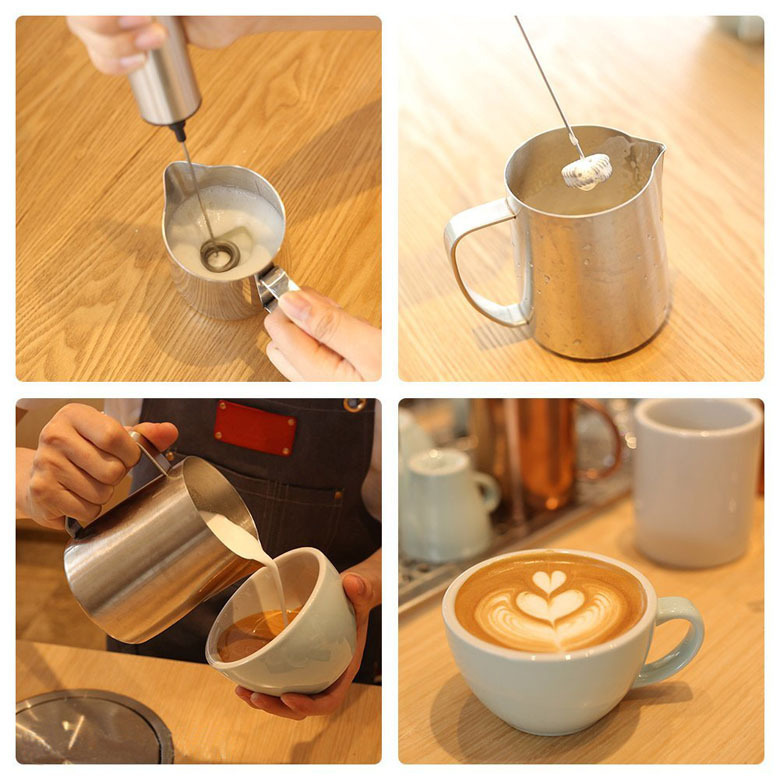 Specifications:
Motor speed: 19000 RPM
Materials: Stainless steel + ABS
Power: 3 AAA batteries (not included)
Get Creamy Froth Quickly
Coffeepros Milk Frother brings you closer to a perfect, creamy, and foamy cup of coffee. So, if you love your morning coffee with lots of froth and foam, then you certainly want to have our frothing wand at home or your café style cappuccino.

Quality You Can Trust
Don't settle for cheap plastic substitutes! The Coffeepros' spiral whisking head and body are made from robust, food-approved, 18/10 stainless steel for ultimate longevity. It never rusts, breaks, or makes a sound, because low noise means high efficiency! Our frothing solution is a piece of quality equipment you can rely on.

Beautifully Styled with Versatility
The machine is beautifully styled in silver color to fit into any modern kitchen. It comes with a lightweight and ergonomically designed soft-touch handle that is easy to use and clean. It can be used to froth other liquids besides hot milk like making milkshakes for your kids or cocktails for your friends. It will work well with both hot and cold liquids.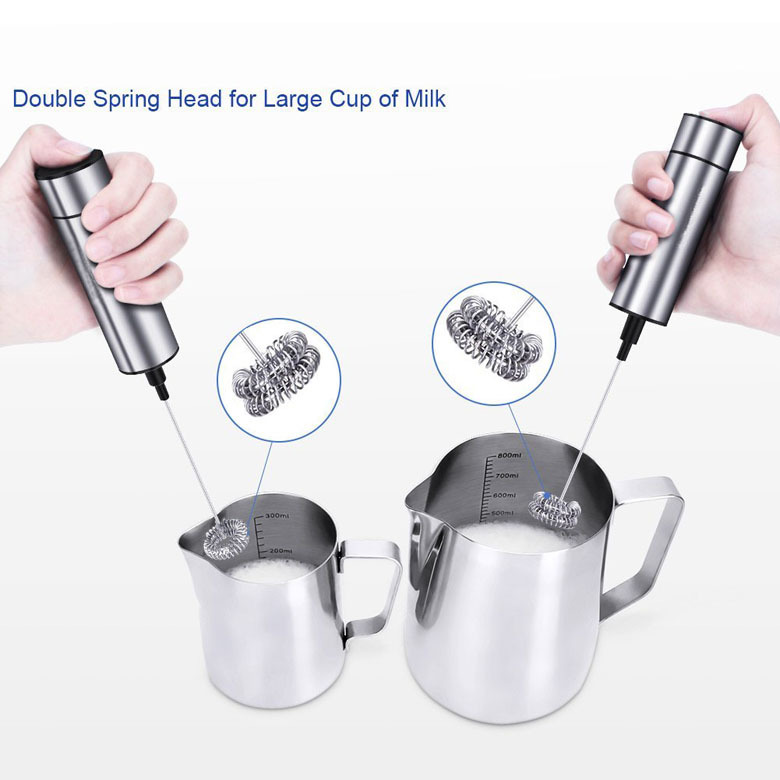 Notes:
Do not dip the product into the water. Only the whisk head can be washed. The whisk head has to be dry when you install it into the body.
Do not use the product around flammable or explosive gas.
Please insert the spring head deep into the milk while frothing to avoid splash.
Requires 3 AAA batteries (not included) to operate.
Package includes