We know the kitchen is a favorite gathering place where some of the best memories are made. Our mission is to create small appliances powered by design you can be proud to display on your counter. Whether you're brewing a pot of coffee or boiling water for tea, friends, add a dash of awesome with Kitso.
If foamy and creamy coffee is what you fancy, then Kitso Milk Frother and Steamer is what you need. With Kitso, it's like you have a personal barista at home. There's no need to go out and spend $$$ for a nice coffee. Do it at home with Kitso, and go wild!

Why Having Kitso a Smart Choice?
The answer is simple, you can do your favorite coffee—your style, your taste. Of course, the biggest advantage of having Kitso at home is that you'll save a lot of money. Have you ever tried accounting for how much money you spend on Flat White yearly? If yes, then you know what we're talking about. The Kitso Stainless Milk Frother and Steamer is your smart solution to achieve quality coffee at a lesser price.
Specifications:
Main Color: Silver
Material: Stainless Steel
Power Voltage: AC 220-240V/50-60Hz
Power: 500W
Frothing Capacity: 115ml
Heating Capacity: 240ml
How to Make Hot Drinks with Kitso?
Press the ON/OFF button once and release it immediately to turn on both heater and frother.
Press and hold the ON/OFF button for 3 seconds to turn the frother on, but not the heater. This makes cold drinks.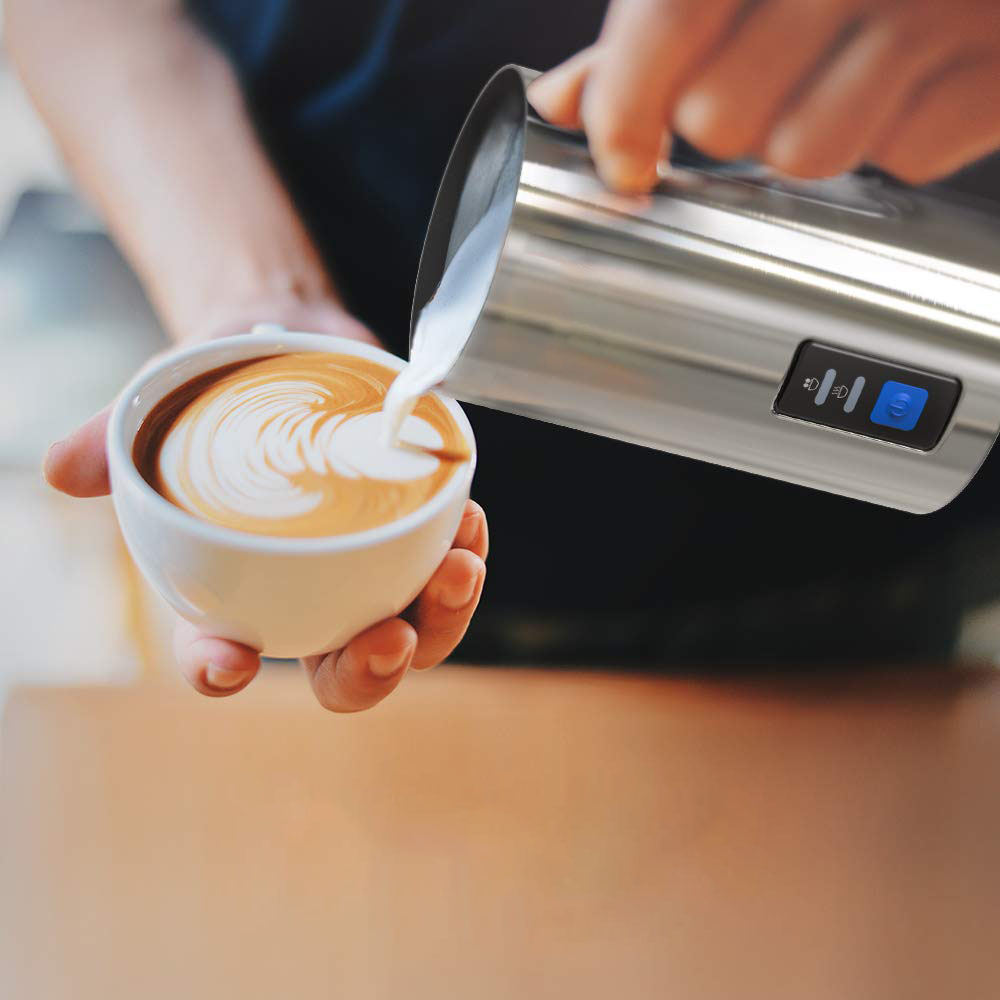 Features:
Cafe Quality at Home: luxurious lattes, cappuccinos, coffee, hot chocolates, macchiatos, and flat whites at the push of a button, effortlessly hot, warm, or cold milk with Kitso milk frother. (Recommend to use whole milk (Fat content>3 %) for better result.)
Heats and Froths Milk: Milk frother heats up to 240ml (8.1 oz) milk for delicious lattes or flat whites. Also, this foam maker froths 115ml (3.9 oz) for luscious cappuccinos or macchiato
Durable and Stylish Design: High-quality stainless steel and non-stick coating interior for hygienic cleaning and a long lifespan; angled spout to minimize spillages
Quick and Quiet Operation: Heats and prepares exquisite milk foam in less than 2 minutes. Milk steamer lets you make a beautiful café-style coffee drink arts.
Safety Features: Our milk frother is equipped with Strix Temperature Controls, is ETL-listed, and automatically switches off when milk foam is ready.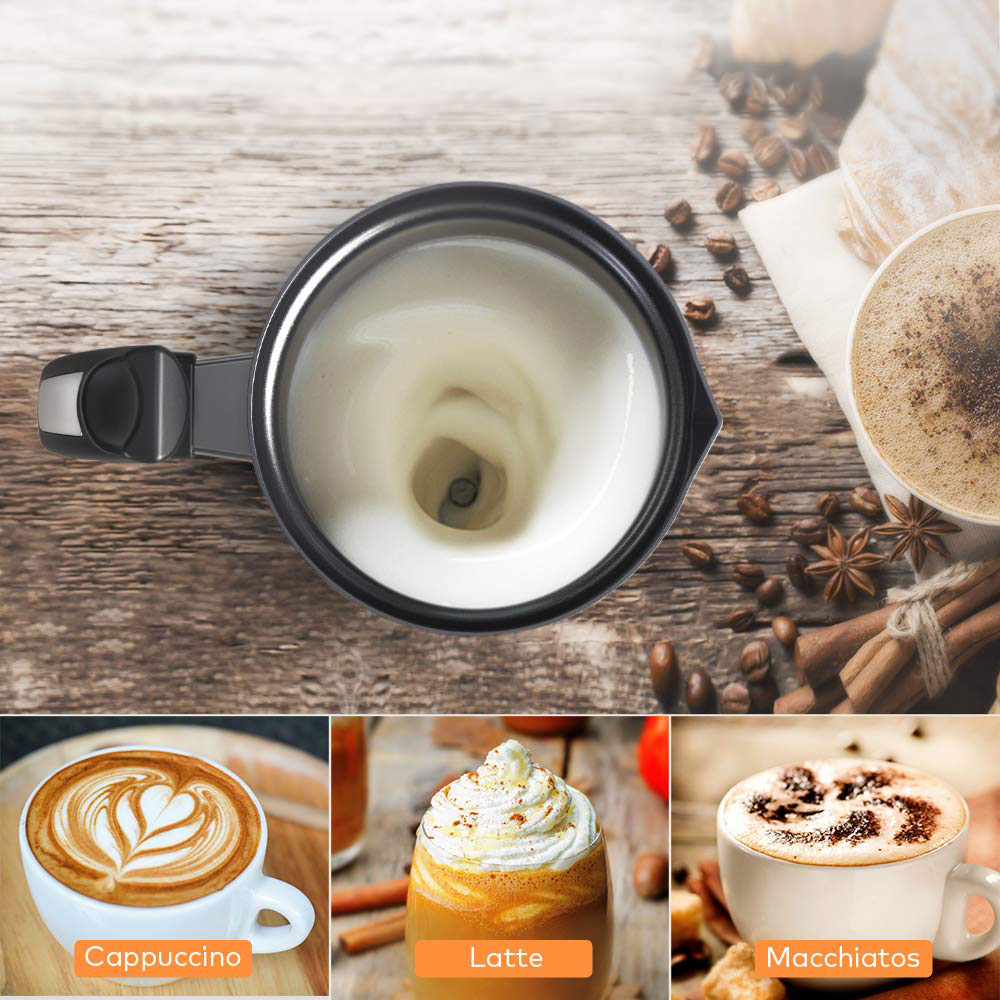 Package List:
1 * Electric Milk Frother
1 * User Manual
Notes:
Do not operate on a sink or drainboard or polished wood surfaces.
Please do not leave the appliance unattended whilst it is on.
After each frothing/heating, please wait 2 minutes to allow the thermostat to rest. After 2 minutes, the Milk Frother can be used again.
This Milk Frother has been designed to heat and froth dairy milk and other milk alternatives. It is not intended to thicken or heat other food substances like cream, custard, gravies, etc.