For Food That Tastes Good and Looks Good!
No more crooked, lousy, uneven cuts for your dishes! With the AvixCut mandoline slicer, you can get perfectly-cut vegetables, root crops and dairy ingredients for every menu that you cook. Whether you're a home cook, or a professional chef running the show in a restaurant, having the AvixCut lightweight mandoline slicer with 7 interchangeable blades can make all the difference!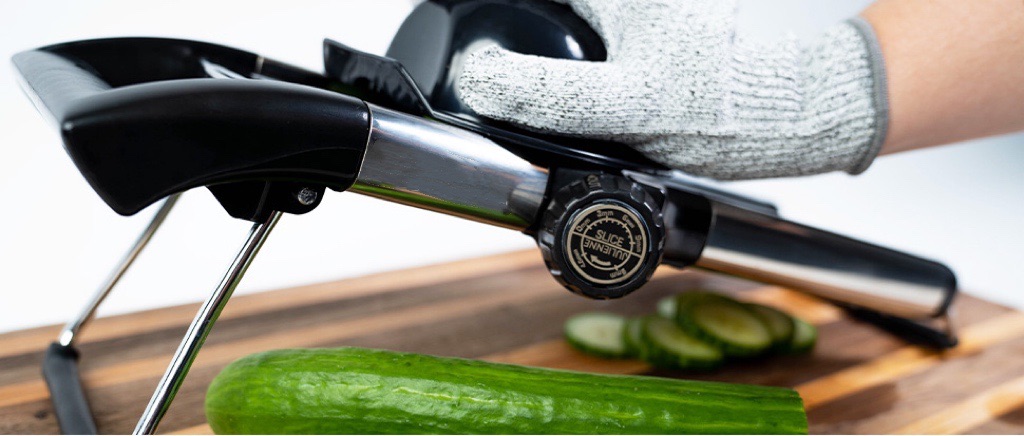 Make Your Beautiful Dish Speak for You
A clean, beautiful dish can draw people in before they can even taste your food. The sight of food is highly appetizing – the mandoline slicer for vegetables, fruits, and crops can make your food not only taste good but also look good.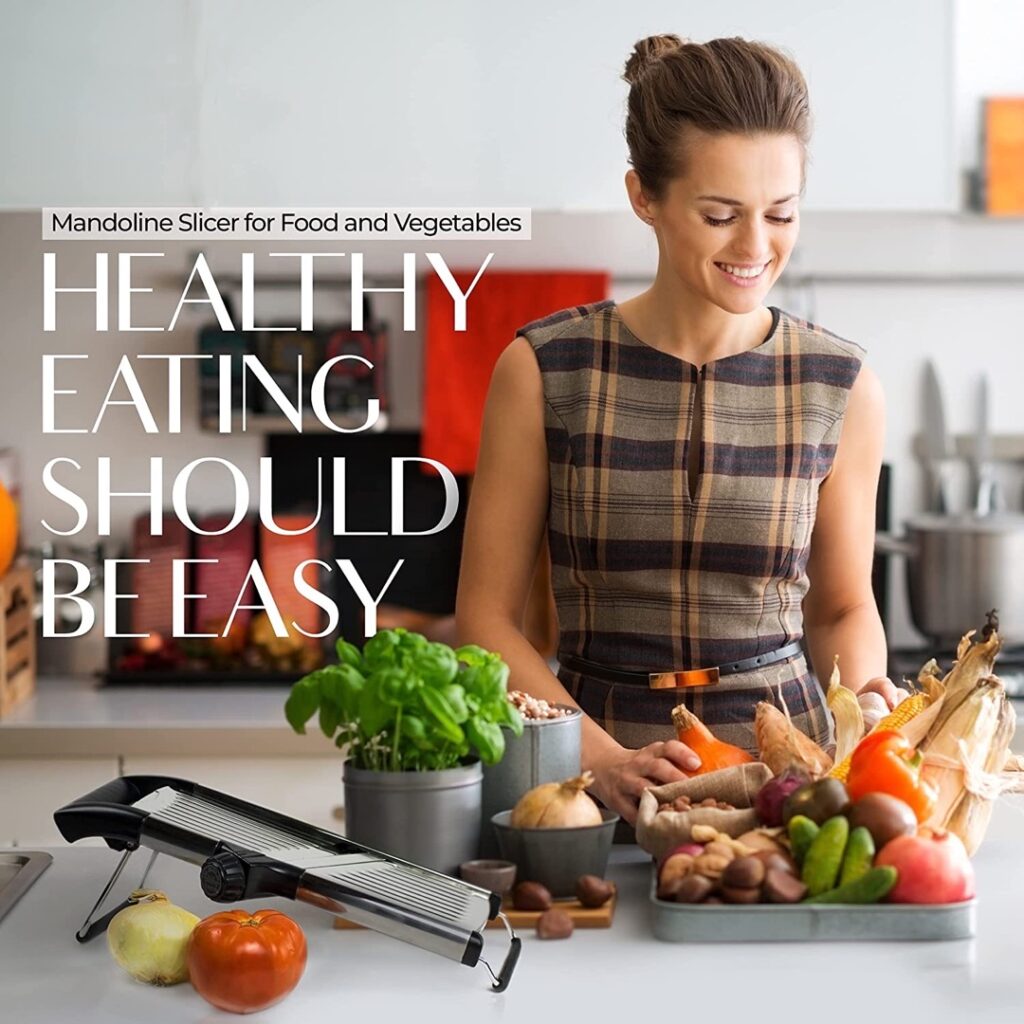 A Few Reasons You'll Love The AvixCut Japanese Mandoline Slicer:
The Most Convenient Mandoline Slicer – No Need to Replace Blades! The all-in-one mandoline slicer with built-in blades is so easy to use, you won't need to get through the hassle of replacing blades.
Adjustable Thickness to Help You Achieve Variety. Want to achieve various cuts for all types of dishes? The AvixCut comes with multiple blade thickness perfect for julienne cuts, thick cuts, and thin slices!
Safe to Use – the Blade is Designed to Prevent Getting Cuts On Your Hand. The blades all include a slight covering that shields the fingers from getting unexpected cuts.
Food Preparation is Faster than Ever! You can now do away with the seemingly endless process of cutting the veggies with knives.
Cleaning the AvixCut is Super Convenient. Simply place it under running water and you're good!
The Best Mandoline Slicer for Elevating Food. The AvixCut makes your food look even more appealing!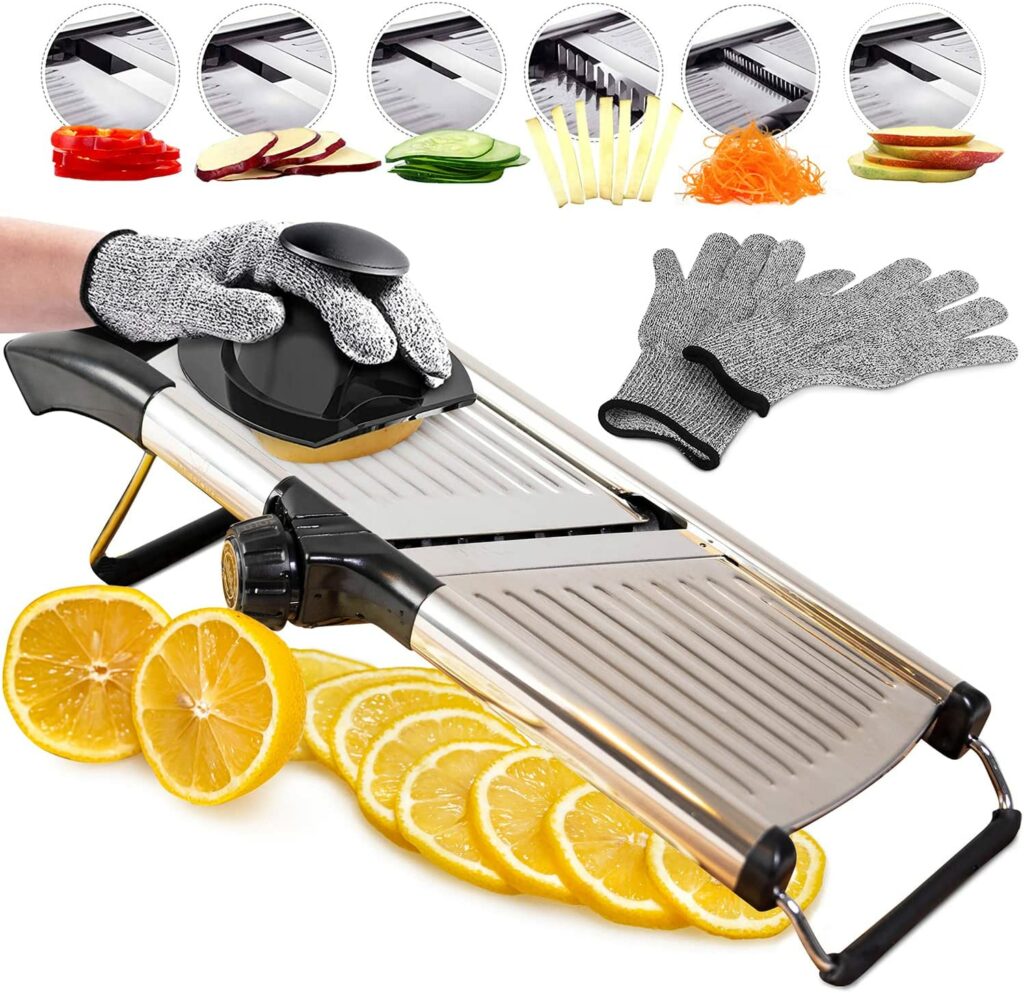 AvixCut Features
The mandoline slicer with an impressive ergonomic design that makes slicing easier. No need to tilt the slicer by yourself. The AvixCut comes with a tilter which immediately places it in an angle that's best for slicing. You'll get uniform cuts all the time.
Features sharp blades for precise cuts all the time. The stainless steel blades allow you to cut ingredients in a clean and uniform way all the time.
No need to change blades – they can be adjusted easily. Say goodbye to the hassle of changing blades every now and then. The AvixCut comes with a knob that adjusts blade thickness so you can get the cut you're aiming for.
Great for all types of cuts – thin, thick, and even criss-cut. Whether you're prepping for salads or your signature dish, the AvixCut can help you. You can get up to 6 varieties of slices with this mandoline slicer.
Handy and easy to maintain – your kitchen experience will be easier! Simply place the AvixCut on running water.
Includes gloves to prevent fingers from getting cuts! The thick, high-quality gloves can prevent you from getting cuts on your fingers.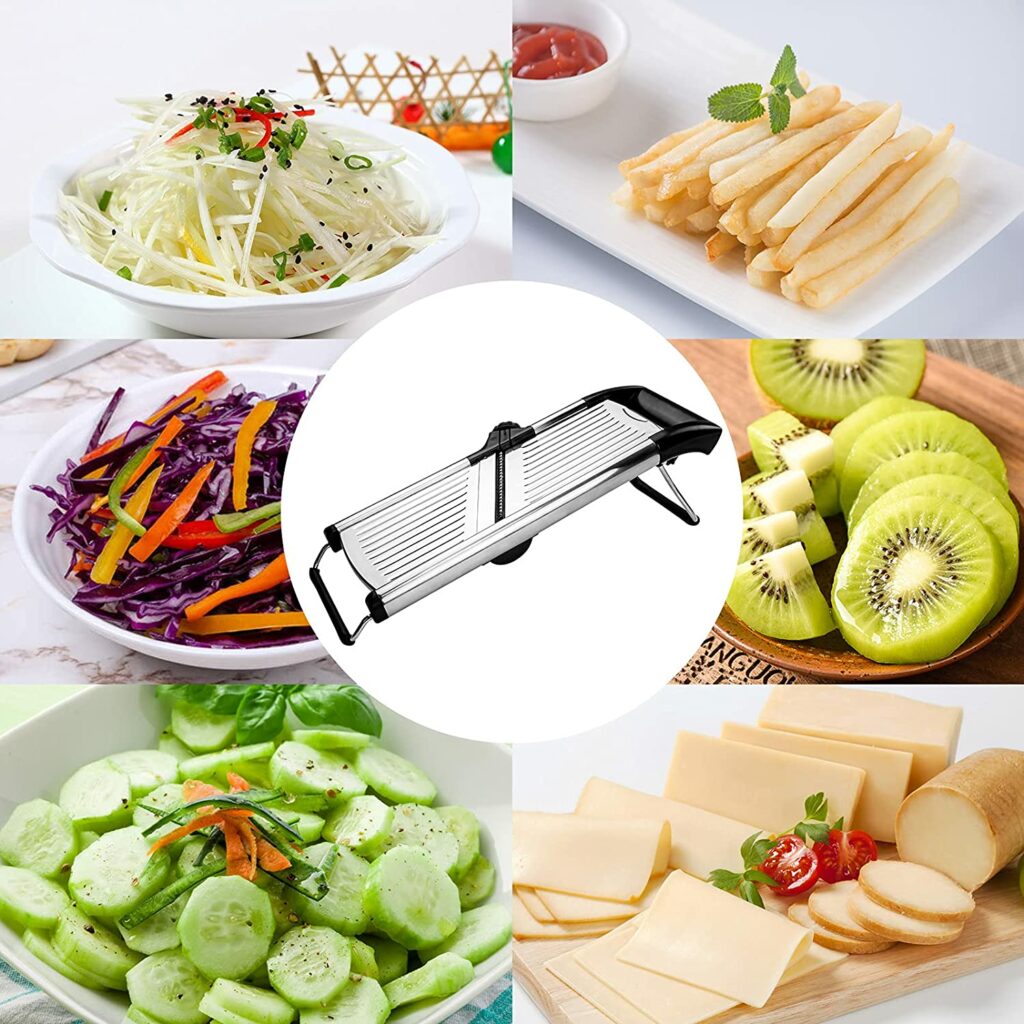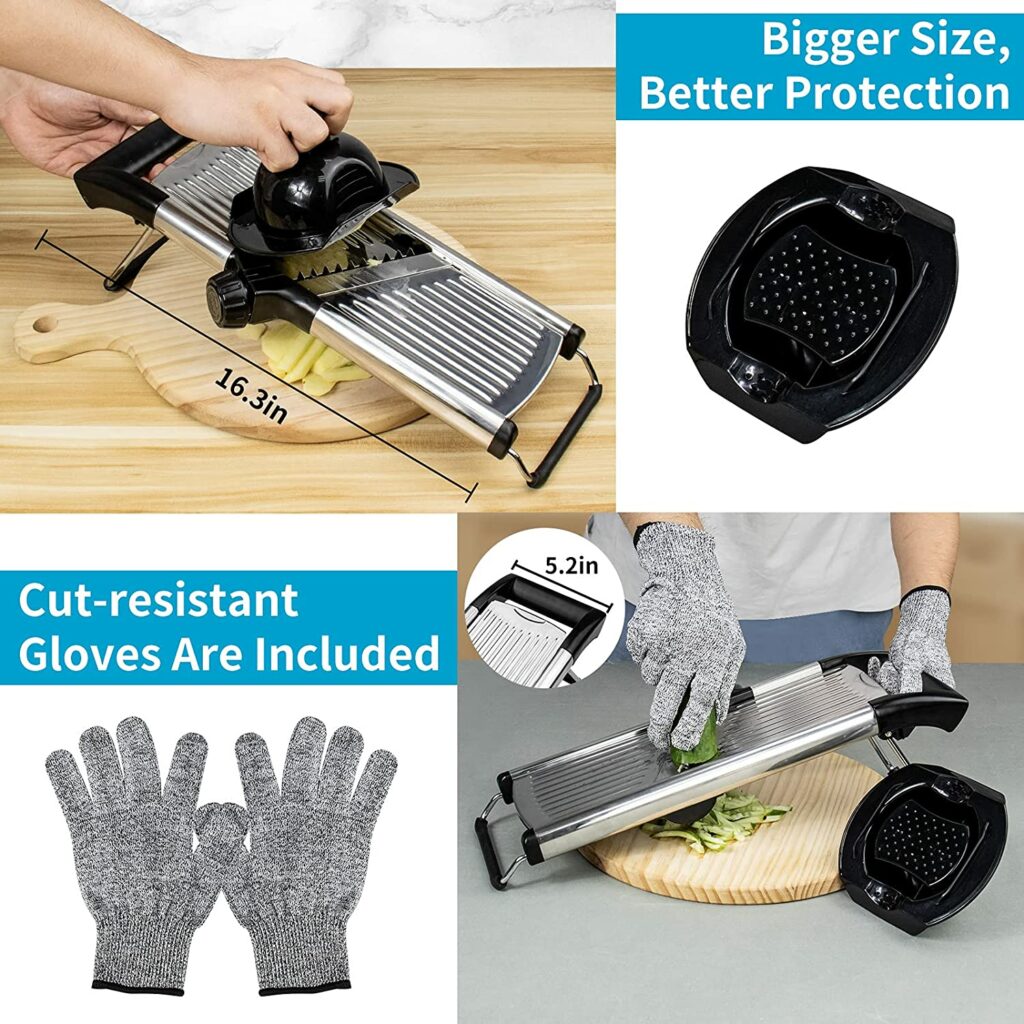 YOU'LL LOVE OUR FUNCTIONALITY
We've designed our slicer with features that will make your life easier.
Folds flat for storage.
Removable blade dial for cleaning.
Professional, stainless steel construction.
Rinses clean with soap and water.
Food safety holder and slicer are top-rack dishwasher safe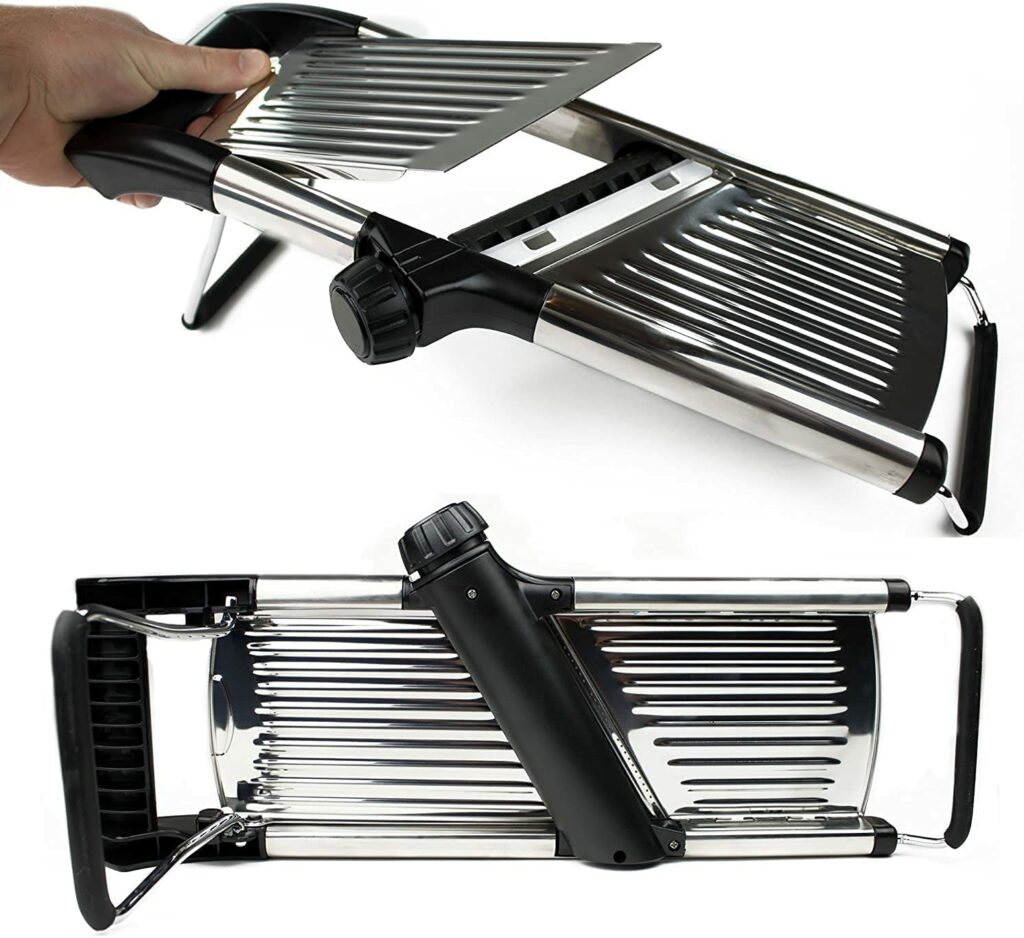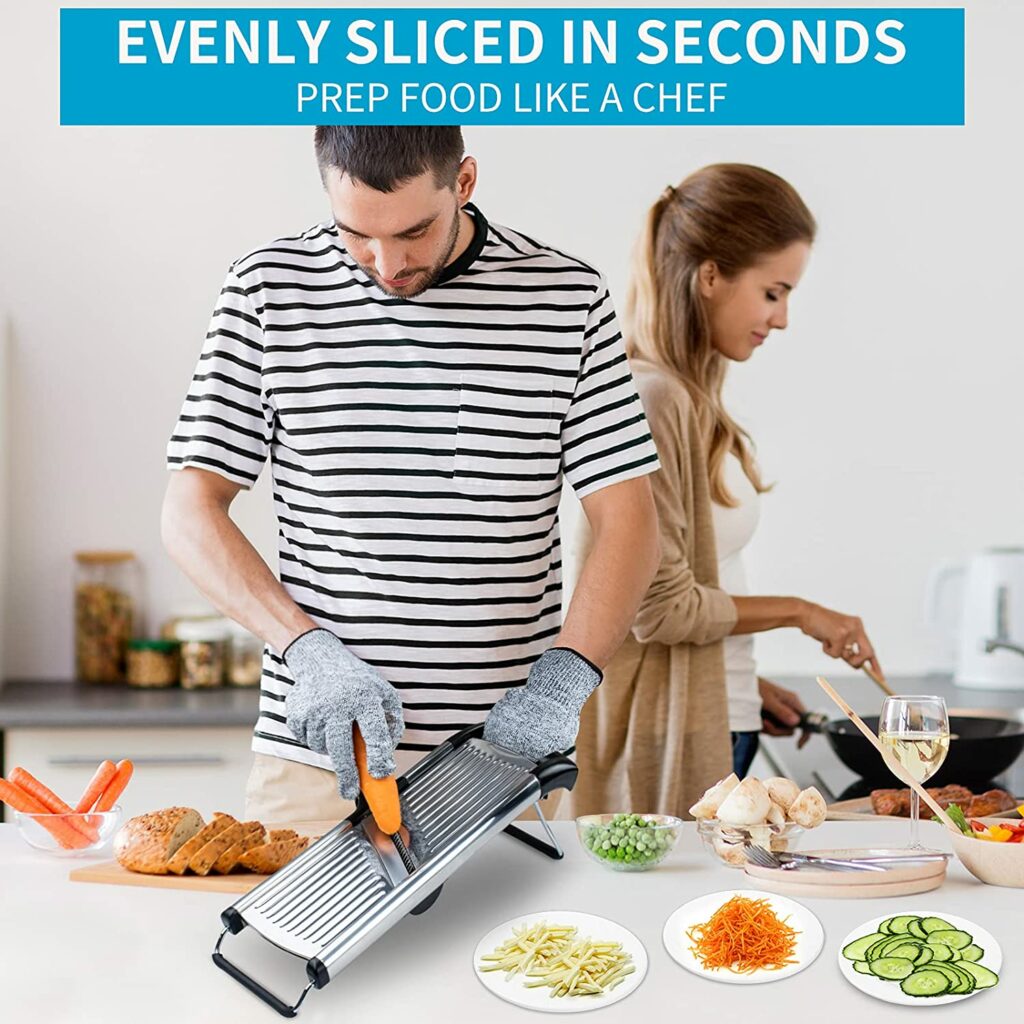 Warm Tips:
● Please use a handguard or wear gloves when you use the mandoline-slicer.
● Pay attention to the sharp blade when you clean it.
Package Contents:
● 1 x Mandolin-slicer
● 1 x Pair of cut-resistant gloves
● 1 x Brush(Random)
● 1 x Manual