Bistro-Like Coffee In Your Own Home With The Utopia Kitchen BaristaPro 34oz French Press!

With the Utopia Kitchen BaristaPro 34oz French Press, you will feel as if you were being served espresso or tea at an acclaimed bistro around your town.
From the comfort of your home, treat your taste buds to a delightful refreshment. Whether you're brewing espresso, hot chocolate, cappuccino, tea blends, our BaristaPro 34oz French Press lets you enjoy a perfect cup every time.
PRODUCT FEATURES
34oz Capacity With An Accurate Measuring Spoon. It can brew 8 coffee cups or about 4 coffee mugs at a time.
Stylish Insulated Plastic Frame. A durable heat-resistant borosilicate glass carafe beaker sits on a sturdy frame which makes pouring coffee easier and prevents wobbling.
Easier To Use Than Drip Coffee Maker. Brews in as fast as four minutes with no soggy filters to deal with after. 
Perfect Gift For Men And Women. It's a thoughtful gift any coffee lover will appreciate and enjoy. 
Multi-functional And Dishwasher Safe. It can be used for making tea or hot chocolate and is easy to clean. 
Why Choose The Utopia Kitchen BaristaPro 34oz French Press
E

spresso Can Empower You To Find Your Headings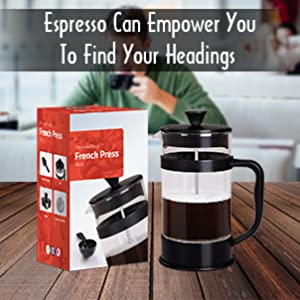 With all the tension and stress from work, it's easy to lose yourself feeling continually exhausted and drained. Just take out your BaristaPro 34oz French Press and reconnect with yourself from the comfort of your home. This easy-to-use and clean kitchen tool can isolate fundamental oils and trap each and every disguised aroma from espresso beans and tea leaves. It's the key to a chipper, sound lifestyle concealed in your coffee mug.
Impeccable Heat Resistant Glass Material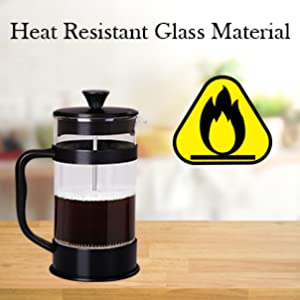 Unlike other French presses, ours is made with strong Borosilicate glass that can withstand high temperatures. The modern glass carafe silhouette sits on a sturdy insulated plastic frame, so the French press lays safely on your counter or table without wobbling. It will make a delightful addition to any kitchen.
Make The Finest Cup Of Coffee In Minutes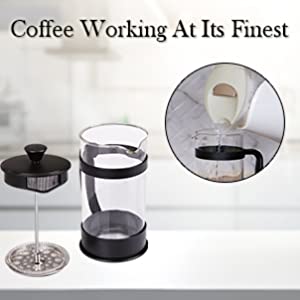 The upgraded plunger plate is strong, compact, and can effectively filter out tiny coffee beans and tea leaves. You can expect a clear and smooth cup every time. Never again will you find coffee beans in your mouth, thanks to our 4-filter screen system.
Why The BaristaPro Might Be The Best French Press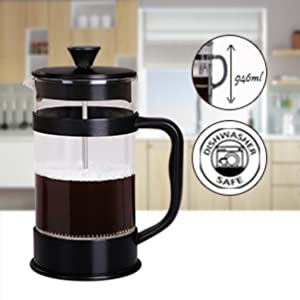 With a compact and travel-friendly size, our 946ml or 34oz French press can brew 8 glasses or 4 mugs of refreshments at a time.

Safe and built to last with 304-audit stainless steel and heat-resistant borosilicate glass.

Extra fine 100-lattice channels ensure there are no coffee grounds in your cup.

Enjoy a lifetime of flavorful refreshments anytime, anywhere.

Quiet and ideal for travel, home, or offices.

Brews within minutes with no spills and mess.

Dishwasher safe and quickly disassembles for cleaning. 
The Fresh Way To Make Coffee With The BaristaPro 34oz French Press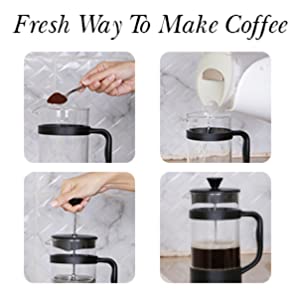 Add 1 tablespoon ground coffee for every 4 oz. of water.

Gradually add boiling water into the French press.

Let it sit and brew for 4 minutes before d

elicately pressing the plunger down.

Pour and enjoy your fresh cup of tea or coffee.
"This works really well. I really enjoy sitting down with a huge presser full of tea on a cold day like I used to in good ole Siberia. I broke the first one I owned after a few months but that was glass. I think this is sturdier and will last a good while."
Product Specifications
Material: Borosilicate Glass

Brewing Time: 4 mins

Brand: Utopia Kitchen

Color: Black
Package Inclusions