Get Fresh, Cafe-Level Coffee with AromFe French Press Machine and Coffee Maker!
The French Press with High-Quality Filter, Fast Process Capacity, and Durable Material That Can Handle Hot Brewing! 
Are you looking for a coffee making device that can bring you quality, delicious coffee in the comfort of your own home?
Introducing the AromFe – a raved about French press that produces better coffee than a drip coffee maker! 
The AromFe comes with a design that can cater up to 1000ml of freshly pressed and brewed coffee. The French press and coffee making machine includes a new and improved three-layer filter that can give you smooth coffee everytime. 
This French press device now comes with durable materials – the Borosilicate glass can assure you it can handle the heat!
AromFe French Press Machine and Coffee Maker
High-capacity French press that can produce up to 1000-ml of fresh coffee. Want to make a large batch of coffee efficiently? AromFe can make up to 1000ml of fresh coffee!
Now comes with a 3-layer filter structure system for better coffee everytime. This French press is made of thickened heat-resistant borosilicate glass, and the coffee filter is anti-drop and anti-rust. Your coffee will be made in a non toxic way!
The French press and coffee making machine made with quality food-grade material – no more worrying about toxic materials.
Includes a borosilicate glass to prevent scalding injury. The borosilicate glass of filter coffee keeps the coffee warm, and keeps the handle of coffee blender cool while brewing without scald. Also, you won't have to worry about a coffee maker and french press breaking down just because of the heat.
Comes with a design that keeps heat in for a longer period of time so you can enjoy your coffee hot. The height and interior design of the AromFe ensure air is trapped inside to prevent coffee from going cold instantly. You can enjoy hot coffee even after an hour.
Great for all types of hot drinks. You can use the AromFe French press as a coffee maker, mocha pot coffee maker, tea maker, MCT oil coffee, hot chocolate, cold brews, foamed milk, almond milk, cashew milk, fruit soaks, plant and herbal drinks because of its sealed taste and aroma.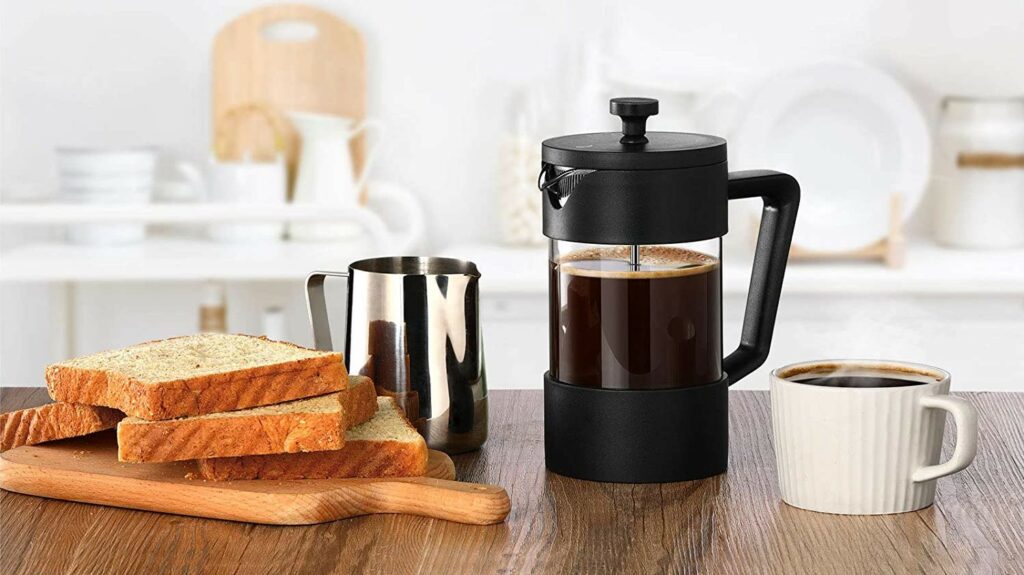 Brews 8 coffee cups or about 4 coffee mugs which is equal to 32 Oz
Durable heat resistant borosilicate glass carafe beaker sits in a stylish insulated plastic frame which makes pouring coffee easier and prevents wobbling
Easier to use than a drip coffeemaker; brews within minutes and no soggy filters to deal with
Extra fine, 100-lattice channels ensure there's no ground in your coffee
Built to last from 304-audit stainless steel, ideal for travel, outside, home or office condition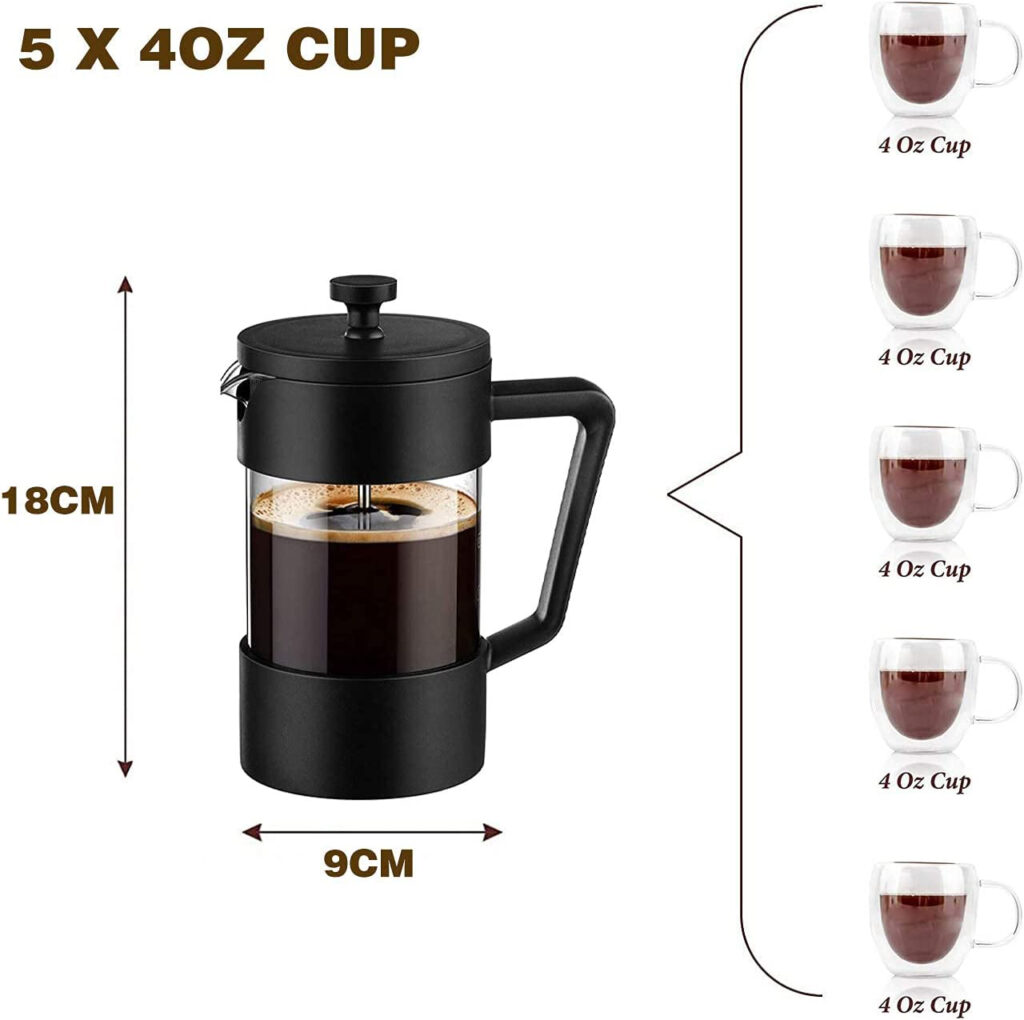 Specifications
size: 21.5*10cm(8.5*4)
Color: Silver-34 oz
Material: 304 Stainless Steel
Withstand temperature difference: -20°C~150°C
Package Inclusions