A Trolly of Sweet Happiness!
There's nothing more heartwarming than sharing good memories with friends and family over freshly made cotton candy. It's the best sweet treat pairing to reminisce the past and to create childhood memories that kids will bring with them when they grow up. We can only get a bite of these melt-in-your-mouth delights in local fairgrounds or carnivals in the past. Now, SweetVin makes this one-of-a-kind treat possible even in the comfort of your home.
Introducing the SweetVin Nostalgic Trolly Candy Floss Machine
Our easy-to-use candy floss maker is your quick access to fairground-style cotton candy at home in minutes. It comes with a good tank size, incredible power, and premium design to serve you the best-tasting cotton candy ever. With just one spoonful of your favorite flavored sugar, you're on your way to enjoying endless sweet treats at home. Plus, the machine is easy to clean and maintain, giving you that extra peace of mind when using the SweetVin.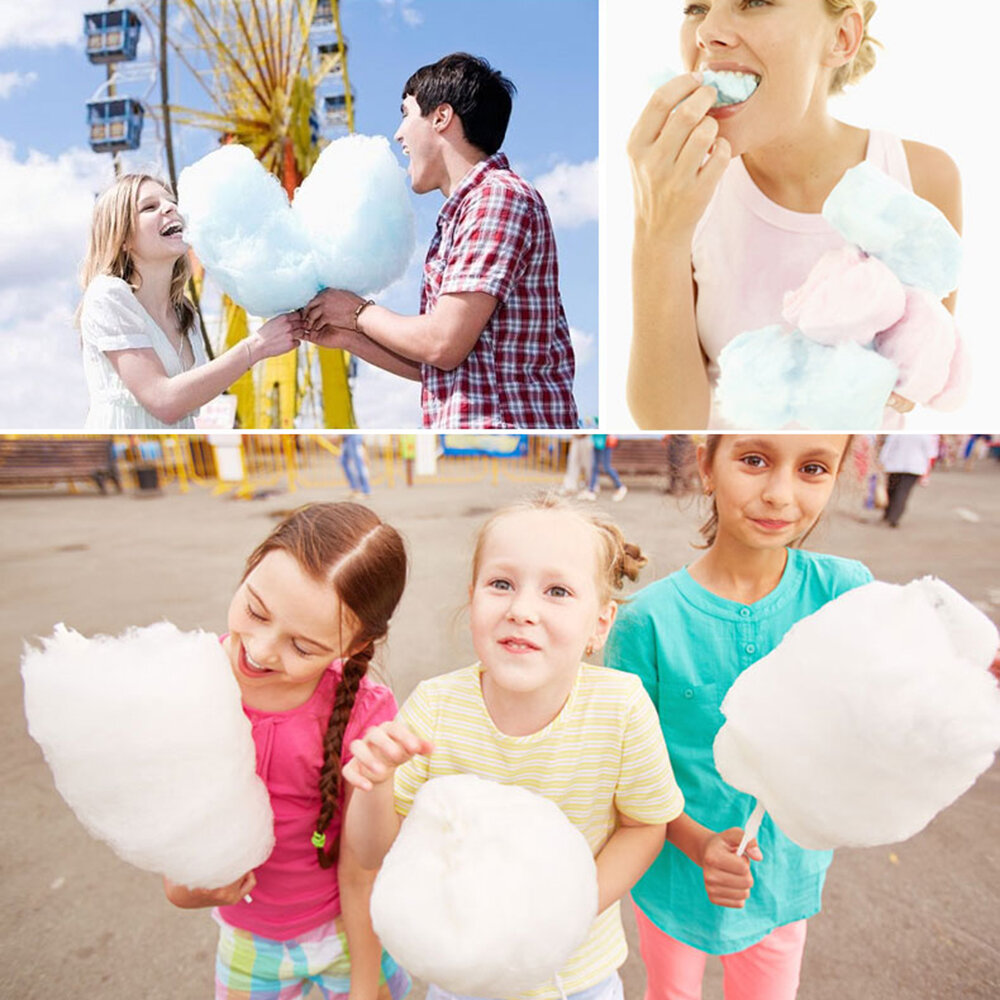 Main Features:
Simple Operation: All you need to do is warm up the unit, add your flossing sugar, and enjoy your cotton candy in just a few short minutes!
Vintage Design: The SweetVin comes with a vintage design and details reminiscent of the carnival vendor carts from the early 1900s. This exterior adds up to the overall experience you're bound to receive.
Clear Rim Guard: Unlike other machines, the SweetVin is equipped with a protective guard that prevents the environment from spoiling the true flavor of your cotton candy. This design also alleviates the experience since it allows you to watch the cotton candy being made most safely and securely.
Easy Cleaning: After all the fun, you can disassemble the unit for easy cleaning.
Extra Stability: We've added suction cups on the machine's feet to keep the unit in place and provide extra stability during use.
How does it work?
The SweetVin Candy Floss Machine only takes a few steps to operate. All you need to do is turn on the power, wait a few minutes to heat up, and pour your favorite cotton candy flavor. The machine will automatically start spinning and provide you with the best-tasting cotton candy ever. The unique extraction head allows you to use traditional loose candy or your favorite hard candy to make delicious cotton candies and enjoy the fun of making it at home.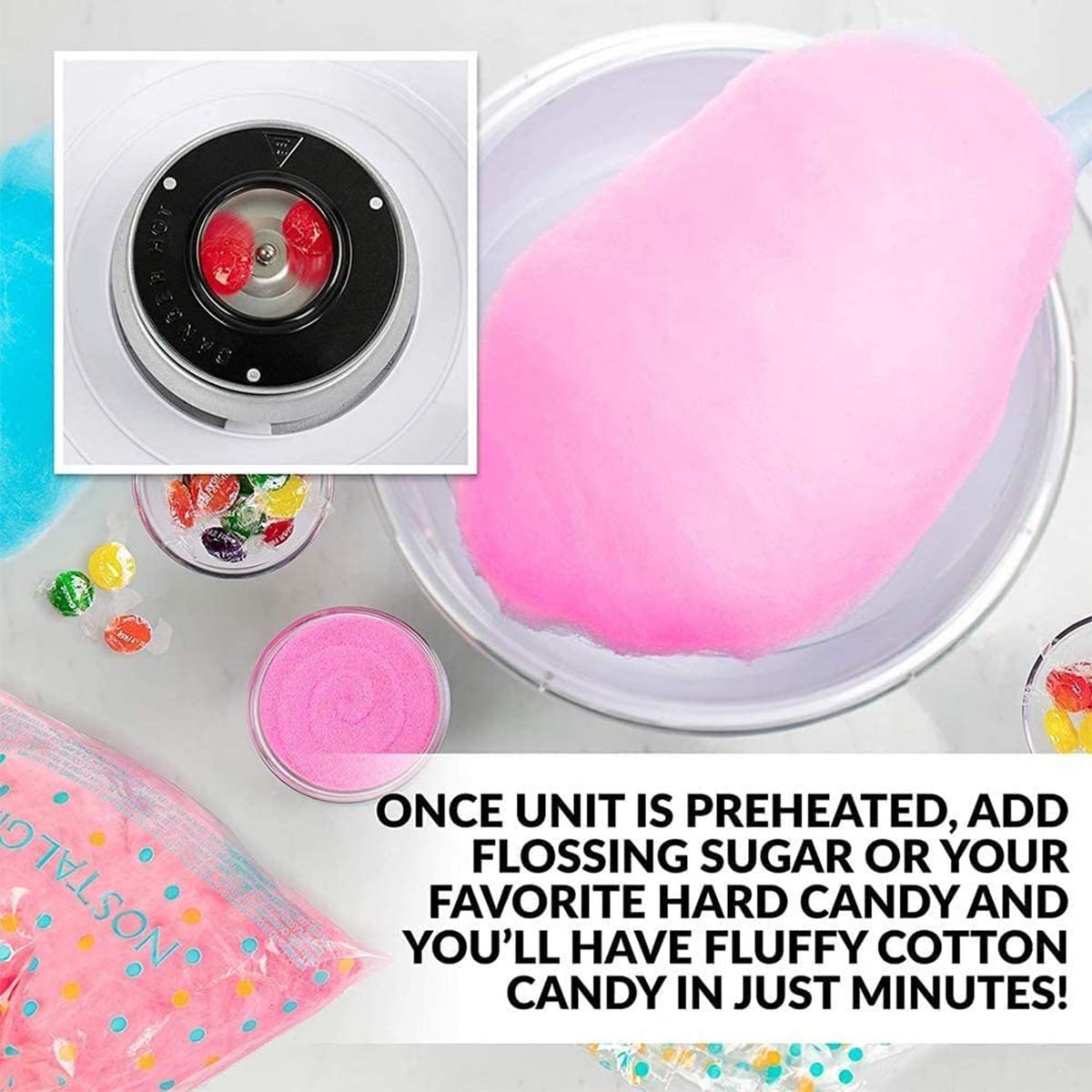 Adopting the Best Technique of Cotton Candy Making
According to the principle of machine movement, you only need to add sugar or granulated sugar to the machine, and it will be sprayed into cotton after heating. The central head then begins to spin, forcing liquid sugar through its tiny perforations; the instant the sugar threads hit the air, they cool and re-solidify, causing a web of sugary threads to develop in the collection bowl. The SweetVin performance is stable, durable, and easy to operate. It produces about 2-4 servings per minute and is easy to clean and maintain.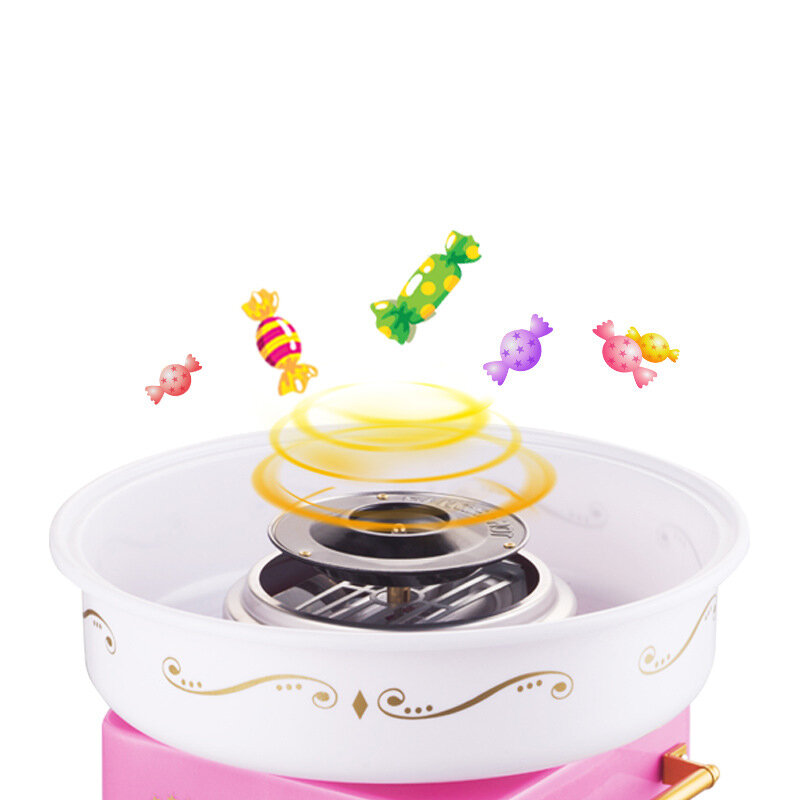 The mass and power in the plastic + stainless steel compact body make it ideal for families or small gatherings.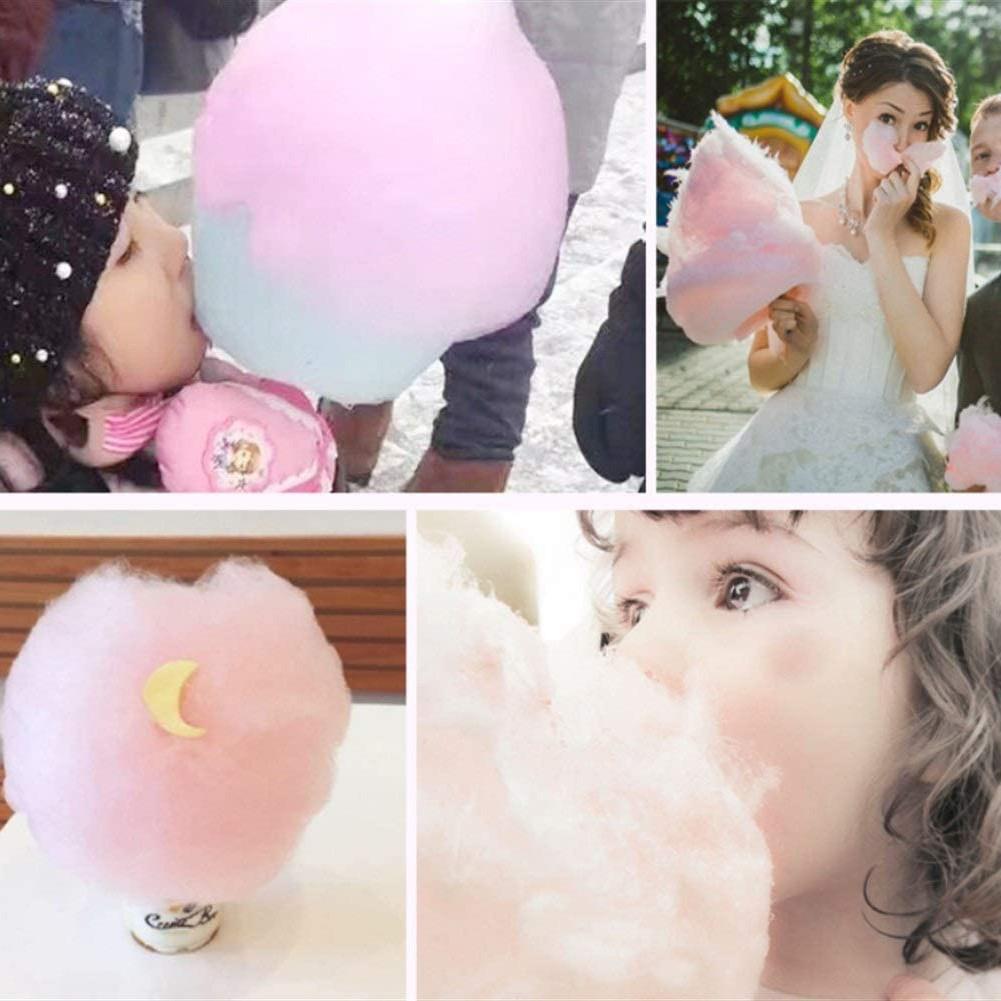 This cotton candy machine has a unique retro look, which is very suitable for families, parties, fundraising events, or small businesses. It can also be used as a holiday gift.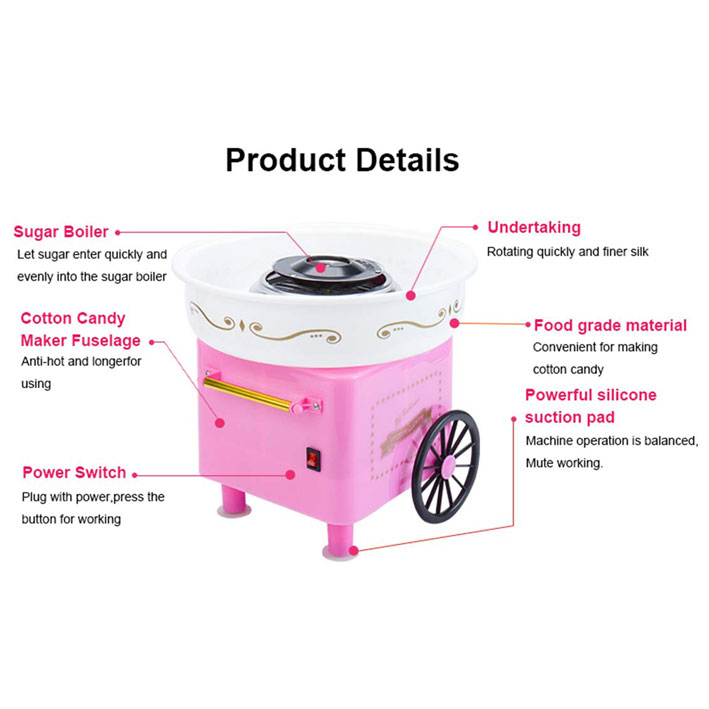 Specification:
Type: Candy Floss Maker
Material: Plastic + Steel
Applications: Cotton Candy Making
Dimension: app.30x28cm/11.81×11.02in
Color: Red, Pink, Blue
Package Include: