Shower Without the Fear of Slipping and Falling Over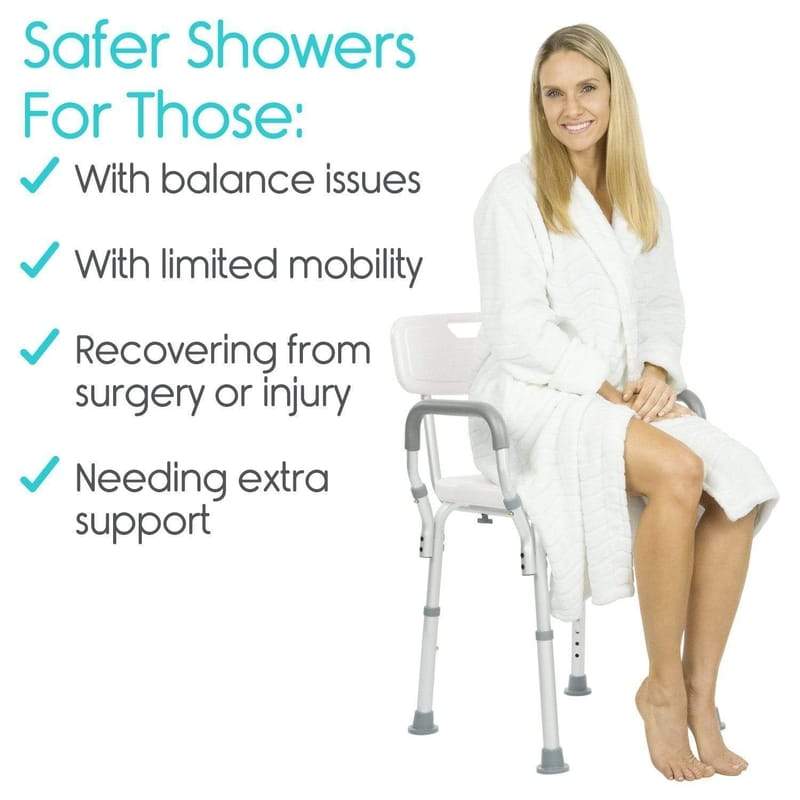 For Anyone Who Wants Safety in the Bathroom First and Foremost
According to studies, 80% of home falls happen in the bathroom. A slippery floor and a water pooling all around almost always increases the risk of injuries from falling. The effects of a bathroom fall can be severe, and life threatening, especially to those who are aging, who have trouble keeping their balance, who are suffering from injuries, and for those who are accident-prone due to loss of body control.
If you – or someone you love – are prone to falls in the bathroom, you can now finally increase your safety with the help of StabloSeat, an expert-designed shower seat made to significantly eliminate the risks of falls and slips in the bathroom.
Dubbed as "one of the best shower seats for pregnant women, elderly people, and those who have mobility issues," the StabiloSeat combines comfort and stability so you can take a shower with peace of mind.
Why StabiloSeat?
It takes the anti-slip design seriously. 
The seat is ergonomic and comfortable. 
The shower seat that can hold up to 300lbs of weight. 
Lightweight and easy to transfer anywhere. 
You won't have to worry about water pooling around you.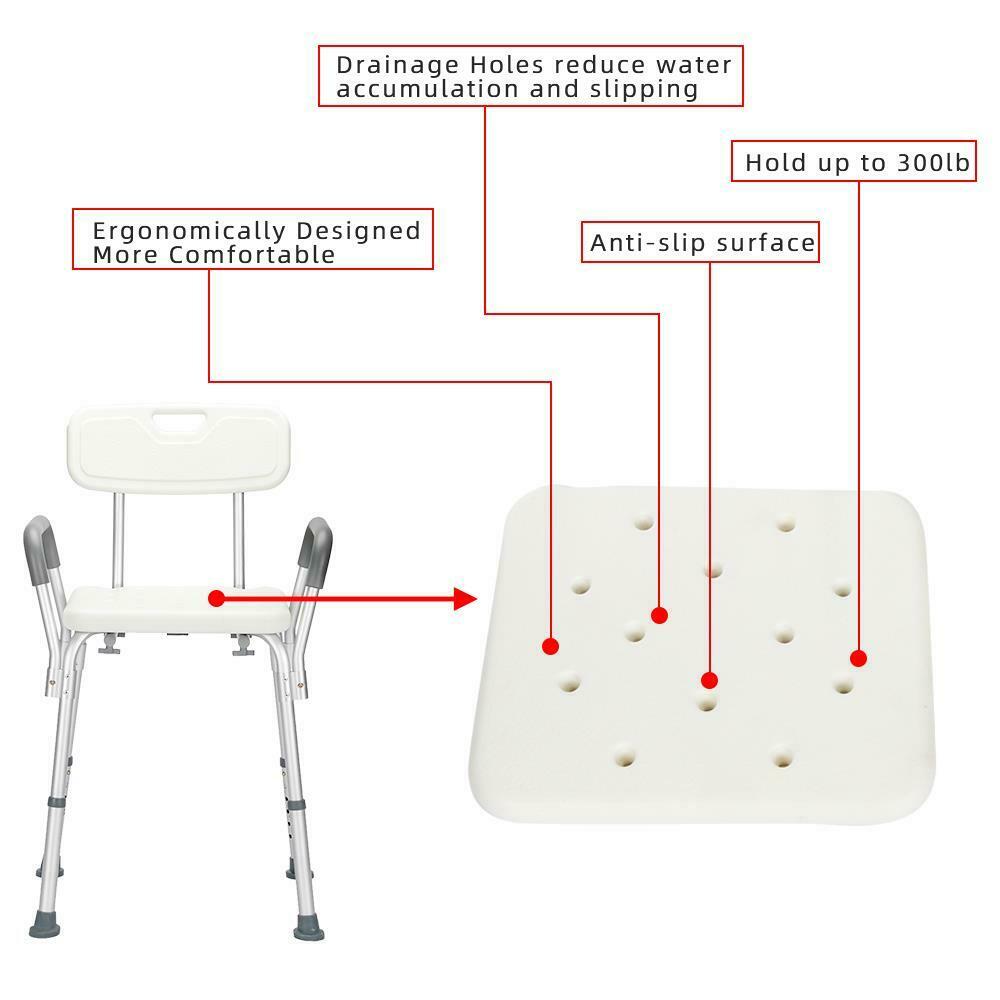 Features:
Made of high quality aluminum alloy material, eco-friendly PE backrest and seat, waterproof, anti-corrosion and not easy to rust. If you are looking for a long-lasting, reliable shower seat, you can trust the StabloSeat to deliver. It takes anti-slip designs seriously. From the handles to the foundation, you won't have to worry of risking slips and falls.
The foundation of the seat's stands comes with a rubberized design with a strong grip. This shower seat lessens movement and wobbly feels with its trusty rubber edge.
It has handrails on both sides of the board making it easy to move. Even those with balance and mobility issues can greatly benefit from the StabloSeat. It makes moving and shifting into various positions easier. The handrails make sure accidentally slipping off the seat is avoided.
Ergonomic seat board and backrest, comfortable to seat and lie on it. StabloSeat comes with a anti-slip seat that's really comfy on the back and the bum. The seat also comes with holes so you won't have a pool of water settling around you while you bathe.
If no backrest is needed, the backrest can be removed. The easy-to-disassemble design of the StabloSeat makes it a shower seat that works for all types of people.
Great for all types of people with various needs. The shower seat is ideal for pregnant women, those with injuries, people with mobility issues, and the elderly. The seat is adjustable.
Can be used as a bath stool or a normal home chair, suitable for use in a variety of places, such as bedrooms, bathrooms, hospitals, etc. This lightweight, easy-to-handle seat is also multipurpose!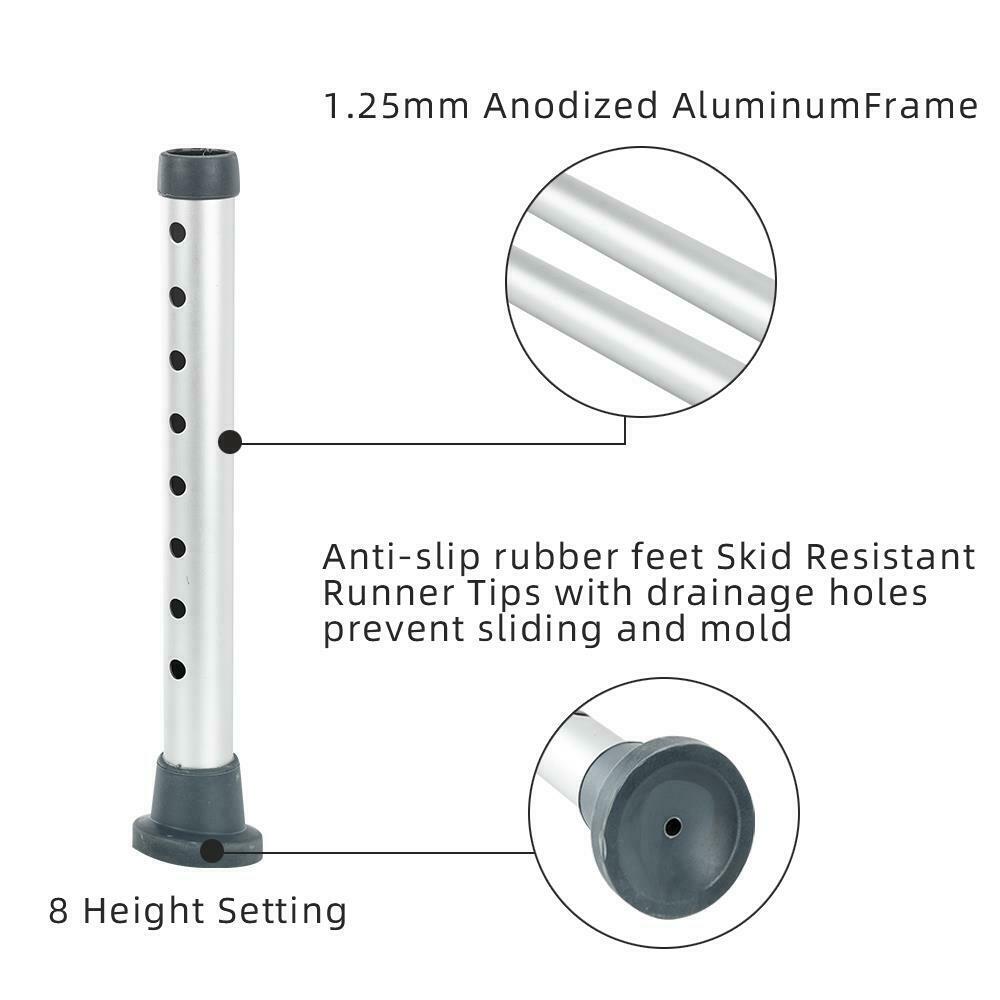 Specifications:
Bracket Material: Aluminum Alloy
Seat Board and Back Material: PE Blow Molding Board
Foot Mat: 4 Rubber Foot Mat
Color: White
Adjustable Gear: 6 Gear; Each hole:2.5cm
Non-slip Seat Plate Thickness: 1.57″ / 4cm
Width: 15.35″ / 39cm  Length:17.71″ / 45cm
Seat Height: (17.71-22.83)" / (45-58)cm
Seat Width: 12.99″ / 33cm  Seat Length: 15.75″ / 40cm
Overall Height: (30.7-35.83)" / (78-91)cm
Backrest Length: 16.53″ / 42cm   Backrest Width:6.69″ / 17cm
Handrail Height: 7.1″ / 18cm
Load-bearing: 300lbs / 136kg
Product Weight: 8.36lbs / 3.8kg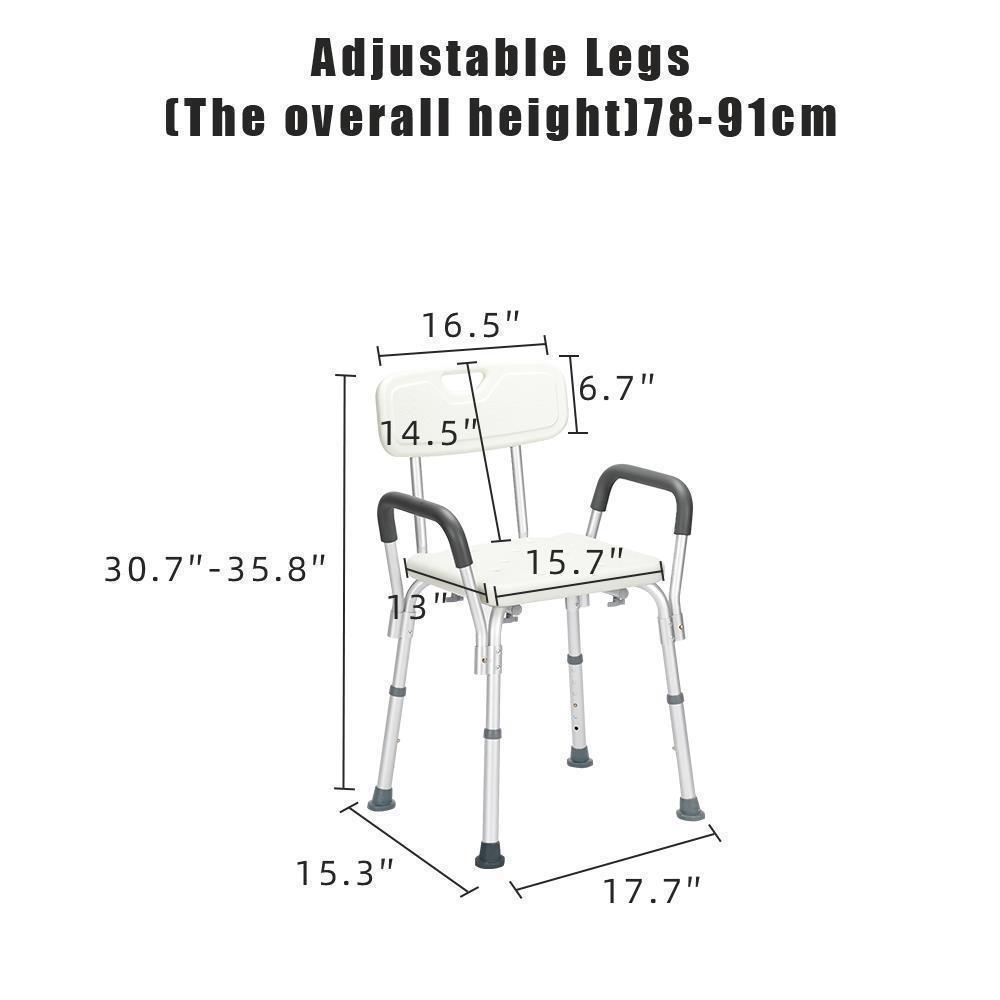 Package Includes:
1 x Bath Chair
1 x Manual
Precautions
Before use, please confirm whether it is installed correctly, whether all fasteners are tight, and adjust to a suitable height, the four legs must be in the same whole height when raising or lowering.

When using it, make sure it is placed smoothly, and do not use it under unstable conditions.And the product is prohibited to be placed in the bathtub.

Before sitting and uping, both hands should be used to help both sides of the armrest (if it is a bath chair without armrests, both hands should be used to help both sides of the seat at the same time), single sided force may risk rollover,  if necessary, please let Nursing staff  help you when use.

Under no circumstances should you step on the bath chair to take a bath or work, and forbid shaking it while you sitting.

Please wash and wipe clean after each use, keep ventilated and dry.

Every two months of use, please check whether the fasteners are loose, (need to be tightened in time) and the wear of the foot pads, if necessary, please replace them in time.