The Magic Starts With The Shroom N' Bloom Ultimate 12-Jar Mushroom Growing Kit!
Each Shroom N' Bloom Kit includes
12 x Ultra Substrate Jars, 1/2 Pint, Premixed & Pressure Sterilized
1 x Dual Design Growing Chamber  20″X 15″X 12″
1 x Digital Thermometer/Hydrometer/Humidity Gauge
1 x Powerful 100-watt Aquarium Heater With Adjustable Thermostat Settings (very important)
1 x Ultra Quiet Electric Air Pump (low-pressure air exchange system, no holes to drill)
1 x HEPA Air Filter (built-in to our special Silicone air hose)
1 x Heavy-Duty Electric Timer with 24 on/off settings per day
1 x 110V 900 Lumen LED Dual Spectrum Plugin Grow Light with 5000K/6500K spectrum
1 x Light Outlet Adapter/Converter
1 x Gallon of Premium Perlite (formulated to release moisture better)
1 x Hospital-grade Nitrile Gloves for inoculation
1 x Alcohol Prep Swabs
1 x Extremely Detailed Step By Step Growing Guide with pictures designed for this kit PLUS Mushroom Cultivation 101: How to inoculate, How to Incubate, How to Fruit, Casing Methods & Amazing Way to Quickly Dry Your Mushrooms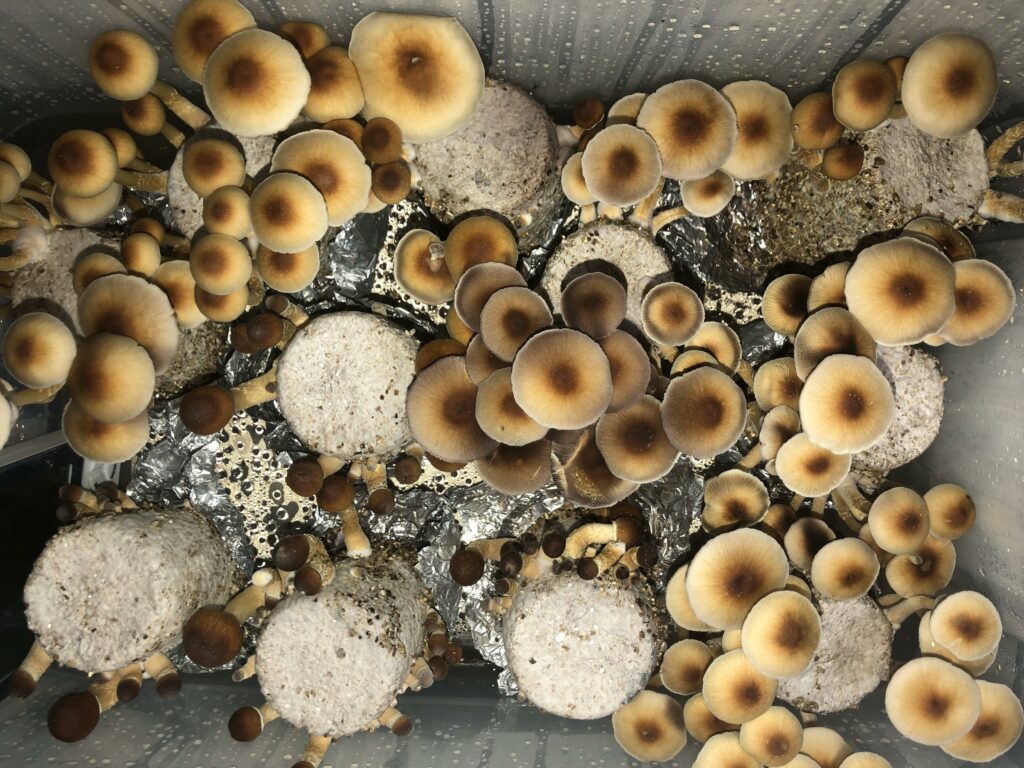 Why Choose Our Ultimate 12-Jar Mushroom Growing Kit
We designed this for the mycologist who wants it all. It fits together seamlessly to help you achieve the PERFECT growing conditions without ever being around.
The powerful heater can be adjusted to reach temperatures of up to 86 degrees—even in cold basements. The automated air pump systems integrate a HEPA filter to keep contamination out and fresh air in. The electric timer is easy to set up and can be adjusted to maximize the humidity levels in the chamber.
The chamber can be used as an incubator during the first few weeks. This allows for optimal colonizing and fruiting temperatures, as well as faster colonization times.
There is no need for misting because this setup will obtain perfect 95-99% humidity levels with fresh oxygen pumped in throughout the day. There's absolutely no need for a humidifier!
Set it and forget it. Growing Mushrooms has never been easier! 
Trust Our Process
Set up your kit as an incubator. Add water to the bottom container and use the aquarium heater to achieve your desired temperature.
Water is the most natural and even heat source. The heater has a built-in thermostat that maintains the temperature once set.
The upper container stays dry and serves as your incubator and fruiting chamber. After injecting your favorite spores into each jar, watch them quickly colonize.
Once they are 100% colonized, remove them from the jars. Add perlite and water into the grow chamber and watch the mushrooms grow fast!
Almost everything in the kit can be reused, so you can keep growing!
What Makes Our System The Best
When growing mushrooms, there are two things that are very important: heat and humidity. When the jars are colonizing in the first stage, they need warmer temperatures to properly grow. During the fruiting stage, they need slightly cooler temps. Our Ultimate 12-Jar Mushroom Growing Kit allows you to adjust to any temperatures needed.
Humidity and proper Co2 exchange are also important. That's why this kit helps you maintain perfect 95%+ humidity with very little effort. We use special perlite that, when combined with heat and air pump, does a better job maintaining humidity than any external humidifier.
The air pump combined with our HEPA filter hose pumps in fresh clean air and Co2 is eliminated through the top of the chamber. Our system lets your shrooms grow fatter and larger than any other method. You'll see the difference—we guarantee it!

The Shroom N' Bloom Ultra Substrate Jars
Our ultra substrate jars are the absolute best on the net. We have carefully fine-tuned the ingredients to produce amazingly fast-growing jars that outgrew any others we've tested.
When you use big jars, results are not much bigger and colonization times are also much longer. Additionally, bigger jars tend to dry out before fully colonizing.
Half-pint jars are the optimal size jars for growing mushrooms. They are known to be the best and the industry standard for time and total quantity!
What's In The Ultra Substrate Jars
These ingredients have been tested & proven to yield the biggest most potent mushrooms possible.
Natural Organic Brown Rice Flour
Vermiculite
Mineral Water
Worm Castings (Similar to Horse Dung but much better and more nutrient-rich!)
Bee Pollen (Nature's Super-Nutrient)
Our jars are pressure sterilized at 15psi for 120 minutes in our new autoclave, eliminating ANY possibility of contamination!
Package Inclusions