At-Home Popcorn Making Now Made Possible by this Vintage-Inspired, High-Capacity Popcorn Maker with High-Heat Air Frying Features for Crispy Popped Kernels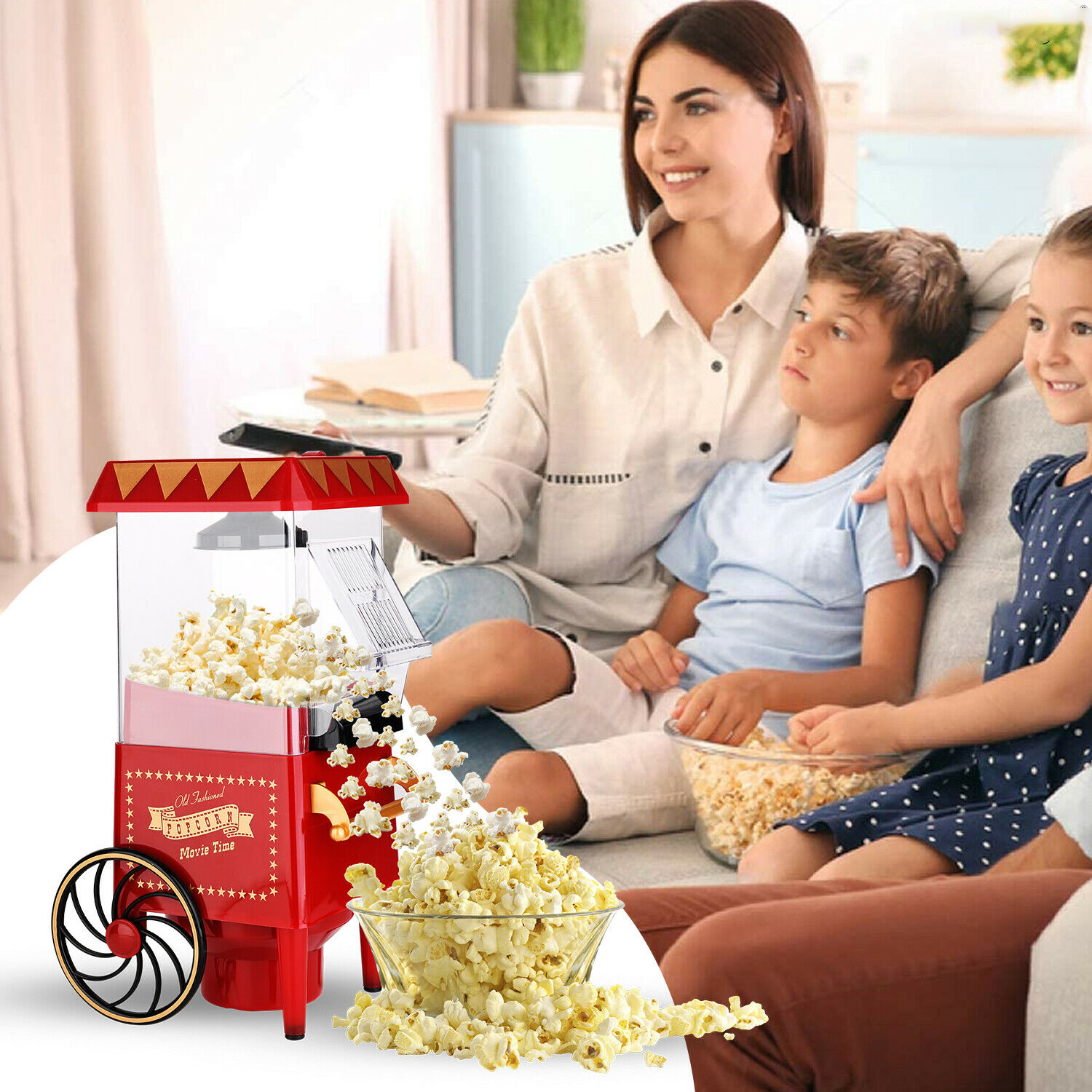 Vintage Popcorn Maker – Your Favorite Popcorn Made Available Any Time!
Popcorn a big part of your gatherings? Tired of getting popcorn for take out and not really enjoying its crispy fresh-from-the-machine taste? We got you – the PoppeRoo is your best bet for delicious, hot popcorns you can enjoy everywhere.
The PoppeRoo is inspired by the vintage popcorn makers that bring you back to your days at the fairs and carnivals. The features are just as good, too. The machine comes with a high-heat capacity popcorn popper that equally distributes the heat to give you crispy popcorn without the unpopped kernels.
A popcorn maker that cooks kernels in a healthy way, this is a top choice for those who want to munch on the treat without the guilt. Cleaning and maintenance-wise, this vintage popcorn maker is a winner.
PoppeRoo Popcorn Maker is For You If…
✅ You're looking for a healthier alternative to traditional popcorn makers.
✅ You want a popcorn maker that comes with high-heat capacity to help kernels to pop equally.
✅ You want to do away with unpopped kernels and chewy popcorn.
✅ You don't like popcorn makers that leave a burnt plastic smell.
✅ You want a popcorn maker that can handle large volume of popcorn.
✅ You want a popcorn maker you can bring anywhere.
✅ You prefer popcorn makers that are easy to clean.
PoppeRoo Popcorn Maker Features
Makes up to 12 cups of popcorn! 
Want to enjoy a big batch of popcorn for movie nights, game nights, and events? The PoppeRoo can serve you up to 12 cups of popcorn in one go. Cooking time is under 5 minutes.
Uses hot air instead of oil for healthier, crispy popcorns. 
You won't be needing a lot of oil for your favorite popcorn treat. With only just a tablespoon of oil, you can bring out the crispy texture and delicious flavors of the popcorn!
Makes perfectly cooked popcorn, thanks to its high-heat feature. 
If you hate ending up with soggy, rubbery popcorn, you will love PoppeRoo. The high heat feature makes this popcorn maker capable of cooking kernels efficiently all the time.
Swirling airflow to make sure all kernels are popped evenly. 
You won't have to worry about wasting kernels all the time. The swirling airflow feature prevents concentrating heat in just one place but instead distributing it evenly to ensure all kernels are popped.
Durable plastic that doesn't produce burnt smell. 
The PoppeRoo is made from strong, high-quality ABS plastic that does not melt or produce a plastic, chemical smell.
Comes in a tabletop-friendly design – great for home and business use. 
You can easily fit the PoppeRoo on table tops, kitchen tops, and even in outdoor tables. The portable design makes it easy to bring anywhere.
Pours popcorn straight to the bowl so you can enjoy freshly popped treats. 
No need to worry about transferring the popcorn from one bowl to the other – the PoppeRoo will do it for you. The machine is programmed to pour out popcorn directly to the bowl.
Cute, vintage design that's great as a party decoration. 
If you have a vintage party, the PoppeRoo can be dual purpose – as a treat maker and as a decoration!
Specification
Voltage- 110-120V
Wattage- 1400 Watts
Dimensions: 16.3 x 9.84 x 7.83 inches
Warning
Do not pour cream and any seasoning into the machine.
When the machine is running, it will generate heat, please do not touch it. When the corn kernels are all popped and the machine cools down, pour out the popcorn. (The process is about 3~5 minutes)
After using the product, please turn off the switch and pull out the plug, and do not let the machine run idly. Children should not use this product alone, please use it with parents.
No need to wash, just wipe clean with a simple kitchen towel or dry cloth. Because it uses the principle of hot air, it can reduce the probability of the corn not popping successfully. The machine works continuously for 5 minutes and needs to dissipate heat for 10 minutes.
Packcage Include