Make Healthy Popcorn at Home IN 2 MINUTES with the StarPop Automatic, High Heat Popcorn Maker with Air Frying Features. 10-Cup Capacity, Equal Heat Distribution, and Durable Materials That Are Easy to Clean!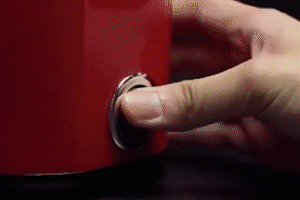 Healthy Popcorn Maker That Lets You Cook With No Oil – No Need To Order Outside, Too!
If you're looking for a healthier – and more convenient – way of enjoying popcorn at home, we offer you the StarPop!
Rightfully named to be the star among all the popcorn makers, the StarPop has all the features you will need to make popcorn making (and eating!) healthier, more enjoyable, and more available when needed!
The StarPop is one of the first popcorn makers that won't require you a ton of oil – yes, you can even make no-oil popcorns. The impressive air frying feature plus the equal distribution of heat inside the machine give you flavorful, crispy, preservative-free popcorns!
The Starpop Is for You if…
✅ You are looking for a healthy popcorn maker.
✅ You want a popcorn maker that cooks kernels fast.
✅ You want a popcorn maker that can cook the kernels equally.
✅ You hate it when kernels go to waste.
✅ You prefer a popcorn maker that does not need oil for cooking.
✅ You want a high-heat capacity popcorn maker that can cook crispy, well-popped popcorn.
✅ You are all about durability.
✅ You hate the smell of burning plastic.
✅ You want a machine that makes popcorn making automatic and easy.
✅ You prefer a popcorn maker that is easy to clean.
StarPop Popcorn Maker Features
Rated as one of the best popcorn makers for at-home use, the StarPop comes with champion features.
The Popcorn Maker that Guarantees a 2-minute Cooking Time
The StarPop comes with a high-heat capacity that cooks kernels in just two minutes. This is a perfect popcorn maker for movie and game nights, or gathering with friends. Make popcorn as you go with StarPop.
The Machine Includes a Butter Slot To Coat Popcorn with Butter as You Go
Love a smooth, buttery taste to your popcorn? No need to worry about manually putting butter on your treats. Simply place the butter on the measuring cup of the StarPop and the heat of the machine used to cook the kernels will automatically melt the butter onto your popcorn.
Hot Air Cooking Feature for Crispy, Popped Kernels without Too Much Oil
Love healthy snacks? The StarPop gives you the best tasting popcorns without asking you to put too much oil. The hot air is enough to keep the kernels poppin'!
Comes with a Built-in Stirrer to Equally Distribute Kernels for Popping
Worried about kernels not popping the way you want them to be? It could be that your previous popcorn maker just concentrates the air on one spot. Not with the StarPop. This excellent popcorn maker not only distributes air heat properly, but also has a built-in stirrer to make sure no kernel is missed.
Produces Popped Kernels Directly Into a Bowl
No need to transfer from one spot to another. The features of the StarPop immediately transfers the popcorn from the machine to your bowl.
Does Not Come with Burnt Plastic Smell
The StarPop does not come with a burnt plastic smell. You won't get any chemical taste from the popcorn you're enjoying.
Easy to Clean and Maintain
The StarPop can easily be washed.
Specifications:
Rated power: 1200W
Material: metal
Colour: red,white,black,pink
Size: 16.5.0 cm * 12.0 cm * 26.5 cm
Warning
Do not add any other ingredients such as: oil, shortening, butter, margarine, salt or sugar, as damage will occur.
The temperature inside the machine will rise during work, please do not touch the heating surface.
If more Popcorn is required, remove the Popcorn remaining in the Aluminum Heat Chamber. Pay attention not to get burnt when handing the Top Cover as
this part as well as the Measuring Cup is very hot when the Popcorn Maker is functioning.
Wait for approx. 10 to 12 minutes before using the Popcorn Maker again.
Clean the plastic parts of the Popcorn Maker with a damp cloth. Never use abrasive products as they could damage the Popcorn Maker.
This product is a small electrical appliance, please do not let children use it alone.
Package Included:
1 x electric popcorn machine