High Capacity Popcorn Maker for Parties, Events, and Businesses. With Non-stick Ceramic Material, High Heat Function, Built-in Stirrer for Equal Heat Distribution, and Easy-t0-Clean Design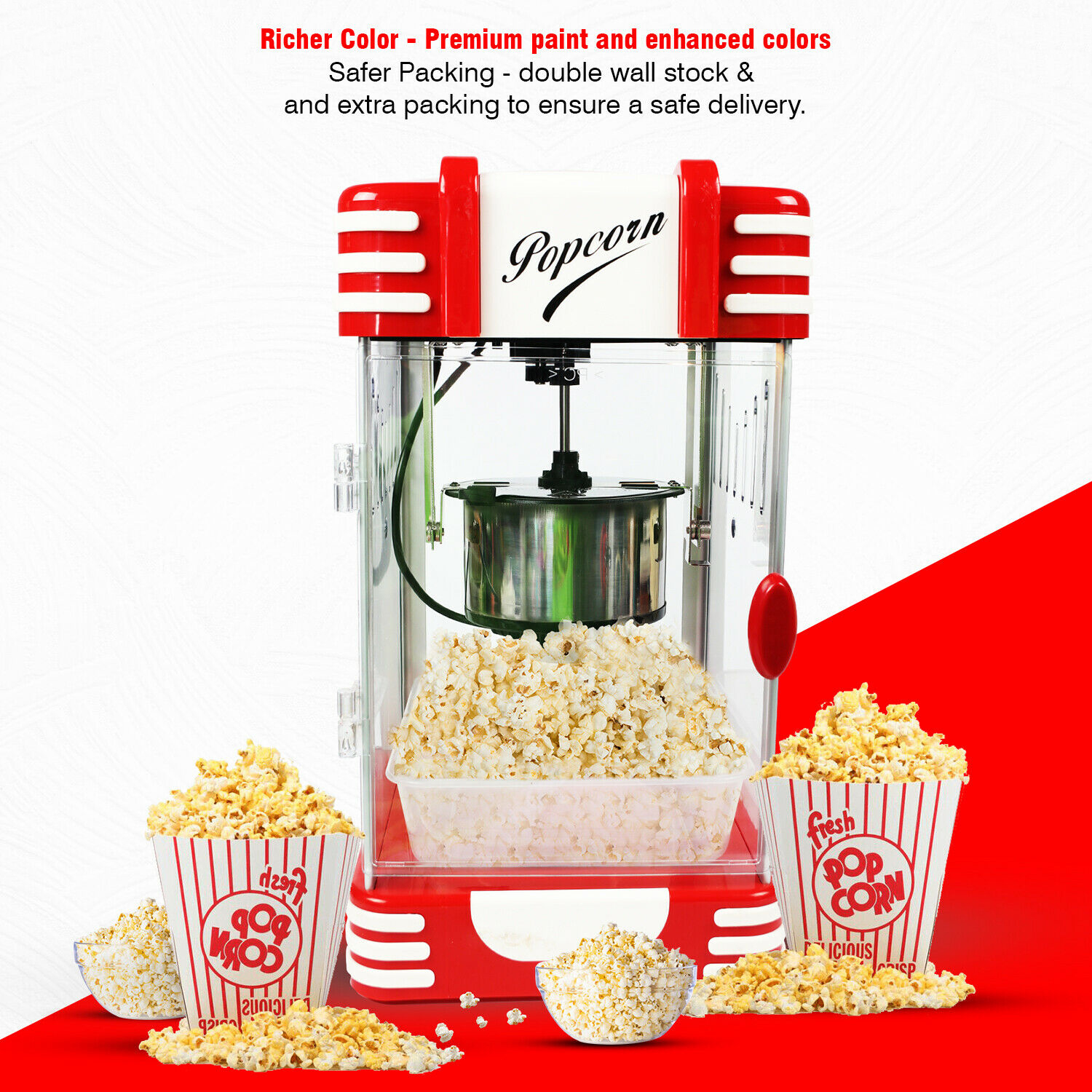 Why You Will Love the PartyPop Popcorn Maker
FRESH POPCORN
The theater style popcorn maker includes an 2oz stainless steel kettle that makes about 6 gallons of popcorn, a heated deck to keep this delicious snack fresh, and a drawer that collects the reject kernels for easy clean up.
NOSTALGIC DESIGN
The Matinee style popcorn maker has an attractive design aimed to capture the nostalgic vintage charm of antique machines. It brings both the feeling and the smell of the movie theater right to your home or event.
COUNTERTOP MODEL
This tabletop popcorn maker is sure to fit on any countertop in your home or business. The 300W machine makes serving yummy popcorn in the break room, at a birthday party, or sporting events easier than ever!
EASY TO USE
Built with stainless steel and tempered glass food zones, this machine makes popping popcorn fast and simple. The 2-switch design allows you to use the kettle heater and stirrer, overhead light, and warming deck independently of each other.

PartyPop Popcorn Maker Features
Perfect for Business – Can Handle up to 2 ounces of popcorn kernels. 
If you're looking for a popcprn maker that can produce a large batch of popcorns, you can count on the PartyPop. The machine can cook up to 2 ounces of kernels and produce up to 6 gallons of cooked popcorn.
High Quality heat is used for cooking the kernels – expect super crispy popcorn.
The high heat level of the popcorn maker – up to 180-degrees of heat – cooks the kernels in a crispy, crunchy, totally-popped texture. It's the best as it brings out the flavor.
The machine only requires a small amount of oil. 
You also don't need to pour a cup of oil just to keep the popcorn popping. The heated air is enough to cook the popcorn perfectly. If you hate to eat or serve soggy, rubbery popcorn, you will love the PartyPop.
You won't get a burnt smell despite the heat used for cooking. 
The material used for the PartyPop is a durable ABS plastic that doesn't give off a burnt, chemical-like smell. You can be assured that the popcorns you produce are safe and toxin free.
Comes with a non-stick ceramic material to prevent sticking and burning. 
No need to worry about popcorns sticking onto the machine anymore.
Includes a stirring rod so all kernels can be popped. 
The kernels can be equally popped with the help of a built-in stirrer.
Dishwasher safe – 100% easy to clean despite its size. 
Maintaining and cleaning the PartyPop is easy. You can even just use a wet wipe to maintain and clean it.
Specifications:
Operates On 110v (Standard Outlet)
300 Watts
ETL Approved. RoHS approved.
Dimensions: 13 x 12.2 x 20.1 inch
Weight: 9.9 LBS
Note:
Please do not add any ingredients in the popper chamber to popcorns, which may result in a short circuit.
Please use fresh and dry kernels instead of stale and wet ones, otherwise, it is possible that some kernels will not be popped or need a longer time to pop. It will be better to buy kernels from local supermarkets or groceries rather than online stores.
Do not operate the popcorn maker for more than 5 minutes at a time. Allow a 5-10 minutes break between cooking the second cycle of popped corn. This will allow the unit motor to cool down.
Please use a large-size bowl when using the popcorn machine, and children need to be accompanied by their parents when operating.
Packcage List
1*popcorn maker
1*Measuring Scoop