Learn and Play.. All While Your Baby Is Taking Their First Steps!
The walking stage is the most interesting stage for babies. This is a point where they start to explore and feel their surroundings. Experts suggest that parents go all out in this stage when the brain and the senses are voracious in learning and exploring new things. If you have a baby who is in the process of learning how to walk, don't just teach them how to walk – feed their curious minds with the help of PlayStep baby walker with Montessori Learning Tools.
Montessori-Inspired Baby Walker
This wooden baby walker takes on touches of Montessori learning. With simple wooden design, and a very interactive play features, this is a wonderful walker for parents teaching their kids the art of Montessori play.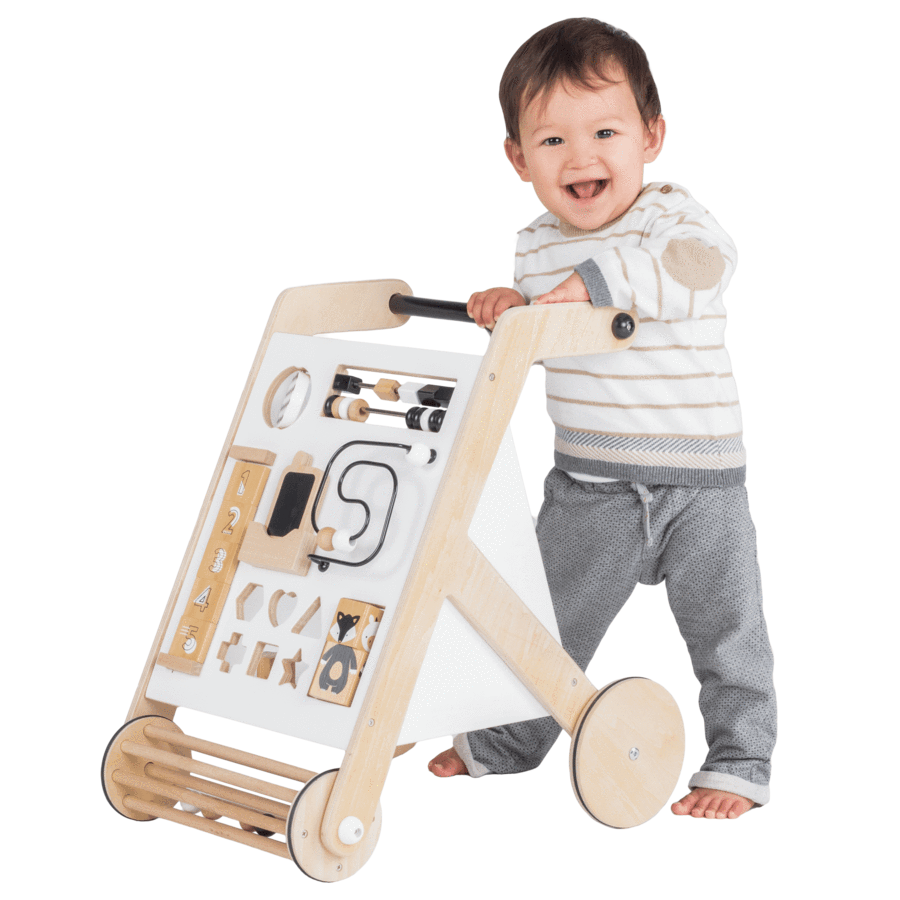 Features
Here are a few reasons why you should include PlayStep in your baby must-haves.
A very classic way of teaching babies how to walk. The PlayStep follows the traditional design of baby walkers – with wooden wheels to really exercise the legs, muscles, and coordination of your child. Without too much fanfare going on in their walkers, your baby can focus in their walking practices.
Includes a busy board to keep your kids occupied. Once your baby's done with walking around, they won't have to rush to their phones. This baby walker includes a busy board to keep your baby's mind working. The board includes a number slot, a shape slot, a wooden abacus, and mix-and-match toys.
Features a wooden design that provides better stability and assistance. With the PlayStep, worrying about your child's falls will be the last thing to worry about. This baby walker is made with improved stability to help your kids make their first steps confidently.
Montessori-approved walker. Montessori-parents, rejoice. If you're not a big fan of colorful walkers because you believe they're too distracting, this walker is a perfect choice. With its muted tones, your baby can focus when they need to!