Creating a Friendly Space for These Whimsical Creatures.
Make your backyard the perfect hotspot for hummingbirds to hang around and observe these beautiful birds with Pekkerie Red Berries Hummingbird Feeder. Our design comes in a copper vine look with clusters of red berries, which help attract hummingbirds and make them feel at home.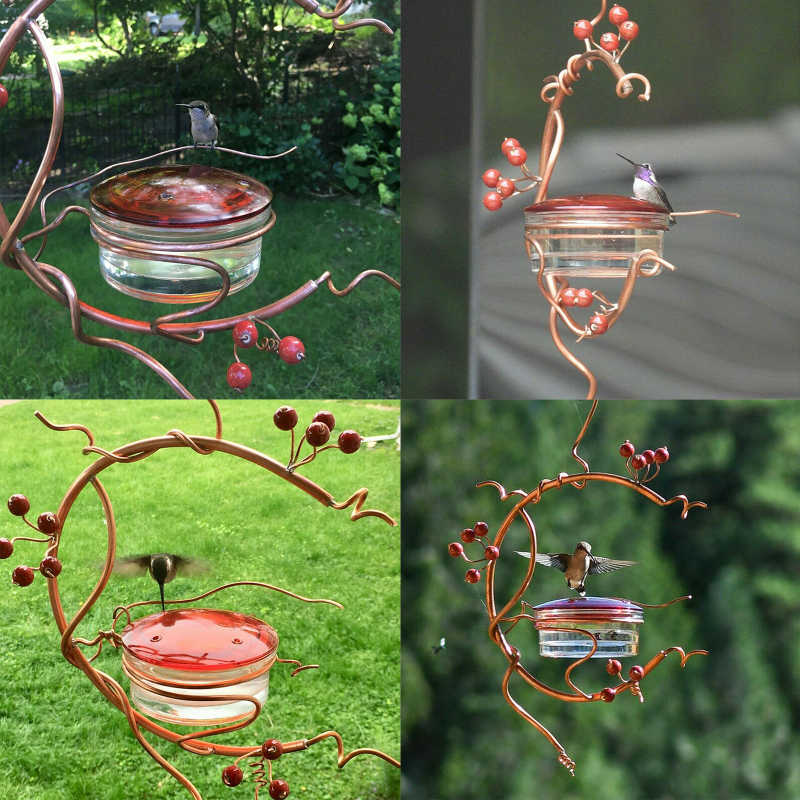 The Pekkerie comes with a glass bowl for sugar water (3.4 ounces) that fits securely in a copper coil in the middle of the C or crescent design. This inclusive sugar bowl is enough to feed your hummingbirds for a couple of days.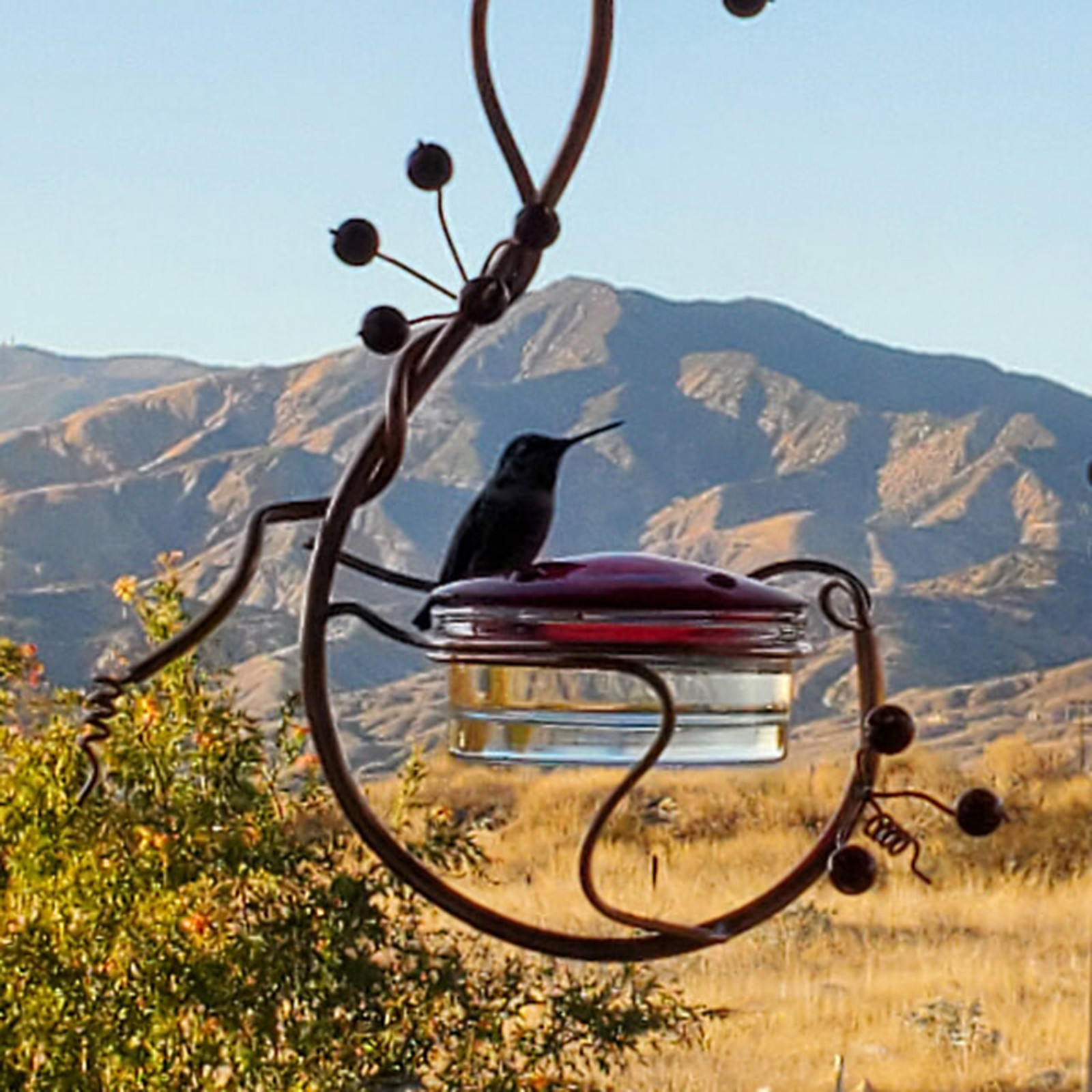 Easy to Clean and Maintain to Keep Your Hummingbirds Healthy.
It's essential to own a feeder that you can easily clean to keep your hummingbirds healthy. The Pekkerie features a no-mess, perfectly fit mouth that enables your hummingbirds to access the nectar without any mess. It also comes with a removable lid to make refilling easy and prevent bees from poaching the sweet treat.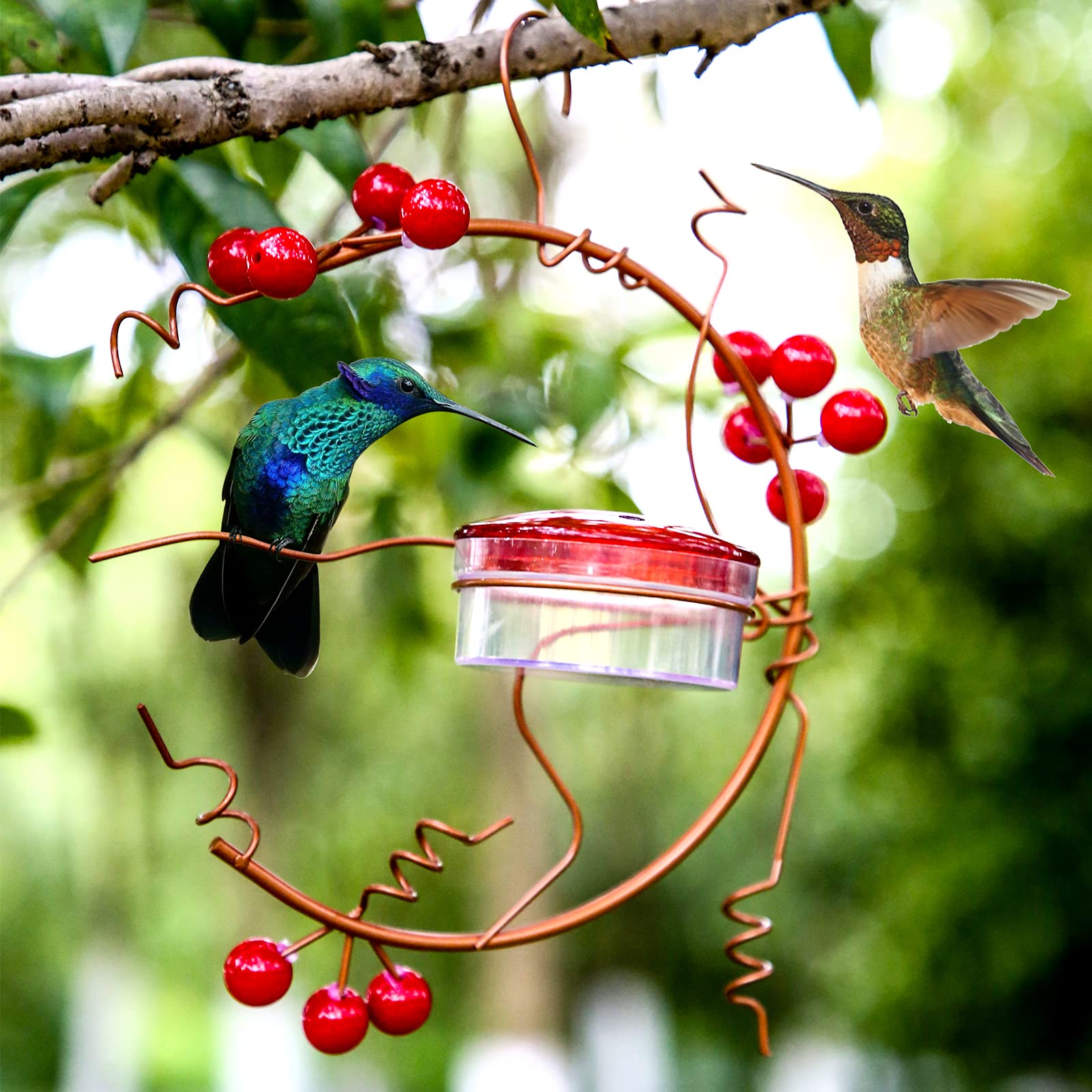 Designed Explicitly for Hummingbirds' Comfort.
A red glass lid with four holes for feeding fits on top of the bowl. The design limits bees and dripping and is also easy to clean. A wire perch protrudes from behind the bowl and can be bent to the position of your liking.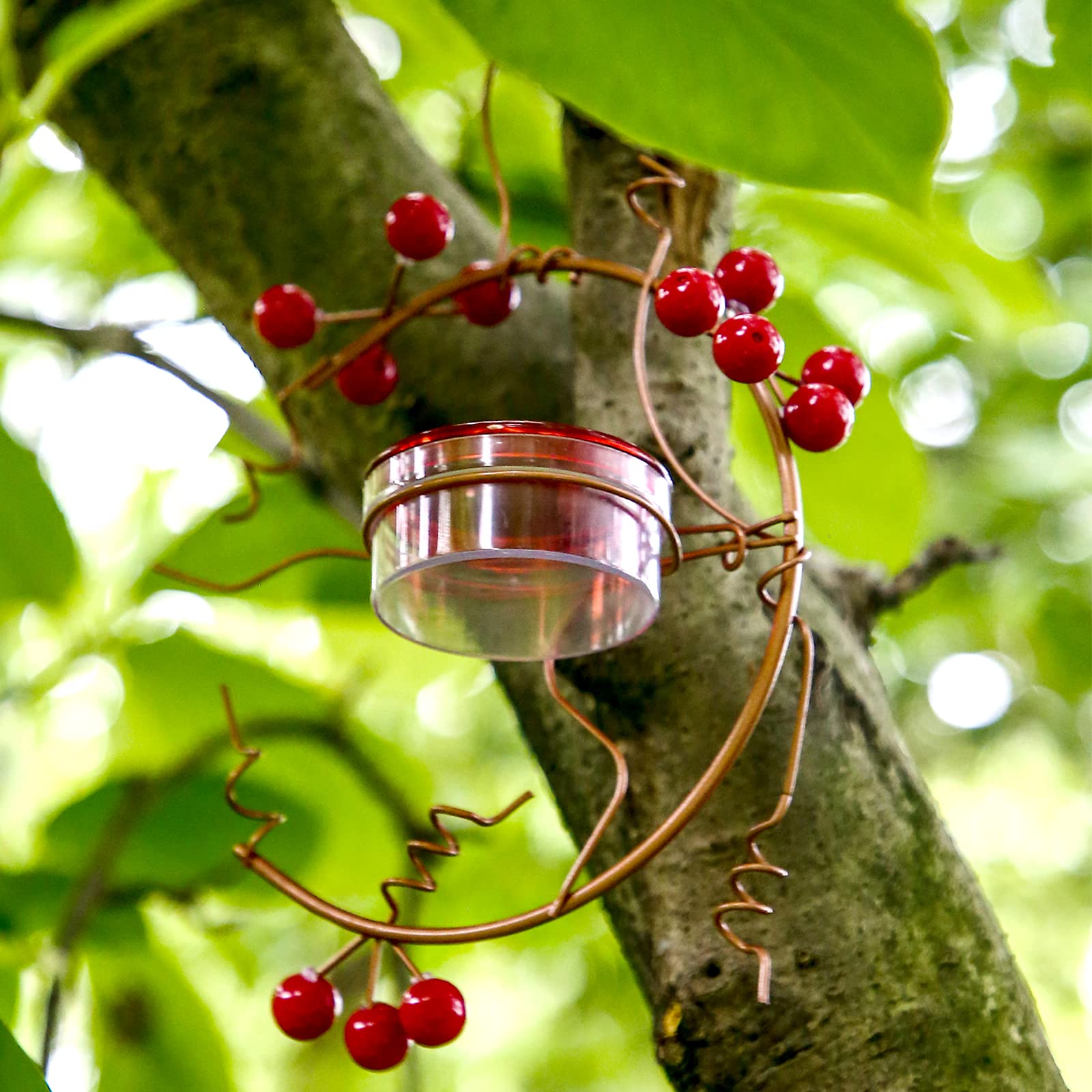 The bowl fits tightly in the copper coil. Pushing up on the bowl from the bottom helps to remove it. PLEASE BE CAREFUL WHEN OPENING THE JAR AND LID. This feeder is 14 inches long (top of hanger to bottom of vines) and 11 inches wide at its most prominent points. These feeders will be made as they are ordered, and each may vary slightly as they are handcrafted.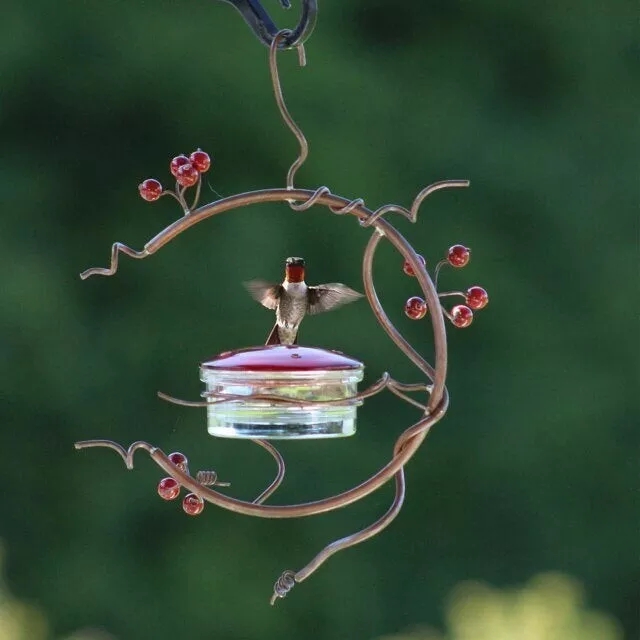 Features
【Elegant Beauty】: The red berry hummingbird feeder is designed in the shape of vines and berries, elegant and charming. Put it in your garden; it will be a nice decoration. Beautiful flowers will attract little guys to visit your beautiful yard.
【Professional Design】: The fine bird feeder is an exquisitely detailed design. A red cap with four feeding ports adapts to the size of the hummingbird's beak, and the jar design limits bees and dripping, easy to clean.
【Adjustable Shape】: Since the feeders are handmade, there may be slight differences from the picture; you can adjust the shape of the cage according to your ideas.
【How to Use】 The bowl is firmly installed on the copper coil. Pushing the bowl up from the bottom helps to remove it. Please be careful when opening the small box.
 【Proper Capacity】: 3.4 fl oz clear bowl fits securely on a copper coil. The right size can prevent the bird food from getting wet and spoiled in the container.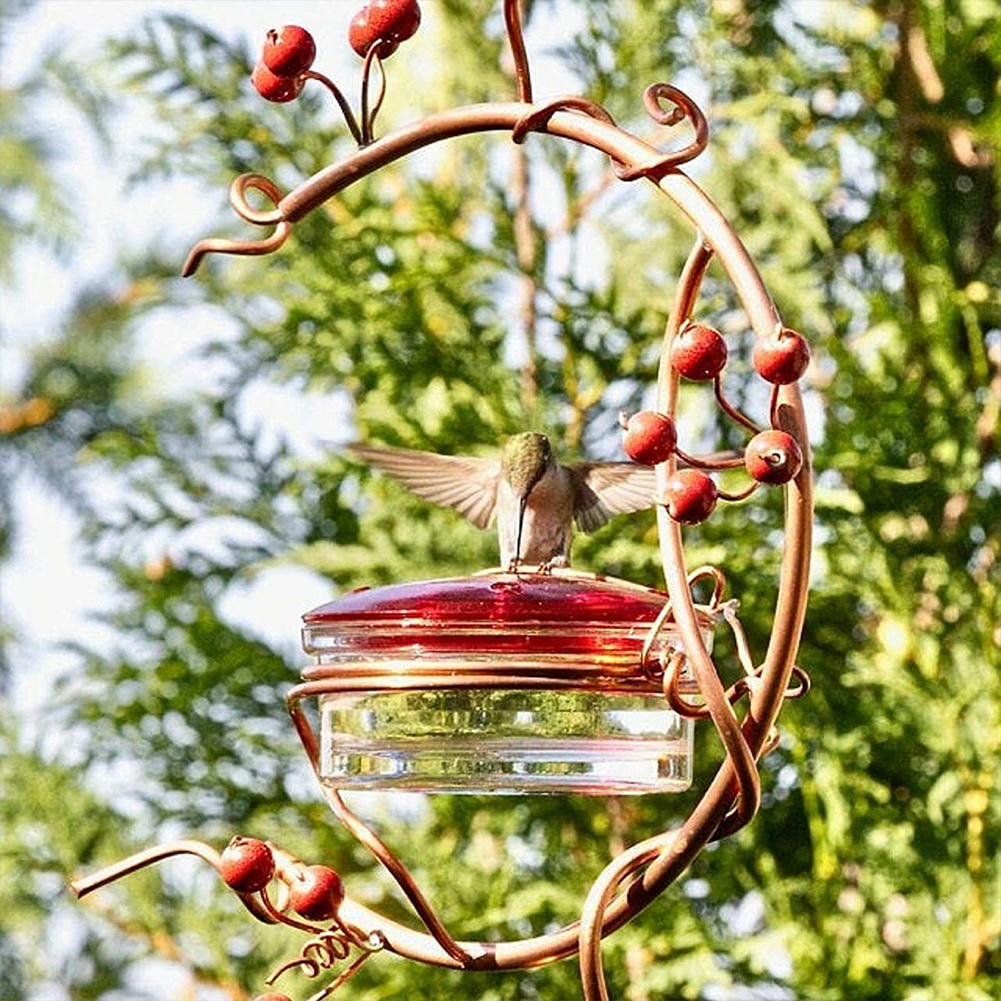 Specifications:
Material: wrought iron
Size: 30*20cm
Weight: 200g

Package Include