Make Healthy Treats and Snacks and Preserve them for a Long Time with the OdovaFood!
Healthy Snacks… Always Made Available.
Have you ever opened your snack cabinet and wished you had more healthy alternatives?
Now you can turn that wish into a reality with the OdovaFood food dehydrator! Not only can you preserve food efficiently with this food dehydrator, you can also make the most healthy and delicious dried goodies like beef jerky, turkey jerkie, dried nuts and berries, seed snacks, and dried herbs!
With this highly-efficient, expert-designed food dehydrator, you can make the best out of your food!
OdovaFood Features
Made with a powerful drying capacity. The OdovaFood is equipped with 400W of drying power, this food dehydrator removes moisture and locks in the original flavors of your favorite foods. Excellent craftsmanship means excellent operation with a 97% vitamin and mineral retention rate, this is definitely the best way to preserve food
The timer and temperature controls are adjustable. This food dehydrator features adjustable timer and temperature functions; Drying temperature can be set from 95℉-158℉(35℃-70℃), while the time can be set from 0-72 hours; Choose the optimal time and temperature depending on the ingredients; A hot air fan will automatically switch on and off to balance the temperature; never worry about making a mess
Includes 5 layers of trays to cater for more food. This food dehydrator is designed with 5 large capacity food-grade drying racks, which is enough to hold most food items and create uniform drying; 5 trays provide the ultimate convenience to classify different food and increase productivity
Made from premium materials. OdovaFood is made of a stainless-steel base and premium plastic trays, all the materials are free of BPA, and are absolutely safe for your health; The digital LED display screen allows you to accurately time and control temperature settings; Enjoy an easy, healthy homemade snack without any additives.
Easy to store and clean. The dehydrator is detachable and the trays are dishwasher safe, making it easy and convenient for you to clean and store; Suitable for drying fruit, vegetables, meat, herbs, flower tea, nuts, mushrooms, or to make beef jerky, turkey jerky, fish jerky, and any other homemade food, also can be used to make chews and snacks for your pets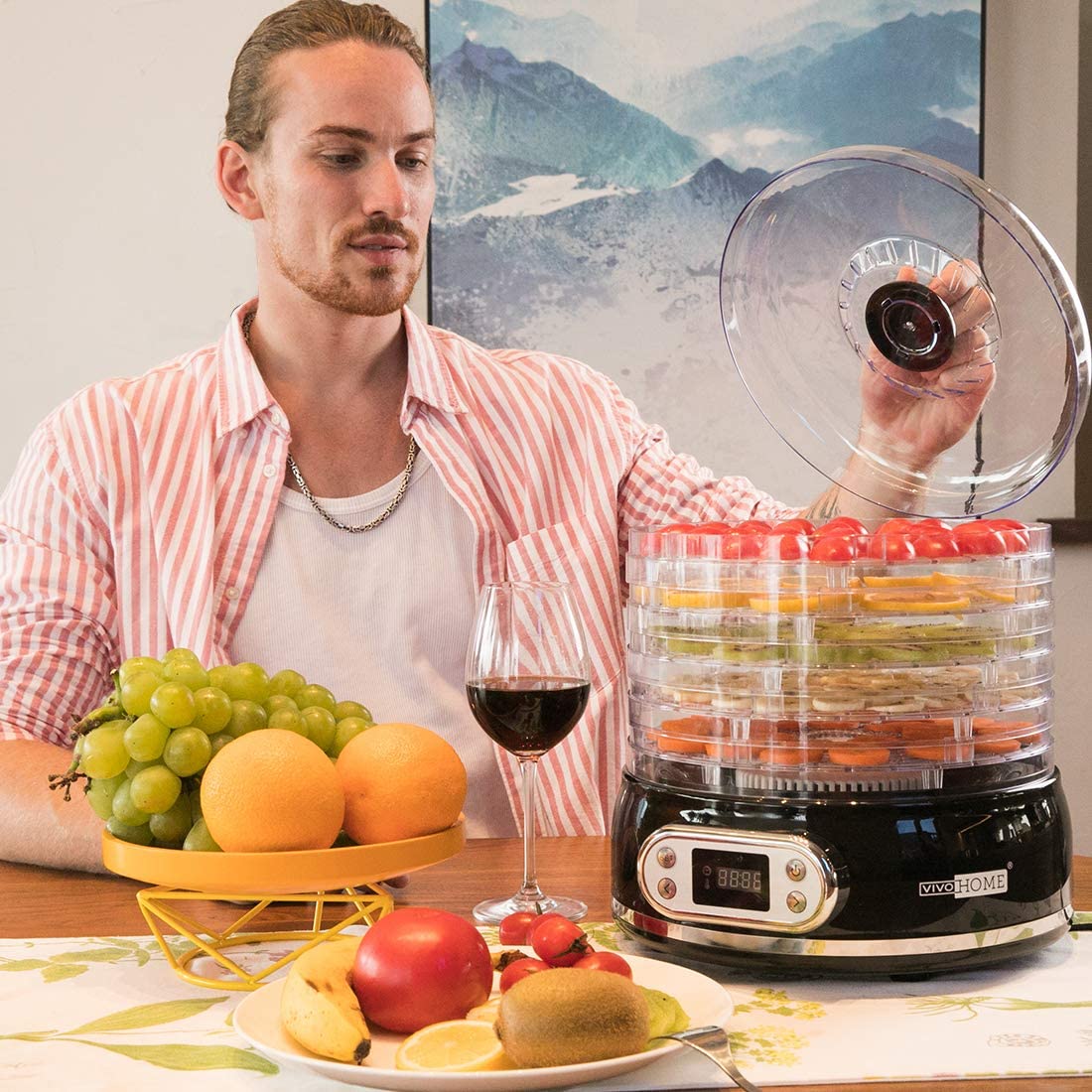 Why Choose OdovaFood? 
5 Layer Drying Racks
5 large capacity drying racks provide spacious space to hold the food and offer uniform drying. These 5 trays provide the ultimate convenience to classify different food and increase productivity.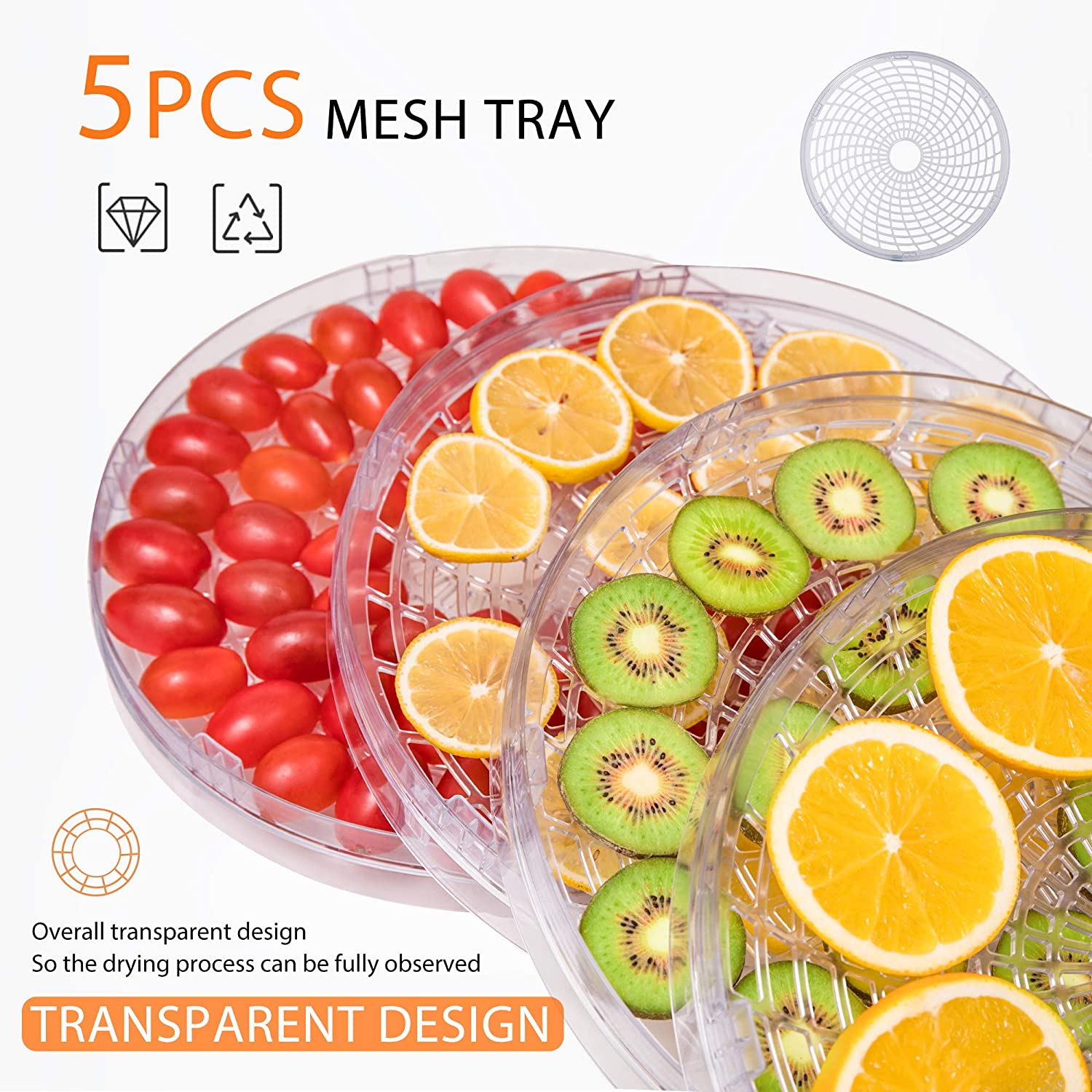 Digital Timer & Adjustable Temperature
The timer and temperature adjustment function allow you to accurately set the temperature and time depending on different food materials. This allows you to get the optimal taste and original flavor of the food.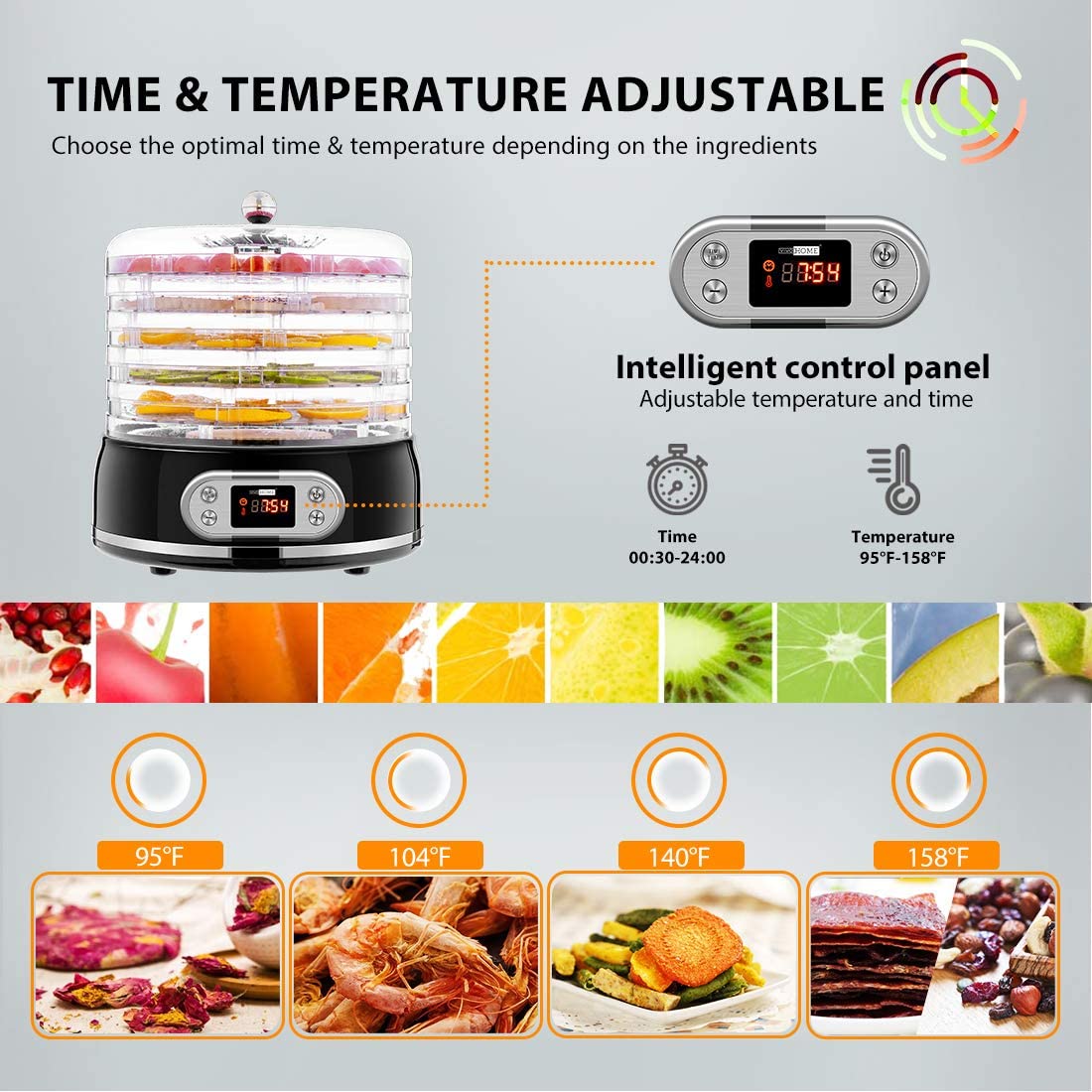 Retain the Original Flavors
The powerful food dehydrator shows excellent performance in drying food as it locks the original flavors and retains 97% of the vitamins and minerals of the fruit, the best way to preserve food.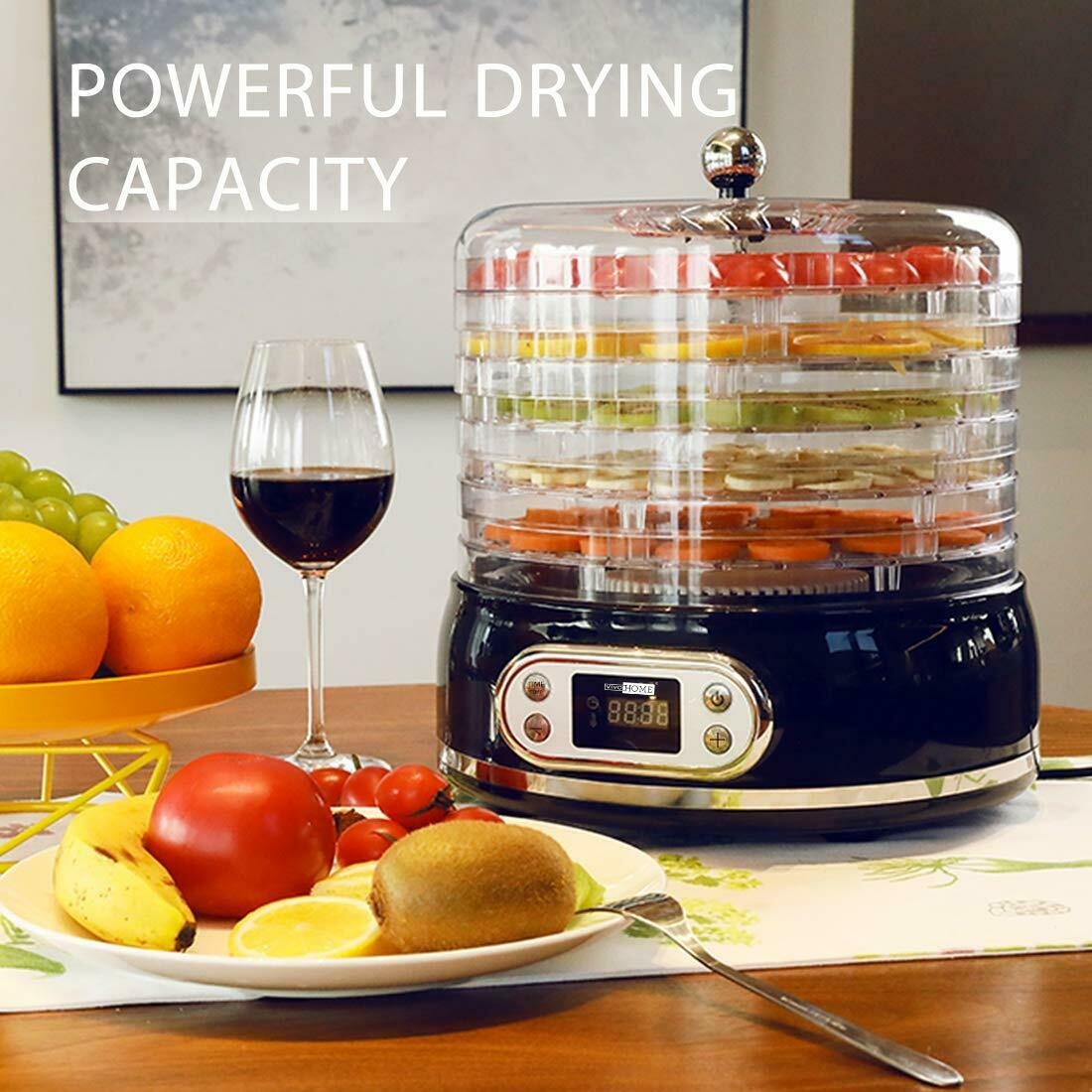 Specifications
Material: AS, ABS, PP
Voltage: 110 -120V
Frequency: 60HZ
Power: 400W
Temperature Adjust: 95 to 158°F (35 to 70℃)
Timer Adjust: 0-72 hours
 1 x Dehydrator Machine
1 x Instruction Manual
5 x Trays