Healthy Food is Now Within Your Reach!

Healthy snacks and meals are a dream, but here's the catch – they're sometimes really expensive especially when you buy them from the store. Sometimes, the roadblock between you and your health goals are the pricey, complicated commitment that comes with eating nutrient-packed options.
If you're working your way to wellness, your best companion to help you eat healthy, fresh, vitamin-filled snacks and meals is the HealthDri food dehydrator. This professional food dehydrator for home use helps you make dried meat, fruits, and herbs that will make your goal for a healthy lifestyle more achievable! Preserve your favorite health snacks and never spend huge amount on store-bought goodies ever again!
HealthDri Features:
Designed with the latest in food dehydrating technology. The HealthDri features the latest design in thermostat and heat circulation that will bring you delicious, healthy, nutrient-packed dried goodies.
Made with colorless and odorless PS & stainless steel material. The materials used for the HealthDri are 100% safe, durable, and BPA free.
Created for ease of use. Mechanical control – a machine with safe, efficient and trouble free operation. You can easily adjust the controls of the food dehydrator according to your preferences.
Comes with five layer transparent frames to help you see the changes of food inside. Seeing the status of the fruits, veggies, herbs, and meat inside will be easier with the transparent layers.
Stackable tier trays for enhanced air-flow. The design of the layers are made to distribute heat equally so you can get even, crisp goodies.
Adjustable thermostat ranging from 104℉ to 158℉. You can adjust the heat based on the ingredients you are trying to dry out. This food dehydrator works well for meat, fruits, herbs, veggies, and even for seeds!
360 degree high-heat air circulation travels through each layer for that perfect dehydrated state. The HealthDri comes with a design that enables ideal circulation of heat to make sure each ingredient inside the dehydrator is dried out perfectly.
Featuring bottom heat emission hole and ventilation cover. Heat is very well regulated inside.
More efficient dehydration that helps retain up to 97% of vitamins & minerals. You won't have to worry about losing nutrients from your favorite healthy food. The food dehydrator dries out ingredients perfectly without squeezing the nutrients out.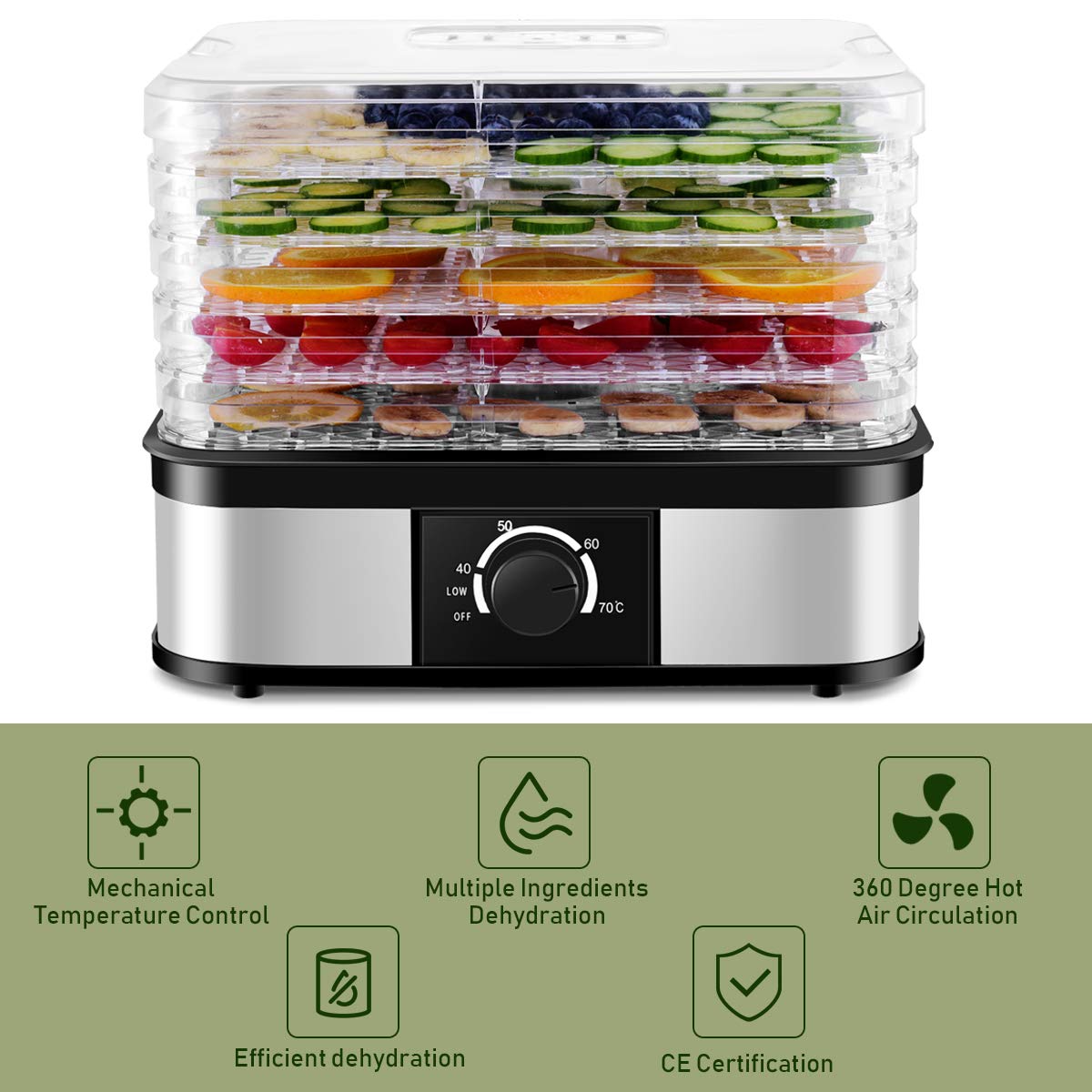 Why Choose HealthDri?
It's Your Partner to a Healthier Lifestyle!
A quick and easy way to dehydrate and preserve a variety of foods including fruits, meats, fish, vegetables, greens, herbs, yoghurt and bread. Make natural, nutritious and delicious snacks such as beef jerky, banana chips, dried fruits, fruit roll ups and much more!
Features Temperature Levels and Design That Dries Out Food Without Losing the Nutrients.
Equipped with digital temperature thermostat (variable between 104°F – 158F). High quality air circulation makes food uniformly dried and preserved whilst retaining full nutrients.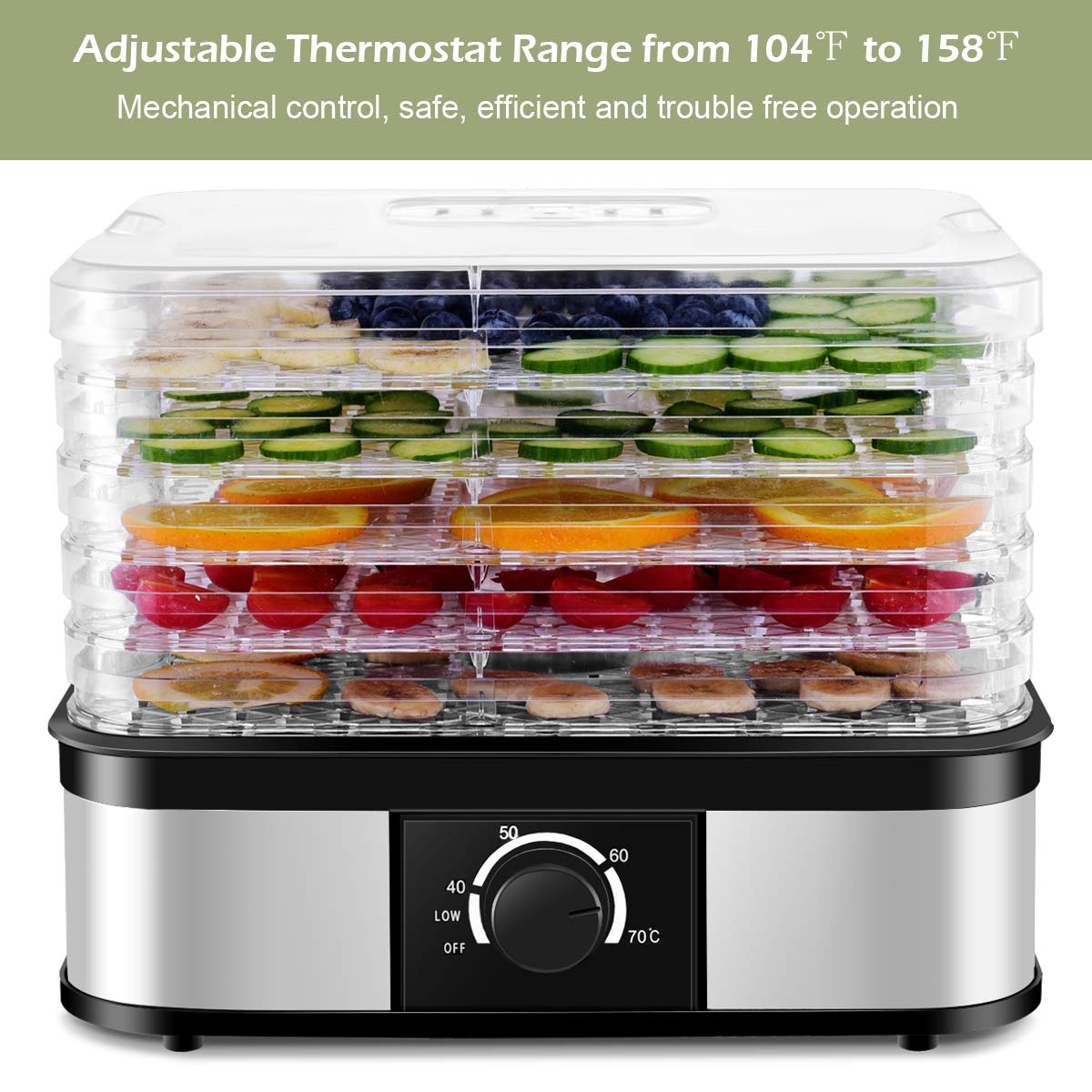 Get More Ingredients Dried Out with the Stackable Trays.
5 stackable trays have large capacity. You can dehydrate food at a fraction of the cost of commercially ones with no additives or preservatives. You can take the trays out for cleaning conveniently.
Preserve Food for a Longer Period of Time
With 245 watts of heating power, the fruit dryer ensures that no water is left in the food. This drying process extends the shelf life of foods while also preserving vitamins, fiber and essential ingredients through excellent heat distribution.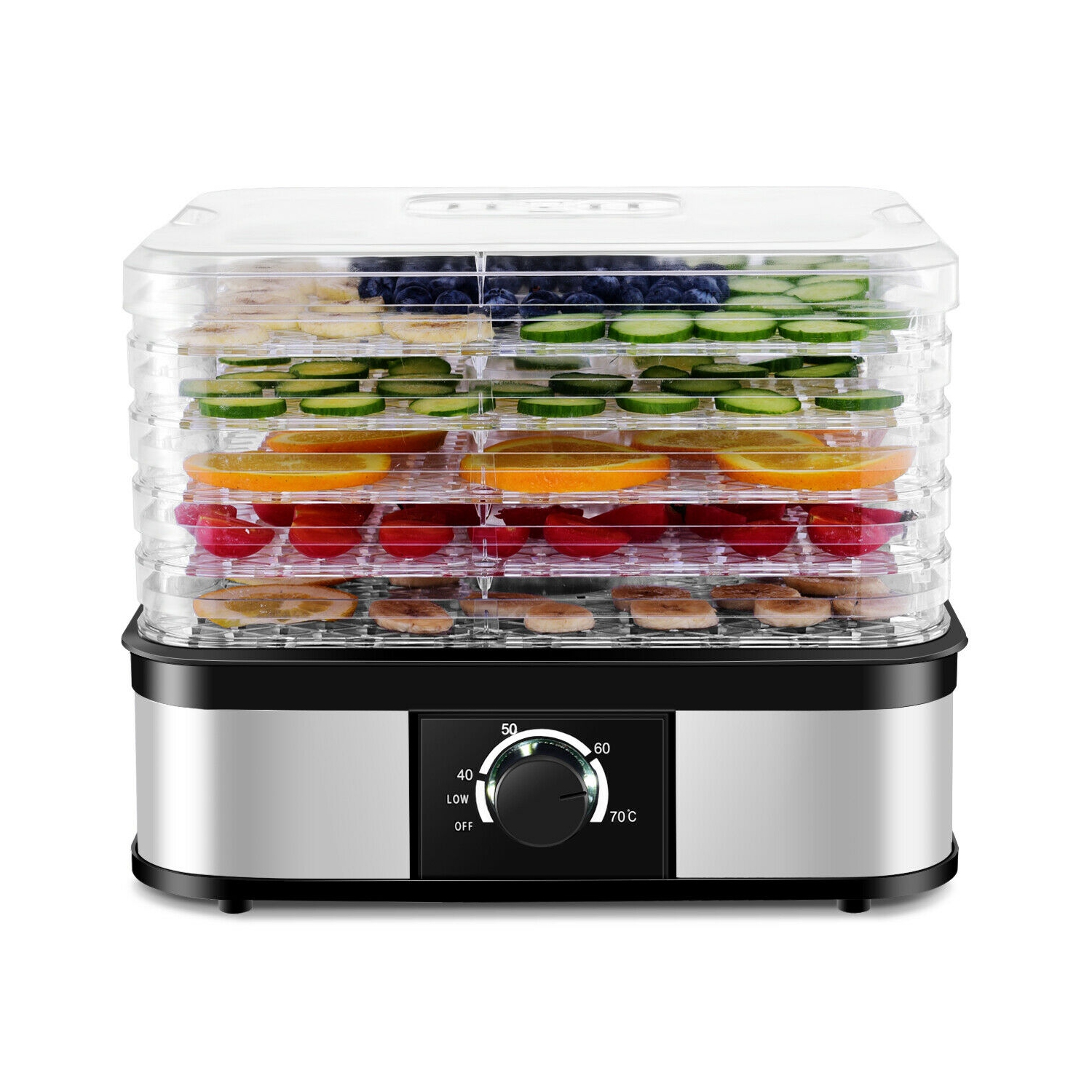 Specifications:
Material used: PS & stainless steel
Net Weight: about 6 lbs
Weight capacity of each layer: 2.2 lbs
Voltage: 110~120V, 60H
Power: 245W
Temperature: 104℉-158℉
Drying efficiency: >=80%
Number of Tray: 5
Overall dimensions: 12.6″L x 9.8″W x 9.4″H
Tray dimensions: 12.2″L x 9.4″W x 0.8″D
Certification: CE
Package: