Baby bags are one of the things that are essential when you have a baby. In these, you put baby clothes, diapers, milk, bottle containers, and cleaning essentials. But what about if you can also have a changing station or a sleeping mat within your baby bag? Isn't it exciting and unique that one product that can offer all of these? Yes, that's what Naplax can do.
Naplax is not just your ordinary baby bag. It is made with excellent quality material and features a 3-in-1 use. It can be a baby bag, a changing station, or a sleeping mat for your baby—a 3-in-one solution to all your baby's needs, especially when you are outdoors. Worry less and enjoy the outside sceneries more with the help of Naplax Diaper Bag.
Worried about carrying your baby stuff around in your arms?
Say no more!
Naplax is not just your ordinary diaper bag backpack, but 3 in 1 Baby Bag, Bed, and Changing Station. This is one of best solutions to all your baby carrying needs.
With this, you can now have all the essentials ready at hand, like your baby's diapers, milk, toys, and a changing pad.
Imagine your baby wanting to sleep somewhere, just open the sides of the Baby Diaper Backpack and get a comfortable Baby Bed in seconds.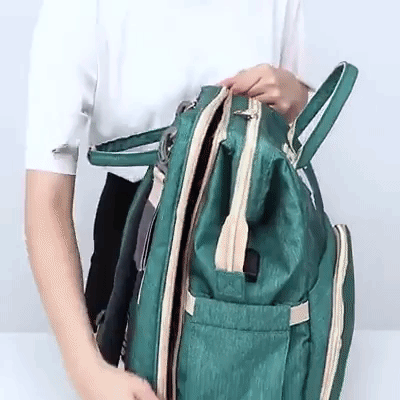 Are you looking for the best baby gear that can be used anywhere?
A USB interface for charging your phone– Most modern bags have a USB interface to let you enjoy music even if your phone is inside your bag. The same with other bags, the Naplax baby bag also has this feature- to allow every mommy and baby to listen to good music wherever they are.
Specially designed for baby strollers- Baby bags and strollers are a pair when you're going outside with your babies. So Naplax's measurements are specifically designed to fit to any strollers in the market. 
Easy-access, wipe dispenser- For easy and mess-free cleaning, wipe dispenser compartments are designed to be easily accessed. 
Milk compartment with insulation layer of aluminum foil – The last thing you need to worry about are spoiled food and milk. The Naplax ensures any perishable item inside your bag can have its quality intact.
Fifteen functional pockets– Made for easy organization for mom and baby's needs. 
Waterproof and stain-resistant fabric- Worry no more for spilled food and drinks as Naplax's material is stain-resistant and waterproof. You can let the bag get rained-on, rest assured your items will still remain dry!
Adjustable non-slip shoulder strap – Adjustable straps help parents enjoy better strap length and position that will reduce strains and sprains on the shoulders.

This unique baby bag is extremely lightweight, making it easy to carry.

It can also be used as a tote bag.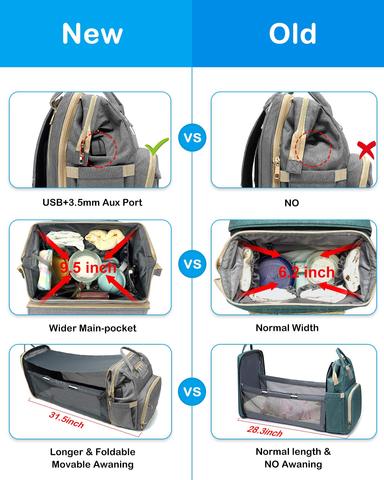 If your baby is sleeping, it can be used as an expandable Bed or Changing Station.
This New Diaper Bag Backpack With Bed Changing Station is a lifesaver.
Its super-padded shoulder straps ensure a comfortable fit, and its built-in diaper changing pad allows you to change your baby's diaper wherever and whenever without having to lay him down on a dirty public changing table.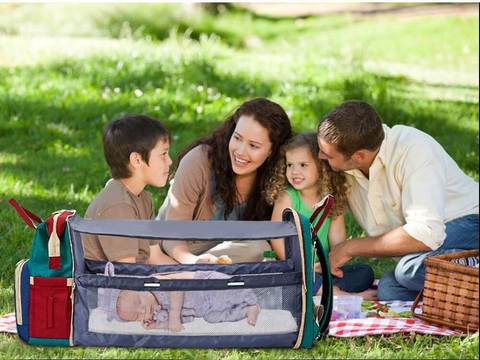 Comfortable Mattress & Shade Cloth Has Been Added
It also comes with a breathable shade cloth to protect your little one from sunlight, falling debris, and insects. So your baby can sleep with comfort.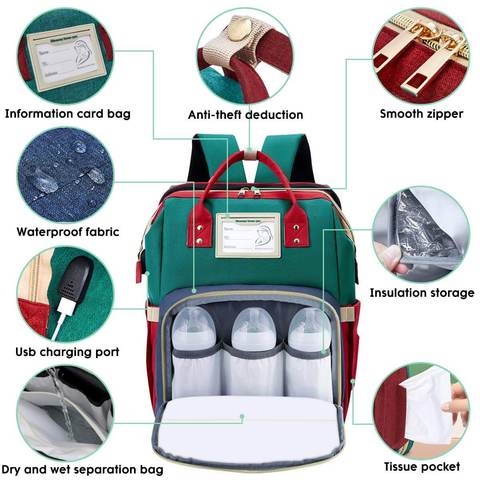 This is not just a bag for mom, but a stylish bag that you can take with you for shopping and traveling.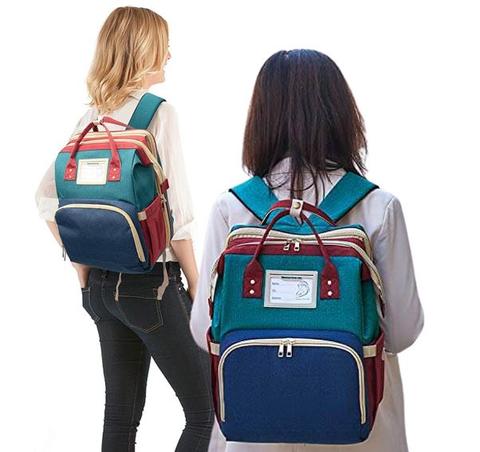 You can free your hands, and make it easier for you to do anything else you want.
What is included?
1 X New Diaper Bag Backpack With Bed Changing Station
1 X 

USB charging port

1 X Slipping/Diaper Changing Pad
1 X Removable Shadow Pad
2 X Trolley Hook
2 X Retractable Brackets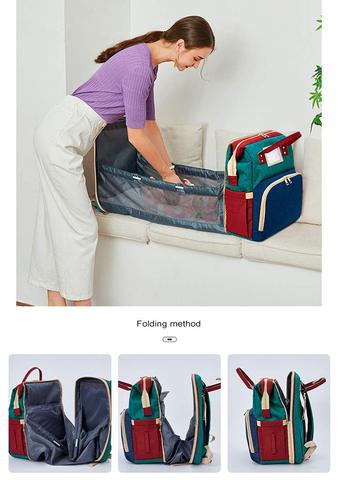 💗THE BEST BABY GIFT FOR NEW MOM & DAD
💗 Ideal Gift for Baby Showers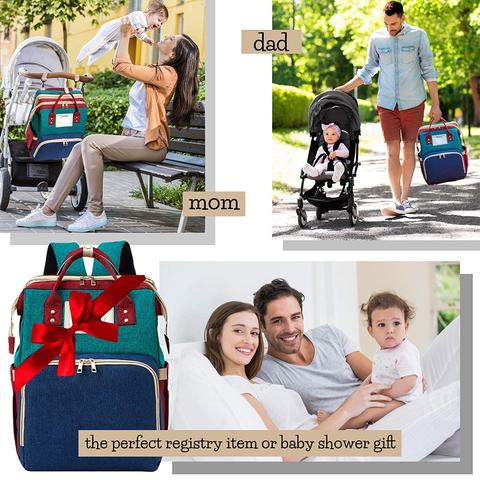 Premium Materials:
The backpack boasts a water repellent oxford material that is not only ultra-durable but is also lightweight. Treated with a UV protectant to prevent color fading over time.
 Metal zippers: Quality, smooth and durable.
High-quality cotton-padded sleeping mattress: Provides a comfortable environment when your baby needs to change diapers or just for a nap.
The independent baby bottle compartment at the front: Is made of aluminum foil fabric for heat insulation.
 The back is made of cushioning cotton, honeycomb mesh elastic cotton design, comfortable and breathable. More comfortable when traveling.
 SIZE