Elevate The Visuals for Your Special Celebrations with the MakoBrights!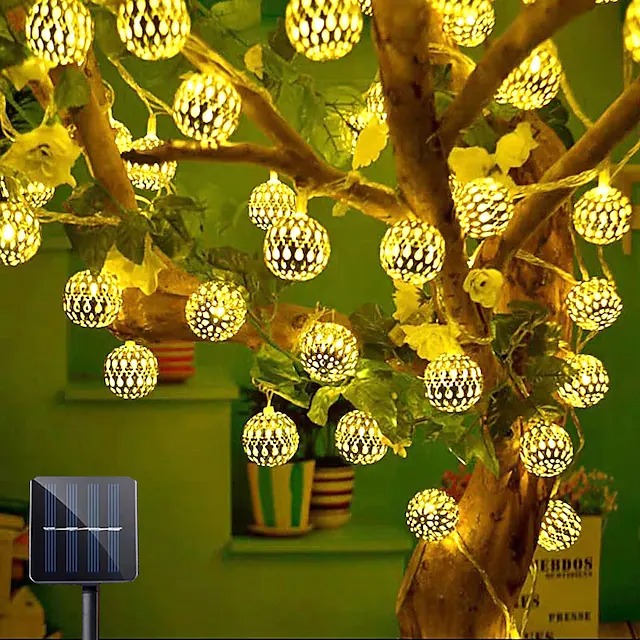 Are you done with your traditional holiday lights? Are you looking for better LED string lights that can really improve the festive, holiday mood in your yards, gardens, porches, and rooms? Look no further – the MakoBrights takes holiday lighting to the next level!
The MakoBrights feature string lights inspired by the classic Christmas balls! These string lights come in handy if you want to elevate your holiday celebrations without straying away from tradition!
With the MakoBrights, you get dazzling, beautiful Christmas lights without worrying too much about energy consumption – they're solar powered!
MakoBrights Features
Features 20 multicolor lights. 20 light balls can bring out the festive and holiday mood in your outdoor and indoor spaces. These solar string lights with multicolor lights in steady mode makes sprucing up your decor way easier.
The total length of 16-feet is perfect for indoor and outdoor decorations. Whether you are doing your decorations on the patio, or in your favorite rooms, you can be assured the MakoBrights has the enough length to cater to your decoration preferences.
Super safe and easy to use. Since the LED Light do not get hot easily, they are the perfect choice for indoor home decorations or even in children's rooms!
The fancy lights that are great for elevating the aesthetics of your home. This high-brightness Multicolor 20 LED Lights can bring you unexpected beauty. These lights are Tiktok famous, and are heavily used to elevate the appeal of the rooms.
Not just a Christmas Decoration. You can use it for parties, as Diwali lights, wedding lights, decor lights, bedroom, decorative lights, window, walls, doors, trees, balcony, home decorations items.
Great for outdoor decoration – they're 100% waterproof.  Designed with IP65 which makes this ball lights water-resistant for easy use indoors and outdoors. A great and attractive decor lights for all your events. Please note that the plug and the controller are not waterproof so make sure to keep it dry.
Ball Lights for Decoration. You can easily string up this decorative fairy light on the window or anywhere else, it will be an amazing display. These wonderful fairy string lights illuminate during night to add a warm and charming atmosphere to your home.
Specifications
LED Beads Quantity: 20
Light Color: Warm White, Multi Color
Power Supply: Solar Energy
Type: String Lights
Style: Globe / Ball String Lights, New Year's, Christmas
Features: Waterproof, Outdoor, Decorative, Party, Solar
Mode: 8 Modes: (1.Combination 2.Wave 3.Sequential 4.Glow 5.Flash 6.Slow Fade 7.Twinkle 8.Continuous)
Packcage Include