Experience Better Sleep with the LuxoLay Cooling Mattress Pad Cover with Plush and Fluffy Memory Foam Material, Breathable and Cooling Fabric, Deep Pockets, and Easy-Wash Features!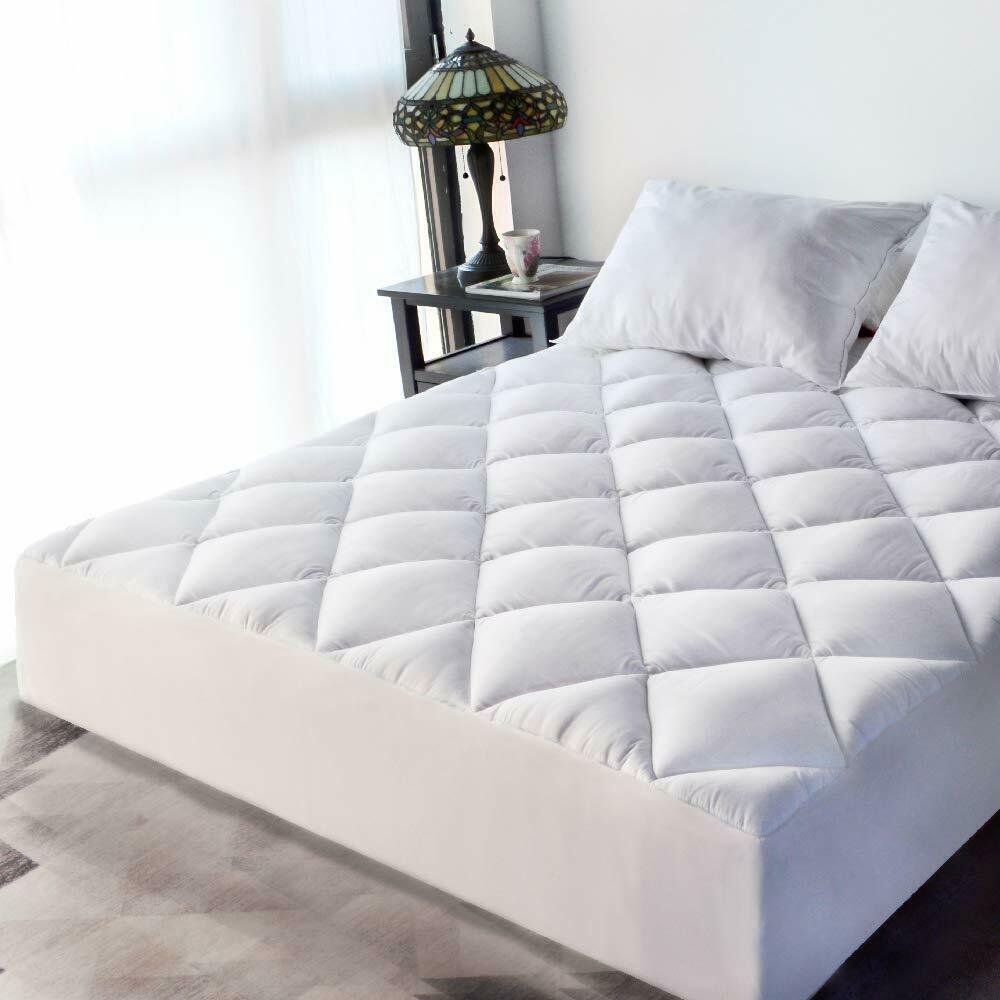 Now, you won't have to deal with disappointing, flimsy, uncomfortable, high-maintenance mattress pads anymore!
When the temperature goes up, it's inevitable not to feel the effects of heat on our resting and sleeping quality. When the bed gets sweaty and hot, we find ourselves tossing and turning and not getting the rest that we really need.
High expectations come with cooling mattress pads – they should transform the sleeping experience when the days are hotter than usual. This is the inspiration behind the LuxoLay, the cooling mattress pads that has it all: comfortable and coolder material, fluffy design, memory foam for a better sleep, deep pockets for the best fit, and easy-to-clean material!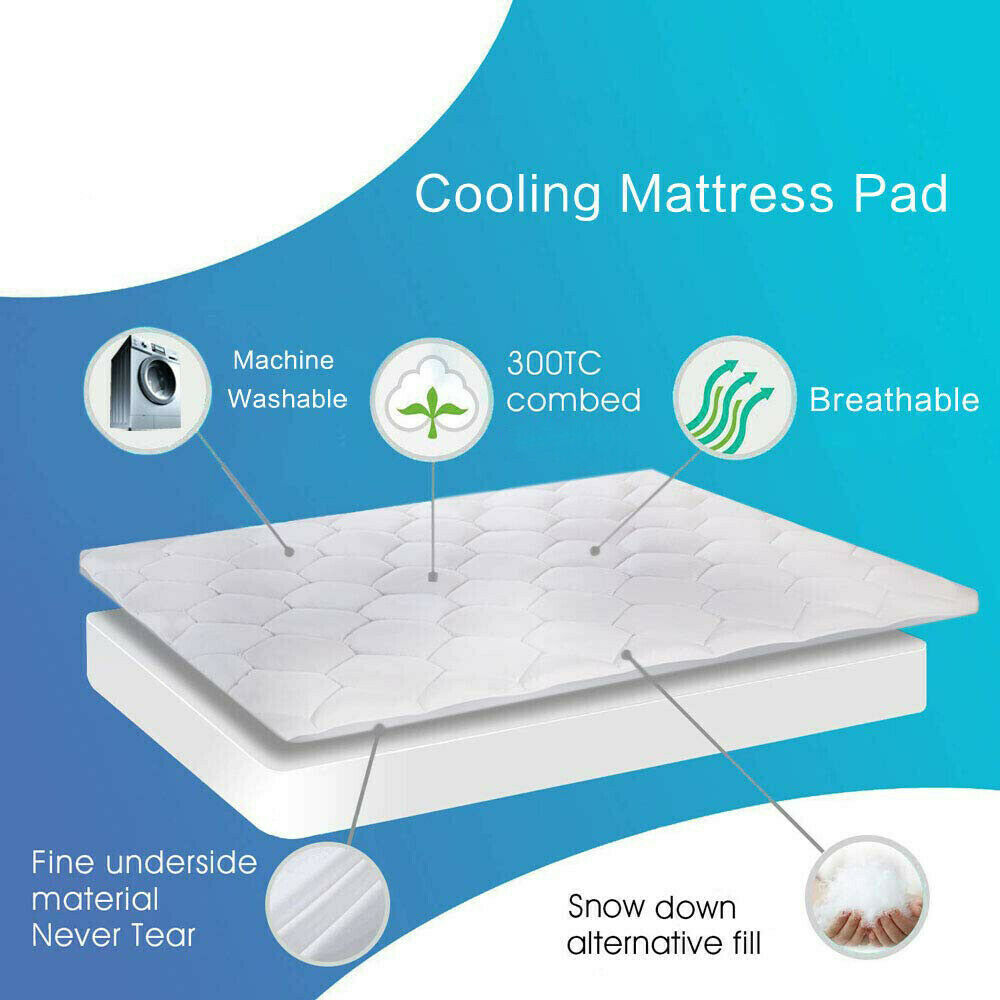 The LuxoLay Cooling Mattress Topper is The Best Choice For You If…
You want a mattress topper that does not add heat to your bed! You are over cooling mattresses that does not only fail in cooling your bed but are actually making it hotter. The LuxoLay features a breathable, skin-friendly material that allows better air circulation for a more restful sleep.
You want a puffy cooling mattress that stays that way even after wash. You love that feeling of sleeping on a fluffy, comfortable bed. The LuxoLay is designed to help you feel this way for a long time. The polyester foam inside does not crumple out or separate.
You prefer a cooling mattress with an efficient cooling material underneath. The polyester for the LuxoLay does not only make the mattress fluffy. It also promotes better airflow that regulates body heat and replace it with breezy coolness.
You want a soft mattress that can also support your body with memory foam. The LuxoLay includes memory foam to support your back efficiently while you sleep.
You're looking for a thick mattress that can turn your hard bed into something soft. Struggling because your bed is too tough, too stiff, too hard for comfort? The LuxoLay can help transform your bed into a soft, cloudy spot to lay on.
You need a breathable mattress. You are done with mattress that just don't promote any air circulation, you end up getting sweaty after your sleep. The 300 thread-count material is the ultimate breathable cover. You won't feel discomfort or warmth that cause you to sweat.
You prefer a mattress that can fit to your bed so it can stay in place. You are not a big fan of mattresses that move. The LuxoLay comes with a deep-pocket fit that helps keep mattresses stay in place 100% of the time.
You are looking for a mattress that is waterproof. You will love LuxoLay and how convenient it is to swat off water or liquid from the cover.
You prefer machine-washable cooling mattresses! Maintaining the LuxoLay is easy – simply wash it in the machine!
LuxoLay Cooling Mattress Topper Features
Made from breathable material that eliminates 80% of the heat. The cotton, breathable cover of the LuxoLay is made with a design that promotes better air circulation so you won't have to deal with hot sheets anymore.
Comes with a fluffy filler that does not crumble even after several washes. The filler of the LuxoLay is polymer – a fluffy material that stays in tact after several use.
Includes memory foam to support the body when sleeping. The LuxoLay also comes with memory foam that can ergonomically provide support on your back.
Designed with thickness that can transform any bed into a fluffy cloud. LuxoLay comes with a 1-inch thickness that can make any bed feel extra soft and fluffy.
Made with high quality cotton material with 300 thread count. Say goodbye to uncomfortable material. The LuxoLay is created with soft, breathable fabric with 300 thread count to ensure it's skin friendly and cool.
With deep pockets that keep the mattress in place. The mattress topper can be secured through its deep pockets. Doesn't move so much even if you toss and torn in your sleep.
Made from waterproof cover. The LuxoLay is safe when it comes to water spills!
Machine-washable cooling mattress topper! No special care required. Total breeze to maintain!
Specific:
Material: Polyester

Color: White

Pattern: Solid

Fabric: 300TC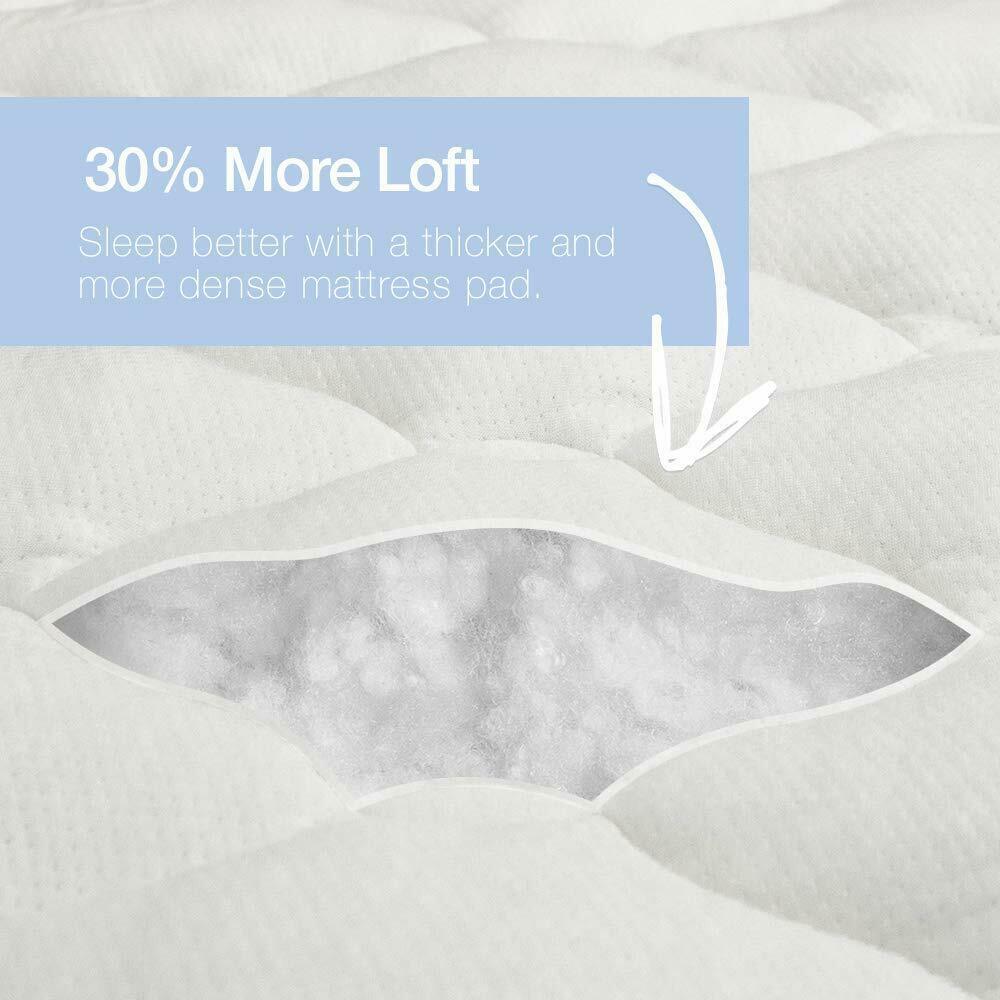 Size information:
Twin: 39" (W) * 75″ (L) + 8-21″Deep Pocket
Twin Extra Long:  39" (W) * 80″ (L) + 8-21″Deep Pocket
Full: 54" (W) * 75″ (L) + 8-21″Deep Pocket
Queen: 60" (W) * 80″ (L) + 8-21″Deep Pocket
King: 78" (W) * 80″ (L) + 8-21″Deep Pocket
California King: 72" (W) * 84″ (L) + 8-21″Deep Pocket
Package Includes: 1 x Cooling Mattress Pad