Introducing the Newest Cooling Mattress Topper You Will Love: The Soft Quilted Mattress Pad with Fill that Promotes Breathability, Fabric That Reduces the Sweat from Body Heat, and an Overall Design for Stability and Total Comfort.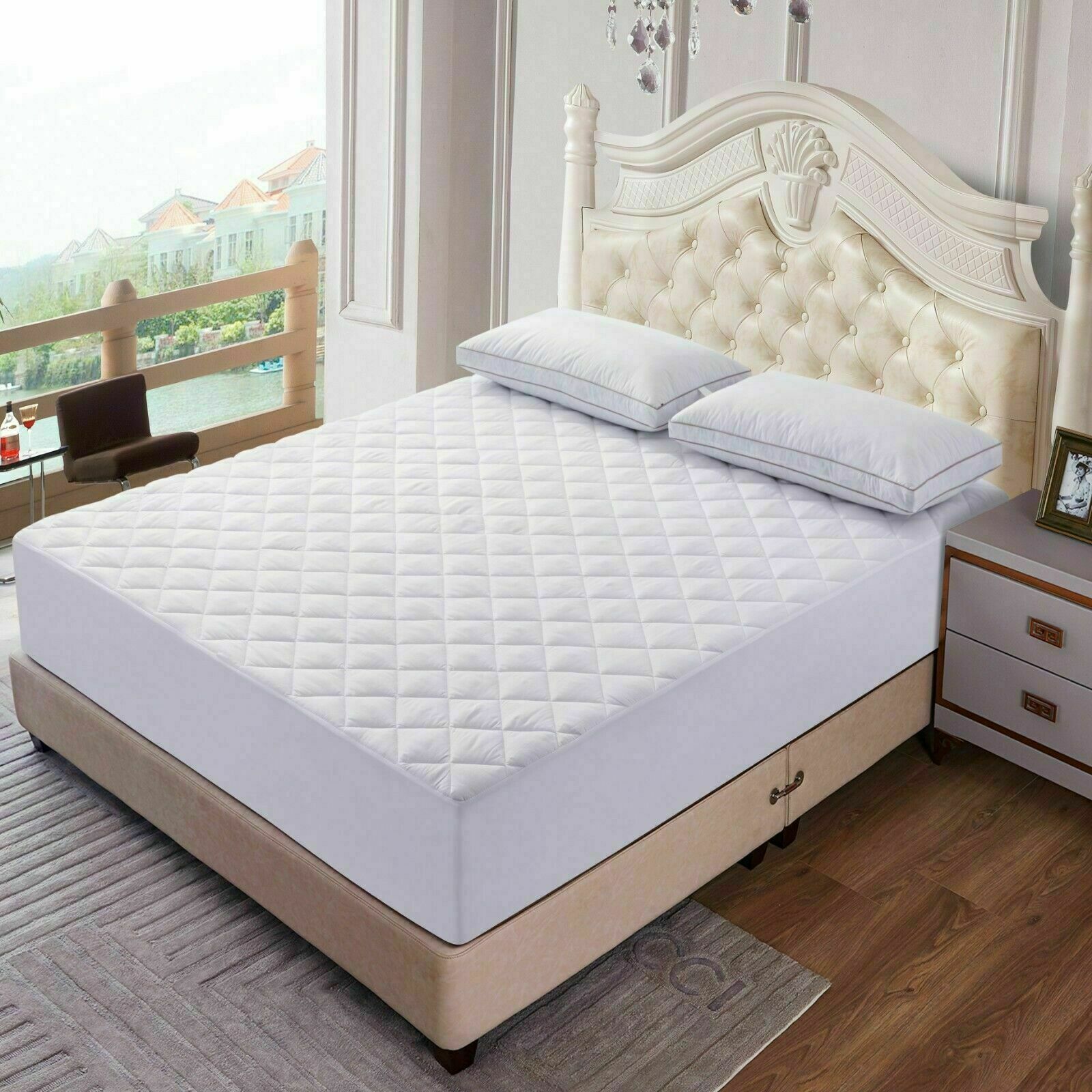 Increase Comfort, Mattress Breathability, and Your Quality of Rest with the High-quality Cooling Mattress Topper!
You want to do something about your bed – it's too stiff, too hot, too uncomfortable to lay on. Sleep has been a challenge for you, and you want to improve it a great deal. If you want a unique sleeping experience without making a total overhaul of your bed, you can go for the CarzoFluff cooling mattress toper with new and improved breathability, fill quality, skin-friendly and hypoallergenic fabric, and materials that improve the air circulation in your bed while you sleep. 
A product that can help you upgrade your sleep quality the easy way, this cooling mattress topper can change regular beds into fluffy places of rest. When the temperature increases, this mattress topper improves the cooler feel of the bed to prevent you from sweating up while you sleep. For total comfort and that breathable feel, go for CarzoFluff. Easy to bring during the travels, you can achieve comfort even while on the go with this portable, easy-to-store cooling mattress topper.
CarzoFluff Mattress Topper is For You If…
You want a cooling mattress topper made from materials that don't increase heat. If you want to make sure that you sleep on a cooler, more comfortable bed, you can count on the CarzoFluff. This mattress topper is made with top-of-the-line foam and fillers, and skin-friendly microfiber fabric.
You want a product that has enough thickness to increase comfort. The 1.5-inch thickness of the CarzoFluff elevates the soft feel of your previously stone-hard bed.
You want a durable mattress topper. The CarzoPluff doesn't let out even after using it for a long time.
You want to sleep without enduring a sticky, itchy, tough-on-the-skin material. The microfiber material of the CarzoFluff shoots up the comfort levels you can get while you sleep.
You want a mattress with a cooling material. The CarzoPluff fillers provide both comfort and a cooling effect while you sleep.
You hate cooling mattress toppers that go uneven after wash. The most frustrating part of mattress toppers is that they tend to become uneven after just one wash. Not with CarzoFluff. The high quality foam and fill stay put.
You want a mattress topper that securely stays in place. The elastics of the CarzoFluff helps the mattress find footing on the edges of the bed. Even if you move too often, the mattress won't move as much.
You're looking for a moisture-wicking cooling mattress topper. Even if you do sweat, you don't have to endure it sticking onto the bed cover and making you feel discomfort. The CarzoFluff is moisture-wicking and also water-resistant.
It's a bed topper you can bring even while traveling! If you want a cooling mattress topper that you can bring anywhere, you will love the CarzoPluff.
Features
Made with the best, breathable, high quality materials to scratch out any possibility of discomfort. The CerziFluff is made of 100% Microfiber that features good elasticity and softness. 
Carries enough thickness to act as cushion to the bed. The 1.5-inch mattress topper comes with smooth polymer fillers to transform your bed. Even after several washing sessions, the thickness of the mattress will remain intact.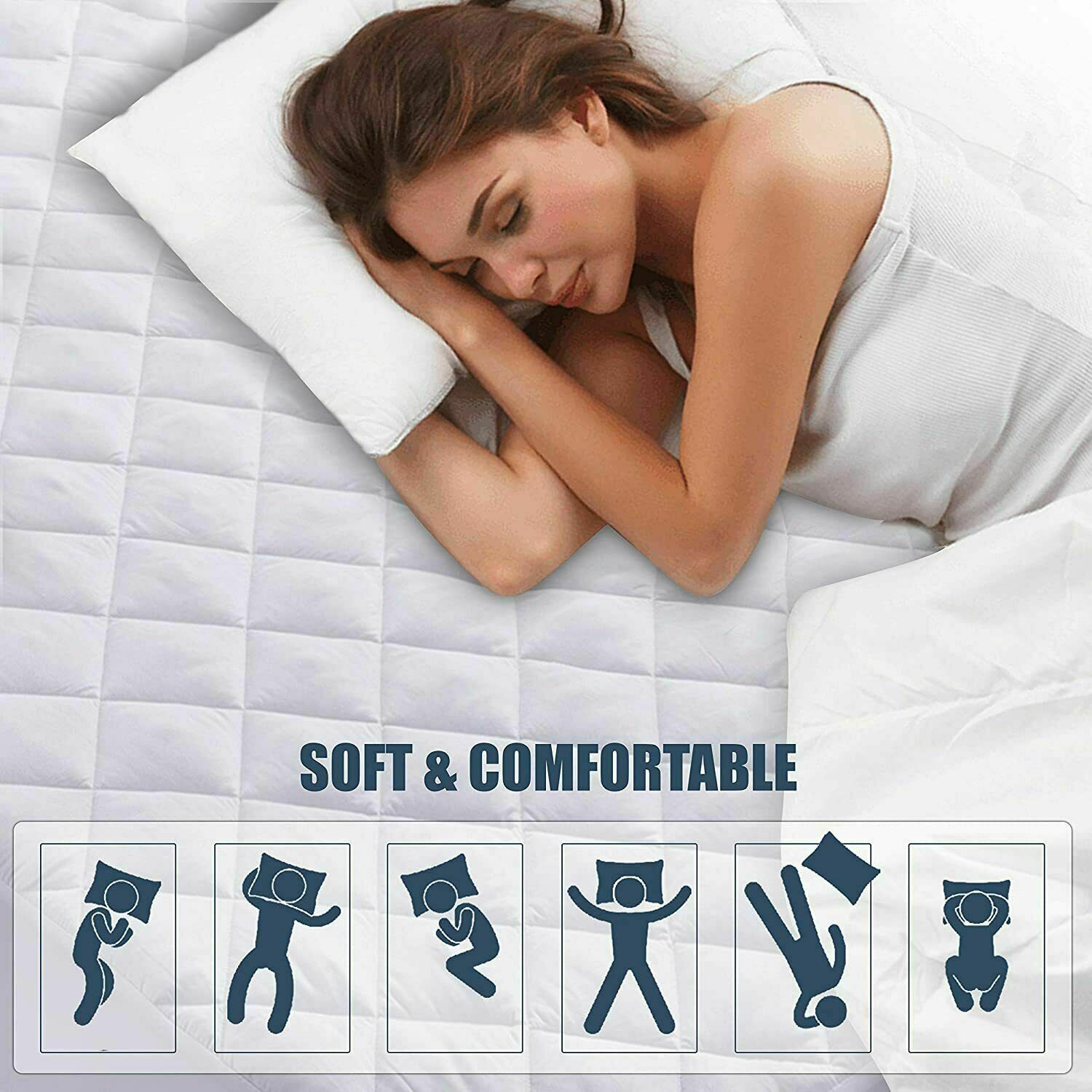 The high quality polyester fillers act not only as a cushion but as a cooling material that makes the mattress ultra durable. The CarzoPluff is filled with the best quality polyester fillers that don't easily crumble and come apart. This impressive filler also acts as a cooling agent which increases air flow to make the cooling mattress cover cooler, and more comfortable to lay on.
With durable elastics that help the mattress stay in place! Whether you're using it for a king, queen, or twin sized bed, the CarzoPluff won't move even if you do. The elastics help keep the mattress in place.
Easy to bring everywhere! The lighweight, foldable feature of the CarzoPluff makes it an excellent mattress topper for travelers.
Size information:
Twin Size Mattress Pad: 39″ x 75″ Knitted Skirt will Stretch to Fit Mattresses Up to 16″ deep
Twin XL Size Mattress Pad: 39″ x 80″ Knitted Skirt will Stretch to Fit Mattresses Up to 16″ deep
Full Size Mattress Pad: 54″ x 75″ Knitted Skirt will Stretch to Fit Mattresses Up to 16″ deep
Queen Size Mattress Pad: 60″ x 80″ Knitted Skirt Will Stretch to Fit Mattresses Up to 16″ deep
King size Mattress Pad:  78″ x 80″ Knitted Skirt Will Stretch to Fit Mattresses Up to 16″ deep
California King Mattress Pad: 72″ x 84″ Knitted Skirt will Stretch to Fit Mattresses up to 16″ deep