Getting bored of those regular plastic soap dispensers that are an eyesore the more and longer you're using it? Are you looking for a sleek-looking soap dispenser design that you can add to your kitchen and bathroom that can complement and enhance the room's beauty? Then, look no further and get Lavare Automatic Smart Soap Dispenser now.
Lavare is a sensor dispenser with a metal-like or wood design. It is made from high-quality materials that make the product waterproof, with anti-leakage and anti-sliding components. At the same time, it is super fast with its .03 seconds response time. The device has a visible window where you can monitor the amount of the liquid inside. You will surely not regret getting it!
Automatic Smart Soap Dispenser
Lavare is a 300ml automatic smart soap dispenser with a variety of styles. It is a touchless soap dispenser with a motion sensor that is easy to use, clean, and refill. Its batteries last between 1.5-3 yrs with regular use simultaneously; it is waterproof. For the product to work, you need 4 AAA batteries (not included in the package). The device is an infrared sensor and enjoy multiple colors and smart functionalities. Easy to use soap dispenser. The next product you need that will make you proud for buying it. 
Superfast!

 Only 0.3 secs response time

Anti-sliding

 rubber bottom to prevent sliding 

Soap levels indication

5.59 inch high

Water-resistant 

Save money on the soap! Now you can buy soap in bulk in a grocery store and refill it!

Infrared Smart Sensor 

Hand-free soap dispenser comes with a Built-in accurate infrared smart sensor and just 0.5 seconds sensing time to make liquid out.

Adjustable Soap Quantity 

1mL pumps out each time. If you need more, please stay your hands and wait another 2 seconds later; it will pump out again.

Anti-leakage. 

The sealed rubber material on the soap dispenser bottom will prevent soap leakage and keep the dispenser not be sliding around your countertop.

IPX6 Waterproof 

Touchless soap dispenser with IP67 rating deep waterproof technology to prevent the soap or water from corroding circuit board.

Visible Window 

A visible window acts as a reminder to monitoring the liquid remaining and get in time to refill the soap.
Touchless Soap Dispenser
The auto liquid soap dispenser is touchless. It pumps 1ML each time. If you need more, please wait and wait for another 2 seconds; it will pump out sanitizer again. Do not put thick hand sanitizer/liquid.
IP67 Waterproof Soap Dispenser
The kitchen soap dispenser with the waterproof design of the whole machine makes cleaning easy. In addition, the new design of the waterproof base helps prevent the battery box from corrosion caused by water leaks.
Sensor Soap Dispenser
The automatic soap dispenser has a built-in infrared sensor detection technology. The upgraded sensor prolongs its working life and is more sensitive, so the hand soap dispenses quickly. Two inches is the best distance when liquid pumping out the soap. Seeing the blue light is a great  indicator of the right distance.
Large Capacity
This touch-free soap dispenser can hold 10.15 Ounces liquid soap; this auto soap dispenser is perfect for kitchen, bathroom, hotel, hospital, without installation requirement. Requires 4 AAA batteries to operate (No batteries included).
Important Note
If the soap dispenser cannot dispense the soap properly, please poke the nozzle of the soap dispenser by hand so that the internal straw can contact the air to dispense the soap; a 4xAAA battery is required for the soap dispenser. When installing, please check "+" and "-" symbols of the battery and soap dispenser to install correctly; If the blue light is on and no liquid is distributed, try replacing the battery.
Specifications
Color: Light Brown, Dark Brown, Silver, Blue (Optional)
Material: ABS
Style: Modern
Use mode: Infrared Induction
Induction distance: 2-3inch
Capacity: 300mL
Waterproof: IPX6
Temperature: 3-40℃
Working Voltage: DC 6V
Power Supply: 4*AAA Battery(Not Included)
Occasion: Kitchen, Bathroom, Hotel, Bank, Hospital, etc
Product Size: 7.2*14.2*22cm / 2.83*5.59*8.66inch
Package Size: 14.5*7.5*22.3cm / 5.7*2.95*8.77inch
Package Weight: 333g / 0.73lb

Package Include
1 * Automatic Soap Dispenser
1 * User Guide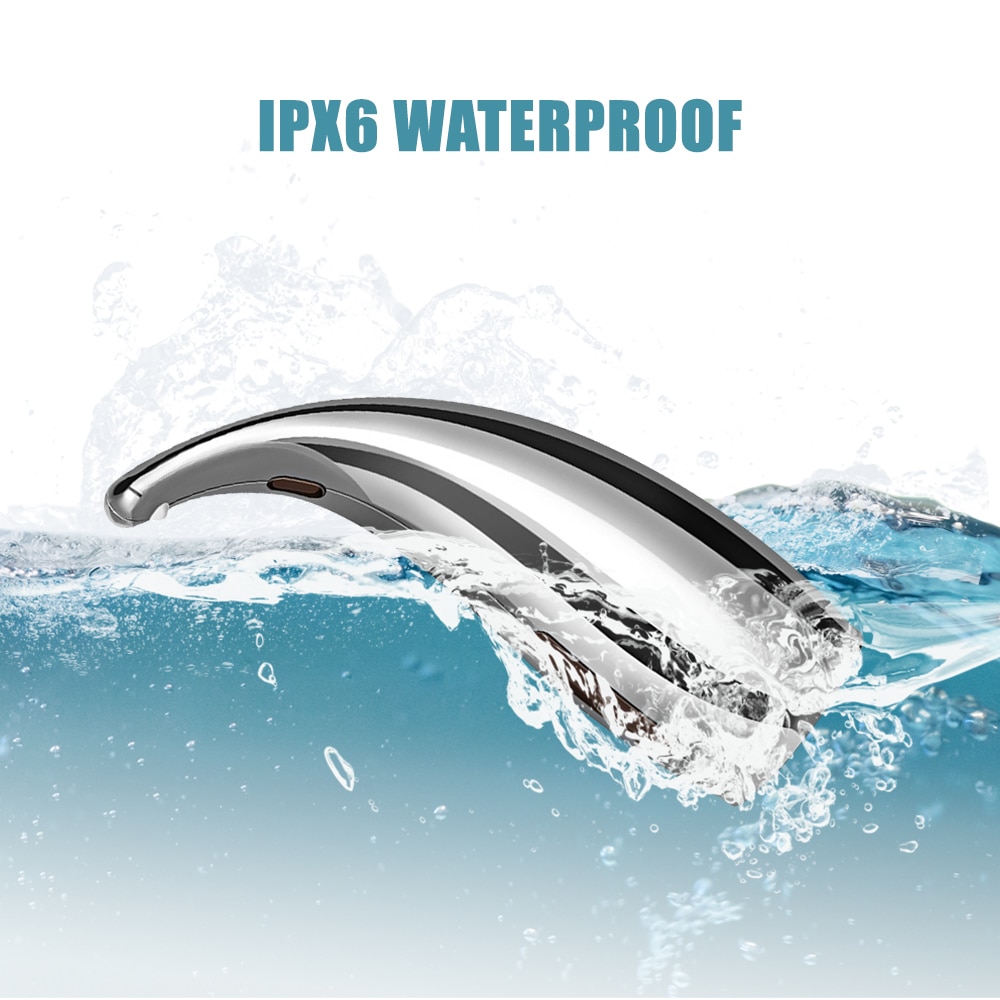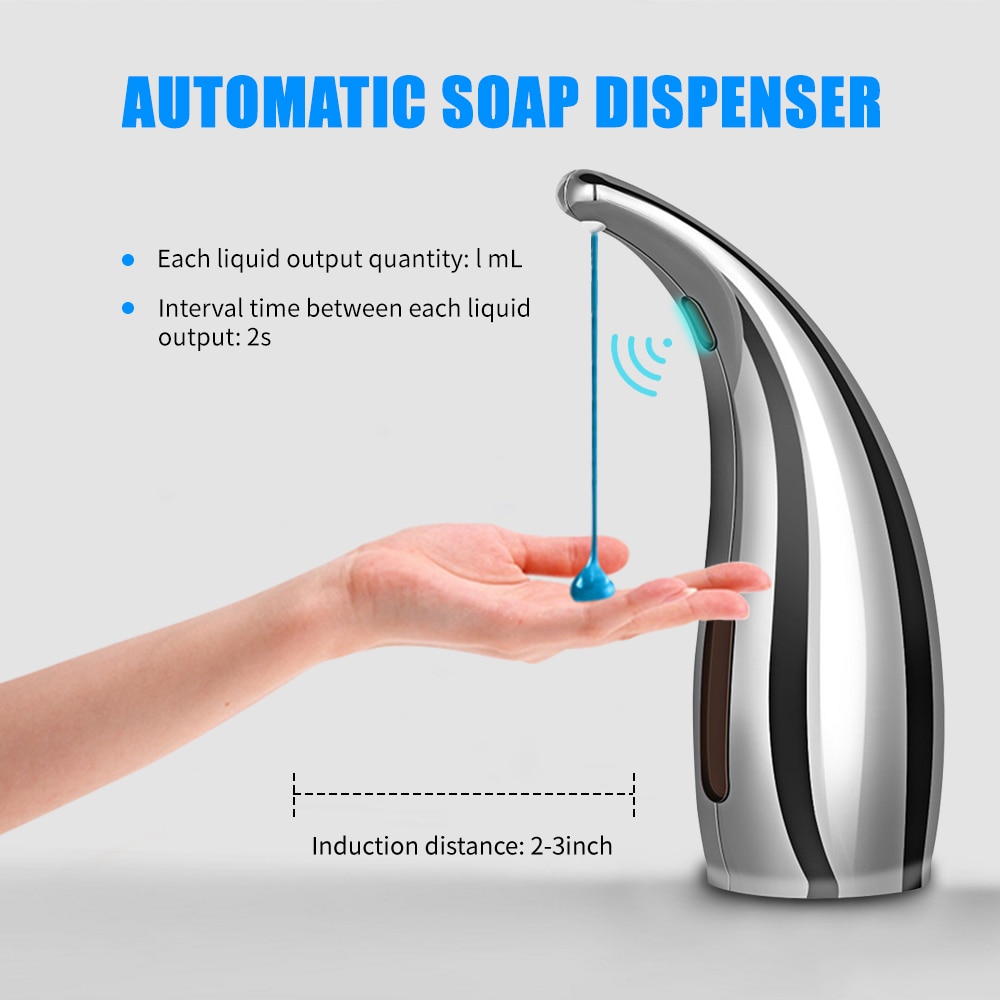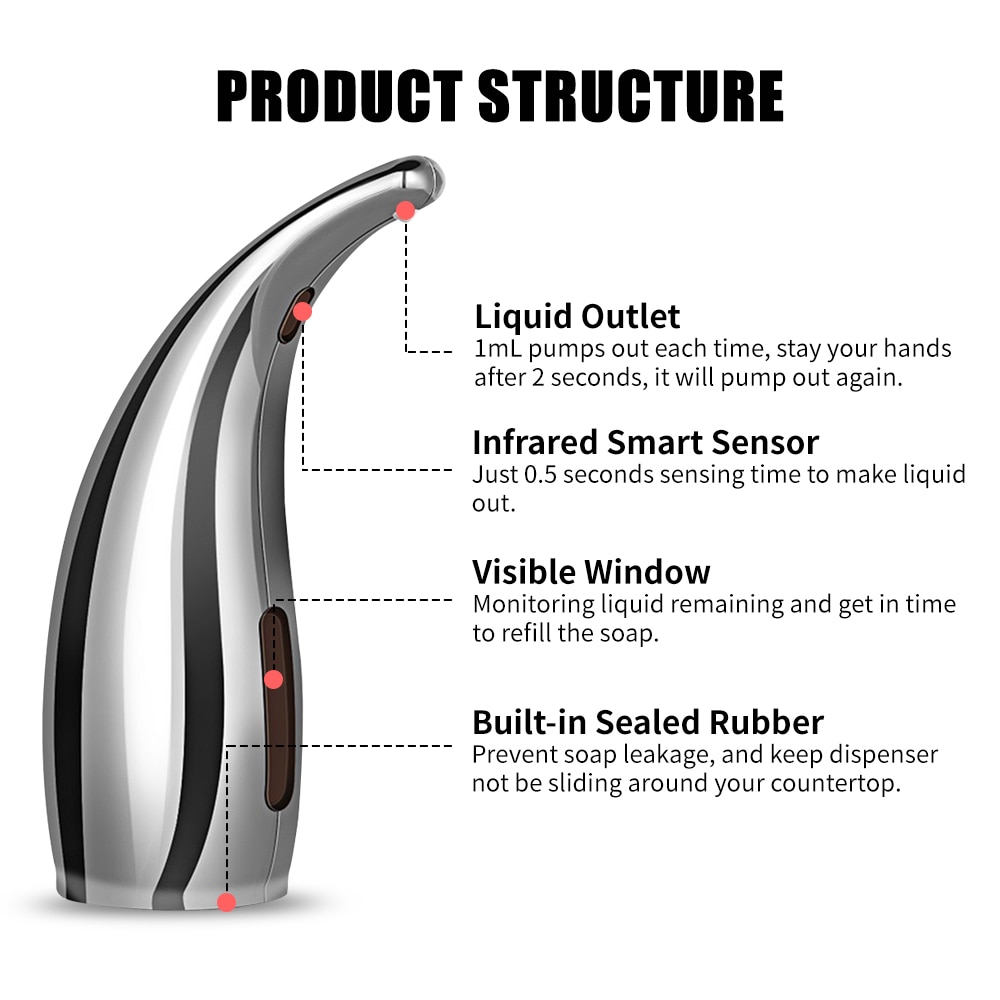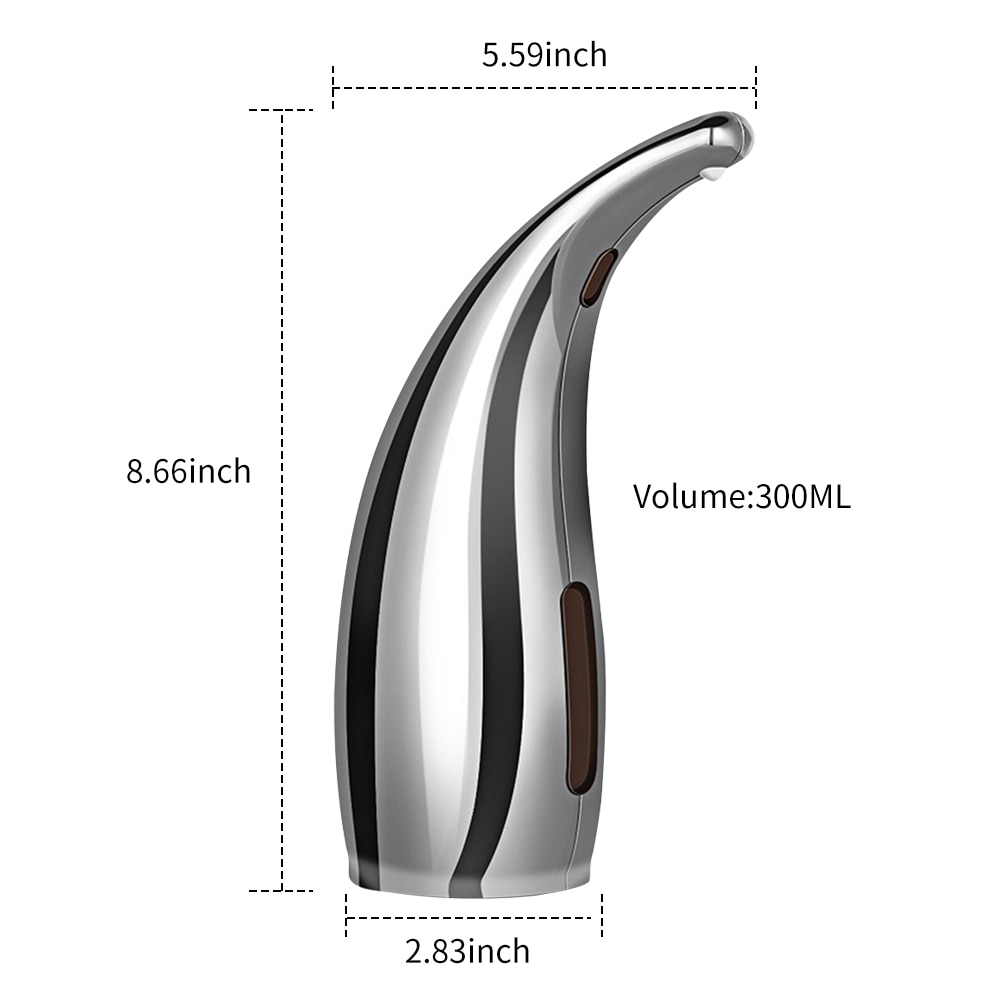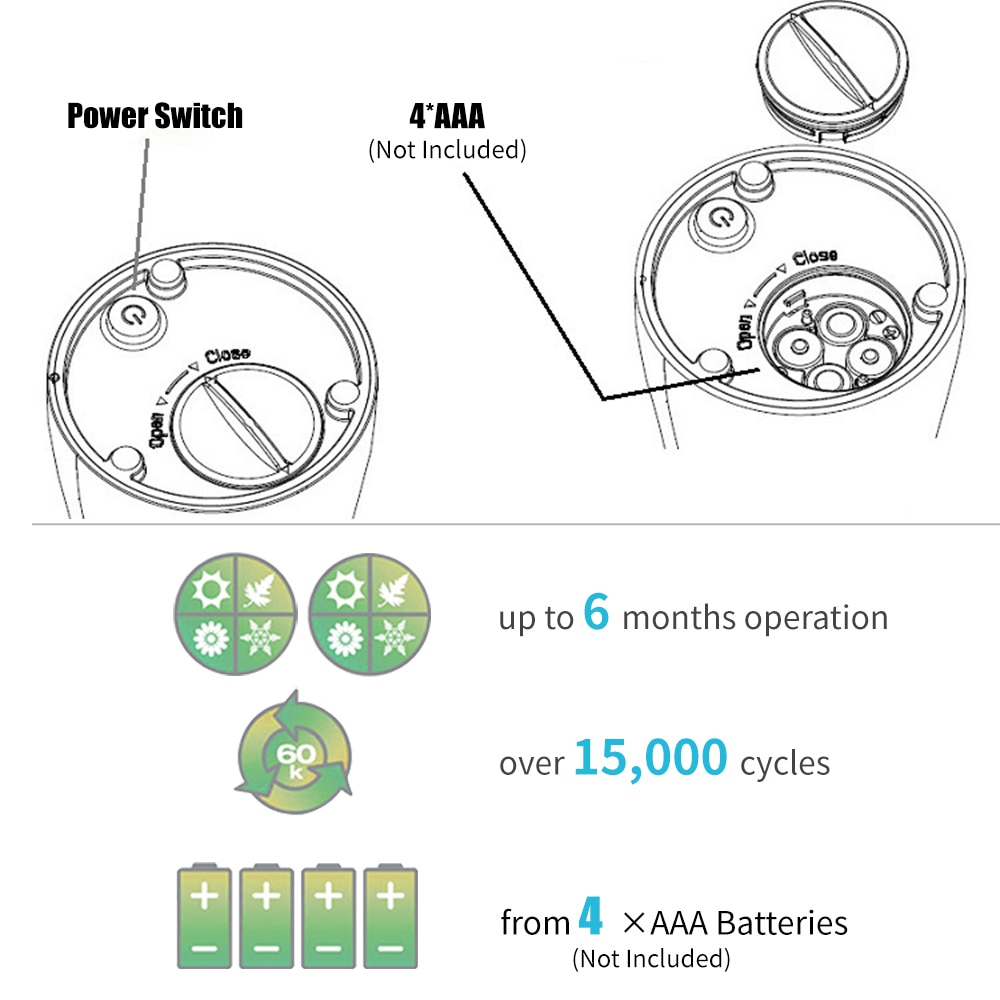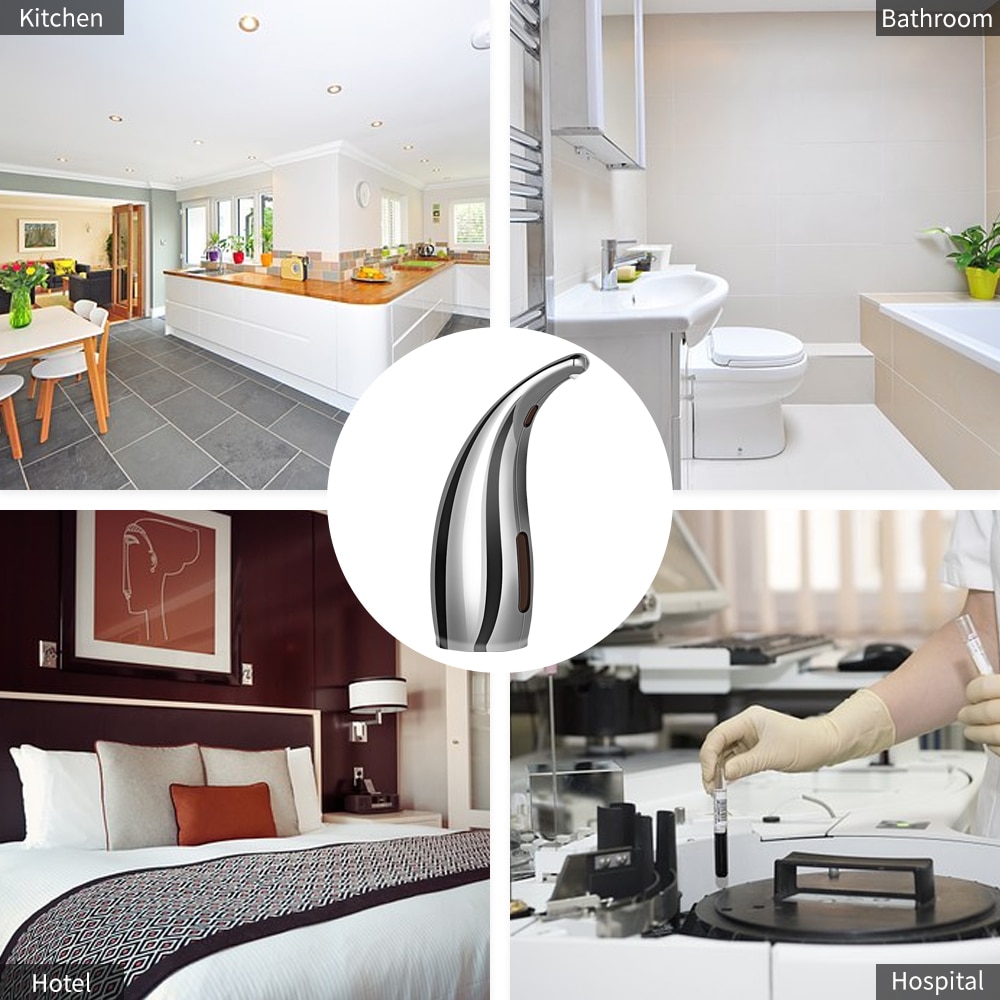 Feature: Liquid Soap Dispenser
Liquid Soap Dispenser Type: Automatic Soap Dispenser
Model Number: Soap Dispenser
Type: Liquid Soap Dispensers
Main Material: Plastic
Color: Light Brown, Dark Brown, Silver, Blue (Optional)
Use mode: Infrared Induction
Induction distance: 2-3inch
Capacity: 300mL
Waterproof: IPX6
Temperature: 3-40℃
Working Voltage: DC 6V
Product Size: 7.2*14.2*22cm / 2.83*5.59*8.66inch