9- Inch A4 Laminator with 2 Laminating Options (Hot and Cold), Anti-jam Lever, Fast Heating Feature, and 320mm/min Laminating Speed
LamexStar Laminator Features
[Faster Warm-up]: This laminator machine comes with 2 min warm-up and 320mm/min laminating speed, which is 2x faster than competitors with 5 min preheating and 250mm/min speed. Our machine dramatically boosts work efficiency and increases productivity, great for heavy tasks.
[2 Lamination Modes]: Set a mode to best fit your needs and achieve smooth, bubble- and wrinkle-free results. COLD mode is especially suitable for thermal papers or heat-sensitive ink/color (e.g. oil paintings), and HOT mode is designed for commonly used documents.
[Paper Jam Prevention]: Equipped with an ABS release lever, it only takes few seconds to eliminate paper jam with ease. Always use compatible laminating pouches (60-100mic) to avoid jam issues.
[5-in-1 Starter Kit]: It includes 1 laminator machine(with easy-to-store fixed paper cutter), 1 corner rounder, 1 puncher, and 30 thermal pouches (10 A4, 10 A5, 10 A6) for home, school and office use.
[9-Inch A4 Inlet]: The 230mm inlet is ideal to laminate various types of paper materials, from a jar label to a business letter, preserving your important documents and precious photos for decades.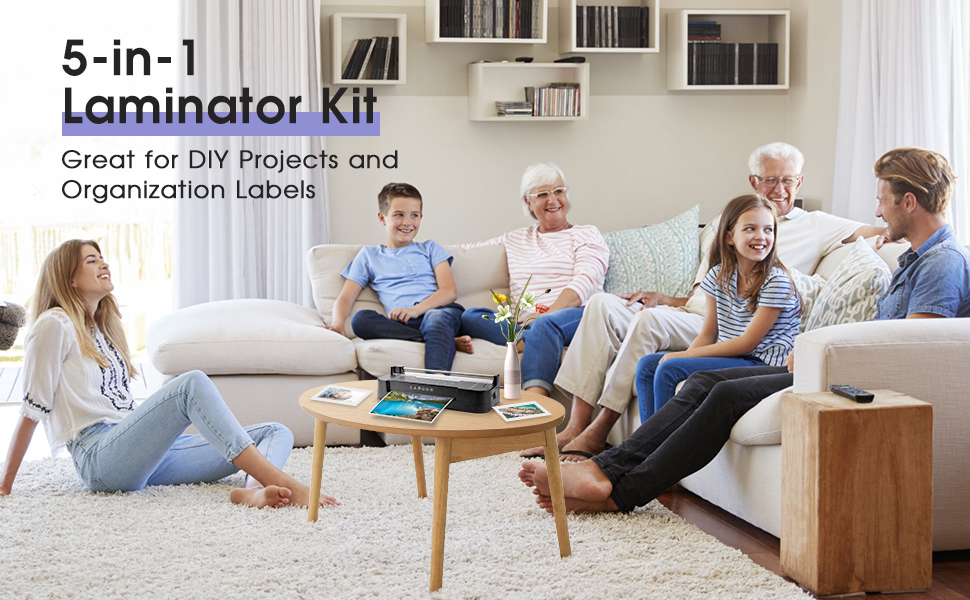 Paper/Photo Corner Rounder
Sometimes there is a need for neat and beautiful rounded corners, this product could provide a simple and practical operation, so you can easily get beautiful rounded corners, especially suitable for photos papers, anti slip tape etc fillet cutting.
ABS Button
If the papers or pouches are stuck in case, press the ABS Button and remove the stuck papers or pouches from the laminator, it won't damage your machine.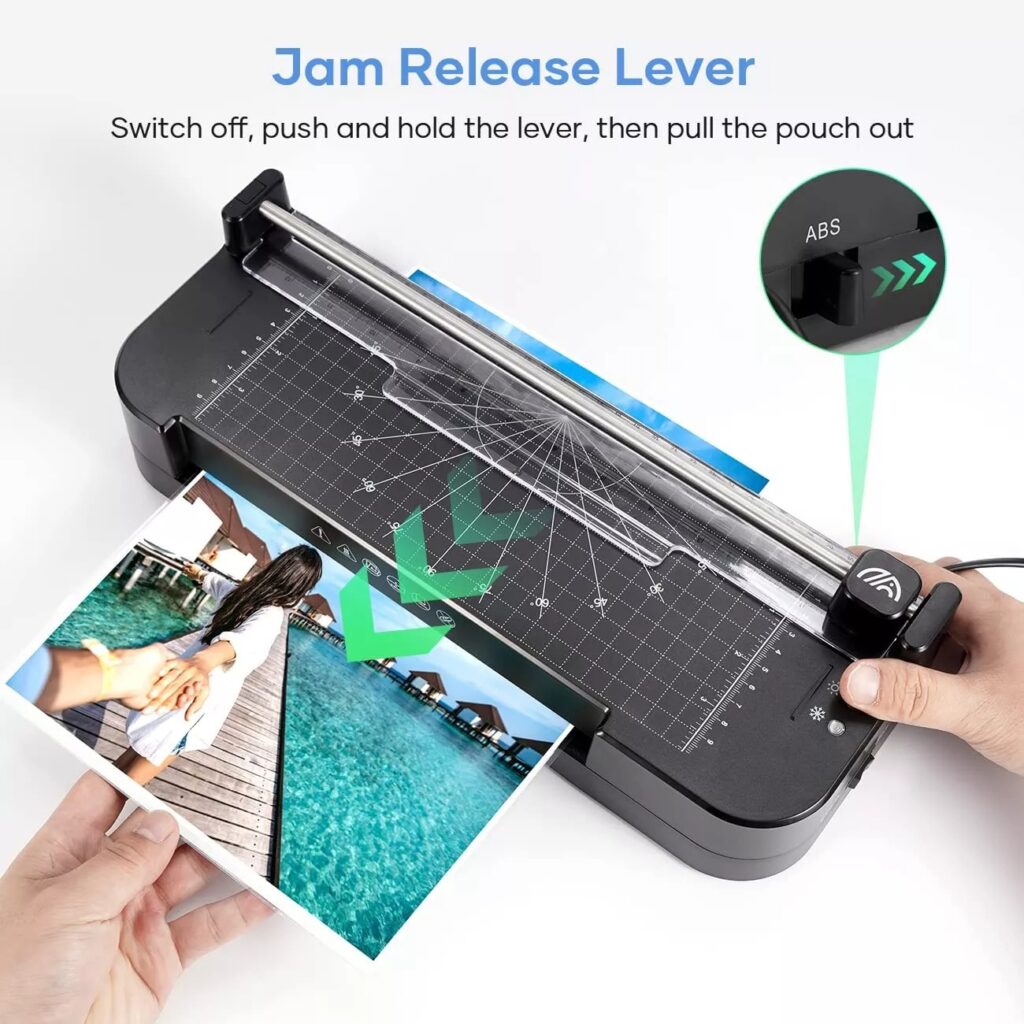 Specifications:
Size: 380*140*88mm

Plastic width: 230mm

Plastic thickness: 60mic to 100mic

Plastic size: A4 / A5/A6

Laminating speed: 320mm/min

Preheating time: about 1-2min

Constant temperature range: 115℃-145C

Power: 300W

Voltage: AC110V-120V

Low Noise: ≤55dB

Two Laminating Modes: Hot and Cold Modes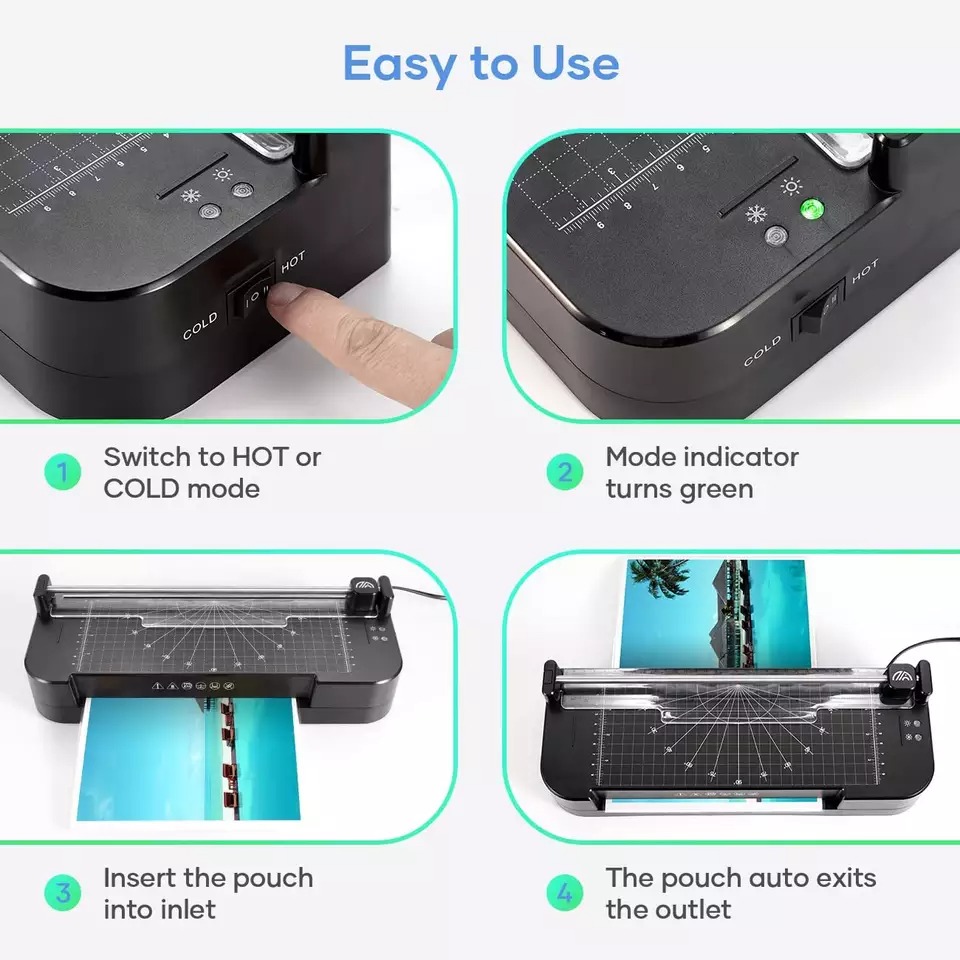 Package Included:
1 x A4 Laminator Machine
1 x Corner Rounder
1 x Hole Punch
30 x Thermal Laminating Sheets (A4/A5/A6 * 10)