The Multipurpose Laminator with Hot and Cold Setting, Backward-Compatible Laminating, Anti-Paper Jam Lever, Super Fast Process That's Great for Home, School, and Office Use!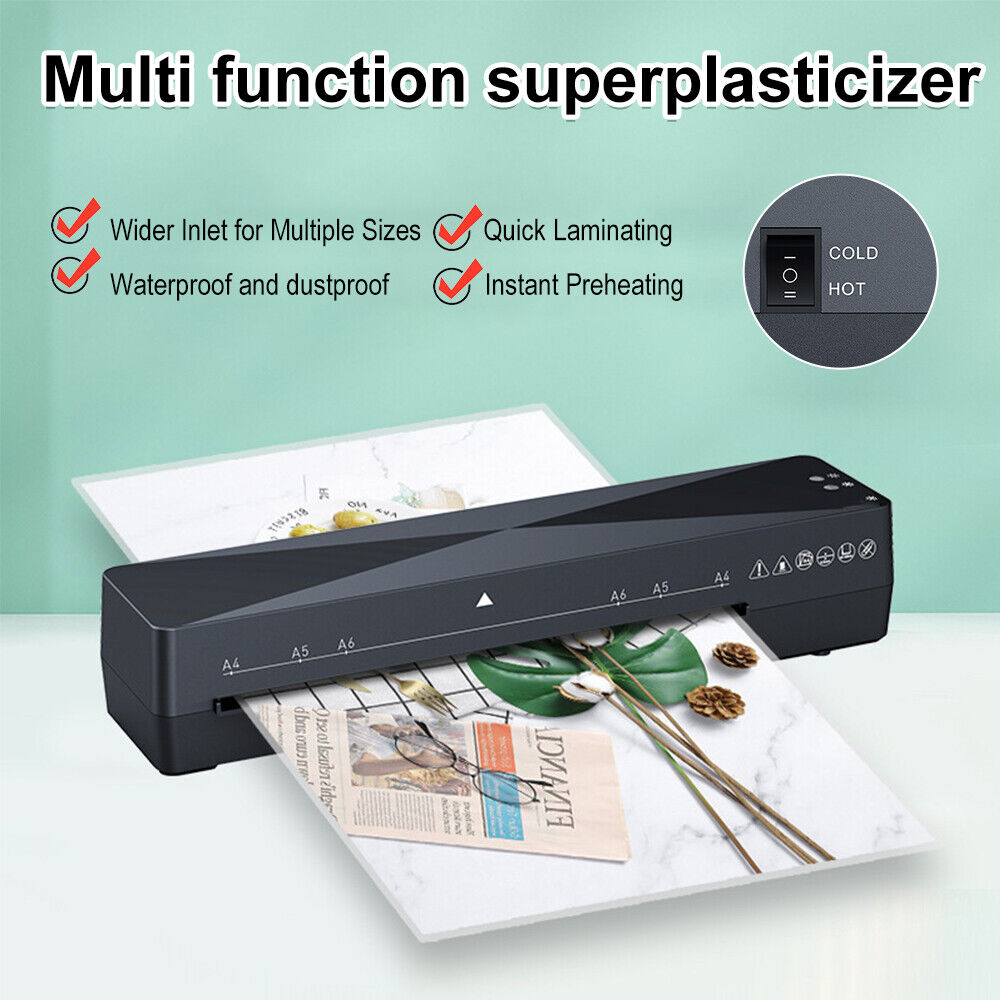 Protect Important Documents from Color Loss, Folds, and Loss of Quality with the Laminator That Makes Powerful Seals!
The elements can be harsh on our precious notes, documents, letters, memorabilias, IDs, and photographs. With the help of a good laminator, you can prevent losing your important items!
The JaxLaminator is designed to offer an added layer of protection to your essentials.
This laminating machine comes with a hot and cold setting — the hot setting fits best for documents and notes, while the cold option is for items that might get quality loss due to heat.
JaxLaminator heats up fast and retains that 115-145 degrees C in laminating papers, photos, dried stuff, and more.
With its 320mm/minute laminating speed, the process becomes extra fast.
Includes all the things you need from a laminating machine — laminating inlet, pouches, a hole puncher, cutter, and a corner rounder.
👉 JaxLaminator Laminating Machine Features
✅Supports Backward Laminating for that Extra Durable Seal. The JaxLaminator laminating machine comes with a backward laminator setting that reinforces the seal to ensure sealing is durable, tight, and secured.
✅Fast-heating Laminating Machine That Is Ready in 2 Minutes. Pre-heating times takes between 1-2 minutes. After that, you're ready to use the machine.
✅Comes with Intelligent Temperature Control — Get The Right Heat without Manual Adjustments. The intelligent temperature control technology makes the machine set the ideal heat for your documents so you won't have to deal with burns and melting plastic.
✅Comes with an ABS, One-click Film Release Card for Paper Jams. No need to worry about paper jams anymore. Once issue's detected, you can simply press the ABS lever to release the inlet.
✅The Speed of 320mm/min Allows You to Work on More Items. You don't have to wait long just to cater everything you need to laminate. With JaxLaminator's 320mm/minute speed, you can laminate up to 70 items in one hour.
✅Caters to Sizes Ranging From A4/A5/A6. Support a variety of sizes, meet various conventional sizes for your different laminating needs.
✅Includes Laminating Must-haves That Will Make the Process Easier. The JaxLaminator comes with 1 A4 laminator, 15 thermal laminator sheets (5 A4/A5/A6), 1 corner rounder, and 1 hole puncher to cover everyday needs.
How to use:
Step 1: Switch on the laminator.
Step 2: When the indicator turns green, prepare the inlet.
Step 3: Insert the pouch into the inlet.
Step 4: Wait for the pouch to be out of the laminator, then cut.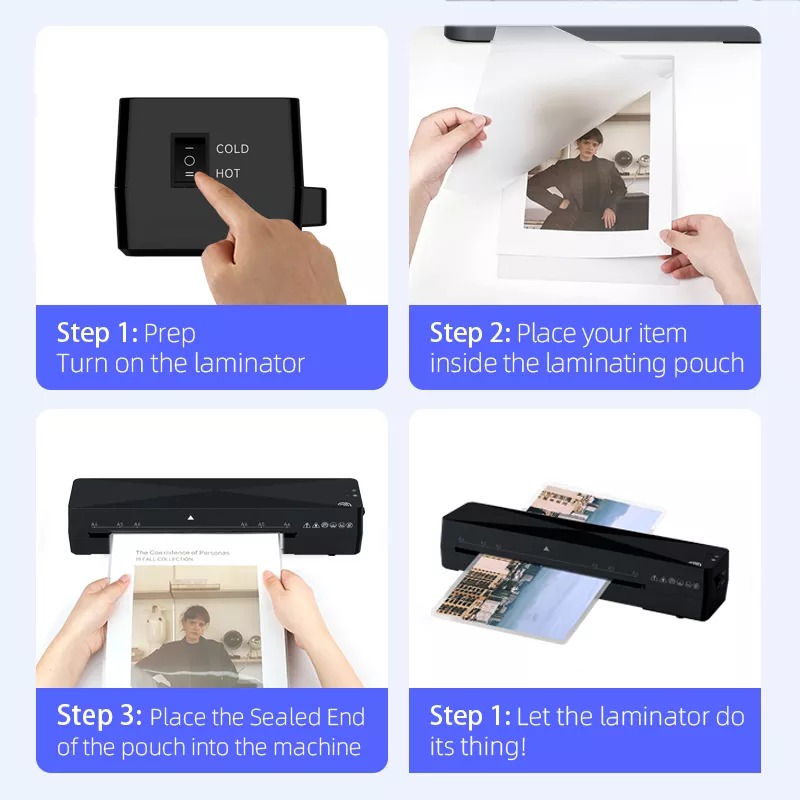 ABS Lever Prevents Paper Jams:
No paper jam will be left unfixed. The reliable ABS lever of the JaxLaminate makes it easy to address any jam or folding during the process. Use the button to re-arrange or fix the sheet and the inlet to your desire.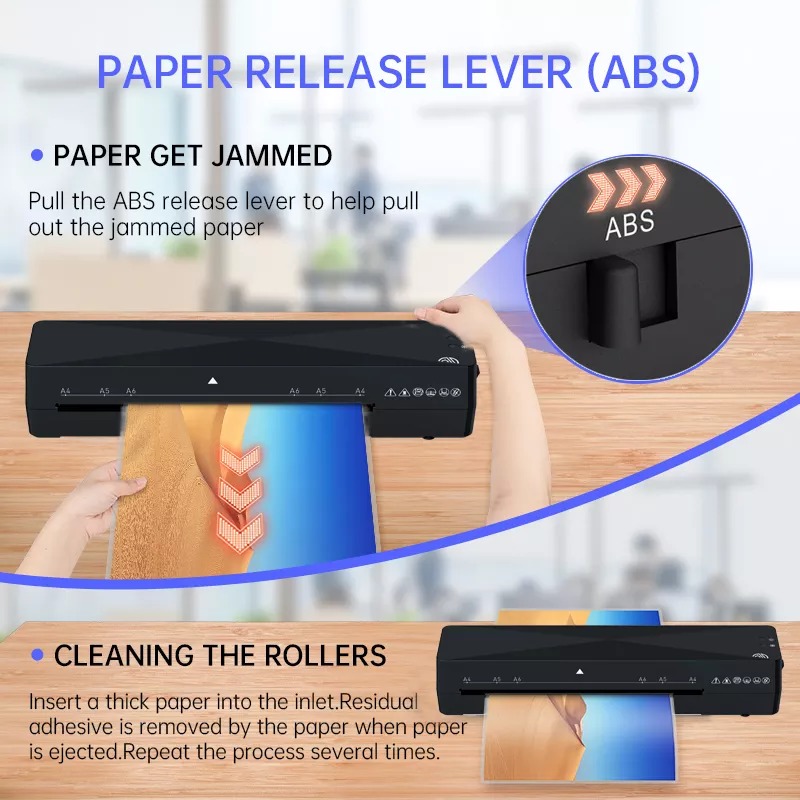 Specifications:
Plastic width: 230mm
Voltage: AC110V-120V
Net weight: 742g
Power supply: 300w
Plastic thickness: 60mic-120mic
Film withdrawal method: ABS toggle one-key film withdrawal
Preheating time: about 2min
Dimensions: 349*91*66mm
Temperature range: 115C-145℃
Plastic size: A4 and below
Laminating speed: 320mm/min
Heating method: quartz heating wire
Noise: ≤55db
What Will You Get?
1 × Laminator
15 × Thermal Laminator Sheets (5 A4/A5/A6)
1 × Corner Rounder
1 × Hole Puncher