Taking care of your garden, yard, and plants is hard work. Consistency is needed to ensure your plants are healthy, well nourished, and hydrated. The thought of leaving your plants behind when you have to go on a vacation or leave town for a business can make you worry. Thankfully, there's a way to help you automate your plant and garden care needs – with the IntalDrip irrigation system.
Timing parameters
Watering time: 0~999s optional
Interval time: 0~999h optional
Product parameters
Name: Automatic watering device
Size: 9.7 * 8.5 * 8.5cm
Rated voltage: 5V
Rated current: 720mA
Power: 3.6W
Adapter: DC5V 1A DC002 3.5 / 1.3
Maximum water pressure: ≥30psi (200kpa)
Flow rate: 0.3-0.8LPM
Head: ≥2.5m
Working temperature: 0-50℃
Feature
Provides more watering options – Comes with a smart watering, single pump and double pump design for more watering options.
No faucet needed. Once water storage is enough, watering becomes safe, secured, and automated. The timer itself determines when to go fullblast, and when to stop watering.
Two modes for automatic sprinkling. You have an option on the best modes suited for your indoor and outdoor plants, your yard, and garden.
Easy to install and easy to operate. No need for professional installation and huge installation expenses!
Simultaneous irrigation. With the IntalDrip, you can irrigate many types of plants at the same time.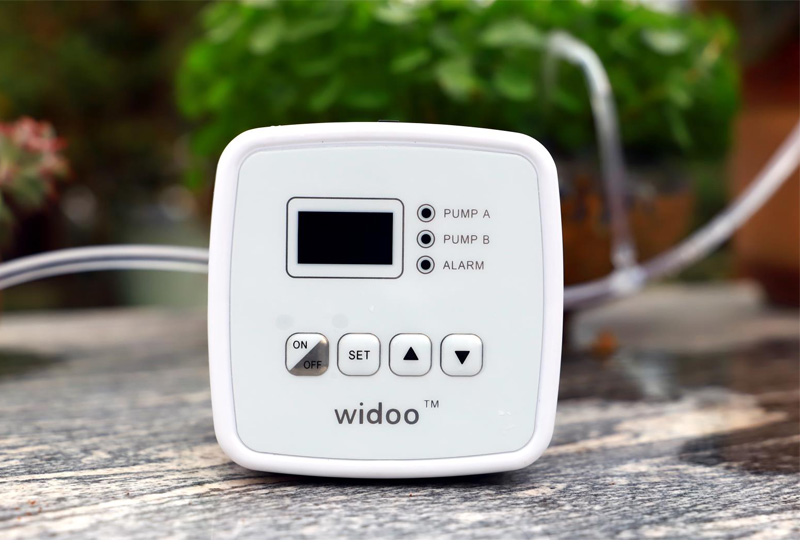 Product connection steps
Connect hoses to the water inlet and outlet respectively.
Water inlet hose should be connected to the water filter.
Connect the water filter and put it in the water container.
Water outlet hose should be connected to a tee.
The other end of the tee is connected to a hose for dripping arrows, and finally the end is connected to dripping arrows.
Insert the drop arrow into the pot.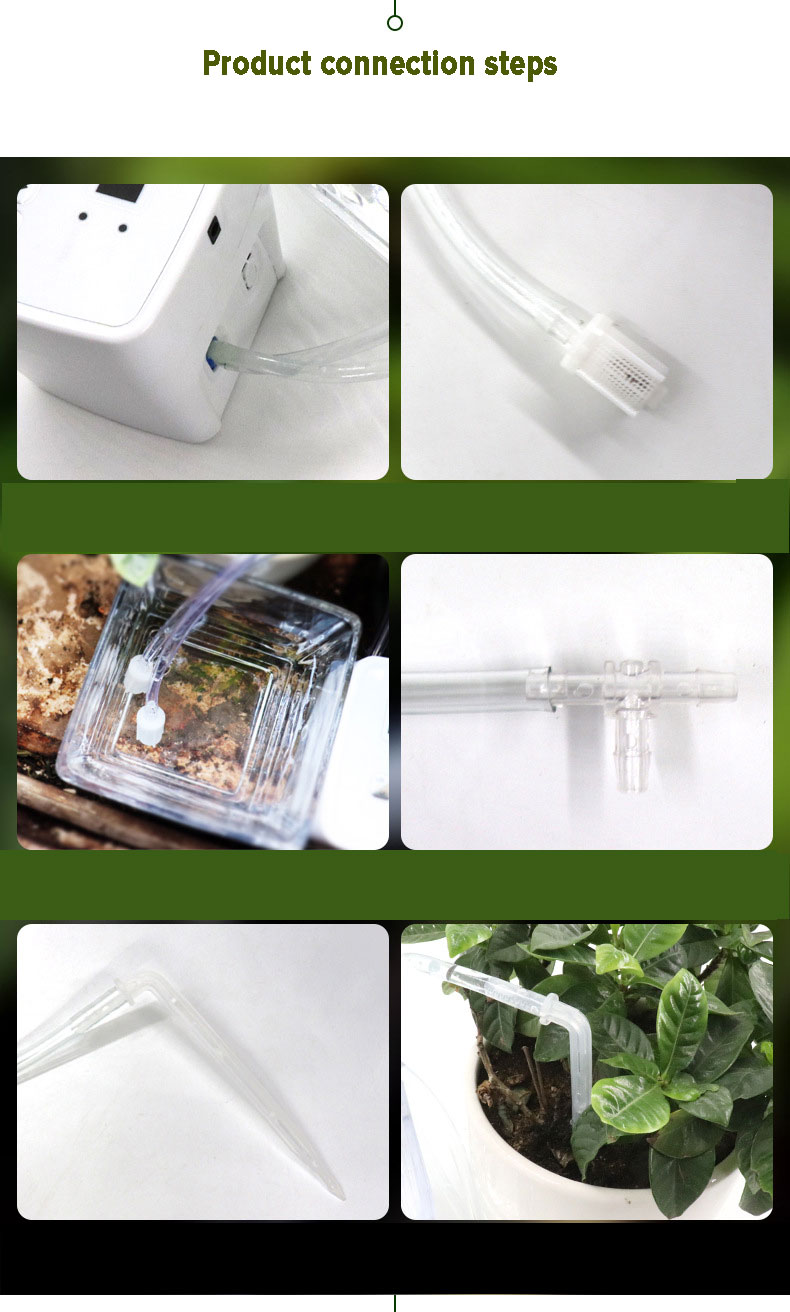 Note
Due to the water level difference of the closed pipeline, the pipeline will have a siphon effect. You only need to adjust the relative position of the drop arrow and the water source to solve this problem. It is generally recommended that the water source be placed on the ground, with the drop arrow above the horizontal. The drop arrow must be inserted in place, otherwise it may cause insufficient water for the drop arrow behind.
FAQ
Q: How is the smart watering device powered by?
A: This is a battery/plug-in dual-use model. You can use 4 AA batteries or use the matching adapter for power supply.
Q: Is the battery durable? How long can 4 AA batteries last?
A: If you set watering for 1 minute a day, it can be used for about 5 months, depending on the setting parameters and battery quality.
Q: How to choose the battery?
A: It is recommended to buy AA batteries with more than 2 yuan, and it is not recommended to buy batteries below 2 yuan, because the power is too low.
Q: Is it complicated to install and set up?
A: Installation and setting are very simple, usually 5-10 minutes can complete all the installation settings.
Q: Do I need to purchase additional accessories?
A: No need. This is a complete set and can be used directly after purchase.
Q: Some flower pots are placed at different heights, can they be used?
A: Yes. You do not need to rearrange, the height difference can be used within 2.5 meters, just a little attention to the layout of the sewer pipe.
Q: Will it prompt if the battery is out of power?
A: There are hints. If the battery is low, the indicator light of the controller will light up and stop watering to protect itself.