If you can multitask while you care for your lawn and your yards, would you take it? If you can enjoy other tasks while your grass and plants are watered lovingly, would you love it? This is what the SprizaBriz sprinkle timer – a must have garden device to bring back your garden's beauty and your control on time.
➤ [Special feature with precise rain sensor] The sensor is located in the upper groove. When the groove is filled with water, the system sets the rain alarm alarm and stops watering until the alarm is reset. Do not pour water into the groove to avoid a false alarm. And you can close the rain alarm alarm if you don't want the function.
➤ [3 separate watering programs] Comfortable and flexible watering with 3 separate watering programs according to your needs, compared to most timers on the market our timer can make 3 separate watering programs and is suitable for watering of different plants. This is very suitable for plants with different water needs. such as flowers, cacti, aloe vera etc.
➤ [Automatic watering on vacation] The frequency of watering can be every day or every 2 days / 3 days / … / 15 days, every 1s / 2s / … / 59s or 1m / 2m / … / 99min , so that you can complete the irrigation plan. The timer program can be adjusted according to your wishes. Suitable for home garden, lawn, balcony! You can be assured you can still water your plants while you're in vacation.
➤ [Waterproof and leak-free] The top black colored connection has a universal 3/4 "thread and fits most hose fittings. Suitable for 0.05 – 0.8 Mpa water pressure , working temperature 1-40 ° C, the watering clock is suitable for most households and can work outdoors (2 x 1.5V AA batteries are included, thanks to 2 * brand battery AA the timer lasts over 6 months).
➤ [Multifunctional – Child Lock Mode and Manual Mode] Our watering computer can effectively prevent children and pets from accidentally activating the sensor, and prevent water waste. The manual function allows you to use the tap immediately without interrupting the set irrigation program.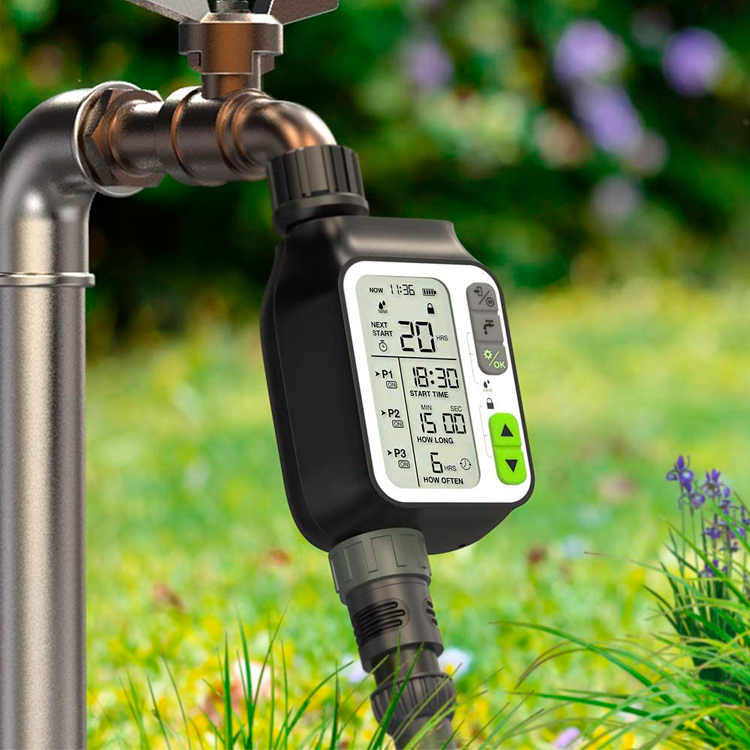 Specifications:
– Product size: 16 x 8.6 x 5.6cm –
– Item weight: 390 ± 10g
– Screen size: 40x80mm
– Water pressure Recommended: 0.05-0.8 Mpa
– Suitable water temperature: 1-45 ° C
– Water inlet: 3/4 "internal thread
– Water outlet: 3/4" external thread
– irrigation time: 1s-59s; 1min-99min
– Irrigation frequency: 1h-23h; 1 day-15 days
– Duration of manual irrigation: 1-99min
– Power supply: 2 * AA batteries (included)
– Rubber rings: 3mm or 5mm
Advantages:
Precise and flexible irrigation with 3 separate irrigation programs. It comes with a rain sensor function which is located in the upper groove. When the groove is filled with water, the system sets the rain alarm and stops watering until the alarm is reset.
Battery Indicator: Battery flashes when battery is low, screen turns off automatically after 30 seconds without pressing a button. This feature extends battery life effectively.
Irrigation Indicator: water droplets flash during irrigation
Next Watering: Automatically starts according to the program you have set.
Manual: Water at any time, the manual mode enables immediate irrigation without interrupting the set irrigation program. This water timer can be used for drip irrigation systems, rain buckets, pet water and sprinkler irrigation systems, etc.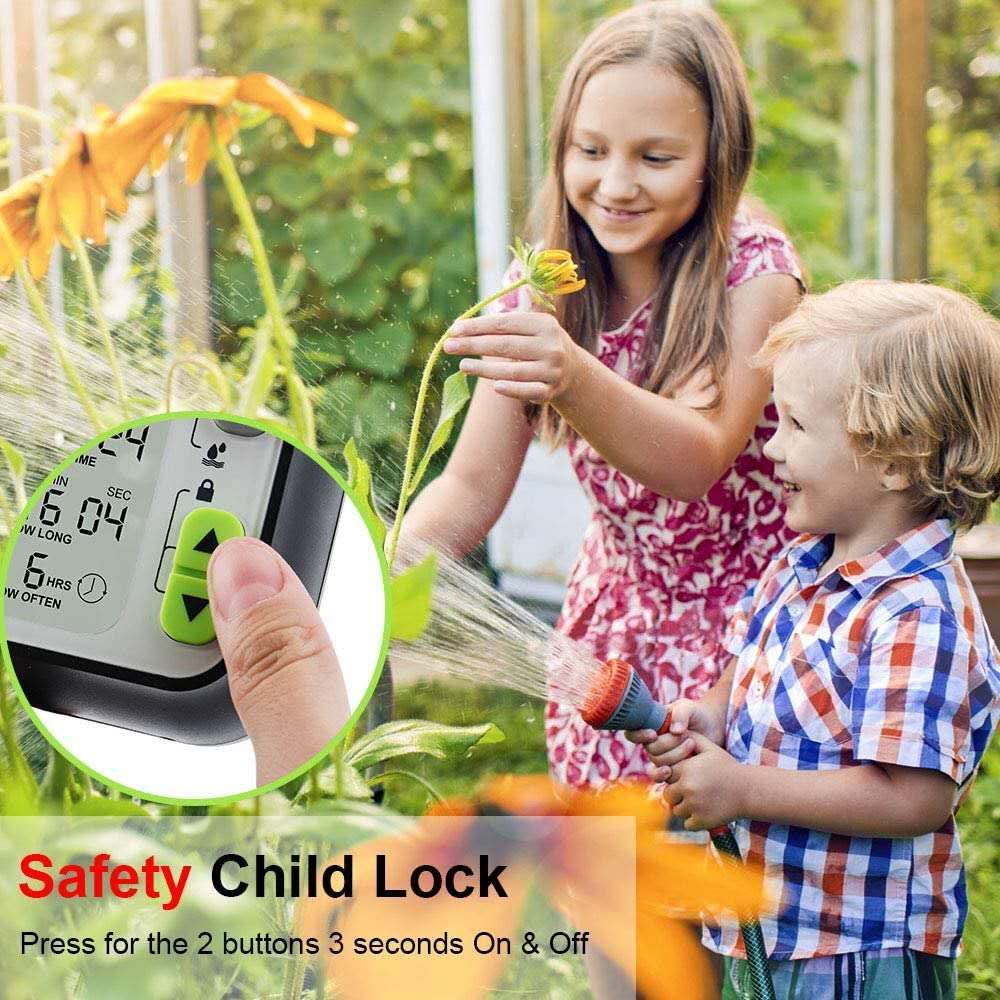 Child lock mode: protects the timer from children's activities
Package included:
1 x Johgee irrigation computer
1 x installation guide