Do you keep a garden you worry over because sometimes you need to go for long periods of time and no one's going to tend for it? If you can leave your garden care on autopilot, would you take the deal? That is what HeychTwo automation drip irrigation kit offers. This self-watering irrigation system allows you to water and nourish your garden and lawns even if you're not there looking!
Save time and water – with this automatic plant watering device, you only need to prepare a bucket or bottle and it will work for a long time to irrigate your plant. 30% less water than traditional sprinklers and drippers.
Functions – can water up to 10 potted indoor plants. Easy to use – controller allows you to set your own custom watering schedule including the number of times per day and the duration you prefer.
Program – the interval time of watering can be set with the shortest at 12 hours/time, and longest 1-15 days/time. The watering duration can be set, 1-180 seconds according to your need.
Holiday watering systems – this micro drip irrigation system is the perfect solution for watering your indoor plants when you're away for the holidays, on vacation, or just short on time.
Specifications:
Power: Battery Powered(4 AAA batteries)
Color: White
Material: ABS
Net Weight: 0.6kg / 1.3lb
How to Install:
Cut the length according to the depth of the barrel or bottle.
 Insert the filter into the hose. Then insert the other end of the hose into the input port of the controller.
Cut the hose, its length depends on the distance between the outlet and the original potted plants. Then connect all the Potted plants.
 Insert the arrow into the hose.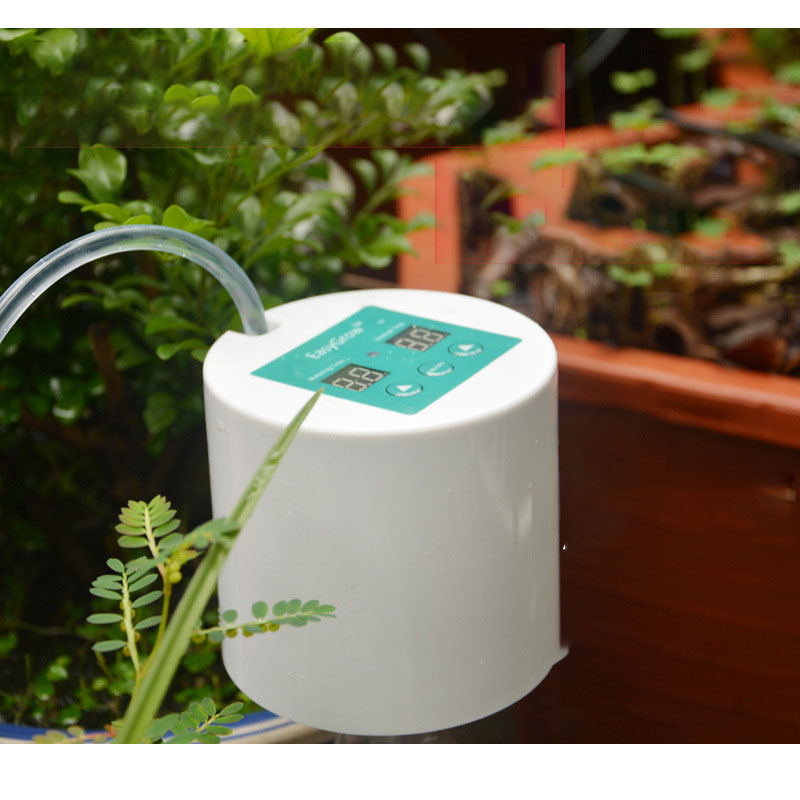 Package Included:
1 * controller
1 * filter
1 * 10m irrigation pipe
10 * 3 way barb tee
3 * 4 way pipe joint
3 *end caps
10 * dripper.
1*Controller fixing frame
1*Manual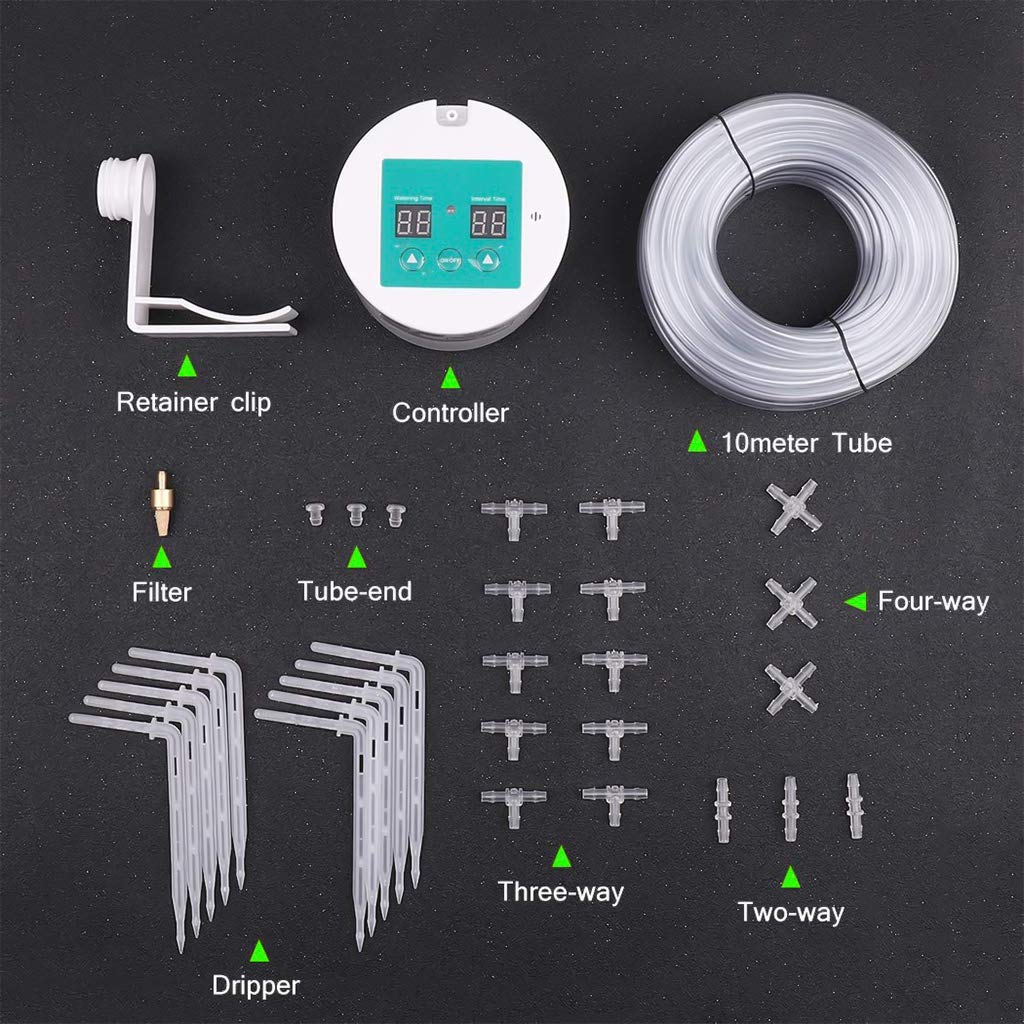 Interval time:
Can be used to set the interval time for the pump to work. Once every 12 hours, once every 1 day, 2 times every 2 days, 3 times every 3 days… 15 times every 15 days. For example, if the interval time is set to 1, the pump will work every day.
Setting:
The shortest interval time is 12 hours for watering once, and the longest is 1-15 days.Watering time 1-180 seconds, you can have the option to choose.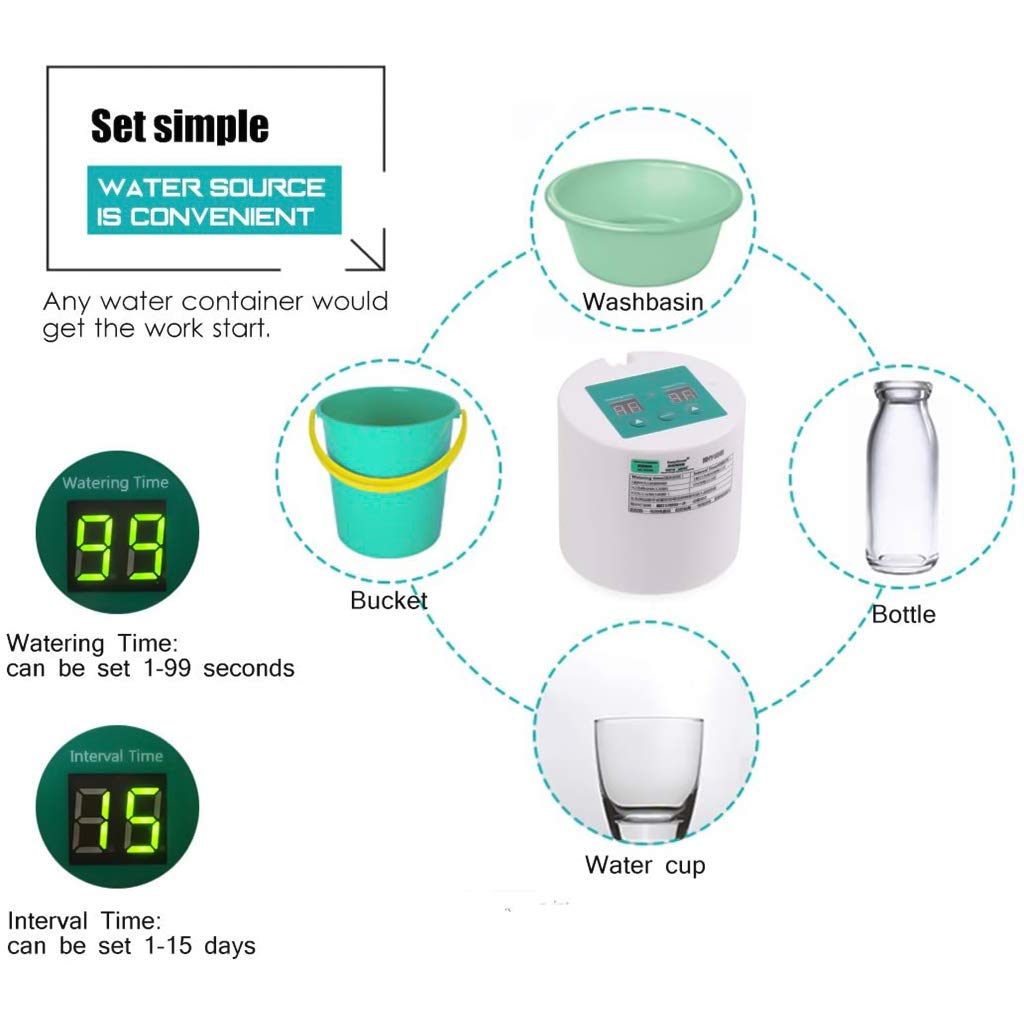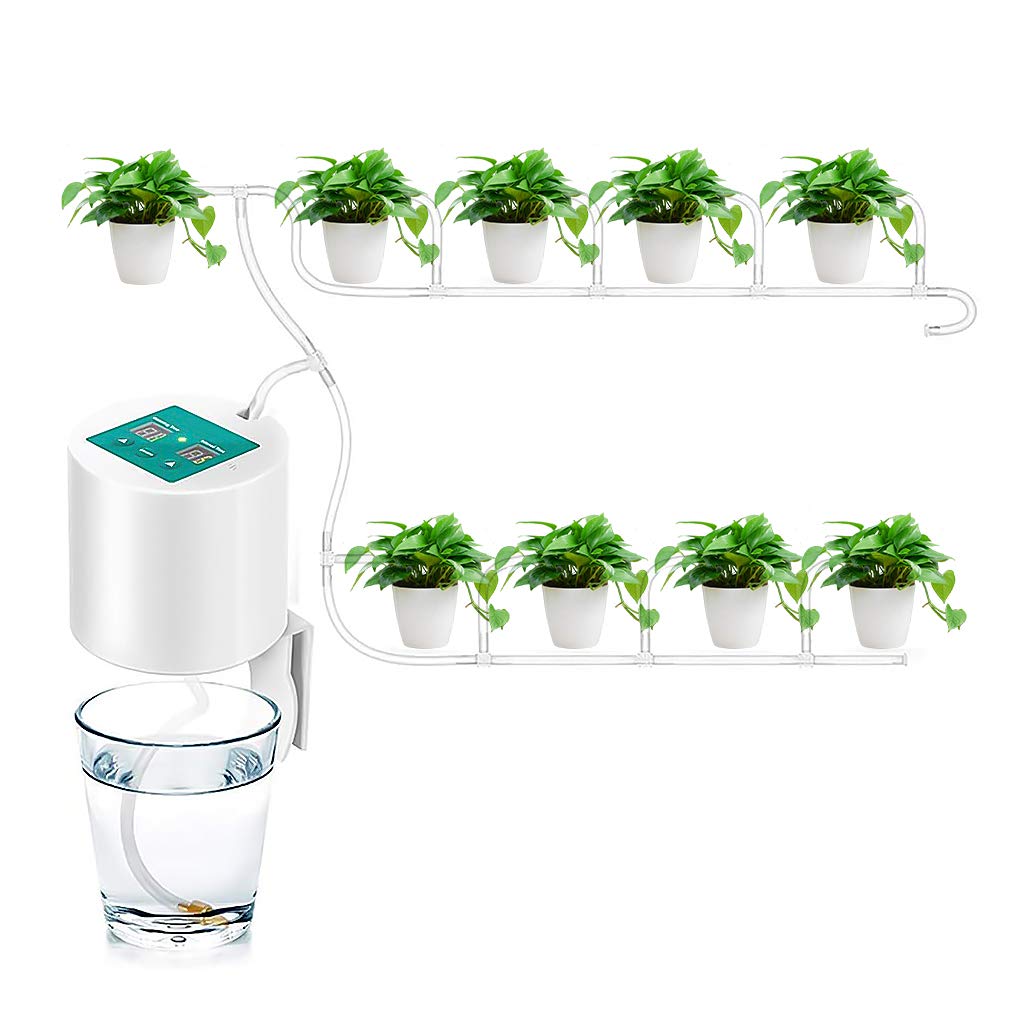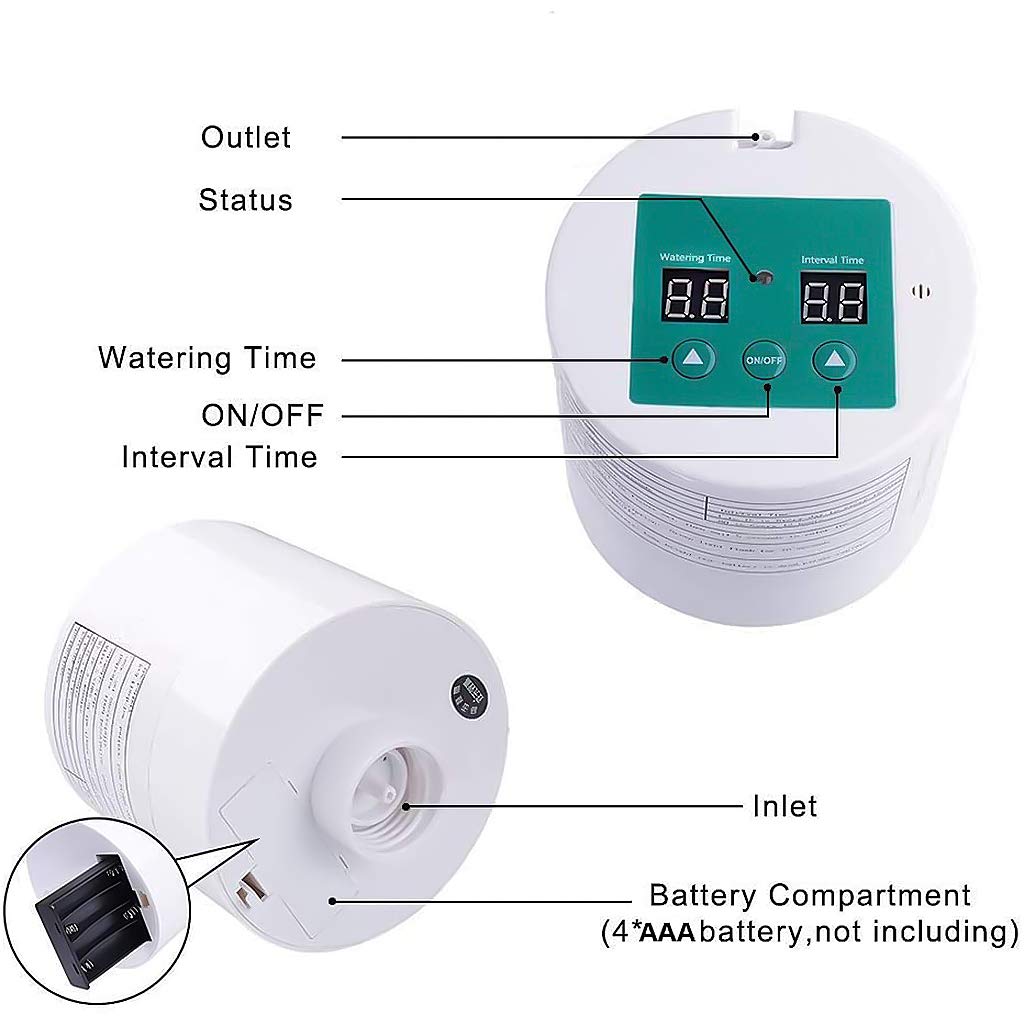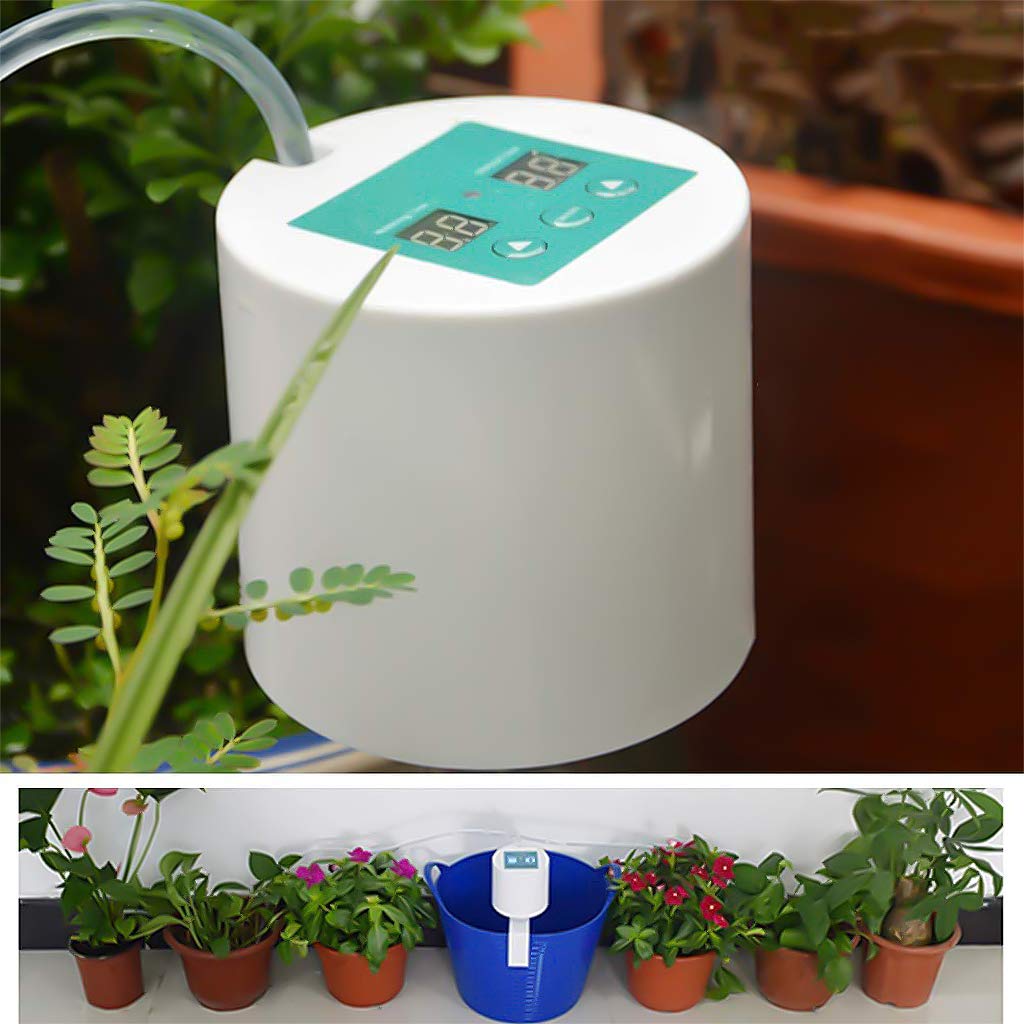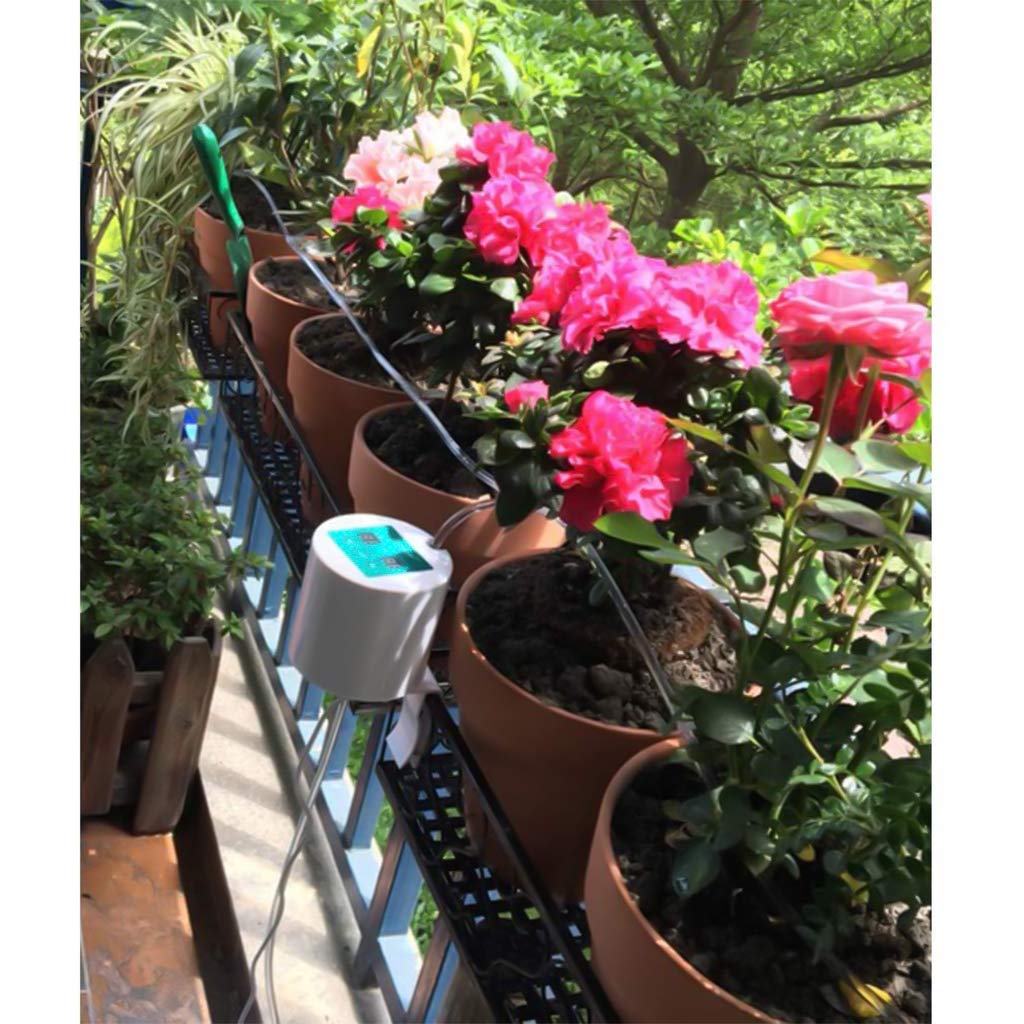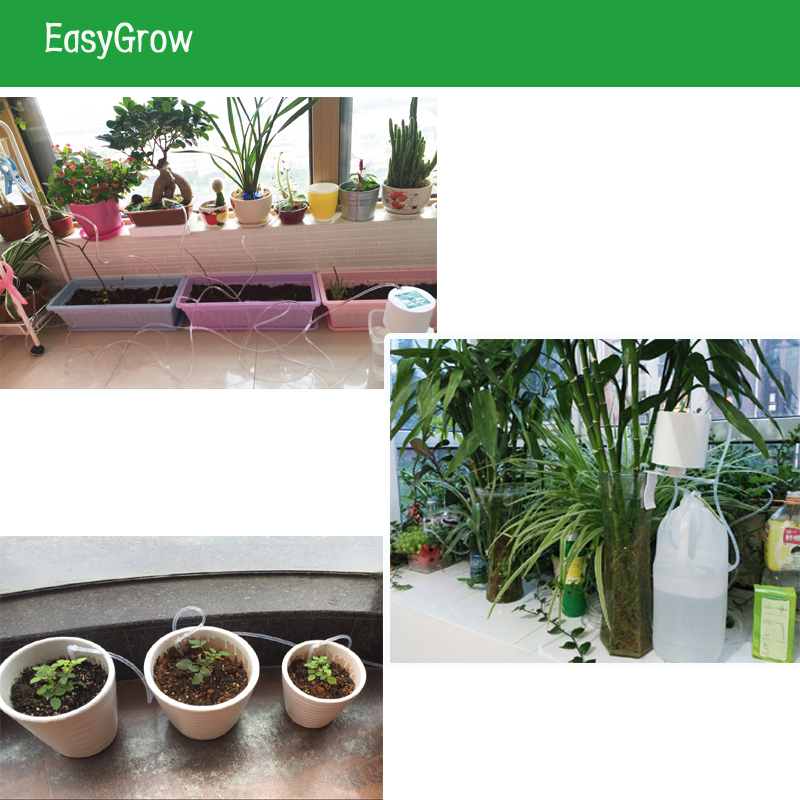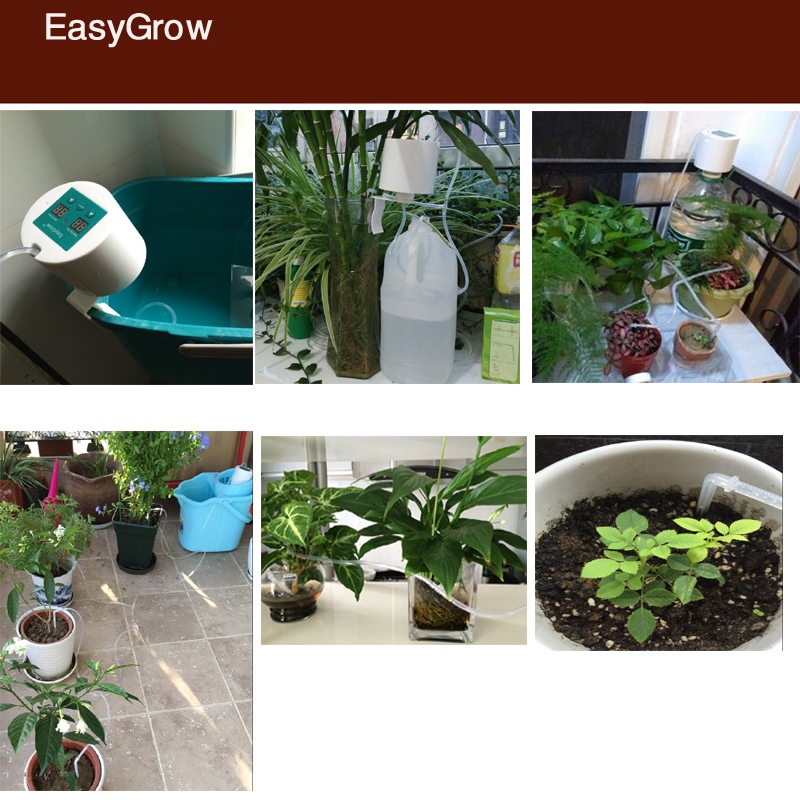 FAQ
Q: Is the battery durable? How long can four AAA batteries last?
A: It depends on how to set it up. If it is set to pour for one minute a day, it can be used for more than two months. If it is poured for one minute every two days, it can be used for about four months.
Q: What brand of battery replace?
A): The battery uses two yuan segmented AAA batteries, or slightly better. Do not buy a battery less than two yuan, the power is too low. Pay special attention not to use Nanfu batteries. After actual test, Nanfu battery is not used.
Q: Is it complicated to install and set up?
Answer: The installation and settings are very simple. Generally, all installation settings can be completed in five to ten minutes. Soft sisters can also be done easily and independently!
Q: Do I need to buy additional accessories?
Answer: No need. This product itself can provide all the accessories for pouring ten potted flowers, including pipes, joints, drippers, etc.
Question: Some flower pots are not in the same height, some are in the low position, and some are in the high position. Can this be used?
A: Yes. No need to relocate the flower pot. It can be watered well if it is within meters. Just pay attention to the layout of the water pipes. The installation video will explain in detail how to arrange the water pipes.
Q: Will the machine burn out if there is no water in the bucket?
Answer: No. Because the intelligent detection is whether there is water. If there is no more water, the pump will automatically stop working and protect yourself.
Q: Will there be a prompt if the battery is dead?
A: There is a hint. If the battery is out of power, the red light in the middle will stay on and stop working for self-protection.