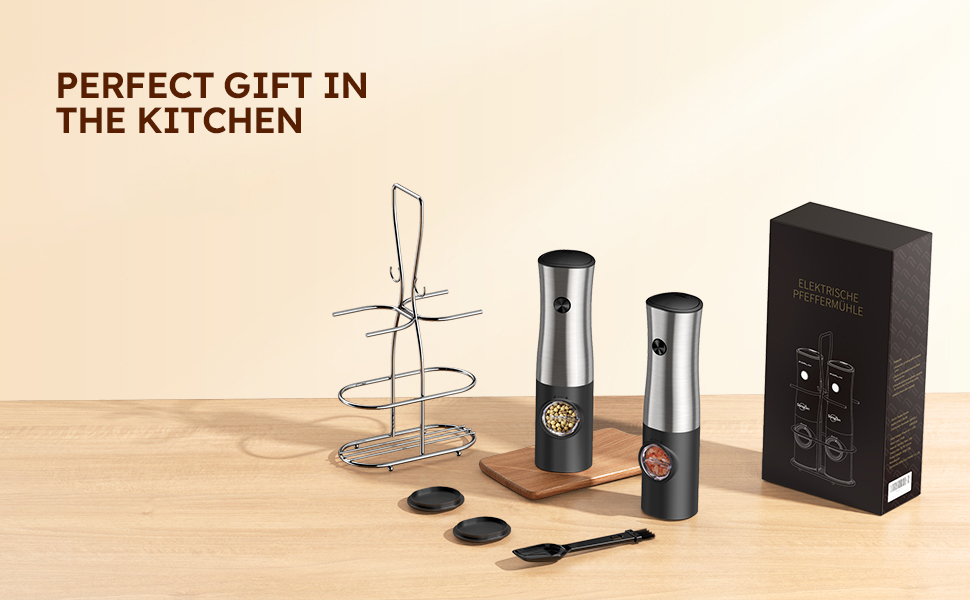 Hey there, seasoning superstar! 🌟 Ever had one of those moments where you're trying to impress with a home-cooked meal, but your old grinder decides to play hard to get? Or perhaps you're just tired of that arm workout every time you want a sprinkle of salt? Say no more. Meet the FusionGrind Electric Salt and Pepper Grinder. This beauty is the Beyoncé of kitchen gadgets – sleek, powerful, and always on point.
Imagine effortlessly adding the perfect pinch of salt or a dash of pepper with just one touch. No fuss, no mess, just pure seasoning bliss. And let's talk about that stainless steel finish – it's not just there to look pretty (although, let's be honest, it does that very well). It's durable, chic, and ready to be the star of your kitchen counter.
So, if you're ready to elevate your seasoning game from "meh" to "mind-blowing", FusionGrind is your ticket to the big leagues. Because life's too short for bland food and boring kitchen tools. Let's spice things up, shall we? 🌶️🎉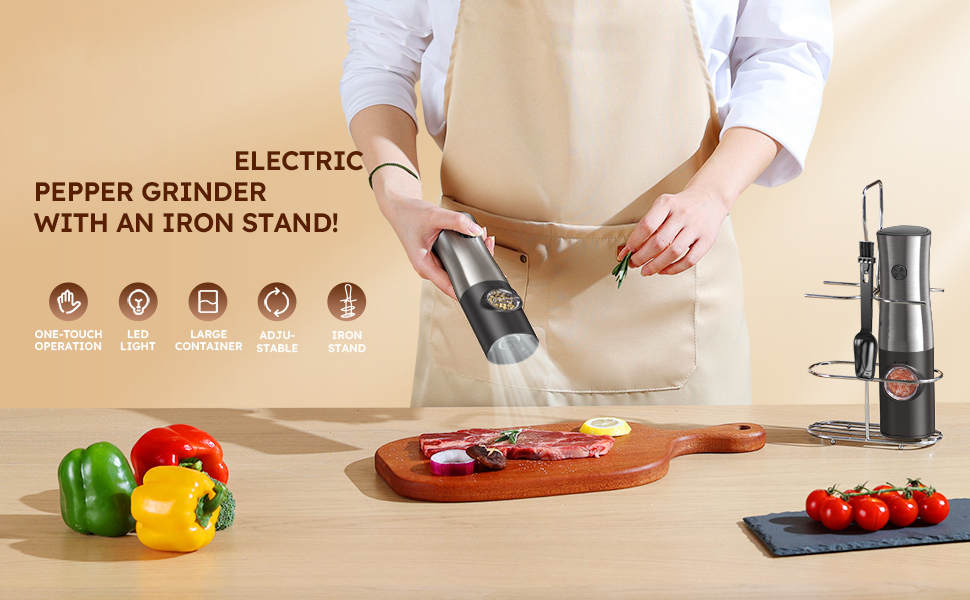 Grind Like a Pro, With Just a Tap!
Remember those days of tirelessly twisting and turning your old grinder? Those are history. With FusionGrind's one-touch operation, you're just a button away from seasoning perfection. It's like having a personal chef's assistant right in your hand!
Shine Bright Like Stainless Steel!
This isn't just any grinder; it's a fusion of style and strength. Made of stainless steel, it's not only drop-dead gorgeous but also built to last. It's the kind of kitchen gadget that gets both likes in real life and on your Instagram feed.
Your Grind, Your Way!
Whether you're in the mood for a fine sprinkle or a hearty dash, FusionGrind's adjustable coarseness has got you covered. It's like having multiple grinders in one, without the clutter. Talk about a space (and sanity) saver!
No Cords, No Worries!
Battery-operated and ready to roll! No more hunting for outlets or dealing with tangled cords. Whether you're at the dining table, by the grill, or camping under the stars, FusionGrind is your trusty seasoning sidekick.
Refilling: A Spill-Free Thrill!
Dreading the mess of refilling spices? FusionGrind to the rescue! Designed for a hassle-free experience, you can top up your spices without turning your kitchen into a crime scene. Clean counters and perfectly seasoned dishes? Yes, please!
Compact Yet Mighty!
Don't be fooled by its sleek design; this grinder packs a punch. Ergonomically designed, it's a joy to hold and even better to use. It's like the little black dress of kitchen gadgets – timeless, versatile, and always in vogue.
Alright, seasoning savant, here's the spicy scoop. You've seen the dazzle, felt the power, and you're probably already daydreaming about your next perfectly seasoned dish. But here's the thing: FusionGrind is not just turning heads; it's turning tables, and they're flying off faster than you can say "More pepper, please!" Now, we don't believe in pressure, but if you're after that sprinkle of perfection, you might want to make your move. Because, between us, once they're gone, they're gone. And trust us, you don't want to be left with seasoning FOMO.
So, ready to be the talk of the town (or at least your kitchen)? Click, add, cart, and let the seasoning saga begin. Your culinary adventures are about to get a whole lot zestier!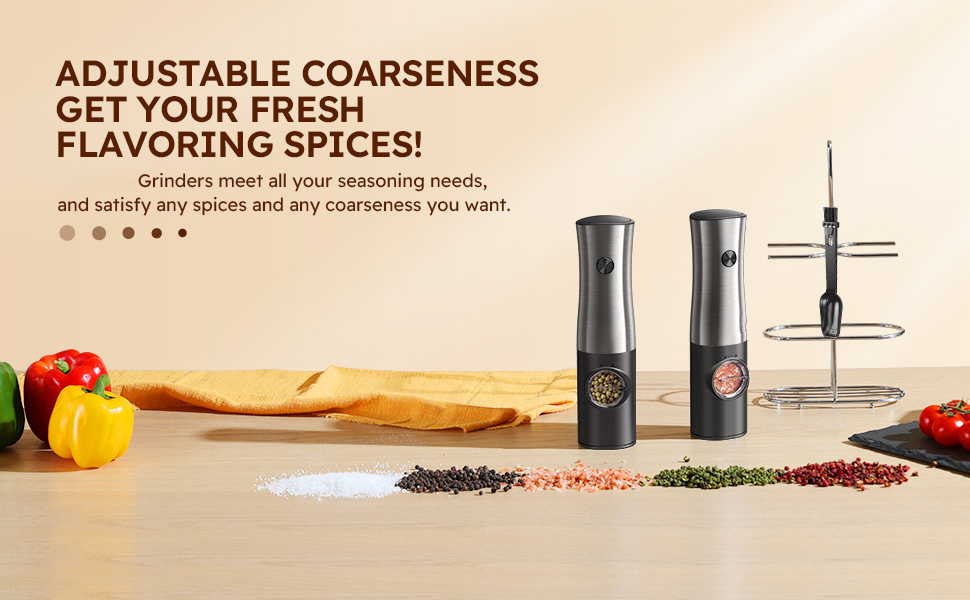 Technical Specifications
Alright, tech enthusiasts and detail devotees, it's time to geek out! Here's the deep dive into the FusionGrind Electric Salt and Pepper Grinder:
Operation Mode: Electric with One-Touch Grinding
Material: Durable and Shiny Stainless Steel (because who doesn't love a bit of shine in their kitchen?)
Grind Settings: Adjustable Coarseness (from whisper-fine to shout-out-loud chunky)
Power Source: Battery Operated (specific battery type not provided, but let's just say it's got the juice!)
Design: Sleek, Modern, and Ergonomic (it's basically the sports car of grinders)
Refill Mechanism: Easy-peasy and mess-free (because nobody has time for spice spills)
Size & Weight: Not specified, but it's compact enough to be your kitchen's showstopper without hogging all the counter space.
There you have it, the full 411 on the FusionGrind Electric Salt and Pepper Grinder. Whether you're here for the style, the specs, or the sheer seasoning prowess, we've got you covered. Happy grinding! 🌶️🔧🎉