The Bath Pillow That Is Rated Highly for its Firm Support, Strong Suctions that Hold Pillow in Place, and Quick-drying, Antibacterial Material!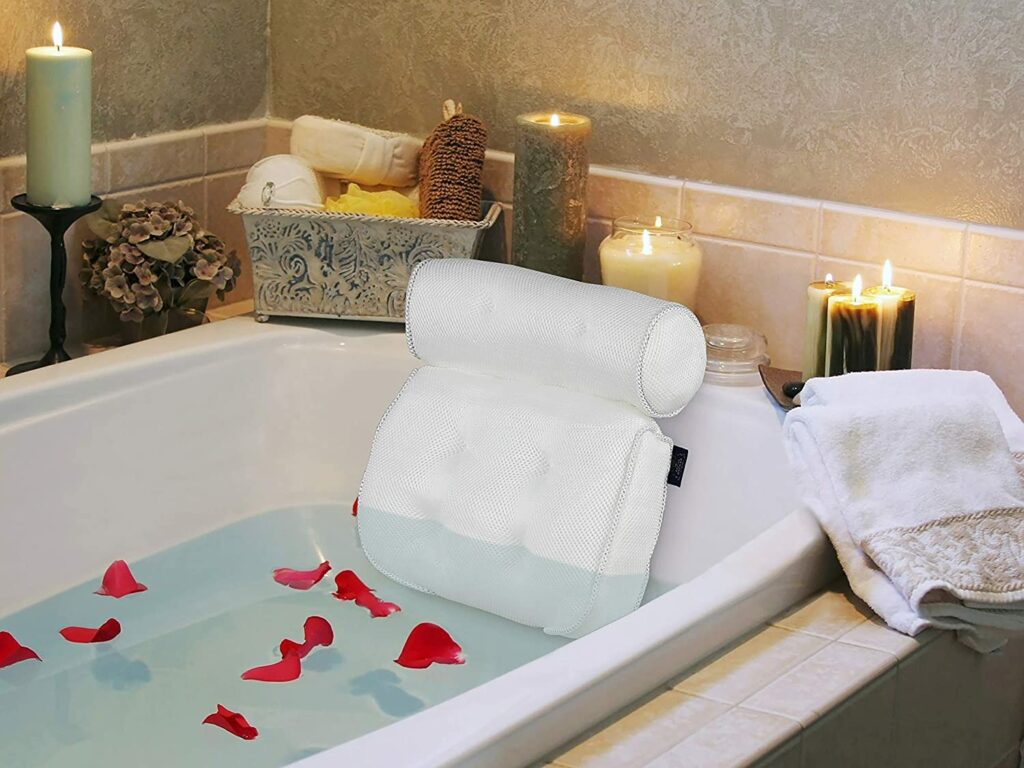 With FeatheRest, you can retire your old, musty, flimsy bath pillow…
You're looking for a bath pillow that can tick all the boxes – one that's breathable, one with suctions that promises a solid grip, one that delivers A+ support for your neck, shoulders, and back, and one that's easy-to-clean, dry, and maintain (you're over mushy bath pillows with an ever-present funky smell).
FeatheRest is one of the best selling bath pillows for a reason – it comes with a newer ergonomic design that delivers both comfort and support; materials that are both quick-drying and antibacterial; and suctions that ensure no slip and slide is going to happen while you're in the tub – like, any tub!
The FeatheRest is for you if…
🤩 You're looking for a comfortable, full support bath pillow that allows you to lie down and lean on bath tubs. The bath pillow comes with an ergonomic headrest that provides total support for your neck and your shoulder when you need to lie down. Leaning in? The pillow's design transfers the support to your lower back – your tailbone will thank you!
🤩 You want a stable bath pillow that won't easily loosen its grip on the tub. If you're wary about slips and slides while you're lying on the tub, FeatheRest is for you. The 6 powerful suctions steadily holds the bath pillow in place.
🤩 You hate bath pillows that take forever to dry! None of that anymore with FeatheRest! This quick-drying mesh pillow dries up quickly once hanged on the wall.
🤩 You want odor-free, mush-free pillows. Lying down on cold, wet, smelly pillows simply ruins the experience for you. Because the FeatheRest's anti-bacterial mesh dries up quickly, you won't have to worry about smells, or that cold, icky sensation on your skin.
🤩 You're looking for bath pillows made of materials that are skin-friendly. Heaven-on-the-skin – that's the promise of FeatheRest. Say goodbye to the irritating materials – the FeatheRest is made from ultra-soft mesh material that's 100% gentle on the skin!
🤩 You prefer machine-washable bath pillows. If you want a bath pillow that's easy to clean, the FeatheRest is for you.
🤩 You are looking for a travel-friendly bath pillow you can bring anywhere. The FeatheRest comes with a design that fits most bath tubs.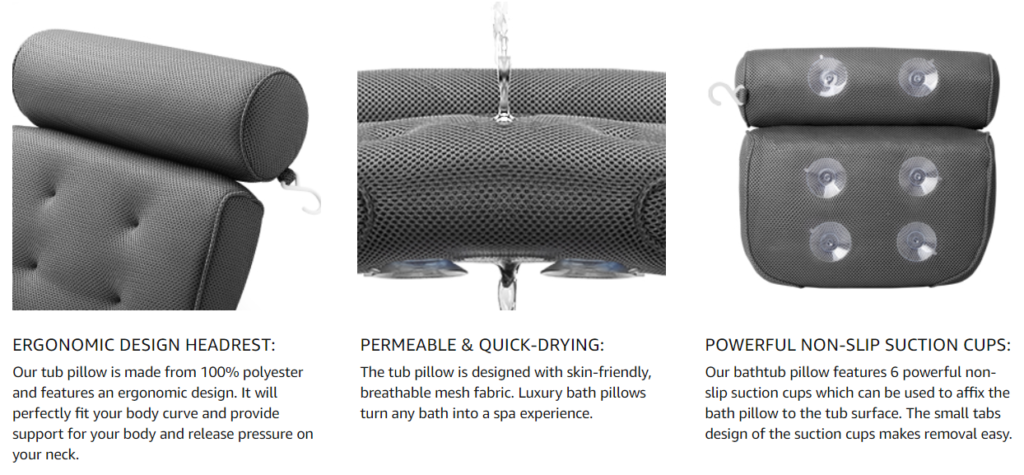 FeatheRest Features
Bath pillow with an ergonomic design that support lying-down and leaning-in positions. Get reliable, full support for your neck, shoulders, AND tailbone with the FeatheRest. The ergonomic curves of the FeatheRest prevents you from having aches and pains afterwards.
Ultra stable bath pillow with 6 powerful suctions that keep pillow in place even if the surface is wet. The wide, strong suctions prevent any slips and slides from happening.
Easy-to-dry, antibacterial mesh material prevents odor and bacteria from happening. The mesh material is breathable and quick-drying. Simply hang the FeatheRest on the wall, and it will dry up in 8 hours. You won't have to worry about the stink and the icky cold sensations anymore.
Bath pillow that offers firm support. The memory foam of the FeatheRest delivers incredible support to back, neck, and bottom areas that carry the weight.
The material used for FeatheRest is 100% skin-friendly. The gentle, breathable mesh material is ultra soft for the skin. No spikes or rough sensations to deal with anymore.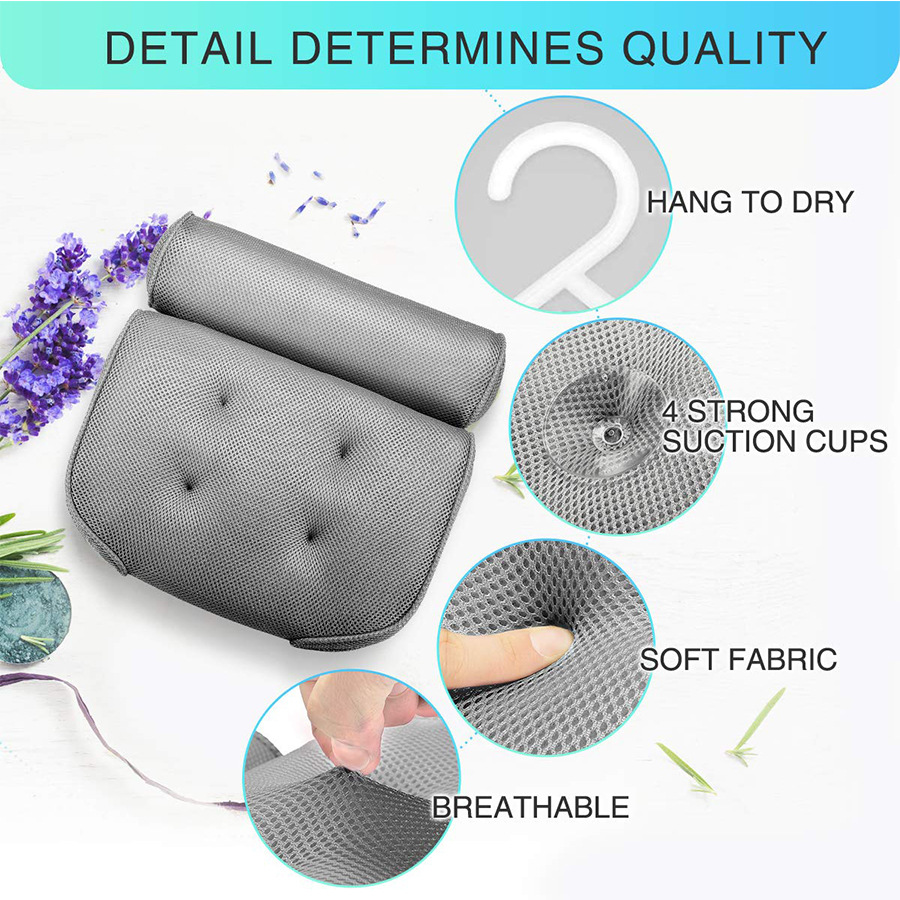 How to use it?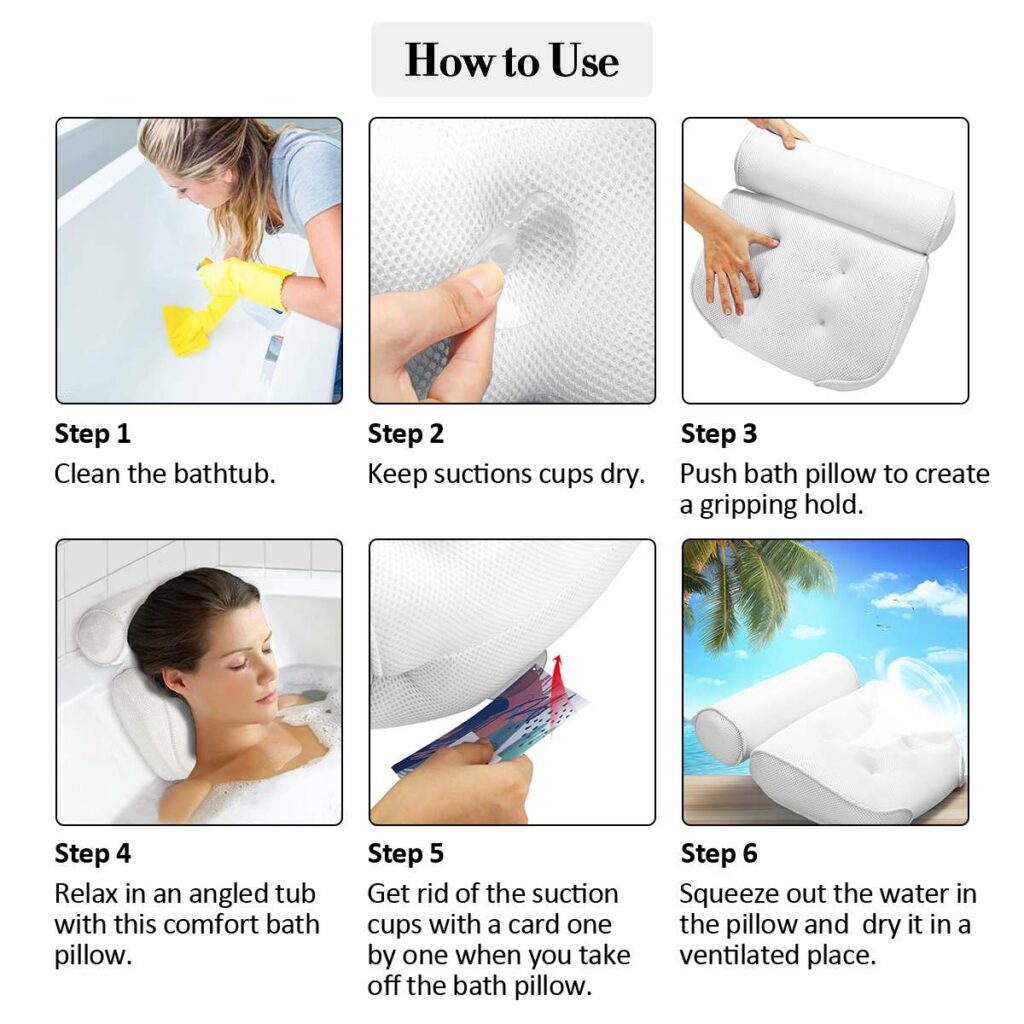 Specific:
Material: Polyester
Colour: White, Gray
Dimensions: 38 x 36 x 8.5 cm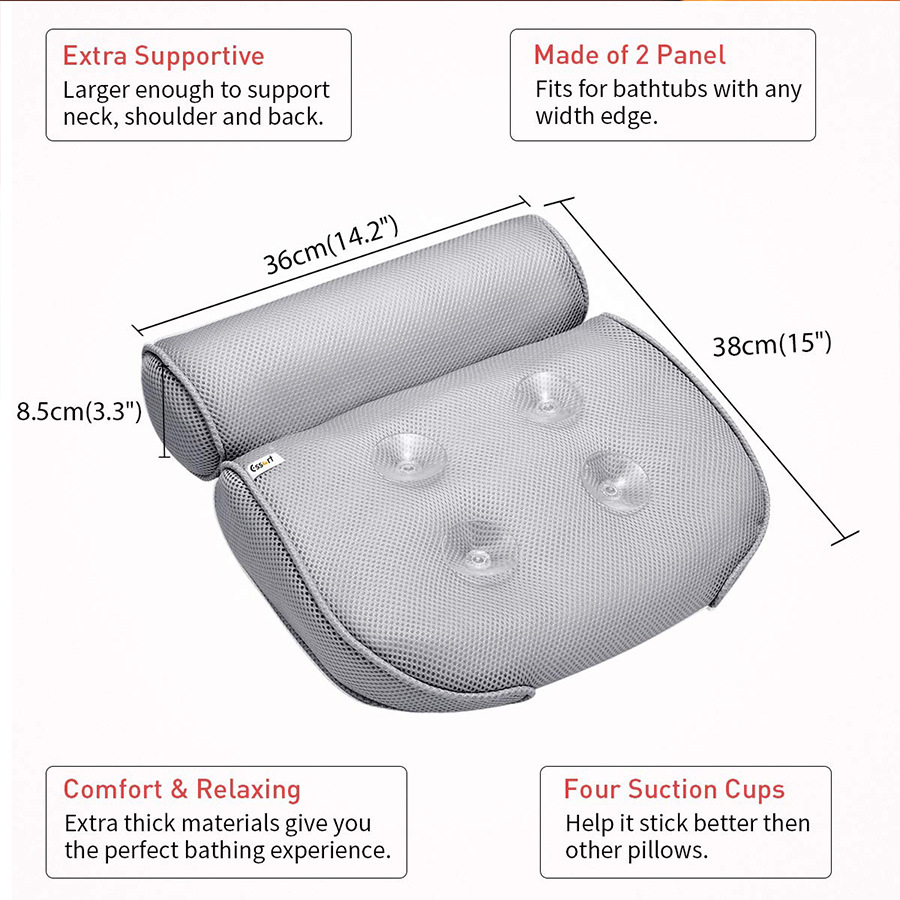 Packaging includes: 1 x Tub Pillow
Please Take Note:
The product defaults to 6 suction cups.
Please allow an error of 1 – 3 cm due to manual measurement.
Please understand that colors may exist in chromatic aberration.
Do not remove the cushion from the tub with force, but gently remove the suction cups from the side.