Live healthier and safer with cleaner and better air quality!
Safety always ranks high on the list of every person's priorities. Whether it's at home or at the workplace, or any other building for that matter, nothing spells safety better than clean indoor air. Of course, keeping fires away is a close second.
With DriFlex, you can ensure that you'll always have an assistant in cleaning your dryer vent duct. It's practical and easy-to-use and it will ensure that you will always enjoy high quality indoor air, minus the allergens and pathogens of the outdoors. Plus, with the DriFlex dryer vent cleaning kit at hand, you'll never have to worry about getting in trouble with fires from debris-filled ducts and vents.
Description
PREMIUM FLEXIBLE RODS:
Polyester fiber brush head is heat-resistant and non-corrosive, so it is highly efficient for use in cleaning without scratching the inside of your chimney pipe and dryer ducts. Made with nylon, the rods are both durable and flexible, and it is curved by 90 degrees for impeccable duct work.
EASY TO USE AND PRACTICAL:
Perfectly fit with electric drills. The driller connects to the hex-shaped nylon rod, giving it a powerful rotating force that makes it easy to remove stubborn debris from the chimney or dryer vents.
EFFICIENT AND SAFE:
The brush in this set can be used to remove lint, dust, and other pellets that accumulate in dryer pipes and vents. The removal of the debris will improve the working performance of the dryer and prevent overheating and fires. Regularly removing these debris is the only way to prevent the dryer from igniting.
REDUCE COST:
Easily connects multiple rods to expand your cleaning area. With this cleaning kit, you can already clean the duct by yourself. No more expensive professional cleaning services!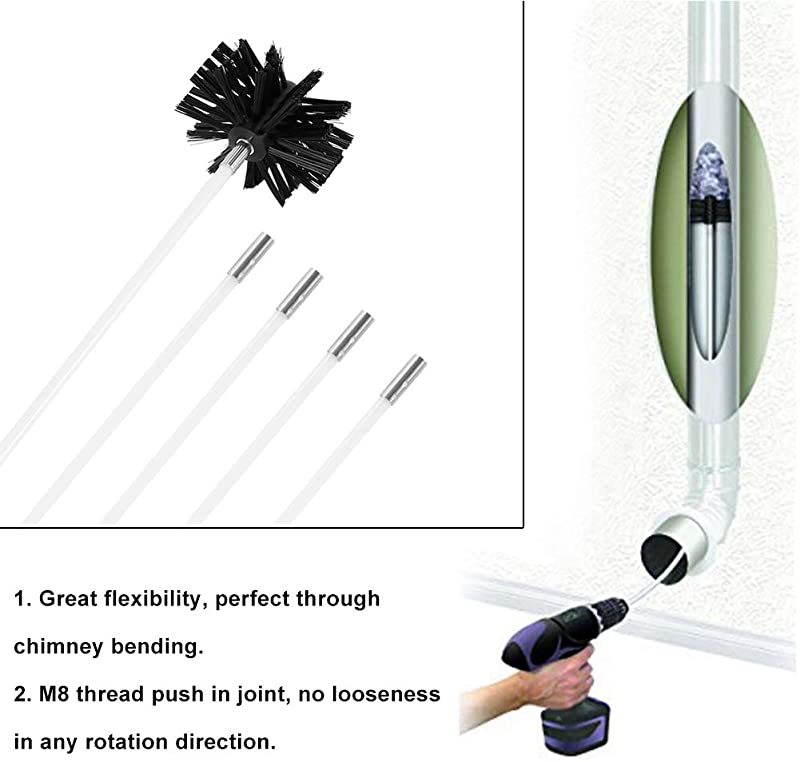 Features:
Includes high-quality synthetic brush head and durable retractable rod. This high-efficiency dryer-exhaust duct brush can be used with or without a power drill to help you achieve professional results.

Brush removes dander from the dryer tube to help reduce drying time and improve dryer performance, while extending dryer life.

Avoid danger from lint build-up. Remove lint from the dryer regularly to prevent the dryer from catching fire.

This Dryer Vent Cleaning Kit provides excellent results and can help you avoid costly repairs. Cleaning the lint filter before or after each load will help avoid unnecessary hazards.

The pipe drain brush can also clean the chimney or pipe, can remove more deposits, and is friendly to all kinds of chimneys and. 

Can be used with an electric drill and is easy to install and disassemble.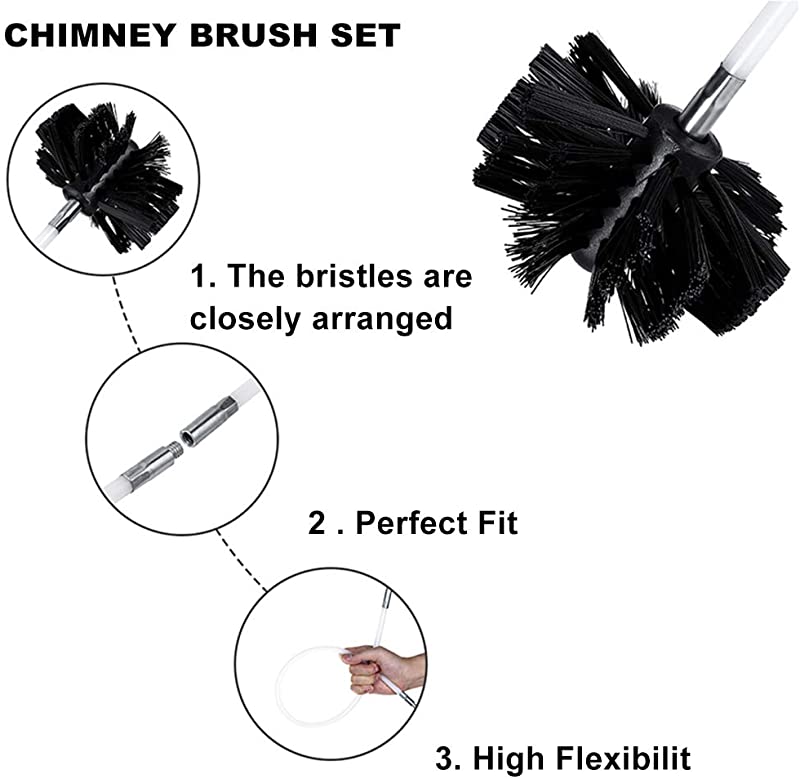 Specifications:
Material: Nylon.
Bar length: 410mm / 16″ each
Scope of application: domestic industrial chimney boiler dryer and other pipe cleaning work.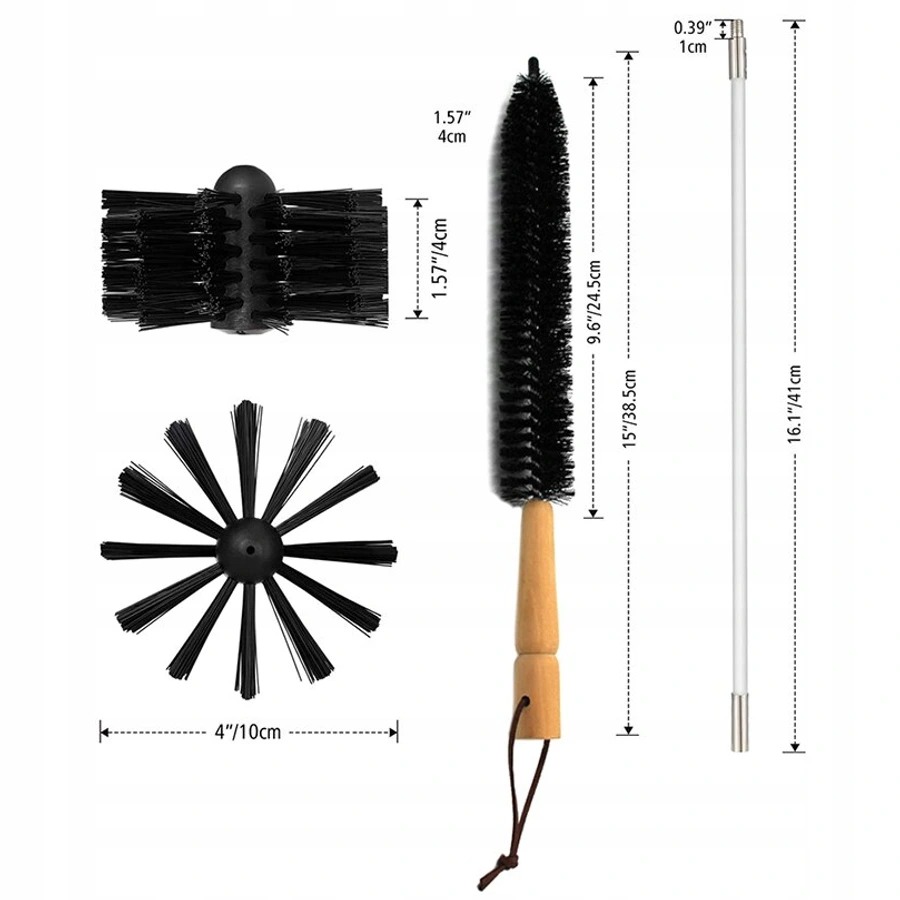 Package Includes:
9 x Rods
1 x Cleaning Brush with Wooden Handle
1 x brush heads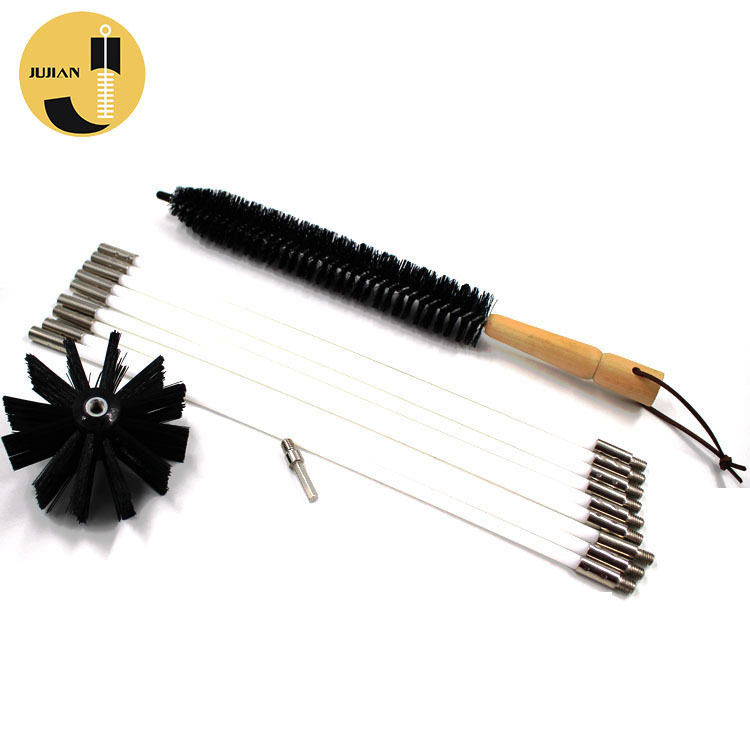 Warm prompt:
Only the items listed above are included. Other products in the picture just show how they are used.

Due to the different measurement methods, there may be 1-3 cm deviation for each item, so please confirm that you have the right size before placing your order.

Due to the difference in monitor and lamp light, the actual color of the item may look a little bit different from what is reflected in the picture.