Enjoy the frosty magic of the winter season any time of the year without the blazing cold through the Crystal Ambient Falling Snowflake Curtain Lights!

Decorate your living room or bedroom with 19 enchanting snowflakes and 128 festive LED lights. These beautiful curtain lights capture falling snowflakes and transform your space into a cozy, magical experience.
The Crystal Ambient Falling Snowflake Curtain Lights will surely be your new favorite home accessory in all four seasons!
Features
Wonderful LED Curtain Lights Chandelier. Each chandelier is 4 meters long and has 19 enchanting snowflakes that will transform ordinary curtains into something magical.
Five Light Color Options. Choose between warm white, white, multi-color, blue, and purple to find the color that sets the perfect mood or fits the special occasion.
Change Up Your Ambience. There are 8 different modes you can choose from—combination, wave, sequential, slow-glow, chase/flash, slow fade in and out, flash/flash, stable.
IP44 Waterproof Grade. You can install these lights with your curtains or by your window outside for a decorative touch your neighbors will envy. (Note: The plug is not waterproof.)
Energy-Saving And Long Lasting. The Crystal Ambient lights can last up to 60,000 hours or more with pure luminescence, high brightness, durability, reusable, safety from overheating.
Easy To Install, Safe To Use. The tail plug allows you to connect multiple light strings at the same time. (Note: No more than 8 strings of lights.)
Decorative Lights For All Spaces. These are suitable for home, garden, parties, special events, as well as for your business like hotels, restaurants, shopping malls, etc.
Specifications
Material: PC
LED Light Count: 128pcs LEDs-19 hanging string (0.8m height)
Power: 6W
LED Color: warm white/white/multicolor/blue/purple
Cable Color: transparent
Plug Cord Length (with controller): 0.8m / 2.6Ft
Waterproof: IP44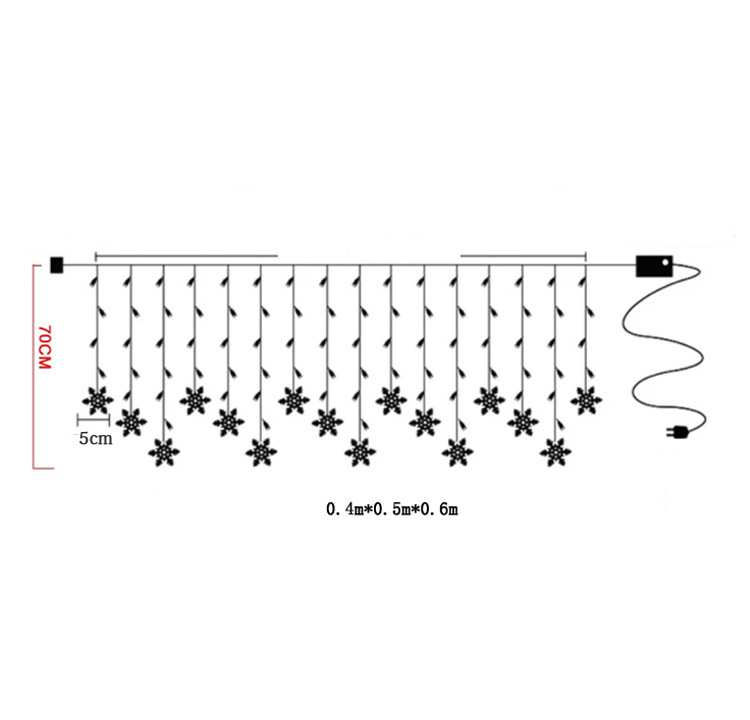 Package Inclusions
1 x Snowflake LED Curtain String Light (batteries not included)