Your Mini Solution to Molds, Dust Mites, and Dampness in Your Home
Feeling a little sticky from the air inside your home lately? You might need to control the humidity inside and remove excess moisture that's causing a lot of dampness to you and your personal space. Our Mini Dehumidifier is your mini solution to reduce moisture and prevent it from damaging your house interiors. With its peaceful and quiet operation, you'll feel at ease that your house is secure from all the nasty molds, dust mites, and other infiltrators that thrive in humidity.
Keeps Your Home Clean and Your Family's Health Safe
It may sound like a shocker to you, but too much humidity could cause you and your family health hazards. If humidity exceeds the recommended level of 50%, mold and dust mites will start to infiltrate your home. And if you have allergies or asthma, this can be lethal. Getting your hands on our CleanVita Mini Dehumidifier can help you maintain moisture in any space without any problems. It's easy to move around because of its light and portable design. Therefore, you can clean the air without spending too much effort.
CleanVita Dehumidifier Features: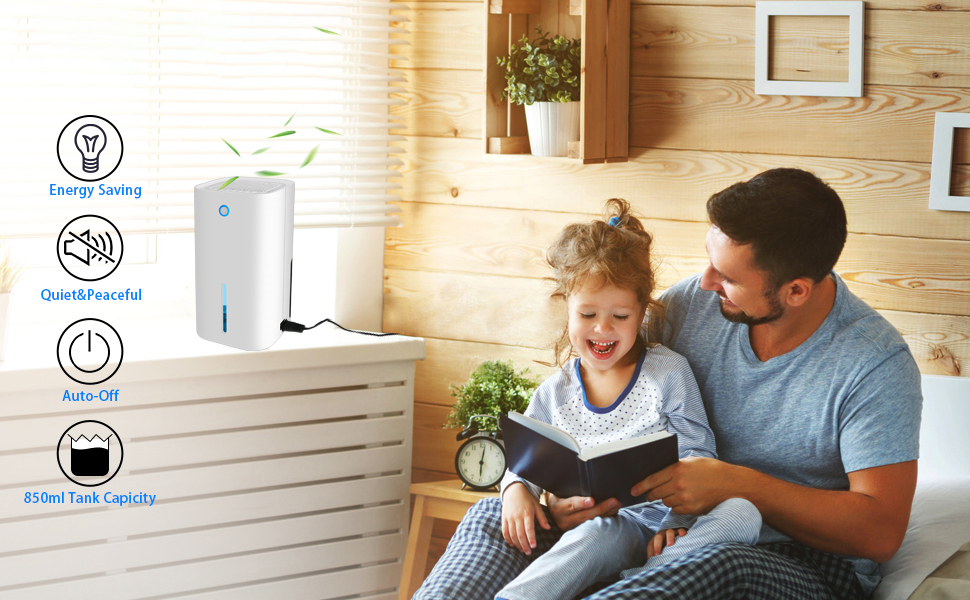 2022 New Upgraded & High Quality: Our mini dehumidifier comes with an 850ml large water tank that can remove up to 300ml of water per day at 86℉ (30℃), 80% RH. It's built with high-quality material that offers excellent durability and works as a great decoration for your home.
Energy-Saving & Low Noise: The CleanVita's rated power is 22.5W, meaning it only consumes up to 0.54 kWh after running for 24 hours, making it extremely eco-friendly and saves electricity bills for you. Our mini dehumidifier also produces about 36 dB noise when it runs, allowing it to quietly run all day and night.
Auto Shut-off & LED Indicator: This dehumidifier will automatically shut off when the water tank reaches full, and then the LED indicator turns flicking. This mini humidifier is suitable for an area less than 20㎡ (215 sq. ft), such as basements, bedroom, bathroom, garage, wardrobe, and RV.
Easy Operation & Detachable to Wash: One button operation allows this dehumidifier to be used easily by everyone. The water tank can be detached to pour water and wash to ensure everything is clean to work properly. With a compact size of 145x 217mm, it is easy to carry and move around the house or other places.
Remove Damp & Improve Air Quality: This mini dehumidifier is an ideal solution for absorbing humidity without chemical substances. It helps purify the air and reduces excessive moisture to improve the air's quality.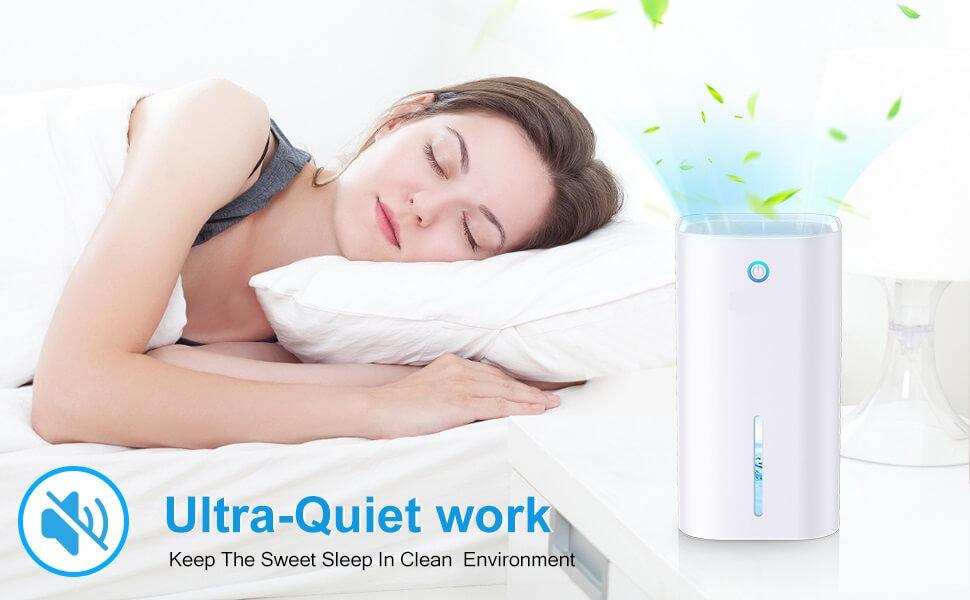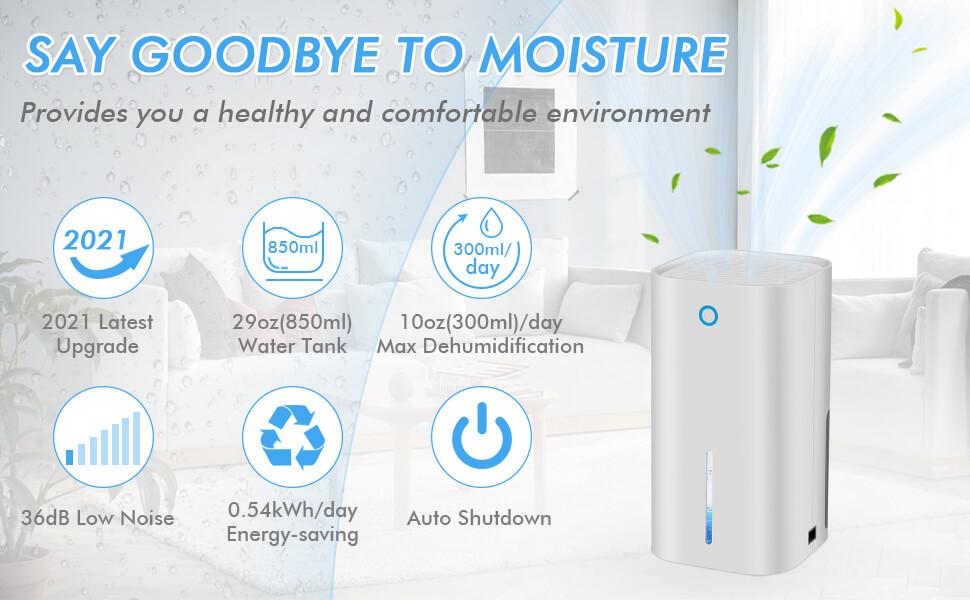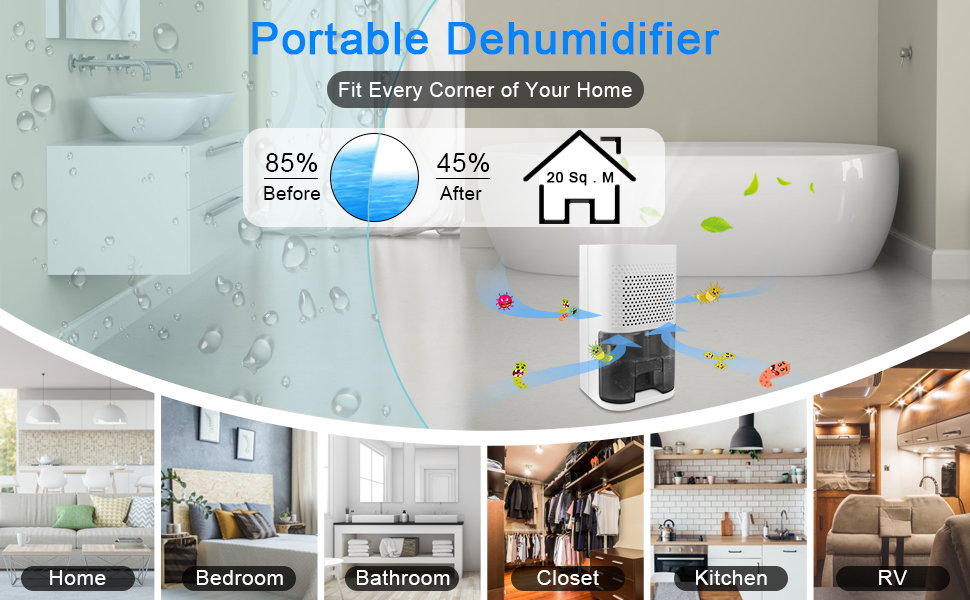 Small Dehumidifier. Big Changes To Your Home Environment.
1. Perfect for keeping unwanted moisture out of your home.
2. Maintain comfort and eliminate terrible smells building up inside your household.
3. Creates a healthy and comfortable family environment.
4. Preserves wood products, clothes, books, and plants from moisture damage.
5. Quiet operation to provide dry, allergy-free airspace.

Specifications:
Water tank capacity: 850ml
Power cord length: 1.2 meters
Dehumidification: 300ml per day
Best working environment: 30℃, 80% Relative humidity.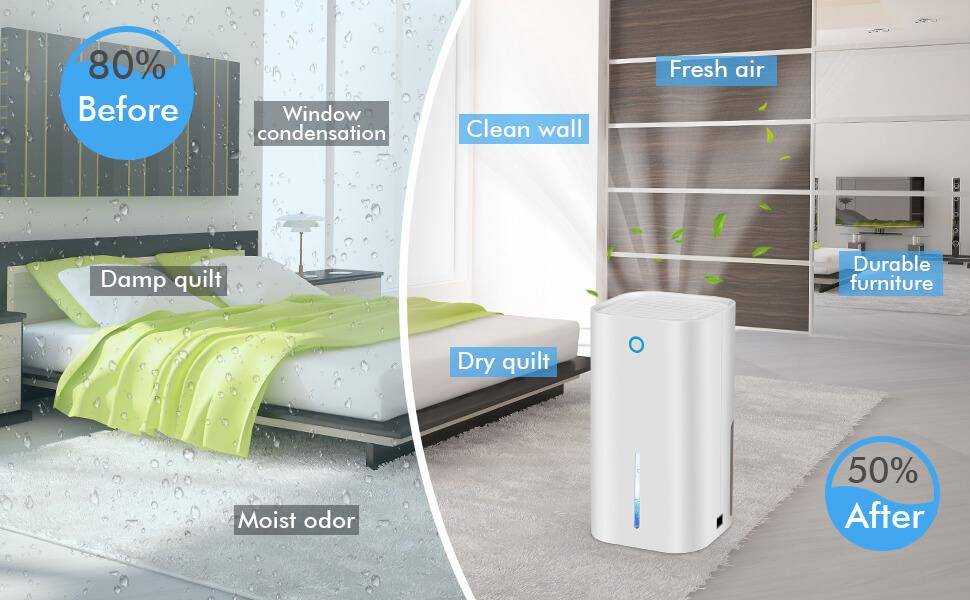 Warm Tips:
1. The effect of this dehumidifier depends on the temperature, humidity, and size of the room. The more humid, the better the effect. The smaller the room, the bigger the effect.
2. Operating temperature: 15℃-40℃ (59℉-104℉)
Suggestion: Don't use it in less than 5℃ environment; relative humidity less than 35%RH.
3. Before using the dehumidifier, please check whether the environmental humidity and temperature have met basic requirements, temperature ≥ 20 ℃, relative humidity ≥ 60%. In this environment, the dehumidification performance is better.
4. Ensure the dehumidifier is OFF and unplugged from the wall socket, and use a soft cloth to clean away dust or debris from the surface of the unit and air inlets.