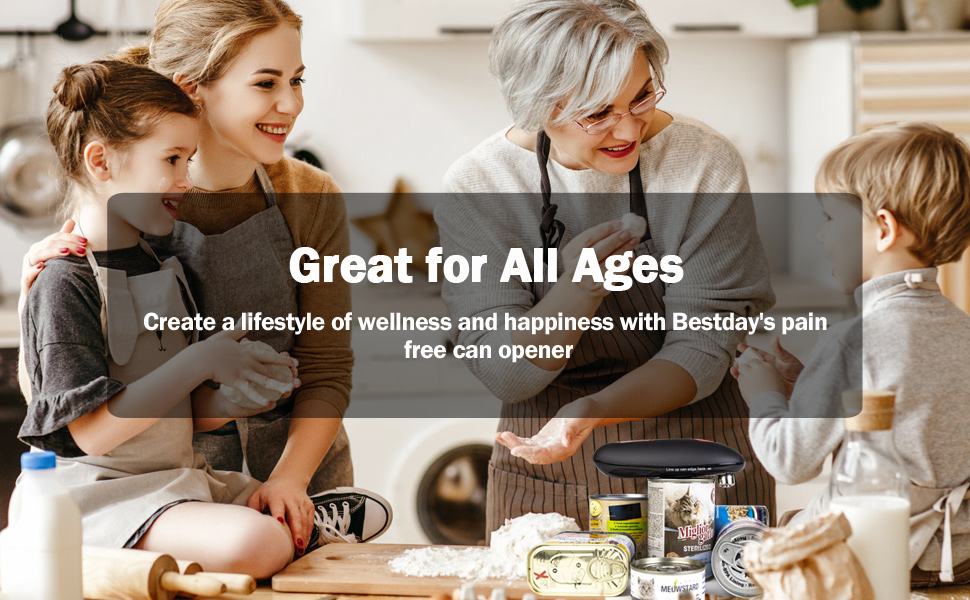 Hey there, fellow kitchen maestro! You know, they say that the kitchen is the heart of the home, but let's face it, sometimes it feels more like a battleground, especially when you're wrestling with a stubborn can lid that just refuses to budge. Well, it's time to hang up your old manual can opener and step into the future with the CanVibe Electric Can Opener. It's not just a gadget, it's your new kitchen companion, ready to swoop in and save the day, one can at a time!
Imagine this: You've had a long day, and all you want is to whip up a quick meal without any fuss. You reach for a can of your favorite soup, and instead of summoning all your might to pry it open, you simply grab your CanVibe, press a button, and voila! It's like having a little magic in your kitchen, turning what used to be a chore into a breeze. And let's not even get started on the sleek design that adds a touch of modern elegance to your kitchen. It's like having a little piece of the future, right at your fingertips.
But wait, there's more! This isn't just about convenience; it's about embracing a tool that understands you. Whether you're a camping enthusiast looking for a portable buddy to join your adventures or a senior citizen finding the joy in effortless cooking, the CanVibe Electric Can Opener is here to make your life just a tad bit easier. With its smooth edge cutting, it ensures that you won't have to deal with those pesky sharp edges ever again. And for our friends with arthritis, this is the gentle touch you've been longing for, offering a pain-free way to enjoy your culinary exploits.
So, why wait? Bring home the CanVibe Electric Can Opener and transform your kitchen experiences from mundane to magical, one can at a time!
A Magic Wand in Your Kitchen!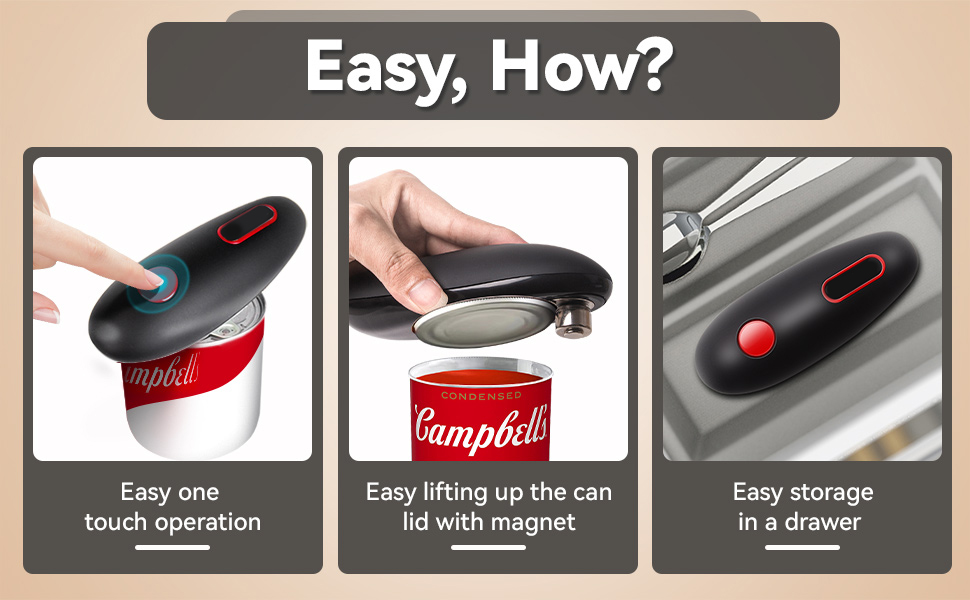 Imagine not having to wrestle with those stubborn can lids anymore. With just a simple touch, the CanVibe Electric Can Opener swoops in like a superhero, making can opening a breeze. It's not just a can opener; it's your new best friend in the kitchen!
Power-Packed Performance in a Sleek Design
You know that feeling when you find a gadget that is not only powerful but also looks sleek? That's exactly what you get with this can opener. It houses a robust motor that works at lightning speed, all while flaunting a style that adds a modern touch to your kitchen. It's like having a little piece of the future, right at your fingertips!
Safety First, but Make it Stylish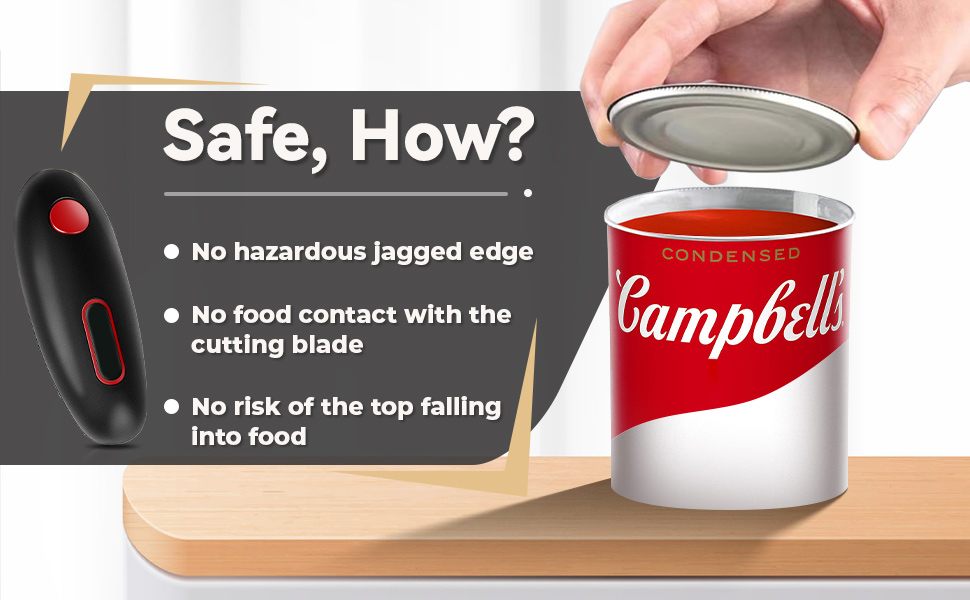 Say goodbye to those dangerous jagged edges that traditional can openers leave behind. The CanVibe ensures a smooth and safe cut, every single time. Plus, the magnetic lid lifter is here to make sure you won't have to fish the lid out of the can ever again. It's all about making your kitchen experiences safer and more enjoyable!
Your Portable Kitchen Companion
Whether you're whipping up a meal in your kitchen or setting up a campfire feast, this little gadget is ready to join you. Its compact and cordless design means it can easily slip into your camping gear without taking up much space. It's not just a kitchen gadget; it's an adventure buddy!
A Universal Friend in the Kitchen
This isn't just a can opener; it's a versatile tool that understands the diverse needs of a modern kitchen. From small spice cans to large soup cans, it handles them all with grace and efficiency. It's like having a universal key to all your canned goods!
Eco-Friendly and Safe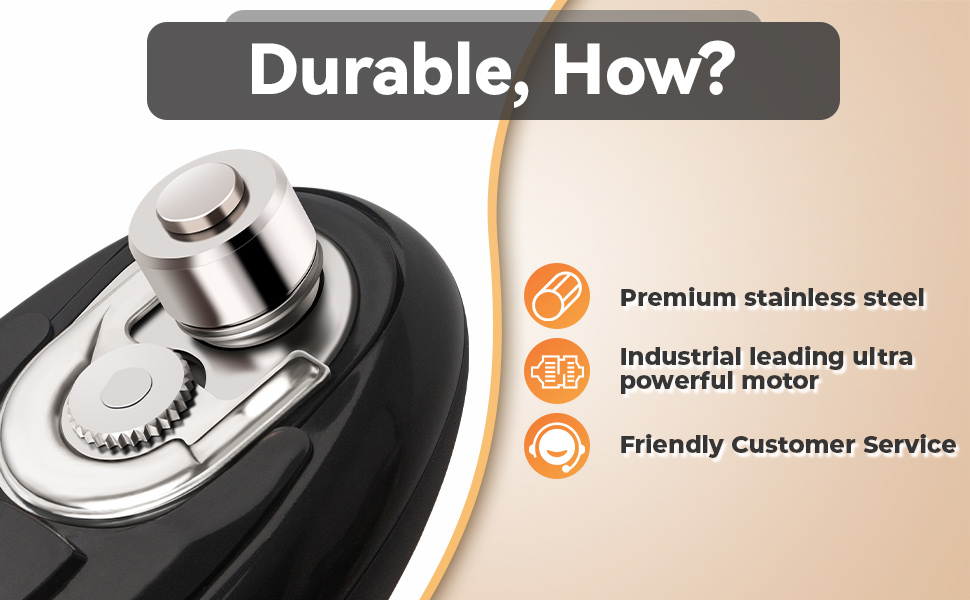 In a world where we are all striving to be more environmentally conscious, this can opener steps up to the plate. It operates on rechargeable batteries, meaning you're not only saving money but also doing your bit for the planet. Plus, its food-safe materials ensure that your food remains uncontaminated and ready to be enjoyed.
The Perfect Gift for the Modern Cook
Looking for the perfect gift for that friend who loves to cook? Or perhaps a family member who finds traditional can openers a bit challenging to use? This is the answer! Its user-friendly design makes it a thoughtful gift, especially for seniors or those with gripping challenges. It's not just a can opener; it's a gesture of love and care.
Don't Miss Out on the CanVibe Revolution!
Hey there, savvy shopper! You've journeyed through the wonders of the CanVibe Electric Can Opener, and now it's time to make that all-important decision. But let's not dilly-dally, because a product this fabulous won't stay on the shelves for long! Picture yourself breezing through dinner prep with a smile, as your trusty CanVibe turns what used to be a chore into a joy. It's not just a purchase; it's an investment in a happier, hassle-free kitchen experience.
So, why wait? Step into a world of convenience, safety, and style with the CanVibe Electric Can Opener. It's not just about opening cans; it's about opening up a world of culinary possibilities, all with a touch of a button. Grab yours now and join the revolution that's changing kitchens across the country. Remember, good vibes only with CanVibe!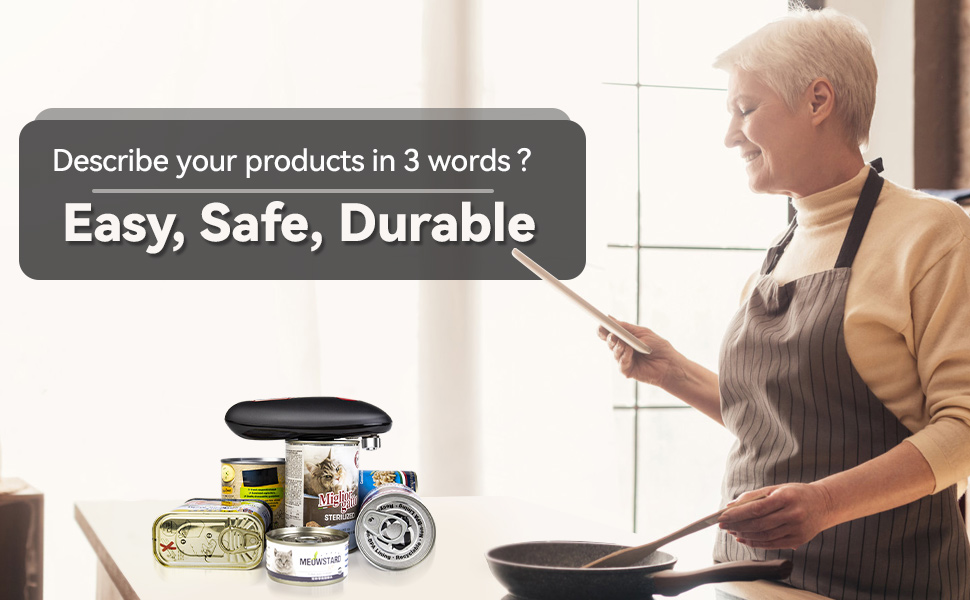 The CanVibe Blueprint: A Peek Under the Hood
Alright, tech enthusiasts, this one's for you! Let's dive deep into the heart of what makes the CanVibe Electric Can Opener the marvel that it is. But fear not, we won't bore you with jargon; we're here to give you the grand tour in a language we all understand!
Motor Speed: A robust motor that operates at a whopping 12,000 rounds per minute, ensuring your cans stand no chance!
Blade Material: Crafted with a durable stainless steel blade that promises a smooth and safe cut, every time.
Battery: Operates on high-quality 1.5V alkaline batteries (not included), offering you the freedom to take it wherever you go.
Safety Features: Equipped with a magnetic lid lifter and a design that ensures smooth edges, keeping your fingers safe and your food uncontaminated.
Design: A sleek, modern design that not only looks good but is also compact and portable, making it a must-have in every modern kitchen.
Environmental Considerations: Built with food-safe materials and operates on rechargeable batteries, ensuring you're doing your bit for Mother Earth.
So, gear up and get ready to welcome this tech marvel into your kitchen. Trust us, your culinary adventures are about to get a major upgrade!
>