The Ultimate Bag for All Your Baby's Essentials!
Going outside with your baby can sometimes be extremely stressful. You have to gather all their essential items, and plan how you can navigate around changing their diapers and clothes.
Having a regular dump-all bag may just make going out harder for you – finding all that stuff with baby in tow can be exhausting. Well, not with BubboDwix – the all-in-one diaper bag that checks all the boxes that can make life easier for mom and dad. No more worrying about going outside with your little bub! With the BubboDwix ergonomic diaper bag, you get enough slots for baby's essentials, straps for flexibility, and even a built in changing station!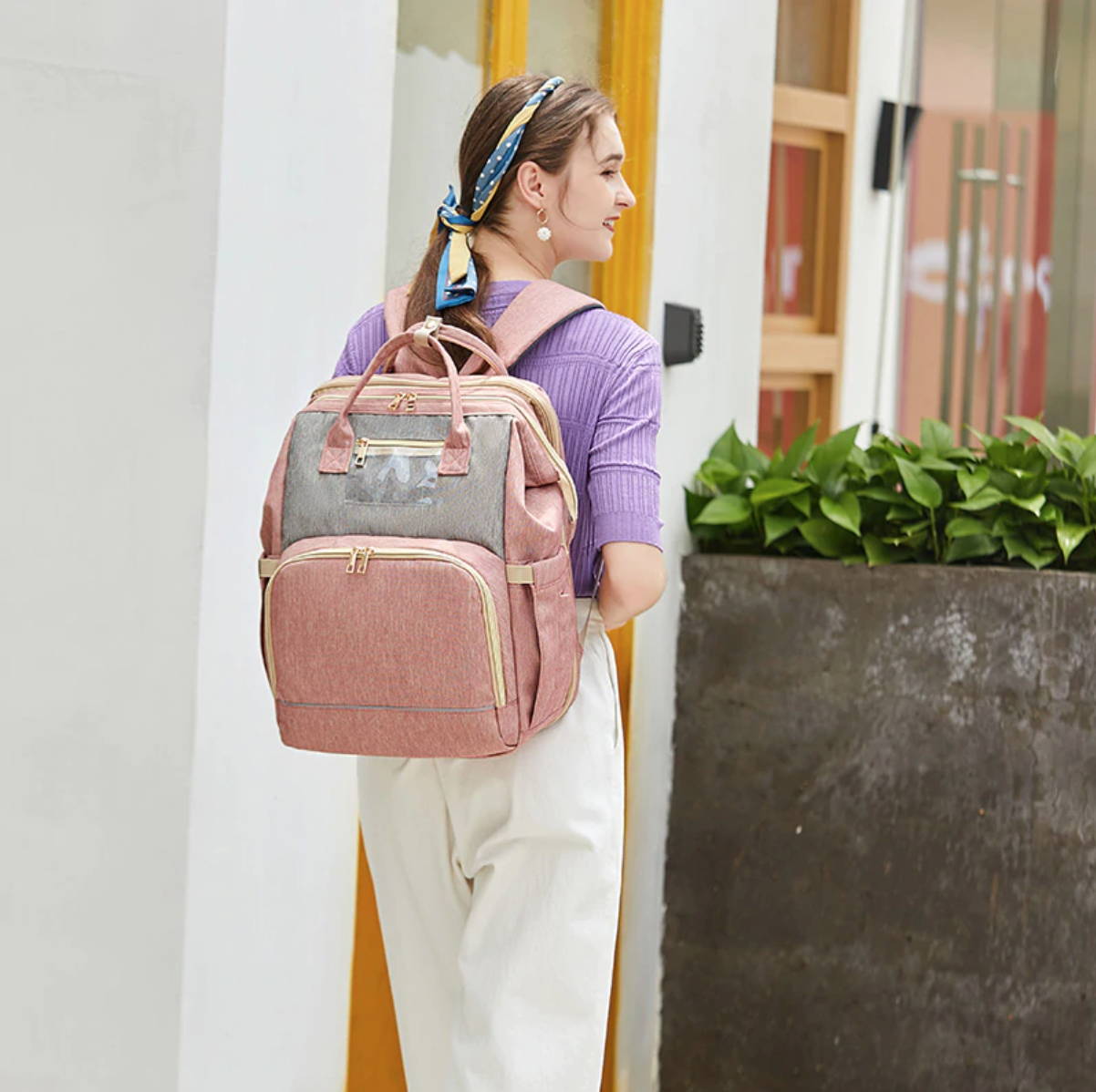 Why Choose BubboDwix? 
🍼 It's the ultimate diaper bag for parents on-the-go! Whether you are a parent who loves to travel, or someone who frequently brings their kids to shopping, groceries, or park trips, this bag is for you. Designed as an easy-to-carry backpack, this diaper bag can pack up all your stuff without making you feel lost and exhausted during your trips.
🍼 The diaper bag that comes with a stylish design. The BubboDwix eschews the traditional diaper bag design where you simply dump all. This diaper bag with multiple slots allows you to properly organize your baby's special items.
🍼 It's made to make parents' life easier. Going out won't be as stressful anymore. You will have extra peace of mind that you have all the things that you need. You won't also have to endure using hard-to-carry bags.
🍼 All your essentials can fit inside. You can be assured you will have all the slots needed for your essentials.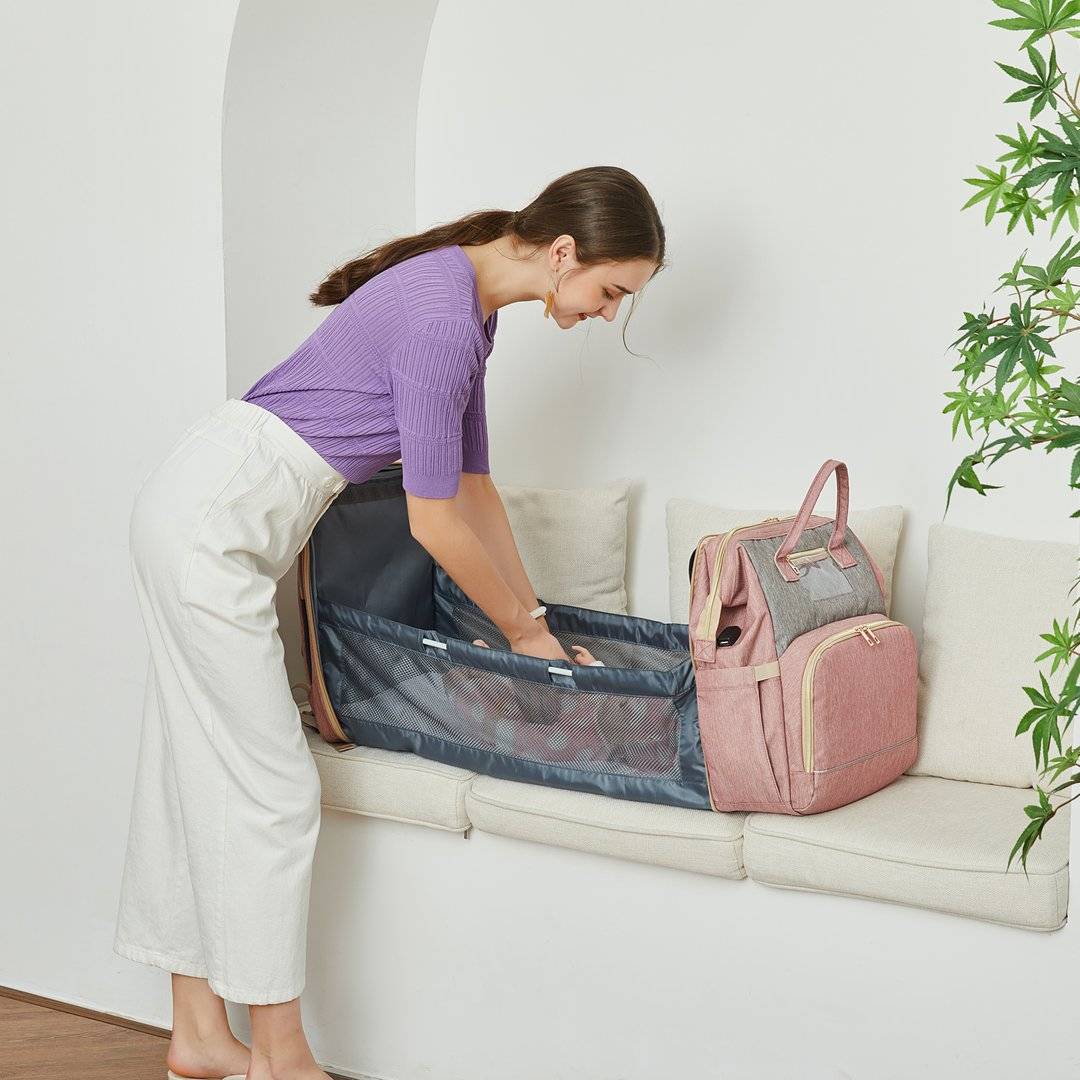 BubboDwix Diaper Bag Features
Comes with the right size for all your baby's essentials. The BubboDwix features a capacity of up to 16 liters. The 12.5*9*16.5 inches dimensions make it a perfect pick for moms and dads who need to bring a ton of essentials.
The pockets are so well-organized – you won't have to deal with messy bags anymore. No more dump-all bags that make finding essentials hard. The BubboDwix comes with enough slots, partitions, and pockets to help you organize better.
Convenience can be seen and felt in its design. From its mesh bassinets, to its padded straps, the BubboDwix is a product meant to make caring for baby outdoors easier.
Includes a changing station to make life easier for parents when they're outside. You can clean for the baby on the spot. The built in bassinet + diaper changing station makes resting and diaper changes a breeze.
Comes with much-needed inclusions like bottle holders, sunshine covers, and even laptop slots! It has a suncover to help babies rest well without the heat, bottle holders with foil material to keep milk warm, and even laptop slots for parents.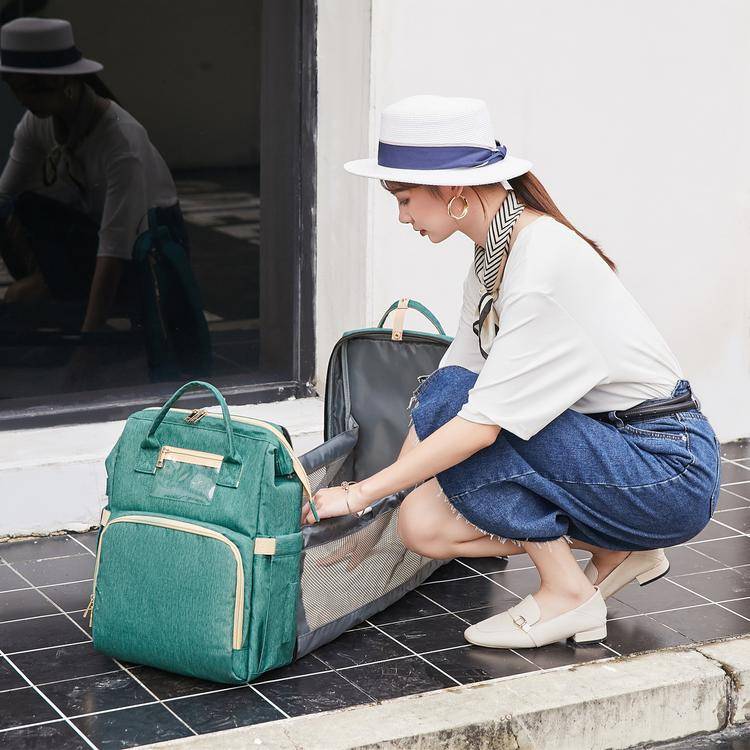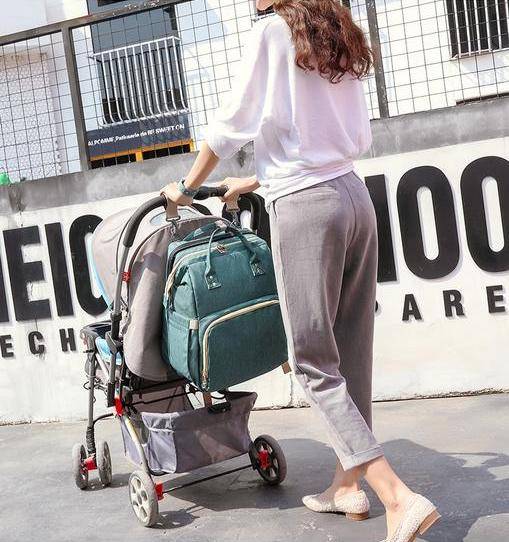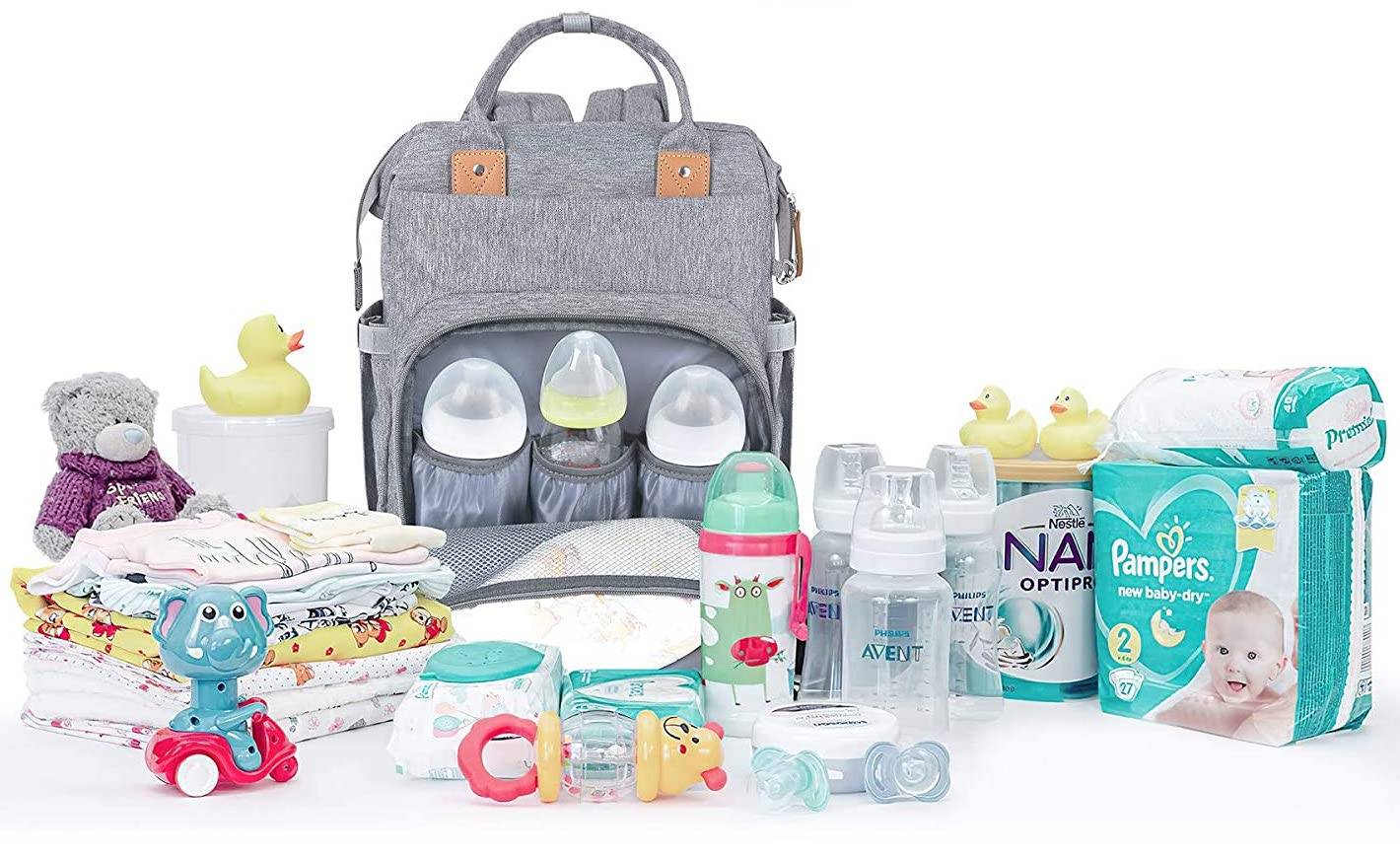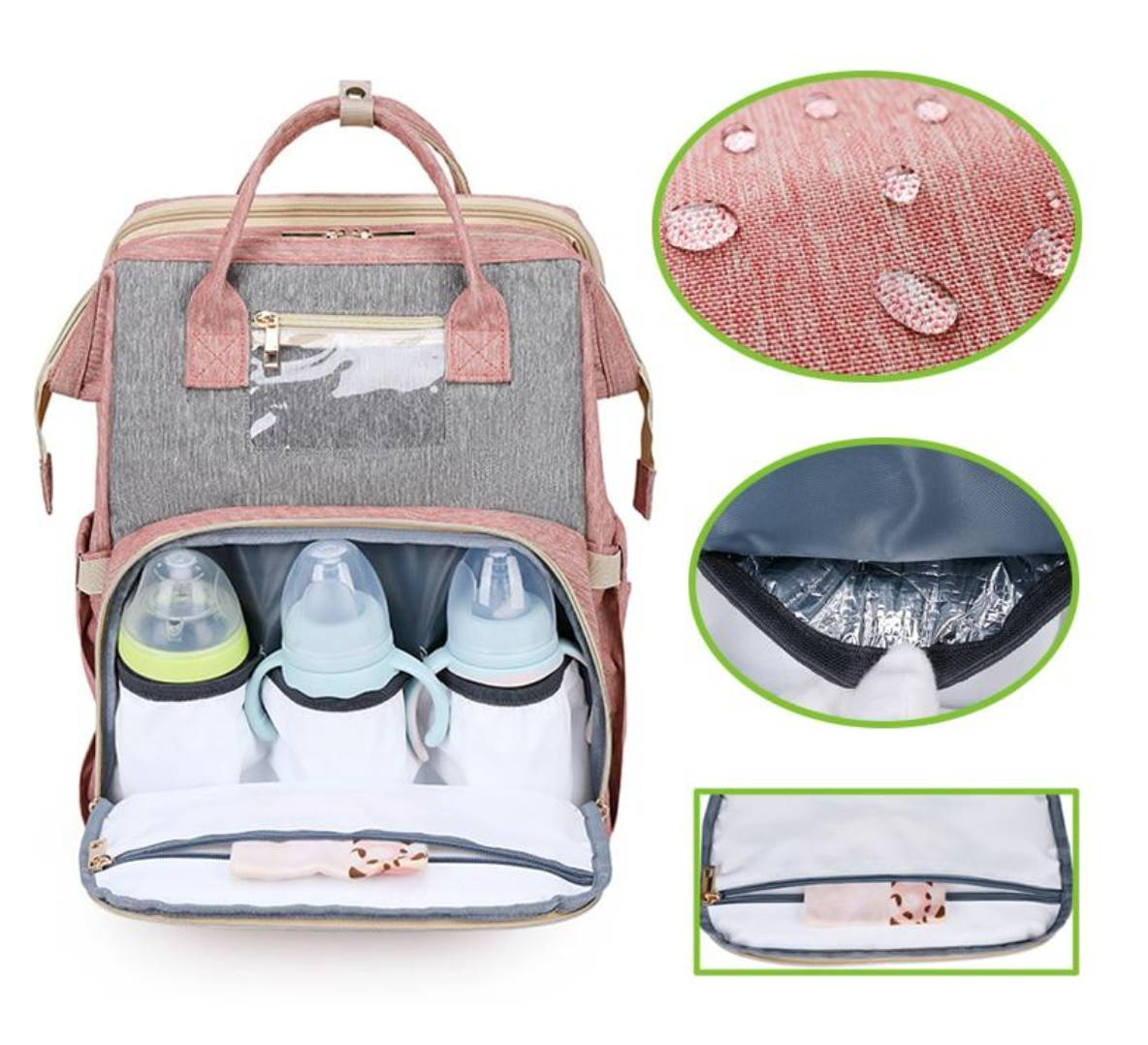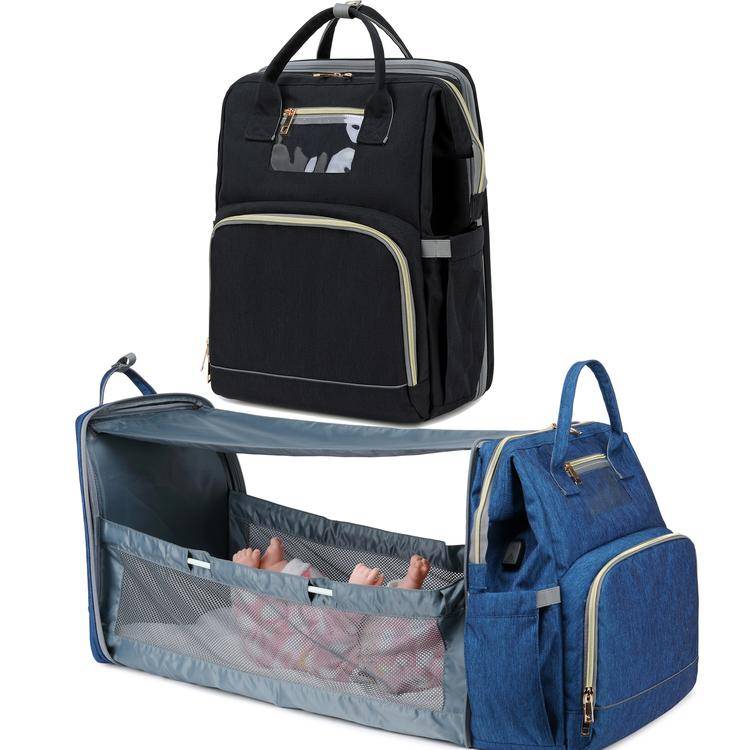 Why does every mommy need it ?
Thermal insulation bottle holders
Max capacity and organization
Waterproof pocket for wet items

Waterproof

 material

Card slot for identification
Tissue box pocket
Side pocket for  water bottle
Safety backside pocket
USB port
Sun protection

Soft mattress pad
Specification
Backpack size: 12.5*9*16.5
Bed size: 12.5*28.7*16.5
Mattress: 11.8*28.7
Color: Pink | Green | Black | Gray
Material: PVC
Package includes: 1 * Diaper Bag Backpack